This cute elf photo ornaments just make me want to squeal they are so cute! A simple lid, some paint, foam board, and glue bring together a perfect place to display your smiling child on the Christmas tree each year.
Add their name and the date to the back and you have a great way to track changes year to year!
This is a great addition to your tree, especially if your kids are fans of Elf on the Shelf. If they are, you'll want to bookmark these easy Elf on the Shelf ideas to use this year!
Elf Photo Ornaments
I love adding pictures of my kids to the Christmas tree, and this was a great way to do that. Seriously, how much cuter can you get than your child smiling back at you from the tree with an adorable elf hat? I think there is nothing sweeter!
This year I have really gotten into make photo ornaments. I already shared this snowman craft stick ornament for pictures, lollipop photo ornament, and I can't forget about this photo wreath made from lids from earlier in the year.
There is just something special to me about adding pictures to my holiday decorations. That's what the holiday is all about anyway - family!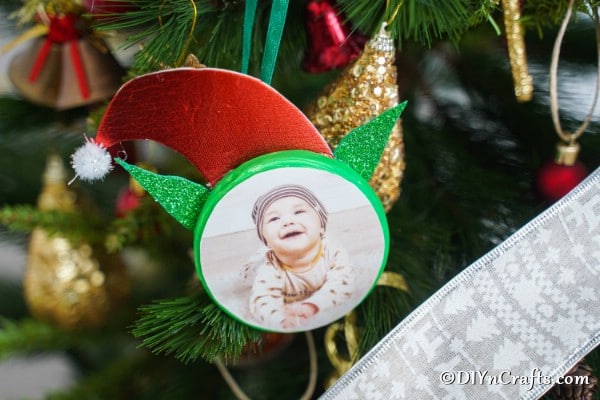 What Jar Lids are Best For This Ornament?
The best thing about this ornament is that you can use any lid you have on hand! I usually keep the lids from condiment jars when they are empty for crafts like this. You can also buy mason jar lids at your local discount store.
If you don't have any on hand and don't want to pay a lot for them, start asking friends and neighbors for their jar lids. You can also look at your local thrift store to see if they have any grab bags of them. You'd be surprised at what you will find at a thrift shop!
If you have extra lids, you can make these cute mason jar lid snowman ornaments or these mason jar lid ornaments with upcycled broaches. They are both super cute and fun to add to your holiday tree.
Should I Protect The Picture With Anything Special?
If you want your picture to last for many years, you may want to coat it with something like mod podge or even seal in a laminating sheet before gluing onto the lid.
This craft isn't designed to protect the image from damage but is just a fun way of creating a new ornament featuring your kids' faces.
I love looking back at old photo ornaments and know that my mom often covered them with mod podge before gluing onto the wood. This will secure it and keep it safe from the elements but isn't necessarily "safe' for the pictures. It's just a sealant.
You can purchase photo-safe glues and protectors if you want to preserve the quality of the image for many years.
In the past, I made these photo luminaries just by printing pictures on regular craft paper with my printer instead of a quality print. That way you don't feel as guilty about using a photo in your craft that might be damaged later.
I used a similar method for this photo vase. In fact, you might love that as a homemade gift idea for Christmas this year!
Supplies Needed
Jar lid
Red glitter foam paper
Green glitter foam paper
White pom pom
Green satin ribbon
Green paint
Photograph
Scissors
Paintbrush
Hot glue gun and glue
How to Make Elf Photo Ornaments
To begin, pick out the jar lid you will be using, and measure your photo against it. Use the jar lid to trace around the photo and cut it out to fit.
Now, you will paint the outside rim of the jar lid green and set it aside to dry.
Once the paint is dry, you will attach the photo to the top of the lid with glue or photo glue.
Now, you will begin making the hat for your elf. Trace or freehand cut a hat shape out of the red foam paper, and attach it to the backside of the lid. I recommend using the lid as a reference for size before cutting the elf hat out.
Attach the white pom pom to the point top end of the hat.
Now, you can cut two ears from the green glitter paper and attach them on both sides of the hat.
The final step is adding a loop of ribbon to the back to hang this on the tree.

Printable Step by Step Photo Tutorial:
Yield: 1
Charmingly Adorable Elf Photo Ornaments
A simple jar lid, some paint, and foam paper can transform into this adorable little elf photo ornament in minutes! Perfect for the Elf on the Shelf fan in your home!
Additional Time
15 minutes
Materials
Jar lid
Red glitter foam paper
Green glitter foam paper
White pom pom
Green satin ribbon
Green paint
Photograph
Tools
Scissors
Paintbrush
Hot glue gun and glue
Instructions
Begin by tracing the jar lid size and shape on the back of your photo so you can easily cut it to fit;
Now, you will paint the edge of the jar lid green and set it aside to dry;
While the lid is drying, you will trace and then cut out the red hat. I used the jar lid as a guide for how large the hat should be. You will also want to cut out the green elf ears from the foam pieces;
Once the paint has dried, you will glue the photo onto the top of the lid;
Now attach the red hat with hot glue, and add the white pom pom to the end of the hat;
Add on your green ears, one on each side of the hat;
The final step is to add a ribbon to the back for hanging on the tree;
Hang on your Christmas tree.
Notes
You can also use the same method to make a reindeer ornament by painting the lid brown and using brown pipe cleaners for the antlers instead of making a hat and ears.