Look at how utterly adorable these Christmas gnome ornaments are!! I love this super easy craft idea for making homemade Christmas tree ornaments that look like my favorite little creature of the garden.
Gnomes are always a hit with my friend and family, and this ornament idea is super easy to assemble to look just like a little Santa peeking out from your holiday tree!
Want another easy ornament? Make my simple paper straw mini Christmas tree and put it on your tree this year! Simple ornaments are so much fun to make and add as they share so many sentimental memories of the time spent making them together.
Christmas Gnome Ornaments
If you are like me and love the squishy faced gnomes, then this is going to be a hit. I've shown you before how to turn a sock filled with rice into a Scandanavian gnome, so already know how much I love this look. It's so easy to make them rustic, upscale, or just silly!
Gnomes are amazing for laughs, but also a very beautiful and festive addition to your holiday tree.
I find this gnome ornament idea is a cute addition to the tree alongside some of these crochet Christmas ornaments. They are so cute and really add a rustic look to the tree. I much prefer the country-style rustic tree over the color theme that doesn't show family memories on each branch.
My rustic wooden Santa decoration is another great idea to add to your mantle next to these easy wine glass Christmas candle holders. Isn't it fun to add beauty to your home with simple crafts like these?
What is the Best Way to Hang These Ornaments?
I wanted to keep this Christmas gnome looking rustic but pretty, so I used a length of ribbon for my hanger. You could also use the rustic twine, embroidery thread, or a simple bit of fishing line and a hook if you prefer.
These ornaments aren't very heavy, but the weight of the pom pom does pull it down a bit, so add a sturdy option for hanging.
Speaking of hanging, make sure you check out this huge list of Christmas stocking ideas for the mantle this year. There are some great ideas there that would look amazing next to these rustic wooden snowmen or this rustic "Ho Ho Ho" block idea! So cute!

Can I Use Regular Paper Instead of Foam Board?
This is tricky. If you have card stock or heavier weight of paper, I think it would work just fine for this project. Construction paper for kids is another great idea that can replace the foam board.
However, I would avoid basic thin copy paper as it is too flimsy and wouldn't hold up well for this craft.
Tip: Try this project with felt pieces instead of foam board for a different texture.
Have kids helping you make these cute ornaments? Take time to have them write letters to Santa, or simply serve up this gorgeous and yummy Santa bread as a special treat while they work.
If they prefer a sweet snack, you can make this Christmas fudge or reindeer sugar cookies instead.
Supplies Needed
White yarn
Red glitter foam board
Small yellow and white pom poms (1 of each per ornament)
Satin ribbon in holiday color
Scissors
Hot glue gun and glue
Optional: regular glue and glitter if glitter board or paper is not available
How to Make Christmas Gnome Ornaments
For this ornament, you will begin with making your large pom pom that will be used for the base or "face" of the gnome.
Wrap the white yarn around the palm of your hand multiple times until you get to the size you want it to be once done.
Slip the yarn from your palm, keeping the loops intact, and then clip the end of the yarn. Take another small piece of yarn, and tie around the middle so there are loose loops on both sides.
Slide your scissors through the inside of the loops on one side, and cut so that they are loose. Do this to both sides, then fluff until it forms a ball shape. You can then trim any longer pieces off the ends and set the pom pom aside.
How to Make the Santa Hat for Your Gnome Ornament
Next, you will make an arc from the foam paper. I like to use a large bowl that I can set on the paper and trace around to make this a clean arc shape. You can also fold it as shown below into a "triangle" and trim the ends so that it is easy to fold into the cone shape.
Cut the arc out of the foam, and then wrap it into a cone shape.
Before you glue the cone together, you will cut a 3"-4" length of ribbon and make a loop then attach it to the back of the cone. I like to slide this inside the cone with the loop tied and knotted on the bottom. Then, I can glue it to the top pointy inside the end of the cone, and secure it when I glue the cone together.
Glue the foam board together so that it forms the cone, and then set aside to allow this to dry.
Once the glue has dried, you will add a bit of glue inside the rim of the cone, and attach it to the top of the pom pom you created.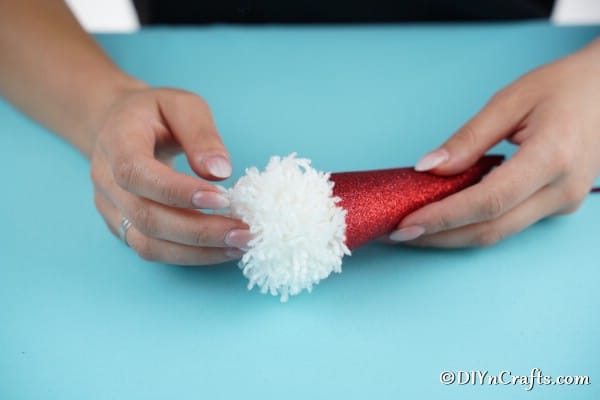 Add a yellow pom pom on to the large white pom pom to create the gnome nose with a bit of hot glue.
To finish, add a small white pom pom to the tip of the cone.
Once all of the glue has dried, you can hang or display on your tree.
Video Tutorial:
Printable Step by Step Photo Tutorial:
Yield: 1
Adorable Christmas Pom-Pom Gnome Ornaments
This festive Christmas gnome ornament is a simple project using a homemade pom pom from yarn, foam paper, and a bit of glue. Easy to make and absolutely adorable on your holiday tree!
Materials
White yarn
1 sheet red glitter foam board
Holiday colored satin ribbon
1 each small yellow and white pom pom
Tools
Scissors
Hot glue gun and glue
Instructions
Begin this ornament by using the white yarn to make a face for your gnome. Wrap this yarn around the palm of your hand multiple times until it is the size you want your gnome face to be;
Next, you will slip that yarn from your palm and then use a small piece of yarn to tie in the center;
Next, you will cut through the loops on both sides and fluff the ball to look rounder;
At this point, you can trim off any excess or longer pieces of yarn;
Next, you will make the Santa gnome hat from foam paper. Cut an arc out of the paper by folding and trimming the end or tracing the shape in advance;
Set aside the foam paper and cut a length of ribbon, loop and tie on the loose ends forming a knot;
Wrap the foam into a cone shape, and dot with glue to secure ends together, but slip the ribbon loop inside near the pointy end of the cone and secure with a bit of hot glue so it is hanging at the top. This is to hang the ornament from later;
Once the glue has dried, you will add a bit of glue inside the rim of the cone, and attach it to the top of the pom pom you created;
Add a yellow pom pom for the nose and a white pom pom at top to make it look like a Santa hat;
Display on your tree.