Where I live, we are just starting to get the first frost on the ground in the morning. It is one of my favorite times of the year, because it means that we're well into autumn, and winter is just around the corner, bringing with it the holidays. And that means it is time to make easy DIY holiday crafts!


Today I want to share a simple holiday DIY project with you which celebrates the winter weather. I'm going to teach you how you can make snowflake decorations out of pasta!
Video Tutorial:
There are a couple of things I really like about this project. The first is that it is great for anyone to make, regardless of what winter holidays they may or may not celebrate. We spend a lot of time on DIY Christmas crafts here on the site because many of our visitors request them. But you do not need to celebrate Christmas to enjoy making snowflake decorations to welcome in the winter season.
The other reason I love this craft is because there is zero cutting of any kind required! You do not need to use a scissors or a saw for any component of the project. For this reason, it is a perfect craft for small children to do with you or on their own who may not be ready to safely use objects with sharp edges.


Below, I will share the materials list with you to create these easy DIY snowflake crafts. Following the materials, you will be able to read the steps. Make sure that you also watch the video for a visual demonstration of the project one step at a time. I strongly recommend doing this. Since this project involves a lot of geometric shapes and angles, it is pretty tough to put into words.
Yield: 3
How to Make Pasta Snowflake Christmas Ornaments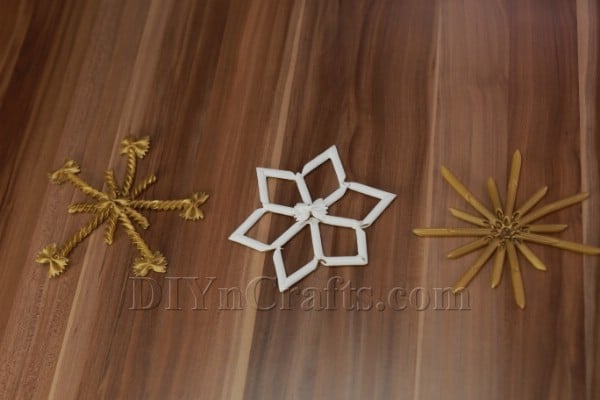 Did you know that you can create beautiful snowflake ornaments for the holidays using nothing more than regular pasta and a few other simple supplies? Find out how to craft your own DIY snowflakes ornaments in this exclusive video with easy-to-follow instructions.

Prep Time 5 minutes

Active Time 5 minutes

Total Time 10 minutes

Difficulty Easy

Estimated Cost $3
Materials
Pasta (choose the shapes and sizes you want)
White paint
Gold spray paint
Tools
Paintbrush
Hot glue and glue gun
Instructions
Design #1 You will use straight pasta for this snowflake. Start by gathering 14 pieces. Take two of them and glue them together end-to-end. Do this in such a way that they are straight (they should not form an angle). Then do this 6 more times. You should now have 7 combined pieces which are double the length of the original pasta pieces.
Next, set down these pasta pieces in a radial pattern and glue them all together in the center. Note: Yes, I am aware that snowflakes are six-sided. If you want to be more precise than I was, you can just connect 6 pieces, not 7. I did it this way because I liked it better aesthetically.
After you have glued these sections together as described, you can glue a single piece of pasta in between each of the double pieces. That completes this design.
Design #2 Start by getting six pieces of straight pasta and gluing them together in a radial pattern. This is similar to what we were doing with the project above.
Now, get 12 pieces of pasta. Take 2 pieces and glue them end-to-end, but this time, do it at an angle so that they form a kind of "chevron" pattern. Note that for this to work, your straight pasta must have angled ends (they cannot be cut straight across). Do this 5 more times with the other pieces of pasta you have gathered so that you have six "chevron" pieces.
Glue a bowtie pasta piece to the center of the snowflake. This design is now completed.
Design #3 Attach two pieces of spiral pasta end-to-end as we did with the straight pasta pieces in the first design. Do this four more times so that you have five long combined pieces in total.
Use hot glue to attach these pieces together in a radial fashion. You should get a star shape.
Glue a bowtie pasta piece to the center.
As we did with the Design #1, use hot glue to attach single pieces of spiral pasta in between each of the double pieces.
Glue on a bowtie pasta piece at the ends of each of the longer spokes.
Painting Your Snowflakes: You have now completed the process of gluing the pasta to create the snowflake shapes. So it is time to paint them! You can do this with regular paint and a brush as seen here:
… Or you can apply spray paint.
I used metallic gold spray paint and regular white paint for my snowflakes. Here was the result:
Notes
I had mentioned earlier that this project is good for small children since no cutting is required. But you probably have noted that hot glue and a glue gun are used. While many children can use these supplies with supervision safely, they are not appropriate for all kids.

You can however use regular Elmer's glue to connect pasta pieces to one another. So that is an alternative for small kids who cannot use the glue gun. The Elmer's glue should hold pretty well if it is applied correctly.
Recommended Products
As an Amazon Associate and member of other affiliate programs, I earn from qualifying purchases.

Enjoy These Simple, Beautiful Snowflake Crafts
The steps I have given here help you to make these specific patterns, but once you have learned to create these three snowflake designs, you should understand the principles. That means that you can improvise and create new designs of your own.
In terms of crafting with kids, this is a good opportunity for children to explore their own creativity. You can use this as a lesson to teach kids about geometry and symmetry. You can encourage them to try out their own ideas and find new ways to create snowflakes while still following those principles of symmetry.
You can also teach young kids a bit about science. As I mentioned before, snowflakes have six sides. You do not need to confine kids into making only six-sided snowflakes, but it is the perfect chance to teach them about how snowflakes really form. You can also explain that even though all snowflakes have six sides, no two snowflakes are alike.
Once your snowflakes have been crafted, they will be ready for you to enjoy! There are a number of ways you could display them. You can string them from the ceiling, or you can hang them in your windows. Another idea is to attach hooks or loops of string to them so that they can serve as DIY Christmas tree ornaments. Whatever you decide to do with them, have fun creating them and showing them off!