Christmas is nearly here and you know what that means – it means that it's time to start making your own Christmas decorations. This year, I wanted to share some extra special homemade ornaments and such with you and so I collected 20 fun DIY Disney Christmas ornaments that are bound to bring some excitement to your tree.
DIY Disney Ornaments Anyone Can Make
All of these are super easy to make and your little ones are going to adore them. From Disney princesses to Olaf ornaments and so many wonderful Mickey and Minnie Mouse ideas, you are definitely going to want to take a look at these amazing DIY decorations.
If your kids love Disney, be sure that you take a look at these 60 best Disney crafts that will keep them busy all year long.
My kids have always loved Disney and I am sure that yours do, too. If you plan to make a Disney themed Christmas tree this year, these ornaments and decorations are going to help you so much.
They're super easy, super adorable and many of them can be made with Dollar Store supplies, which makes them super cheap. Oh, and check out these 10 DIY baby's first Christmas ornaments that are a must for new parents.
Easy DIY Disney Apple Cinnamon Ornaments
These little Disney ornaments are super easy to make, and you can make them from things that you may already have on hand in the kitchen. Kids will adore creating these apple cinnamon ornaments and you will love how they smell like fresh cinnamon.
These are perfect for adding some festiveness to your tree and it's so easy to turn the dough into a Mickey Mouse styled DIY ornament. Did I mention that there are only two ingredients?
Tutorial: momspotted
DIY Crochet Disney Ornaments
Imagine filling your Christmas tree with these adorable hand crocheted Disney inspired ornaments. You could do these in any number of color combinations so that they match your other tree decorations.
These are pretty simple to crochet, too and shouldn't take you long to turn out, even if you are fairly new to the world of crochet. Plus, you get a ton of patterns with this one. I found these on Etsy and it's just over $20 for all of the patterns – and there are a lot of them!
Source: etsy.com
Easy Hand Painted Disney Ornaments
Take some ordinary plain ornaments and turn them into Disney ornaments with just a little paint. I love this project. It's super easy and even your little ones can help you to create your own DIY Disney ornaments with this one.
You'll need some clear glass or plastic ornaments for these and the appropriate paints for whichever material you choose. Plus, grab some ribbon for making a Minnie Mouse and maybe for creating some extra embellishments.
Tutorial: willcookforsmiles
Gorgeous DIY Disney Silhouette Glitter Ornaments
Here is another great little project that you can do with clear glass or plastic ornaments. And FYI, you can get those clear ornaments in a number of different sizes and in plastic or heavy duty glass, and they are pretty inexpensive.
Aside from the ornaments, you need some craft paint and something to create the silhouette of your favorite Disney characters like vinyl cutouts. Or, if you don't have a vinyl cutter, you could just print off the images on your computer and cut them out yourself.
Tutorial: happinessishomemade
DIY Disney Christmas Wreath
Okay, so this isn't an ornament that you would hang on your Christmas tree, but it will look beautiful on your front door. This DIY Disney Christmas wreath is super easy to make, and it is absolutely gorgeous when you get it finished. You make this with three evergreen wreaths.
You need one for the head and the other two make the ears – or you can make these yourself out of bendable garland. Decorations are up to you but don't you just love those little handmade Santa ornaments? This is a great one, especially if you love making your own DIY Christmas wreaths.
Tutorial: asthebunnyhops
DIY Mickey Mouse String Ornament
I love the rustic appeal of string decorations and these DIY Mickey Mouse string ornaments just confirm that. These are really easy to make and would look great on an old farmhouse styled Christmas tree.
You could even make these a little bigger and turn them into great Christmas lights for the season. You need some balloons for these, as well as liquid starch, string, glitter and a few other supplies. They're easy to do and look so great when they're finished.
Tutorial: family.disney.com
Cute DIY Mickey Mouse Jingle Bells
I love these little jingle bells that look just like Mickey or Minnie Mouse. These are also super easy to make and would look great on your tree no matter what your actual theme this Christmas.
You could also use these to embellish other ornaments or use them to dress up your Christmas wreath. They're easy to make, really inexpensive and so adorable when you get them finished.
Tutorial: goodlaffgirl
Adorable DIY Tinker Bell Pixie Dust Ornaments
If your little ones love Peter Pan, Tinker Bell and fairy dust, this is the perfect DIY Disney themed ornament for your tree this year. This little glass or plastic clear ornament is filled with "fairy dust" and decorated however you want to decorate it.
You could write any number of messages on the ornament or add a silhouette of Peter or Tink, however you want to decorate it. Just don't forget to fill it with pixie dust first.
Tutorial: craftingintherain
Disney Figurine Ornaments
You can buy ornaments like these at the Walt Disney store and pay a small fortune for them. Or, you can head over to Walmart or the Dollar Store and pick up a few small Disney character figurines, along with some of those fillable plastic Christmas tree ornaments and make your own.
You just have to attach the figurines to the inside of the ornaments and then maybe add some embellishments like glittery garland or even some faux snow. These are super easy and much cheaper to make than to buy.
Tutorial: keepinitsimple101
Simple DIY Mickey And Minnie Tree Toppers
I love the idea of using a Minnie or Mickey Mouse as a tree topper, especially if you are doing a Disney themed Christmas tree this year, and you want to DIY your own decorations. These are super easy, and they are really simple to customize and make them however you want them.
They're so simple to create that your little ones can help with them and then you just have to add them to the top of your tree. Or make a small collection of them and use them as table décor this holiday season.
Tutorial: family.disney.com
Hand Painted Personalized Disney Christmas Ornaments
So, a few glass ornaments, one for everyone in the family, some paint and some free time are just about all you need to create these gorgeous DIY Disney themed personalized ornaments.
You just create the look with polka dots or other Disney themed backgrounds and then add your names and the year to personalize them. These are super simple and so adorable. And, if you prefer not to make your own, you can check these out on Etsy. They're $10 for a set of two.
Source: Etsy.com
Shimmering DIY Mickey Christmas Ornaments
These DIY Disney inspired Mickey Mouse ornaments are perfect if you want your tree to be a bit more elegant. They are really easy to make and have such a lovely shine to them.
You make these with large and super small round ornaments and you could do them in any color, although silver and red are really good choices. You could even add ribbon for Minnie Mouse and other embellishments to make them extra special.
Tutorial: dolledupdesign
Super Simple Mickey Mouse Christmas Garland
So, you need some DIY garland for the tree, right? Why not keep with your Disney theme and create this super simple Mickey Mouse garland. You make this with heavy construction or craft paper, yarn and a few other key crafting supplies.
The garland is really simple to make, and this is a great project for the kids to do while you're wrapping presents! Just help younger ones with the cutting out and they can handle the rest.
Tutorial: thisfairytalelife
DIY Mickey Mouse Pop Up Ornament
I love this little pop up ornament and you could do these in any Disney character that you wanted with just a little imagination. The old school Mickey is really easy to make and would look beautiful on a vintage Christmas tree.
You make this little Mickey Mouse ornament from heavy cardstock and a few other basic crafting supplies. Your little ones are going to love helping you make these and putting them on the tree!
Tutorial: family.disney.com
Repurposed Terra Cotta Pot Mickey Mouse Ornaments
How adorable are these tiny little terra cotta pots that you turn into Mickey and Minnie Mouse ornaments? These are almost too cute and they are really easy to make.
You just need some of those really tiny planters, and you can get them at any home improvement store. You also need paints and a few ribbons and other decorations that you may have on hand.
Tutorial: thecountrychiccottage
Super Easy Minnie Mouse Wreath
This little Minnie Mouse wreath is super easy to make and you only need a few basic craft supplies to do it. You could even scale this down and make it small enough to hang on the tree.
Add a few of these in with your other DIY Disney ornaments. You can do this with cardstock or other heavy crafting paper and kids are going to love helping you make these.
Tutorial: family.disney.com
Adorable DIY Olaf Pom Pom Ornament
If your kids love Disney's Frozen, they are going to adore adding these little Olaf pom pom ornaments to your tree. These would be great to add with other Frozen ornaments and they are so easy to make.
Even your little ones can help to make a handful of these and you can add ribbon for hanging or even use these on a wreath or other décor. They're perfectly adorable and you can use your craft scraps to make them.
Tutorial: kidsactivitiesblog
Frozen Inspired Popsicle Stick Ornaments
These little popsicle stick ornaments can be made into any Disney character that you want. I remember my little ones bringing home Rudolph and his friends, all made from craft sticks.
I love DIY popsicle stick crafts, and this is one of my favorite for Christmas decoration. Make your own Olaf, Anna, Elsa or any other Disney characters that you want for your tree.
Tutorial: craftionary
Cute DIY Sock Snowman
If you want to add some cute Olaf ornaments to your tree, and you want something that your little ones can easily help you with, these little sock snowmen ornaments are perfect.
You dress these up like Olaf from Frozen when they are finished, and they are super easy to make. You need a sock for each one, and you can find packs of bobby socks at the Dollar Tree for just a dollar and make several of these to decorate your Christmas tree this year.
Tutorial: onecreativemommy
Lilo & Stitch Ornaments
These adorable ornaments are so fun to make! I love video tutorials and this is a great one that you can follow step by step to add to your tree this year!
Mickey Tinsel Filled Ornament
Here is another cute little Mickey Mouse ornament that has ears but this one is a bit different than others. This one has glittery balls for the ears and is filled with red tinsel.
You can easily make this with tiny Christmas ornaments and clear fillable ones. I found this one on Etsy and it's just $12, but you could easily do this one yourself with some cheap Dollar Store or Dollar Tree supplies.
Source: Etsy.com
Felt Ursula Ornament
If you are a Disney Villian fan like I am, then you'll love this cute felted ornament. Ursula is one of my all-time favorite characters and this simple ornament is going to look adorable on your tree this year!
Source: Smitten with Mickey
DIY Moana Ornament
I love the movie Moana, so adding this to my tree was a must. There is just something about the empowerment behind that movie, and the reminder on my tree every year is definitely a feel-good moment in my life
Source: Smitten with Mickey
DIY Little Mermaid Christmas Ornament
Sometimes an ordinary holiday ornament can be updated to create a cute look you are going to love! This little one is perfect for the Little Mermaid fans in your life. Add a few extra bits of beauty to the tree with a dinglehopper on top!
Source: Mommy of a Princess
Easy Mickey Mouse Head Ornament
Line your mantle or your tree with this super simple idea! I absolutely adore this little ornament. You can't get any easier than this one, and it can be made in so many colors, so perfect for putting onto any holiday tree.
Source: Sand and or Snow
Disney Princess Ornaments
This is a bit more involved than some we have made. Using a bit of modeling clay and paint, create adorable little Disney princesses to add to your tree this year!
Mickey & Minnie Felt Ornaments
Follow this easy tutorial to create your own little miniature Minnie and Mickey ornaments made from felt. I love how easy these are and that they make a perfect gift to add to any present this year.
Source: Family.Disney
Buffalo Plaid Mickey Mouse Ornament
A bit of fabric, your vinyl cutter or stickers, and some small embroidery hoops create an easy and adorable ornament to add to your tree! I love how easy these are to personalize.
Source: Etsy
Frozen Olaf Salt Dough Ornament
What a brilliant idea! Use your kid's footprint to create a little Olaf ornament from salt dough. A bit of paint and a pretty ribbon turn this into a great ornament to hang on your tree!
Source: I Heart Nap Times
DIY Tinker Bell Ornament
What a cute idea for a little fairy dust on your tree! This doesn't get any easier than adding a colorful glitter ornament and bow to the tree. I love Tinker Bell, and this is super cute!
Source: Pixie Dust Savings
Jack Skellington Ornament
This is one of my favorite characters that fits both Christmas and Halloween. I like that she even adds a printable template so it is even easier to assemble these.
Source: Whiskey & Sunshine
Simple Pom Pom Mickey Mouse Ornament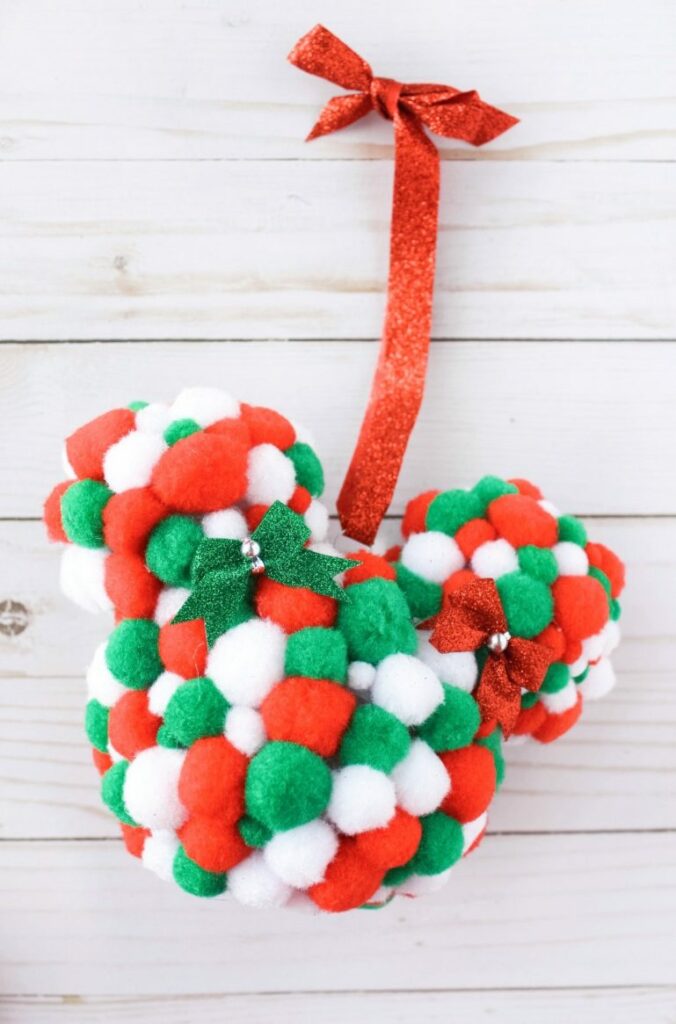 Ordinary ornaments get amped up with green, white, and red pom poms. This makes it a perfect addition to any tree theme. I love how easy they are to make, and that they are perfect for kids.
Source: Simply Bessy
Sally Mickey Head Ornament
Another cute Nightmare Before Christmas themed ornament is this little paper one made with a simple template. Sally brings color to the tree, and this is actually easy enough for kids to make!
Source: The Inspiration Edit
Disney Beauty & The Beat Ornament
If you like Beauty and the Beast, then you'll love this ornament. Beast makes an appearance in this easy paper ornament addition to your tree.
Source: The Inspiration Edit
DIY Thor's Hammer Ornament
I love that Marvel is also a part of the Disney universe. This cute little ornament brings the strength of Thor to life on your tree! It's a perfect project to make with the kids!
Source: Life Family Joy
Paper Mickey Mouse Ornament
This template based Mickey ornament is super easy to make. I like the 3D aspect and how it's easy enough for kids to help you make and hang on the tree.
Source: Red Ted Art