Fairy gardens are so much fun and you just won't believe how easy they are to make. In fact, I have collected 20 magical DIY fairy gardens that will help you to add wonder to your home and garden.
All of these are so easy to DIY and they will instantly improve your curb appeal or add some magic to your home. Whether you have a lot of space or just a tiny section that you can work with, you are going to find a wonderful DIY fairy garden to fill it.
My kids are so fascinated with fairies that it makes sense to have a fairy garden…or two at my house. These little gardens are so magical and really do add some character to your décor. This list has all sorts of easy DIY fairy gardens that you can make in just an afternoon and your kids are going to love helping you with them.
From beach themes to rustic country fairy farms, these are perfect no matter what your existing décor entails. And, you definitely want to take a look at these 25 DIY fairy garden furniture and accessories to add to your garden.
Many of these DIY fairy gardens can be made with things that you probably have right there at home. From pinecones and stones to reclaimed wood and more, you are going to find the right garden for your little fairies and one that won't take you long at all to incorporate into your décor. There are even a few lovely tiny gardens that you can keep indoors!
No matter what your style or preference, there is a DIY fairy garden in here to fit your home and garden. And, take a look at how you can turn a glass bottle into a fairy house!
1. Adorable DIY Beach Fairy Garden
I love the idea of letting your little fairies travel to the beach with this DIY beach fairy garden. You can make this in any number of containers or put it right there on the ground in your flower garden.
Blue colored glass stones make the "water" for your beach and some added fun accessories like tiny flip flops, and even a tiny little RV make this is perfect beach escape for your fairies. This is a great idea for DIY beach décor.
Tutorial: joann
2. Easy DIY Bird Bath Fairy Garden
If you are looking to really draw some attention to your DIY fairy garden, why not put it up off of the ground so that people notice it? This DIY bird bath fairy garden is a great idea, especially if you don't really have the ground space to build your fairy garden.
You just build it in an old bird bath or you could make any number of DIY bird baths to make this one, too.
Tutorial: mygardenyourgarden/
3. Cute Birdhouse Themed Fairy Garden
Your fairies can live in any tiny little house, like these DIY birdhouses. You build the birdhouses and then add them to any number of containers to create the fairy garden. Fairies need houses, right?
And if you love birdhouses, then this is the perfect DIY fairy garden for you to create. Plus, it is super easy and quick to make. Just add in some ornamental grasses or small flowers to finish it off.
Tutorial: 1pureheart
4. Upcycled Broken Pot Fairy Garden
An old broken terra cotta pot can be upcycled into a gorgeous little DIY fairy garden. You can even use sections of the broken planter to create steps that lead the little fairies up to their house.
This is a great idea for upcycling broken garden planters and it gives you a lovely little fairy garden that you can use to decorate inside your home or outside in your garden.
Tutorial: jandjacres
5. Simple Budget Friendly Fairy Garden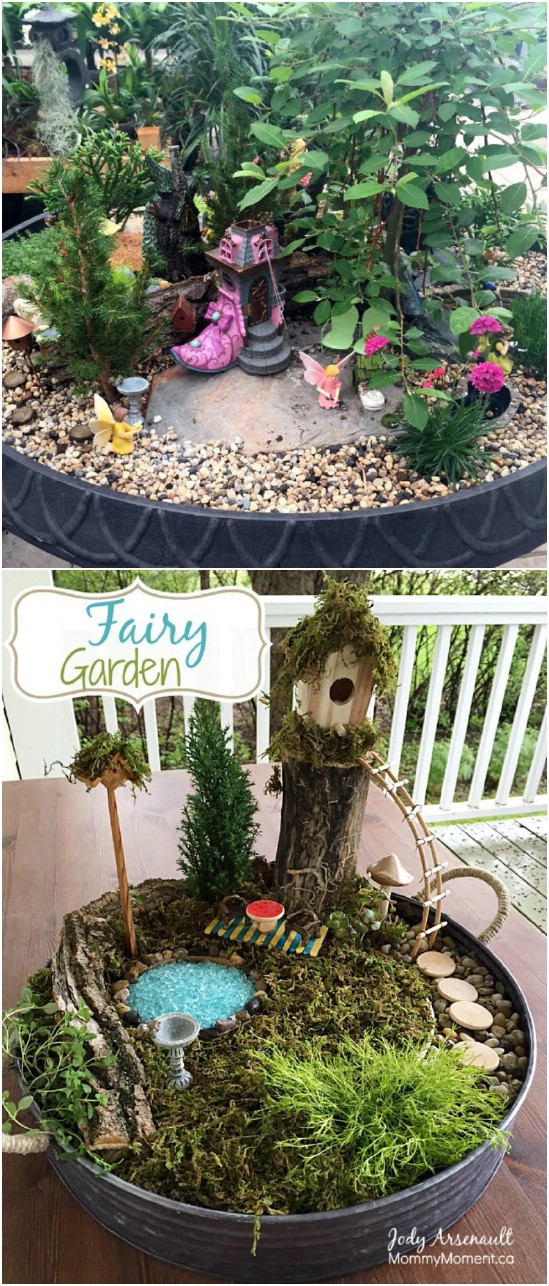 Creating a fairy garden is not expensive by any means but there are ways to make them even less expensive. If you have an old galvanized tub or bucket, you can use that as the container for your DIY fairy garden.
Then you just have to add the accessories like a house and some plants. Tree bark, small stones and twigs are free outside in your yard and they can all be used to create a gorgeous indoor or outdoor fairy garden.
Tutorial: mommymoment
6. Rustic Planter DIY Fairy Garden
Whether you are planning to build your fairy garden indoors or directly in your outdoor garden, there are a number of ways that you can make it rustic to perfectly match your farmhouse inspired décor.
An old wine barrel or any old wooden bucket or barrel gives you the perfect container for a rustic fairy garden and once you have your container, you just add your fairy garden accessories.
Tutorial: horizontaldesigns
7. Repurposed Teacup Fairy Garden
If you have a teacup that is chipped or otherwise unusable, you can repurpose it into a cute little fairy garden for your home. You just use the teacup as the fairy garden container and then add your tiny little fairy garden accessories.
This is a great one for indoors or if you have a couple of chipped or broken teacups, you could build a few little gardens to display on the porch or in your flowerbed. What a great way to upcycle old teacups!
Tutorial: instructables
8. DIY Terrarium Fairy Garden
A terrarium is a wonderful thing to use for decorating your indoors and when that terrarium doubles as a DIY fairy garden, it's even better. This one is super easy and a great project for the kids to help you with.
You just need a container for your terrarium, like a tall vase or a fishbowl, and then you just build the terrarium and finish it off with your DIY fairy garden accessories.
Tutorial: gardensparkle
9. DIY Fairy Garden Table
This DIY fairy garden table is really easy to build with a premade elevated wooden garden bed kit. Or, you could build the table yourself and make it a really cheap project.
Once you have the bed ready, you just build your little fairy garden, which is elevated so it's safe from prying animals and other disasters. This is a really simple project and it's perfect for adding a little height to your flower bed.
Tutorial: innerchildfun
10. Romantic Fairy Garden In A Pot
Take any planter, old pan or other container and turn it into the most romantic little fairy garden. I love this indoor fairy garden that looks so peaceful and romantic. It makes you think of a little café in Paris!
And, it's really easy. You just need the container and a few essentials like a tiny arbor and a table and chairs – and you could make all of those yourself if you wanted.
Tutorial: facilisimo
11. DIY Fairy Door Planter
An old – or new – terra cotta pot makes a gorgeous little fairy house that you can display indoors or out. For this one, you just need the planter and a few other essentials like small stones and green sheet moss.
When you're finished, the planter looks like an adorable little fairy house and you can build the fairy garden right in the planter – or just use it to display your favorite plants.
Tutorial: consumercrafts
12. Simple DIY Basket Fairy Garden
If you don't have another container to use for your DIY fairy garden, an old basket works wonderfully. And, these are so easy to move around where you need them to go. Just fill the basket with moss and then add your fairy accessories.
You could have a few of these sitting around in different sizes and have them all over your indoors and out.
13. DIY Lakeside Cottage Fairy Garden
I love anything to do with lakes, oceans or pools, so I really adore this DIY lakeside cottage fairy garden. You can build this in any planter or large container and it's pretty easy.
You just need to create the "lake" and it even has a tiny little dock and some fish! It's adorable and perfect if you want something rustic for the outdoors. You could do this one in a smaller container, too if you want it indoors.
Tutorial: enchantingwhims
14. Stacked Flower Pot Fairy Garden
A couple of flower pots in different sizes make the most adorable indoor or outdoor DIY fairy gardens. These are really adorable and allow you to build a huge fairy garden in just a little space.
You just have to add the fairy accessories and stack them all up however you want them. You could even do a different fairy garden theme on each level! I love decorative terra cotta crafts!
Tutorial: bystephanielynn
15. DIY Pinecone Fairy House
Whatever type of fairy garden you are planning to build, you need a house for your tiny fairies. This DIY Pinecone fairy house is perfect. You just build the fairy house and then give it a pinecone roof.
This one is really simple and if you don't have the space for a larger fairy garden, you could just add a couple of pinecone fairy houses to create a mini fairy garden anywhere you want to put it.
Source: jakecreates
16. Easy DIY Planter Box Fairy Garden
Build your outdoor DIY fairy garden in a planter box! If you don't have a wooden or plastic planter box, these are really cheap. Or, you could use a DIY window box to build in your fairy garden.
Instead of having flowers outside your windows you could have tiny little fairy gardens, which would really add an interesting focal point to all of your windows.
Tutorial: craftsbyamanda
17. Mini Fairy Farm Garden
If you live on a farm, or wish that you did, this mini fairy farm garden would be perfect. You could even use little farm toys to add the essentials to your DIY fairy garden.
This would be great outdoors with a tiny wooden fence built around it. Your kids, and your fairies, are going to love it and it's a really easy one to do. It's perfect if you want that rustic farmhouse look outside.
Source: Etsy.com
18. Beach Stone Fairy House
You don't necessarily need plants to create a cute little fairy garden. You can make a nice indoor fairy garden with a few sparkly stones and a DIY fairy house.
You just need a large bowl or similar container and a few stones, which you can get at the beach, outside or even at the Dollar Store. Add your fairy essentials and you have an adorable little container fairy garden – you can even paint your stones to be sparkly!
Tutorial: thelittlemonsterblog
19. DIY Fairy Tree Houses
I love these little fairy houses that are made from pieces of log. If you have a few logs – or can find them – you just cut them to size and turn them into adorable housing for your little fairies.
Just add the roof and the windows and doors and you're all set. Once you have a few of these finished, they can create your little fairy garden. Just place them around your flower bed and you're all done.
Tutorial: elowezil
20. Repurposed Drawer Fairy Garden
I love finding neat little repurpose ideas and this DIY fairy garden is one of my favorites. You can build your fairy garden in an old drawer.
If you have a dresser or cabinet that you aren't using, just take out one of the drawers and build your fairy garden in it. This is perfect for indoors or out and it's a great way to repurpose old drawers and turn them into something new and exciting. This is a great repurposing project for old drawers!
Tutorial: miniaturegardenshoppe