I've always loved terra cotta; the clay has such a distinctive natural reddish-orange color that really does make it look like it's from the earth. In fact, the words 'terra cotta' literally translate to 'baked earth' in Italian. How fitting! Apart from being used in bricks or roofing, terra cotta is the major medium not only for plant pots but also for ancient sculptures (think ancient Greek figurines and the most famous of all, ancient China's Terra Cotta Army). And this is why I started looking for projects that encompass both of those elements: I wanted something that celebrates the earthiness and visual appeal of terra cotta as a material.
Luckily, I managed to find quite a few good ones to share. Now I just need to decide which to make myself…
Chandelier Planter
This is one of my absolute favorite terra cotta projects of all time! It's retro, it's eye-catching and it's inventive. You can find a second-hand, worse for wear chandelier from a thrift store and completely transform it with small terra cotta pots and a good paint job that will really make the plants pop.
DIY Instructions and Project Credit – DIYShowOff
Pencil Pot
If you have a terra cotta pot that isn't quite good as new anymore, you can hide the imperfections with paint and some pencils! Or you could, of course, get out a new pot to use so that you can make the ultimate teacher's gift.
DIY Instructions and Project Credit – SassySanctuary
Mini Garden
I've broken a few terra cotta pots in my day and I've always felt a hint of heartbreak every time. But in this case, a broken pot is a necessity in order to make this cute fairy-like mini garden-in-a-pot. There's no step-by-step tutorial for this one because it all depends on how your broken pot looks and what your vision is; just start placing a few things and see where you end up!
DIY Instructions and Project Credit – TopBuy and DailyColours
Lighthouse
These quaint little lighthouses are so adorable, and so very easy to make just by stacking the pots upside-down. Add a tea light on top to get the real lighthouse effect. These would look so beautiful outside when having people over for an evening barbecue – you can light their way around!
DIY Instructions and Project Credit – DIYnCrafts
Nautical Pots
You can embellish your pots very simply by wrapping them with sisal rope. You can keep it plain with just regular lines around, or you can play around a bit to make shapes and let the natural terra cotta peep through. Super easy, super effective!
DIY Instructions and Project Credit – BetterHomesAndGardens
Crooked Tower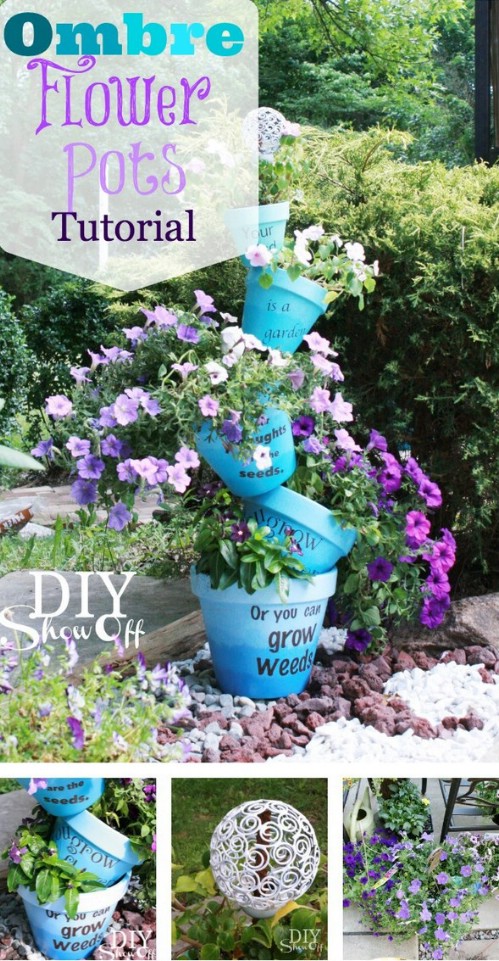 If you like the idea of a tower but don't want it to be quite as neat and tidy then you can opt for the slightly more complicated crooked tower. It looks like something out of Alice in Wonderland! I just love the quirky effect of the leaning pots and the brilliant paint job.
DIY Instructions and Project Credit – DIYShowOff
Bird Feeder
With just one terra cotta pot and two saucers you can make your own birdfeeder and invite nature closer to your home. This project is so simple and so quick to make that you can hang quite a few of them all over the garden if you wish.
DIY Instructions and Project Credit – TheGarden-RoofCoop
Tranquil Water Fountain
I absolutely love fountains – the visual element is a lovely addition to any home, and the sound of streaming water I just so relaxing and calming, especially when you're already outdoors. If you can find yourself the perfect terra cotta planters, you can build your very own unique water fountain without too much effort.
DIY Instructions and Project Credit – Instructables
Plant Pot-Meets-Lantern
Who says a regular terra cotta pot can only have one function at a time? With the addition of a smaller pot hidden within a larger one, you can get the best of both worlds with a pretty flower display as well as the beautiful soft glow of a candle lantern to light up those nights that you'll be spending outside.
DIY Instructions and Project Credit – FamilyChic
Bird Bath
I love the idea of having something in your garden that's specifically there so that little birdies can come over and enjoy a bath. These usually big and solid features can get pretty pricey, though, so someone came up with the genius idea to stack some terra cotta pots, top it off with a saucer and paint it. At first glance, I would never have guessed how this was made!
DIY Instructions and Project Credit – Tracy'sTrinkets&Treasures
Clay Pot People
Forget garden gnomes, these adorable little figures made from a collection of terra cotta pots are moving in! This whimsical little garden feature is just so charming, and with the basics in mind, you can make a unique figure with his or her own little quirks like clothing, faces, and of course, platy hair. You might want to get the kids involved in this one.
DIY Instructions and Project Credit – SodaHead
Saucer Welcome Sign
A broken terra cotta saucer doesn't have to be a disaster – you just need to think on your feet and find a way to give it a whole new function. Like a welcome sign, perhaps? With the help of a permanent marker or even some paint, you can display just about anything and hide the broken part in the ground.
DIY Instructions and Project Credit – Hometalk
Mini Pot Wreath
I know there are some people who love to make and display wreaths for all seasons and holidays of the year, and oh how I envy them! To me, this little clay pot wreath is the perfect project for spring; I may just hop on the bandwagon and take my wreath-making more seriously!
DIY Instructions and Project Credit – SweetPepperRose
Rain Chain
Rain chains are the Japanese alternatives to downspouts; these lovely creations are not only meant to catch and harness the rain water, but they also have a decorative function as a water feature. Mini terra cotta pots are absolutely perfect for this stunning and dainty DIY project.
DIY Instructions and Project Credit – DesignSponge
Plant Stand Candelabrum
Keep your eyes open in the thrift shops or second-hand stores (or in your grandma's attic) for any old plant stands that you can give a new life to. It's amazing to see how a simple addition of a series of tea lights in small clay pots can make such a difference. Don't worry if the stand is rusty – it'll match the color of the terra cotta. Or if you're not so much into that rustic look, just give it a good clean and paint makeover.
DIY Instructions and Project Credit – JunkMarketStyle
Herb Marker
If you're planning on starting your own herb garden, here's a great way to give it that little something extra (and make use of any broken pots!). The cracked pot pieces not only help you quickly identify each plant, but they also help to keep the herbs separate and organized.
DIY Instructions and Project Credit – HardlyHousewives
Clay Pot Christmas Soldier
We may still be quite far away from Christmas, but this adorable (and rather sizeable) soldier simply has to be included for its sheer brilliant creativity. All you really need is five pots of the same size, some paint and some glue and you can have your very own little guards manning your home.
DIY Instructions and Project Credit – C.R.A.F.T
Christmas Trees
Yes, yes, I know it's nowhere near Christmastime yet, so you'll just have to make a note to save these for December. I just love the simplicity of these stacked pots-turned Christmas trees. They're easy, charming, rustic and not so in-your-face. They'd look great just sitting on your porch or along the entrance to your home.
DIY Instructions and Project Credit – Hometalk
Outdoor Table
If you're planning on soaking up the sun outside then you'll obviously need a place to rest the drinks or snacks while you lounge and enjoy your surroundings. Enter the ridiculously easy-to-make terra cotta table. You also know that the material is good and sturdy so it won't topple over when a breeze comes past.
DIY Instructions and Project Credit – ThriftyAndChic and DukesAndDuchesses
Clay Pot Smoker
Smoking your meat brings a whole new element of deliciousness and bold flavor to your food that you simply can't achieve from regular grilling. But have you seen the price of smokers? Those things can cost a couple hundred dollars! Here are two great tutorials that show you how to make your own from a terra cotta pot.
DIY Instructions and Project Credit – Makezine and Instructables
Clay Pot Critters
You can make all sorts of little critters with clay pots of varying sizes, paint and some great imagination. A frog, butterfly, bumble bee and ladybug can all adorn your garden as if they were in their natural habitat. The kids are sure to love these!
DIY Instructions and Project Credit – Plaid
Mini Fountain
Water fountains don't always have to be bold and massive; a smaller decorative fountain can actually give you the same effect, and you'll save on the water consumption too. I love the simplicity of this little pot-and-saucer fountain – it would make a fantastic feature on an outdoor table in the garden or on the porch.
DIY Instructions and Project Credit – DIYnCrafts
Outside Lantern
I am in love with this! It's so simple and easy (and cheap!), but actually looks so elegant. And you don't need any electric wiring or anything like that – just a battery-operated LED light. Any type of terra cotta pot will do for this project, and you can even add some paint or decoration to the pot if you want.
DIY Instructions and Project Credit – TheArtOfDoingStuff
Chalkboard Pot
I am really loving chalkboard paint at the moment (I think all crafters are) so I really love how easy it is to transform these plain terra cotta flower pots with just a little bit of paint here and there. Now you can name your herbs or flowers and keep reusing the pots when it's time for a new plant.
DIY Instructions and Project Credit – Fiskars
Bell Tower Chime
If you thread some small pots and beads onto a wire you can make a cute tower-chime-thing to brighten up the garden. I like the playfulness of the colors, but if you're looking for something more classic you could just stick with one color. The tripod frame is made from wrought iron and can be found at any garden center.
DIY Instructions and Project Credit – GardenMuse
Pot Tower
It really is amazing to see just how many things you can make simply by stacking these pots on one another! And everything comes out looking so pretty! This is a fun craft to get the kids involved in sine it isn't too complicated or messy. I love the play on the function of the pot – you're using the pot to hold flowers, just not in the conventional way.
DIY Instructions and Project Credit – ChaseTheStar
Flower Tower
Flower pots are pretty, sure, but why not take it up a notch by creating a tall tower of flowers with some terra cotta pots stacked on top of each other in descending sizes? Just make sure to pick your location carefully – once placed, the tower won't be easy to move.
DIY Instructions and Project Credit – HubPages:Krysanthe