Shabby chic is such a lovely look and it is one that is really becoming quite popular for home décor, particularly bedroom décor. That worn or antique look is so gorgeous in bedrooms and the look is really easy to get. I recently began thinking about redoing my guest room and I thought that a shabby chic look would pair perfectly with the farmhouse décor that is already in that room. So, I started looking around for some DIY shabby chic bedding ideas and I found 25 of the most amazing projects!
If you love the farmhouse look, these shabby chic bedding projects are definitely going to make you happy. From abstract prints to old world quilts, you are going to find an amazing look for your room – or any bedroom in your house. The bedding projects range from comforters and quilts to pillows and bed skirts and all of them are beautiful. If you are trying to really get that amazing farmhouse look, these are going to fit in beautifully. And, you should check out these 55 DIY farmhouse furniture and décor projects to add that look to every room in your house.
There are so many ways that you can bring the shabby chic look into your bedroom. I love throw pillows and there are a few in here that you can make to perfectly match the style of your room. There are even a few curtain ideas that will let you match your curtains to your bedding, so you have a perfectly uniform look throughout. And, there is bedding for beds of all sizes! You just have to take a look at these amazing shabby chic bedding projects and create a relaxing and beautiful look for your room. And, be sure to take a look at these 60 DIY barn door projects that will add beautiful farmhouse décor throughout your home.
1. DIY Shabby Chic Fitted Sheets
Fitted sheets are a must for making a bed right and these shabby chic sheets are perfect if you want to add some rustic style to your bedroom. The pattern is so easy to follow – although it doesn't tell you how to fold those sheets. You can make these with a nice flannel fabric to keep you extra warm during the winter or something cooler for the summer months.
Tutorial: bloglovin
2. Anthropologie Inspired Rosette Throw Pillow
This rosette pillow is the perfect knockoff of Anthropologie pillows and you can make it for a fraction of the cost of buying one at the popular department store. Do this in whatever color you need to match your bedroom décor. A couple of these thrown on top of a rustic ruffled comforter would give your room such a beautiful rustic look, and the pattern is super easy to follow.
Tutorial: thegildedhare
3. DIY Urban Outfitters Inspired Ruffled Duvet Cover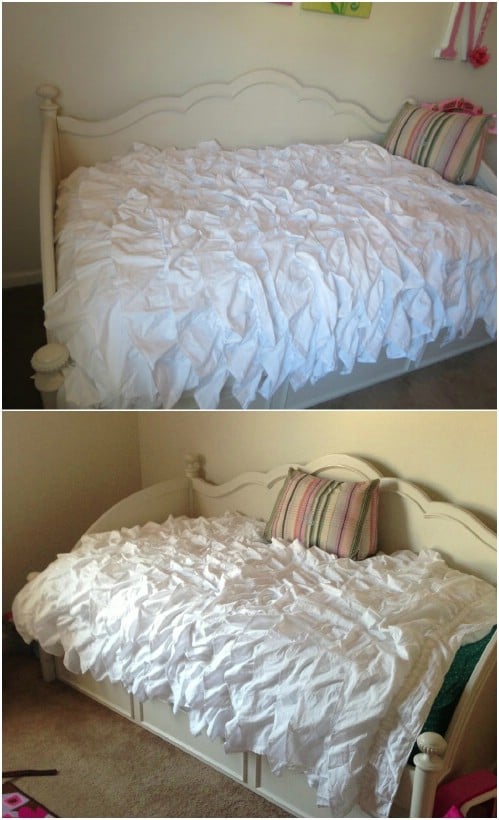 Ruffles are the perfect way to add some shabby chic to the bedroom. I love this look on a daybed but you can make it any size you need to fit your actual bed, too. The ruffles are much easier to sew than you may think and the entire thing just gives such a great farmhouse décor look to the bedroom. The waterfall ruffle look is absolutely gorgeous.
Tutorial: diyprojectsbynina
4. Silky Contrasting Color Duvet Cover
I love the silkiness of this duvet cover and don't let that fabric throw you off. You can pair this with a contrasting colored ruffled bed skirt or blanket and have a wonderful shabby chic look. The duvet cover is super easy to make and you can do it with any fabric that you want, so if you aren't a fan of the silky fabric, choose something that's a bit more rustic.
Tutorial: https://www.youtube.com/watch?v=9rQWwzqYp2o
5. DIY Rustic Patchwork Quilt
This DIY patchwork quilt is the perfect way to add some rustic charm to your bedroom. This also makes a wonderful gift for anyone you know who loves that shabby chic style. You'll need to decide on a color scheme and then choose fabrics with different patterns and designs to piece together to create the quilt. It's a lot easier than it sounds and gives you a beautiful quilt to add to the bedroom. A DIY rag quilt is the perfect way to add some rustic charm.
Tutorial: abeautifulmess
6. DIY Shabby Chic Lace Pillowcase
This next DIY shabby chic project makes me think of my grandmother's house. She always had these gorgeous lace pillowcases on her beds and you can recreate that look with this DIY lace pillowcase pattern. This is such an easy pillowcase to make and they're so beautiful that you really don't need any throw pillows. Just lay these on top of your quilt and show off their stunning design.
Tutorial: ellaclaireinspired
7. DIY Shabby Chic Ruffled Curtain
This ruffled curtain pattern is technically for a shower curtain but you can use the same pattern to create beautiful ruffled curtains for your shabby chic bedroom. I love the Ombre look of this one, which is really easy to create with different colors of fabrics, or you can do it in all one color to match the design of your existing bedroom décor. This one is super easy and gives you a beautiful set of curtains to add that rustic charm to the bedroom.
Tutorial: diyprojects
8. Easy DIY Flannel Rag Quilt
An old rag quilt adds the perfect touch of rustic to your shabby chic bedroom and this one in particular is really easy to make. Rag quilts have been around for centuries and not only are they gorgeous, they are super warm. If you need something really comfy for the winter months, this one is perfect and it adds that beautiful rustic look that we all know and love.
Tutorial: jenyu
9. Iron Transfer Floral Duvet Cover
Floral is another great design that is perfect for that shabby chic style. This duvet cover gives you a beautiful floral look and it is so easy to create. You can create the specific look that you want thanks to iron on transfers that you print right off of your computer. These are gorgeous when they are finished and they give you the perfect opportunity to create the specific style or design of comforter that you want.
Tutorial: designsponge
10. DIY Pin Tuck Duvet
This pin tuck look is really popular in shabby chic bedding. Unfortunately if you buy a pin tuck duvet in a department store, it will cost you more than $100. They are beautiful but they aren't cheap…unless you DIY your own. This pin tuck duvet is really easy to make and has such a gorgeous look. You can use the same method to create pillow cases or throw pillows that perfectly match your duvet.
Tutorial: viewalongtheway
11. Shabby IKEA Napkin Pillowcase Hack
If you have a few IKEA Tekla napkins, you can turn them into the most adorable shabby chic pillowcases. I love the addition of pom poms on this one. Don't worry, if you don't have any Tekla napkins to use, you can do this with flour sack material or something similar to get the same great look. These are great for adding that rustic look to the bedroom and they match just about any comforter or duvet cover that you may have on the bed.
Tutorial: modernhaus
12. DIY Muslin And Corduroy Bedding
You can make this queen sized – or whatever size you need – bedding from corduroy and muslin and it perfectly matches your DIY rustic bedroom décor. This really is not a difficult comforter to make and you can use any color or design that you want. Consider adding a graphic panel, something with a floral design if you want that French chic look. The corduroy makes this one of the warmest comforters you will ever use.
Tutorial: instructables
13. Romantic Rosette Comforter – Anthropologie Hack
DIY Anthropologie hacks are great and this one in particular is awesome. You can make this Anthro inspired rosette comforter in a lot less time than you may think and it is the perfect way to add some romantic rustic charm to the bedroom. You can do this with a comforter of any size so this is the perfect one for your bedroom, no matter what size bed you have.
Tutorial: soyouthinkyourecrafty
14. DIY Ruffled Bed Skirt
A ruffled bed skirt is the perfect shabby chic bedroom accessory, whether you have ruffles on your comforter and pillows or not. Bed skirts also help you to hide away the underneath of your bed, so you can use that area for storage if needed and no one will be the wiser. I love this ruffled skirt that is so easy to make and really does offer a nice dose of rustic charm.
Tutorial: mattandshari
15. DIY Ruffled Spiral Pillow
Throw pillows are a must for proper bedroom decorating and this ruffled spiral throw pillow is a must if you are looking to achieve that shabby chic look. This one is much easier to make than it looks and it really is a gorgeous pillow. You could do this with pillow shams, as well and have ruffles all over your bed, which will definitely give it that shabby chic look.
Tutorial: thegirlinspired
16. DIY No Sew Bed Skirt
What could possibly be better for your shabby chic bedroom décor than a rustic looking bed skirt that you don't have to sew? This one is made from a sheet – you can use flannel or muslin to get that great shabby chic look – and it's so easy. You don't have to cut or sew as long as your sheet is the right size. You're going to want to go a size up from your bed so if you're making a bed skirt for a full size bed, use a queen size sheet, and so on.
Tutorial: designertrapped
17. DIY Shabby Chic Ruffled Nursery Bedding
If you want to get that shabby chic look in the nursery, all you have to do is sew together this beautiful ruffled crib skirt. This is actually easier than sewing a full or queen sized bed skirt and the ruffles are super easy to achieve. I love the idea of doing this in different patterns for a patchwork design or you could do it in one color to get a wonderfully themed look to match your existing nursery décor.
Tutorial: howjoyfulblog
18. Crochet Popcorn Stitch Bedspread
Crocheting a bedspread is actually much easier than you may think and it gives you a wonderful cover for your bed. This one in particular is a great shabby chic pattern that is perfect for creating a farmhouse looking bedroom. Even if you are new to crocheting, this one won't be difficult and you can have it finished in a week even if you just spend a little time each day working on it. You have to love easy crochet blanket patterns for beginners.
Tutorial: https://www.youtube.com/watch?v=O5HrtLruFcQ
19. Easy Sew Twin Shabby Chic Bedspread
Twin beds are often difficult to find bedspreads for, particularly if you want to create a shabby chic look in the bedroom. This one is hand sewn and it's a really easy bedspread to make. You'll need three pieces of fabric, one for the design side and the other two to create the sides. You can also sew in a flannel or muslin underneath to make it warmer, and this step is really simple. This entire project is one that you can have finished in just a couple of hours, even if you are new to using a sewing machine.
Tutorial: sewmyplace
20. DIY Vintage Sheet Duvet Cover
One of the easiest ways to change up your bedding is to create a new duvet cover. This one uses two vintage sheets to give you a wonderful shabby chic look that has rustic written all over it. If you don't have vintage sheets to use, you can find them at your local Goodwill or other thrift store and they are normally just a dollar or so each. You just sew them together and create a cover that will turn that duvet into a beautiful shabby chic creation.
Tutorial: mypoppet
21. No Sew Ruffled Bed Skirt
A ruffled bed skirt will definitely give you that shabby chic look but what do you do when you just don't have the time…or the desire…to sew one together? You make this amazing no sew ruffled bed skirt. This is honestly one of the easiest bed skirts to make and there is positively no sewing required. Add in a great rustic looking bedspread or comforter and you have the perfect shabby chic bedding for your room.
Tutorial: harbourbreezehome
22. DIY Wood Beam And Lace Canopy
A canopy is a wonderful way to add some design to the bedroom and this wood beam and lace canopy is perfect for creating a shabby chic look. The wood beams can come from an upcycle project or you can buy them new and stain them whatever color you want them. A barn wood look would be perfect for that farmhouse appeal. Then you just add the lace curtains to create a beautiful canopy that turns your room into a shabby chic masterpiece.
Tutorial: lovegrowswild
23. Kids' Shabby Chic Bedding
If you are doing your entire house in that great farmhouse fashion, then this kids' shabby chic bedding is perfect. This comforter is made from downsizing a king sized comforter. You just add the finishing touches and it's all done. This one is super easy and it is perfect for turning your kid's room or any room into a shabby chic bedroom that fits in perfectly with your farmhouse style.
Tutorial: thediymommy
24. Perfect Shabby Muslin Bed Skirt
Muslin is the perfect fabric for creating a rustic or shabby chic look. This bed skirt is made of muslin and it's super easy. You can choose any number of patterns to make this one, even a no sew if that's what you want. Just gather enough fabric to cover the frame and box springs all the way to the floor and then just put it all into place under your mattress. You can top this one with any number of quilts or ruffled bedspreads.
Tutorial: whitelacecottage
25. Anthropologie Knock Off – Elderdown Throw
An elderdown throw from Anthropologie is probably going to set you back $100 or so, but you can make one yourself for just a fraction of that. This throw has the most gorgeous design, particularly in the white fabric that is used to make it. This one doesn't require a lot of sewing, although it's not a completely no sew project, either. You can easily make this in a weekend and instantly give your bedroom that shabby chic look that you want.
Tutorial: twiggstudios