Crocheting is such a favorite pastime of many. If you don't knit or crochet, you are really missing out on some of the most fun and relaxing hours that you could spend.
I don't crochet like a pro but I am definitely working on my skills, and these easy blanket patterns are perfect for brushing up on everything from basic granny squares to more complicated v-stitches.
Jump to:
1. Blackberry Salad Striped Afghan
This gorgeous afghan can easily be crocheted in a number of sizes. You could use the pattern for a baby blanket or a king sized throw – whatever size you need.
I love all the different colors and there are pattern sizes available for any size that you would need.
Plus, this gives you the opportunity to work with different colors on the same project, so if you haven't done that, this is an easy pattern to learn.
Pattern and instructions: mooglyblog
2. Twinkling Stars Blanket

This crochet blanket features a beautiful stitch that is easy to work even for beginners. The pom pom border adds the perfect finishing touch. You can make it in multiple colors or even a single color.
Designed with a soft worsted weight yarn, this blanket grows quite fast.
Pattern and instructions: crochetdreamz
3. Clamshell Blanket
This gorgeous clamshell blanket is a bit trickier than others but so worth the effort.
You can use the pattern for larger blankets or baby blankets as well as cushions and just about anything else you want to create that has this lovely clamshell pattern.
This is such a traditional-looking blanket and it would be the perfect throw for those chilly winter nights.
Pattern and instructions: ravelry
4. Falling Petals Afghan

You will love the texture on the Falling Petals Afghan. It is a variation of the shell stitch that looks 3D. Choose a worsted weight yarn with good drape and you will have a very beautiful blanket in no time.
Pattern and instructions: crochetdreamz
5. Hexa Puff Quilt
This hexa puff quilt is absolutely stunning. The colors along with the design make it perfect for giving or keeping for yourself as a nice throw.
The pattern is for a baby sized quilt, which would also be perfect for a lapghan or you could adjust the size if you want to make it a bit larger. I love the pattern itself with those puffs of color.
It's just a gorgeous piece no matter what size you make.
Pattern and instructions: craftdisasters
6. ABC Afghan
I love the idea of crocheting this ABC afghan to give as a gift at a baby shower. Who wouldn't just love having this? It's a block quilt that has the alphabet in the blocks and there's a heart that you can put in the empty blocks.
I think doing this in different colors per line would be gorgeous, especially if you know the gender of the baby so you can alternate colors for him or her or just use neutral colors.
Pattern and instructions: crochetnmore
7. 5 Hour Blanket

Try this chunky baby blanket pattern that can be made in just 5 hours. It uses a variation of the Moss stitch to add texture your blanket. This is perfect for a chenille yarn but you can use other chinky yarns too.
Pattern and instructions: crochetdreamz
8. Crochet Sampler Afghan
I love sampler patterns. This afghan really resembles a quilt with its blocks of different colors and designs. It's pretty simple to create, too since you're working with the blocks.
I even love the blues and greens used in this one, although you could use pink and blue to make it a baby afghan or whatever colors you need.
Sampler patterns give you the opportunity to work with a number of different stiches so they're great for practice.
Pattern and instructions: redheart
9. Sampler Throw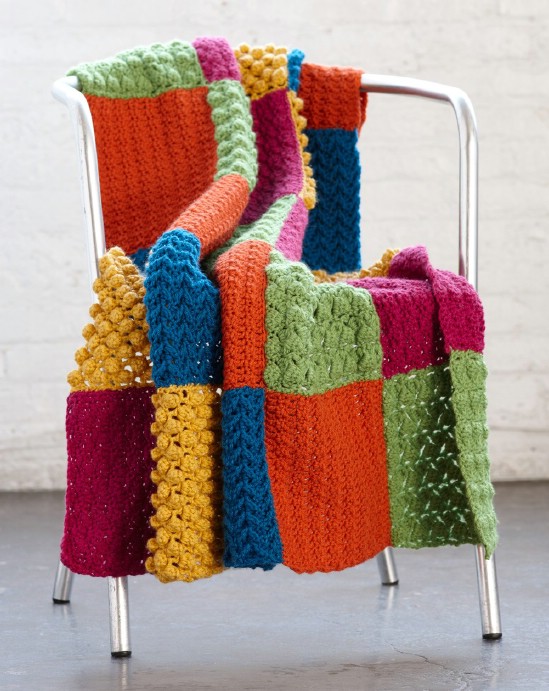 Here's another beautiful sampler pattern that lets you create a wonderful throw. I love the bold colors used in this one but again, use whatever colors you need.
I really like these sampler patterns because you can try out so many stitches that maybe you haven't done before so you get to practice and practice some more, making you perfect for those more difficult projects you may want to try.
Pattern and instructions: lionbrand
10. Go Team Colors Blanket
This pattern is for a baby blanket, but you could also use this team blanket for those cold nights at the stadium. It's an easy pattern and you incorporate the colors of your favorite team.
Whether you enjoy football or baseball – both of which are played outside during colder weather - you will love having this little blanket along to help keep you warm on those windy nights.
Pattern and instructions: mooglyblog
11. Blanket For All Seasons
This adorable little baby blanket can be customized in different ways to make it perfect for whatever you need. It's also a really easy beginner project and allows you to practice different stitches so you can become more experienced.
The pattern can be adjusted to different yarn weights as well so it really is perfect for any season.
Pattern and instructions: ravelry
12. Giant Granny Square Throw
I have to say, I'm a little jealous of people who have perfected the granny square.
I personally think it's the most gorgeous of all crocheting projects. If you love doing granny squares, or even if you're like me and just need to practice them more, this is the perfect blanket project.
This huge blanket can be used as a bedspread or just anywhere that you need it – like on the back of your couch to show off your amazing granny square skills.
Pattern and instructions: makerssociety
13. Hexagon Blanket
This beautiful and colorful blanket uses a hexagon pattern that makes it absolutely gorgeous. You use a hexagon granny square to create it and you will end up making more than 200 of those little squares to finish it off. It's not as lengthy as it sounds, though.
You could easily whip this up in a weekend and it's perfect for snuggling up and watching movies on those cold evenings.
Pattern and instructions: petalstopicots
14. Hooded Baby Blanket
I love this little hooded baby blanket. It's perfect for your little one or to give away as a shower gift to someone you know who is expecting.
The little hood is just too cute and the entire blanket doesn't take long to complete. You could probably alter the pattern a bit if you wanted to make a larger version of this for an older child.
Pattern and instructions: lionbrand
15. Disney Blanket
Any child is going to adore this Disney blanket .This one is a bit more complicated than a plain blanket, because of the head, which you stuff to make it really stand out. I love the idea of these for baby showers and you could even leave off the head and just crochet the blanket if you want a nice little easy pattern.
Pattern and instructions: libertycrochet
16. Make It Quick Afghan
This afghan is a really easy pattern that creates a great texture because you crochet into the back of your loops. I love the contrasting edging – although you don't have to do that unless you really want to. It's a beautiful blanket that won't take long at all for you to finish and will look great in any room.
Pattern and instructions: yarnspirations
17. Rose Twists Afghan
This is a really beautiful smaller blanket that can be used as a baby blanket or a nice throw. The rose and white motifs feature an eyelet design that's really easy to create.
This is a great mid-weight blanket that you can use to warm up on chilly evenings on the porch or to keep the new baby crib beautifully decorated. The pattern is really easy and won't take you long at all to finish.
Pattern and instructions: ravelry
18. Irish Wave Crochet Blanket
This blanket is so gorgeous. From the beautiful coloring to the fascinating design, you are sure to love this when it's completed.
It looks so much like an heirloom and your little ones are going to love passing it down to their own little ones.
The pattern creates a ripple design which is really stunning. It looks much more difficult than it actually is – you'll be amazed at how simple this one is to create.
Pattern and instructions: ravelry
19. Merino Wool Blanket
This gorgeous blanket features blocks of design and solid colors that make it perfect for baby showers or just keeping around for chilly evenings.
You'll work the entire blanket with yarn held double, and overall this is a really easy pattern. I love the intricate design and the varying looks you could get just by changing your yarn colors.
The pattern is available in both English and Japanese.
Pattern and instructions: ravelry
20. Ordinarily Extraordinary Blanket
This seemingly ordinary blanket can be made extraordinary by attaching some crocheted appliques. The pattern itself is really simple and the finished project is absolutely gorgeous.
You could do this in all one color and make it beautiful but it's even more so when you combine different colors. Most importantly, it's a blanket that you can have finished in no time.
Pattern and instructions: dottieangel
21. Secret Garden Afghan
I love everything about this blanket – especially the name. It's done in gorgeous colors that are reminiscent of the flower garden and it even has tiny posies crocheted in with the pattern.
It would be perfect as a gift for a baby shower or wedding or even to just lay on the back of the couch for a great splash of springtime colors. It's also really easy to complete and won't take long at all from start to finish.
Pattern and instructions: favecrafts
22. Sideways Shell Blanket
This crocheted sideways shell blanket is perfect for an upcoming baby shower. With the trim done in a different color, it's a really elegant and gorgeous blanket. The pattern makes it really easy to find where your rows end and what stitch to put your hook into.
The pattern itself uses chains as well as single and double crochet, so you get practice in varying stitches and when you've finished, you have mastered most of the basic stitches of crochet.
Pattern and instructions: projectlinus
23. Square Upon Square Throw
This beautiful blanket has a smaller square that grows to incorporate larger squares throughout the pattern. It's actually much easier to crochet than it looks and is sure to be a favorite throw when you've finished.
After your first square, you simply join all others while working round five – so easy and yet such a beautiful blanket when it's finished.
Pattern and instructions: ravelry
24. Sunburst Granny Square Blanket
This afghan uses granny squares to put together amazing sunbursts that create a stunning blanket when finished. The pattern is for a single bed size but you can easily adapt it for larger sizes or to create a beautiful baby afghan.
Granny squares are such a wonderful thing to learn – I'm currently working on mine – and you can make so many beautiful things once you've mastered them.
Pattern and instructions: craftpassion
25. V-Stitch Crochet Ripple Afghan
This lovely v-stitch crocheted afghan pattern comes with a matching pillow pattern. You can create such a lovely bedroom set with these and the pattern itself is really gorgeous.
I love the V shape, especially at the edges of the blanket. Plus, the V stitch is a special stitch that you will have mastered once you've finished this – and it won't take you long at all to complete.
Pattern and instructions: petalstopicots
26 Chunky Feather And Fan Blanket
This blanket has a beautiful lace look to it that is much easier to create than you may think. You use weight yarn and a large hook for this one – 15 mm to be exact – so it works up really quickly.
The finished product makes a gorgeous throw and you can learn the feather and fan stitches that are very popular.
Pattern and instructions: persialou
27. Classic Crochet Baby Blanket
This lovely little blanket is perfect for anyone you know who is expecting. Why purchase store bought baby blankets when you can easily crochet one yourself?
The design is so elegant and beautiful and it's a really easy pattern to follow. The scalloped edge is really gorgeous, too and you could easily adjust this for size if you wanted to make something a big larger.
Pattern and instructions: onelittlerayndrop
28. Swirl Blanket
This swirl blanket is certainly unique and makes the perfect throw for the back of your tea sipping and reading chair. This one is really easy, too. Once you set up with the center, you just have to repeat the same step over and over until you reach the length that you want. It's easy to adjust to whatever length you need, and it's one of the most gorgeous blanket patterns I've seen.
Pattern and instructions: ravelry
Conclusion
I can't wait to see which of these blankets you've made. They are all so beautiful and so easy – most of them can be completed in less than a weekend, even if you're not working on them around the clock.
Whether you're looking to create something really special for a baby or wedding shower or you just want to make your own cozy throw, there's a pattern in here that you are going to love. Cozy up with a piece while you're under your newly crocheted afghan.
Whether you're an avid crocheter or you've just started, you can easily make most of the blankets on this list. There are so many wonderful colors – of course you can always choose your own colors – and designs.
Many of the patterns can also easily be altered so if you need something larger or smaller, just figure out the additional stitches. Also, be sure to check out these 100 free crochet patterns for beginners.
There are so many wonderful things in here that you can make – many of which will pair nicely with your new blanket.
Crocheting is such a wonderful skill. It's also a skill that is not too difficult to learn and once you do, you have an endless supply of personal handmade gifts for all of your loved ones.
Try out some of these amazing patterns and see for yourself just how easy they are to complete. Let me know which ones you try – I'm always excited to hear how your projects are going!