One of my favorite things about summer is the number of salads that I get to enjoy. Seriously, when you plant your own vegetables or visit your local fruit market, you can have a different salad every day of the week. Salads are so healthy and delicious that it doesn't seem fair not to be able to enjoy them all year long. I recently started looking at salad recipes for winter – recipes that include delicious winter based foods like butternut squash, cranberries and even sweet potatoes. I found 30 really easy to make and so delicious recipes that you can enjoy this winter.
I am so excited to be able to create unique salads throughout the winter! I love salads and would just about eat them every day, but the same old lettuce based salads get tiresome. These recipes incorporate so many of your favorite fall ingredients like apples, walnuts and even beets into delicious salads that you can serve as a side or a main dish – depending on how much you love salads. And, if you're looking for some great side dishes that are free of gluten to go along with your meals, be sure to check out these 40 gluten free Thanksgiving side dishes.
I do love finding a great new recipe and all of these recipes are delicious. Plus, you can make them with things that are easy to find in stores around this time of year. From kale and tofu to Brussel sprouts, oranges, pears and so many other yummy foods, you'll find a salad in here that is sure to satisfy your healthy food craving. Many of these are perfect to serve as sides over the holidays or you can just enjoy them whenever you want something fresh and tasty. And, if you need a great main course to go along with any of them, take a look at this cast iron skillet chicken pot pie recipe. It's always a family favorite.
1. Apple, Olive and Feta Salad
This recipe only takes about 20 minutes to get ready and it is filled with flavorful ingredients like granny smith apples, radicchio, chickpeas, crumbled Feta cheese and Kalamata olives. It also has a delicious dressing that you make with red wine vinegar, olive oil and it has butternut squash. It's colorful and delicious and sure to help you beat those winter blues.
Recipe: realsimple
2. Green Salad With apples, Pepitas and Cranberries
You can use a store bought green salad blend for this one and then just add your granny smith apples, pepitas (these are green pumpkin seeds which you can get at any health food store), cranberries and crumbled goat cheese. You can totally substitute if you don't like goat cheese. The apple cider vinaigrette is homemade and includes olive oil, apple cider vinegar, honey and Dijon mustard.
Recipe: cookieandkate
3. Asian Chopped Salad With Tofu
This Asian inspired chopped salad has soy sauce, sweet Japanese rice wine, fresh ginger, sesame oil, rice vinegar and so many other wonderful flavors. The salad itself has romaine lettuce, dived veggies including cabbage and celery and dry roasted peanuts. It's a delicious and really light salad that is perfect for a side or a quick lunch salad.
Recipe: nytimes
4. Chopped Green Salad With Beets
I love beets – they have such a unique flavor! This salad includes beets as well as greens, olive oil, quinoa, avocado and toasted sunflower seeds. You top it off with a homemade tahini dressing that has lemon juice, tahini, apple cider vinegar and agave nectar if you want just a bit of sweetness in your salad.
Recipe: sproutedkitchen
5. Brussels Sprouts Salad With Bacon And Cranberries
Okay, I'll admit that I really love the taste of Brussel sprouts. I'll eat them plain but I really love the combination of ingredients in this Brussel sprouts salad. Aside from chopped Brussel sprouts this one also has cooked bacon, toasted almonds, and cranberries and is mixed with garlic, shallots, orange juice, lemon juice and a few other tasty ingredients. Serve this with your homemade tortellini soup for a great soup and salad meal.
Recipe: letsdishrecipes
6. Winter Butternut Squash Salad
This roasted butternut squash salad has kale, faro and a delicious homemade cranberry dressing. It's perfect for the holidays or anytime that you want something with a wonderful flavor to serve as a side salad. It only takes about 10 minutes to get this one prepped and then you have to cook it for nearly an hour. Aside from the butternut squash and kale, this salad also has shallots, olive oil, garlic, and feta cheese.
Recipe: kitchenconfidante
7. Delicious Christmas Salad Recipe
This blood orange salad is perfect for serving with your Christmas dinner or you can enjoy this one anytime you want something a bit healthy with just a hint of sweetness. You'll need juice and zest from a blood orange as well as ground cloves and other ingredients for the
dressing. This also has homemade brown sugar almonds and you can serve it with packaged mixed greens along with pear, orange, blood orange and gruyere cheese.
Recipe: ohsweetbasil
8. Pomegranate, Pecan and Chard Salad
This salad is filled with healthy ingredients and is so tasty! It is rich in vitamin C and a number of antioxidants and there is no oil, so the calorie count is really low. It has Swiss chard, pomegranate seeds, frozen red grapes, onion, pecans, cranberries, and chopped apple and the taste is out of this world. This is also a really nice one to add a bit of color to your holiday dinners.
Recipe: lunchboxbunch
9. Cranberry Orange Vinaigrette Salad
A homemade cranberry orange vinaigrette makes this salad so delicious and it's a really easy one to put together. The salad itself can be any packaged greens that you have on hand. What makes this one really special is the homemade dressing that includes cranberries, maple syrup, Dijon mustard, clementines, and apple cider vinegar. You can mix up this dressing and store it in the fridge for up to a week.
Recipe: ohsheglows
10. Greek Kale Salad
This Greek salad only takes 20 minutes to prepare and the recipe feeds up to eight people. Along with Dijon mustard and red wine vinegar, it has oregano, honey, feta cheese, cranberries, Kalamata olives, capers, Tuscan kale and so many other wonderful ingredients, most of which you can find in your local grocery store. This is the perfect salad to accompany your crispy garlic parmesan salmon.
Recipe: tastingtable
11. Grilled Sweet Potato And Bacon Salad
Sweet potatoes are such a winter staple and you can make this delicious grilled sweet potato and bacon salad from thickly sliced grilled sweet potatoes, bacon and homemade dressing. The dressing has vinegar, honey, whole grain mustard and seasonings and together, the salad and dressing make a wonderful dish.
Recipe: globaltableadventure
12. Easy Honeyed Winter Salad
In about 25 minutes, you can enjoy this delicious winter salad that brings a taste of summer to your table. this is such an easy to make salad and has butternut squash, red onions, parsnips, ciabatta, sunflower seeds, spinach and honey that all work together to give it a phenomenal flavor. The vegetables are roasted for extra flavor and then mixed together with the spinach and ciabatta.
Recipe: bbcgoodfood
13. Winter Salad With Lemon Yogurt Dressing
Homemade lemon yogurt dressing gives this salad a delicious flavor and it's a really easy to make winter dish. The dressing contains whole milk yogurt, Italian parsley, avocado or canola oil, garlic and fresh lemon juice. The salad has romaine lettuce, jicama, carrots, avocado, celery, broccoli, garbanzo beans, Kalamata olives, radishes and sunflower seeds and together, they make an amazing dish.
Recipe: epicurious
14. Pear And Black Bean Winter Salad
Red cabbage, pears and black beans complement corn and red onion in this delicious winter salad that is so easy to make. The homemade dressing has lemon juice, whole grain mustard, and olive oil and is seasoned with chili flakes and chia seeds. This is a recipe for one but you can easily adjust it to make as much as you need. The cabbage and red onion give it so much color and flavor!
Recipe: includingcake
15. Winter Pecan, Pear And Gorgonzola Salad
Pecans and pears are perfectly paired together in any winter salad. This one in particular combines those two flavors along with gorgonzola cheese, chopped greens and a homemade dressing with olive oil, hazelnut oil, sherry vinegar and Dijon mustard to give it a delicious taste and the colors are perfect for adding a bit of excitement to your dinner table.
Recipe: davidlebovitz
16. Festive Persimmon And Avocado Winter Salad
Persimmons, avocado, pomegranate and feta cheese give this salad not only a delicious flavor but coloring that is perfect for your holiday dinners. This one is really low in calories and only takes about 15 minutes to prepare. It has mixed baby leaf salad mix, persimmons, avocado and of course, feta cheese. The homemade dressing contains orange juice, toasted hazelnut oil, Dijon mustard and olive oil. Avocado is so yummy and it's great in recipes, like these baked avocado fries.
Recipe: savorynothings
17. Winter Pumpkin And Millet Salad
Of course, when you think winter salad you just have to consider pumpkin! Pumpkin is after all, the fall and winter food, right? This salad has pumpkin as well as millet, butternut squash, hazelnuts, avocado, broccoli, grapes, pomegranate and a homemade chunky herb dressing that gives it a wonderful flavor. Freshly chopped herbs help to make the homemade dressing flavorful.
Recipe: greenkitchenstories
18. Quinoa, Kale And Apple Salad
Black quinoa and kale are mixed together to make this salad one of the best winter salads you have ever tasted. Along with those ingredients, this one has red apples, sprouts and feta cheese. The homemade dressing contains lemon peel and juice, hot English mustard and seasonings and together, all of the ingredients make up a delicious winter salad that will complement any meal.
Recipe: greenkitchenstories
19. Radicchio, Squash And Arugula Salad
I love the color of this salad! Not only is it pretty to look at, it's delicious to eat thanks to the combination of butternut squash, radicchio, arugula and the homemade warm balsamic vinaigrette dressing. The salad itself is just a mix of vegetables and prosciutto and the dressing, which contains brown sugar, olive oil and garlic along with balsamic vinegar, gives it such a delicious flavor. The addition of walnuts and pomegranate seeds gives it just the right amount of sweet flavor, too.
Recipe: tastefoodblog
20. Radicchio Winter Salad With Walnuts And Oranges
Radicchio is a wonderful green for winter salads and when you add orange, orange zest, shallots, parsley leaves and walnuts, you get a delicious winter salad that makes the perfect side for any main dish. This one is so easy to put together and only takes about 15 minutes total and it makes four servings.
Recipe: bonappetit
21. Red Cabbage And Orange Salad
Cabbage and orange is such a flavorful combination. This winter salad uses those flavors along with grapes, red onion, parsley and walnuts for a flavorful and colorful dish. The homemade dressing is made from orange juice, honey, olive oil and seasonings. This is a really easy one to put together and the recipe serves six.
Recipe: greenkitchenstories
22. Winter Squash And Roasted Beet Salad
This delicious salad has butternut squash, walnuts and beetroot. It has a gorgeous color and an even better taste. This one only takes about 10 minutes to prep but you have to cook it for an hour. Aside from the beetroot, squash and walnuts, it also has parsley, red onions, lemon and seasonings and it's the perfect side dish for all of your holiday meals.
Recipe: mypoppet
23. Roasted Broccoli Emerald Salad
Emerald salad is delicious and it's really easy to make. With roasted broccoli, this one is perfect for accompanying pasta dishes or it's great all by itself. Aside from the broccoli, it has leeks, garlic, fresh spinach, lemon zest, parsley and sliced almonds. It's a gorgeous green salad that is so healthy and delicious – it's sure to be a hit with anyone in your family and it's a great way to get people to eat their spinach.
Recipe: sproutedkitchen
24. Roasted Carrot And Leek Cranberry Quinoa Salad
Cranberries, roasted carrots and leeks give this salad such a wonderful flavor. It also has quinoa so it can serve as a meal salad or you can serve it on the side of any number of main dishes. This recipe serves one but it's easily adjusted to make more and it only takes about five minutes to get ready and then another half an hour or so to cook. The freshly made cranberry sauce dressing is the icing on the cake!
Recipe: peachypalate
25. Fresh Roasted Cauliflower Salad
I love roasted cauliflower. It has such a unique flavor and it's perfect for adding to any number of salad veggies to create a scrumptious winter salad. You just roast your cauliflower in the oven and then add it to cheese, olives, other roasted vegetables, bitter greens and just about anything else that you want. This is a sort of make your own salad with roasted cauliflower as the base and it's absolutely delicious.
Recipe: nytimes
26. Winter Salad With Roasted Cherry Tomatoes And Walnuts
This winter salad has yummy roasted cherry tomatoes (roasting them really brings out their flavor) as well as lettuce, endive, walnuts and pecorino Romano cheese. Fresh rosemary along with balsamic vinegar and pepper give it a wonderful flavor. Roasting tomatoes is so easy, too. You just heat the oven, place your tomatoes on a baking sheet and roast for about half an hour.
Recipe: marthastewart
27. Winter Shrimp Salad With Apples
Who doesn't love a great shrimp dish? I do and I love this winter salad that has curried shrimp, apples and cashews. The spices in the curried shrimp make this the perfect main dish salad and it's super easy to make. It also has shallots, brown sugar, rice vinegar and arugula and the recipe serves four so it's the perfect salad for those nights when you want to serve something super healthy for dinner.
Recipe: finecooking
28. Sweet Potato Winter Salad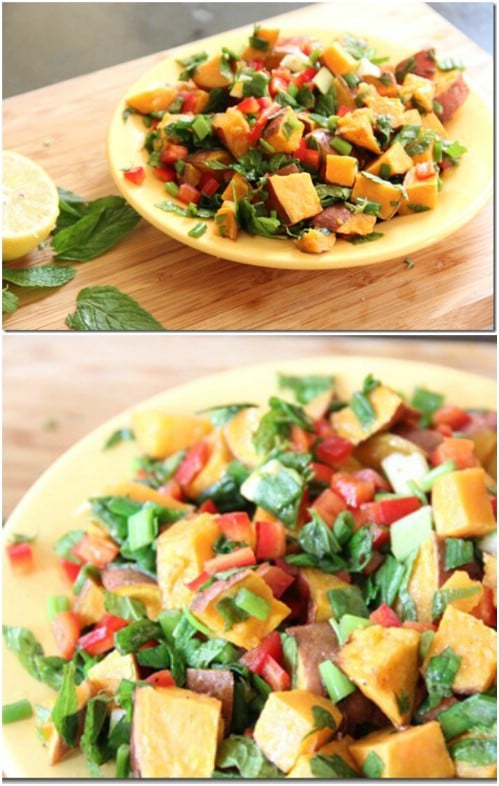 Here is another delicious sweet potato salad that is the perfect companion for your holiday meals, or you can serve this any day of the week. It has fresh sweet potatoes, scallions, red peppers, mint leaves and orange juice and it is really tasty. Cooking time for this one is just a half an hour so it's a pretty quick winter salad and it is just filled with flavor. If you love sweet potatoes, you are definitely going to want to try this sweet potato winter salad.
Recipe: glowkitchen
29. Warm Kale Winter Salad
Warm kale is really delicious and this salad is perfect for when you really want a salad but it's so cold that you also want something warm and comforting. With kale, shallots, pine nuts and sweet apple, it is a really healthy and tasty dish. The dressing has avocado oil, sea salt, lemon and agave and it complements the flavors of the warm kale perfectly. This would be so delicious with homemade chicken parmesan.
Recipe: ahouseinthehills
30. Winter Couscous Salad
Couscous is really tasty and perfect for those cold winter evenings when you want a salad but you want it to also double as a comfort food. This winter couscous salad has pine nuts, wheat couscous, honey, cinnamon, sweet potatoes, kale and pomegranate seeds, as well as feta cheese. It's a really tasty dish and so easy to prepare and you can serve this with just about any main dish.
Recipe: foodtasticmom