Rustic decor is so beautiful and it doesn't have to be expensive at all. While you could certainly head over to Pottery Barn or any of the other relatively high priced home decor stores, you can just as easily make your own rustic decor and save a bundle. That's what I love about DIY – you can make beautiful decor that rivals anything you'll find in a fancy magazine and you get the joy of making it yourself and saving money. What's not to love about that? That being said, I recently developed a fascination with twine. Twine is such a rustic material and really gives you a great farmhouse look on just about anything you attach it to.
So, I decided to find a few twine projects, you know so that I could add that great rustic look without spending my entire monthly paycheck in doing so. What I found are 40 of the most adorable and easy to DIY twine projects you've ever seen! I love creating just about anything and I love upcycling and repurposing even more – many of these projects offer the ability to upcycle things that you would normally throw in the trash, so they're doubly delightful. These crafts are so great and they're perfect for when the weather doesn't allow you to get outside. And, they all have that great rustic look, just like these 50 wood signs that add rustic charm to your home.
You don't have to spend a lot of money to be crafty. In fact, many of these projects are quite cheap and really frugal considering you get to repurpose and upcycle materials. Twine itself is not at all expensive so if you don't have a few rolls on hand, you can pick it up pretty cheap, too. You can also substitute jute or hemp cord for many of these and you use things like empty wine bottles, mason jars, and even newspapers to create them. Imagine having an entire collection of twine decor that didn't cost you anything! If you truly love the rustic farmhouse look, be sure to also take a look at these 55 DIY farmhouse furniture and décor ideas.
So, you have your twine and a few other materials, let's get started creating some rustic décor! I can't wait for you to try these projects and I hope you'll share which of them you have added to your home.
1. Easy DIY Twine Bowl
Imagine what you could use this twine bowl for! It could be a fruit bowl, hold your favorite jewelry or even be used as decoration for any table or shelf. And, it's really easy to make. You just turn a mixing bowl upside down and glue your twine together using that as a mold. You can make these in any size you need and all of them will be really sturdy.
Source/Tutorial: creeklinehouse
2. DIY Twine Apple Art
I love this twine apple art! It's so unique and so very easy to make. Of course, you could do this with any fruit or other item that you wanted. The gist is to make the actual art from twine and then add a nice frame with maybe a burlap backing to give it a great rustic look. You can even find baker's twine in different colors!
Source/Tutorial: domestically-speaking
3. Decorative Twine Wrapped Bottle
Wrap a glass or even a plastic bottle in twine and what do you have? You've got a nice decorative piece that can double as a vase or just décor to stand alone. This is a really easy project, too. You just wrap the twine around your bottle, taking time to glue or Mod Podge it in place as you go. Then add decorations like a cute little burlap flower and you're all done.
Source/Tutorial: thatchurchcreative
4. Twine Button Bracelets
These bracelets are made with wooden buttons on twine and they're absolutely gorgeous. You can buy the buttons from any craft or hobby store or cut them out yourself if you are so inclined. Once you have them decorated however you want, string them up with twine to create very fashionable bracelets that you (and everyone you know) will love.
Source/Tutorial: cosmocricket
5. DIY Braided Twine Placemat
These DIY braided twine placemats will rival anything you can buy in a department store and they're much cheaper. The process is a bit long and time-consuming, but it will be worth it when you see the end result. You just braid three strands of twine together and twist and hot glue as you go. It might be faster to braid first and then create the circular pattern when you have all of your braids finished.
Source/Tutorial: creeklinehouse
6. Anthropologie Inspired Twine Cabinet Handle Makeover
If you've ever wanted new cabinet handles and you just didn't want to spend money to get them, this project is for you. You can wrap those handles in twine and give your cabinets a great rustic look, while saving yourself a lot of money. These handles look like they came straight from Anthropologie. Only you will know it's an easy DIY project!
Source/Tutorial: houserevivals
7. Twine Wrapped Christmas Ornaments
I love decorating with burlap and twine for Christmas. It gives your home such a wonderful rustic look. That said, these DIY twine Christmas ornaments are so easy and will look so beautiful on your tree this coming holiday season. To make them, you simply cover plastic balls or any spherical shaped object in twine, gluing the twine down as you go. Add lace or other embellishments to make them even more decorative.
Source/Tutorial: domesticallyblissful
8. DIY Twine Embellished Clock
This is a clock that you can make completely from scratch and the twine gives it a lovely rustic country look. You use a piece of painted plywood for the base and then add twine to give it character – in whatever design you want. You could also cover the clock base completely if you want. When you're finished decorating, just add your clock kit and you're all done.
Source/Tutorial: diohomeimprovements
9. Easy DIY Twine Coasters
These little coasters are so simple to make and they have a great beach look to them. If you love sitting by the waves and soaking up the sun, you are definitely going to want these- whether you're at the beach or not. To make them, you simply coil twine around a cork coaster and secure it with school glue. So easy and they are such a lovely addition to your home!
Source/Tutorial: findingsilverpennies
10. Upcycled Light Bulb Pears
I love this little project! It's a great upcycling project for burned out light bulbs and you get great new décor as well. To make these upcycled light bulb pears, you simply wrap twine around those regular light bulbs and glue it on as you go. You can use these to decorate anywhere in the house and they look particularly lovely in a basket as a centerpiece for your dining room table.
Source/Tutorial:practicallyfunctional
11. Custom Twine Storage Basket
Did you know that you can make DIY storage bins from empty cardboard boxes and twine? Well, now you do. This is one of the easiest projects ever and it gives you beautiful new storage boxes – without spending the $5 or $10 each to get them. Instead of buying them, you simply make and the great thing about this is, you can make these in any size or shape you need. Just glue twine to an empty cardboard box and add some fabric embellishments and you're done!
Source/Tutorial: creeklinehouse
12. DIY Twine Eggs
I've seen these little twine Easter eggs in department stores for around $10 each. But, you can make your own for less than a dollar per egg! You simply hot glue twine around plastic Easter eggs. It's easy and it's such a wonderful way to add some spring decorations around your home. Plastic eggs are really inexpensive and you can do several with just one package of twine.
Source/Tutorial: domestically-speaking
13. DIY Rustic Gift Wrap
This project is so easy and makes your gifts look so gorgeous. The next time you have a gift to wrap, use twine to tie it up instead of traditional gift ribbon. This works really well if you wrap the gift in burlap or put it in a brown paper sack. You can also add a little lace or paper doily to give it extra decoration.
Source/Tutorial: candidlypretty
14. DIY Twine Flowers
Twine flowers can be used to decorate so many things and they're so very easy to make. Just twist the twine into shape and use Mod Podge or glue to hold it all together. You can also add any number of embellishments for the centers like glass stones or beads, colored burlap circles, buttons or just about anything else you have on hand.
Source/Tutorial: happyhourcrafts
15. Twine Memento Picture Frame
I love this frame that isn't necessarily covered in twine (although you could do that if you want) but instead it uses twine to hold your favorite photos. You just string twine through the frame – with the glass removed – and then use tiny clothespins to hold your favorite photographs. This makes it easy to change those photos as often as you like and it's a great rustic looking frame that takes only minutes to put together.
Source/Tutorial: shanty-2-chic
16. DIY Twine String Art
String art is a fun and easy way to add some decor to your home and it's a project that kids will love doing. All you need to create your string art, aside from twine, is a block of wood and a few nails. You can decorate the wood by painting it or add scrapbooking paper. Then draw out the design you want with nails and use twine to create the art.
Source/Tutorial: thehappyhousie
17. Repurposed Mason Jar Storage
You can turn regular mason jars into beautiful storage, vases, or candleholders when you add twine. If you want a really rustic look, add lace and/or burlap along with the twine. Just cover the jar in whatever design you want, hot gluing the twine in place as you go. Or, you can use Mod Podge to hold your twine in place and then just add whatever decorative elements you want.
Source/Tutorial: redheadbabymama
18. DIY Twine Wrapped Christmas Trees
These little twine wrapped Christmas trees are super easy to make and will rival any similar items that you could find in Pottery Barn or other high end department stores. You just need a craft cone and some twine. Just wrap the twine around the cone, gluing it or Mod Podging as you go along. You can add decorative elements to create ornaments or leave them as they are for a great centerpiece display.
Source/Tutorial: thriftyandchic
19. Upcycled Cardboard Twine Sign
You can spell out any message you want and these will still not cost you more than just a couple dollars. These twine covered signs only cost you the price of the twine. You make the actual sign out of cardboard so it's a really inexpensive decor idea. Just cut the letters out of your cardboard and then cover them in twine, gluing the twine down as you go. You can add any number of decorative elements or, these make great standalone decor ideas.
Source/Tutorial: craftygirlaz
20. DIY Woven Twine Bench
This woven twine bench takes a bit more work than some of the other projects on the list, but it's definitely worth the extra effort. You build it from top to bottom and all you need are some wood pieces – that you may have left over from other projects – and some twine, along with screws and other hardware. It's a beautiful bench and it's just perfect for the porch or entryway.
Source/Tutorial: themerrythought
21. Decorative Twine Power Cords
If you have power cords that are showing and you want to cover them up, you can do so easily with a spool of twine. You just wrap your cords in twine and then they look more decorative when they're showing as opposed to looking unorganized and unkempt. This is so easy and only requires twine and glue. It's a great way to cover up extension cords on the porch or deck.
Source/Tutorial: thevow
22. Upcycled Can And Twine Birdfeeder
Take an old metal can and cover it in twine and you have a lovely birdfeeder. You can use cans of any size, depending on the birdfeeder that you want to make. Just cut away a section of the can bottom – large enough to put in the birdseed – and then use a strip of metal or a wooden dowel for a perch. Then, cover it in twine and you have a cheap and very effective birdfeeder.
Source/Tutorial: dabblesandbabbles
23. Easy Knotted Burlap And Twine Rosette
These rosettes are gorgeous and perfect for decorating just about anything from mason jar candleholders to clothes and even pictures and other wooden items. You can make them with burlap and twine and they're really easy and very quick to complete. The twine knot is the focal point and it's really easy to recreate.
Source/Tutorial: endlesslyinspired
24. DIY Twine Monogram
These twine monogram ornaments are perfect for your rustic farmhouse Christmas tree. They're really easy to make and you can make them from existing wooden letters (The Dollar Store has these for around $1 a piece) or you can cut your letters from cardboard. You could also use this monogram concept to make any number of other ornaments in different shapes or spell out entire words like "JOY" or "LOVE" for your tree. Cover your letters in twine and then add a hook for hanging.
Source/Tutorial: becomingmartha
25. Twine Covered Nautical Lamp
This nautical lamp is a project that you definitely need in your life. It's a gorgeous lamp that gives off a wonderful beach vibe and it's really easy to make. You can make it with any standard lamp, and this is an excellent idea for covering up lamps with permanent imperfections. Just wrap and glue your twine around the base and you could even cover the shade if you want to really dress it up nautical style.
Source/Tutorial: thehappyhousie
26. DIY Decorative Easter Carrots
Here's another wonderful idea for using twine to decorate for Easter. These little carrots are so easy to make and they're so adorable when they're finished. You can use them to create a wonderful centerpiece or just lay them around the house during the spring months. You only need newspaper, tape and twine to make them and you can find colored twine or dye your own if you want that great orange color.
Source/Tutorial: creeklinehouse
27. Twine Wrapped Pencil Holder
Turn any can or similarly shaped object into a very stylish pencil holder with just a bit of twine. This is a great way to upcycle those empty vegetable cans. Just clean them up and ensure that there are no sharp edges where the lid was removed. Then cover in twine, gluing it down as you go. You've got a great looking new pencil holder and you've saved that can from ending up in the local landfill.
Source/Tutorial: thecraftedblog
28. DIY Pumpkin – Rustic Fall Decorating!
I love these pumpkins that are made with twine. Not only are they really decorative and great for fall, they're really easy to make and cost very little if you have a few key supplies on hand. You can even decorate these with leaves and real twigs dipped in glitter. You can make these by wrapping twine around similarly shaped objects or you could actually just use the twine as it comes in the store if it's the right shape.
Source/Tutorial: ciburbanity
29. Repurposed Twine Food Storage Containers
Those really inexpensive food storage containers from the Dollar Store or Dollar Tree can instantly be turned into great rustic containers with just a bit of twine. You can buy food storage containers for around a dollar – most of them come with two or three containers in a package. Even when you add the cost of twine, you'll have a great little set of containers for less than $5 for two or three.
Source/Tutorial: buzzcutsandponytails
30. IKEA Hack – Woven Table
Turn a regular stool into a nice nautical styled table with just a bit of twine or jute. This little side table is made from an IKEA Blanko stool. All you do is weave the twine or jute around the top and sides of the stool and it turns it into the perfect side table for your porch or patio. It's an easy project and one that won't take you more than an hour to complete.
Source/Tutorial: designsponge
31. Upcycled Coffee Can Storage
Here's another wonderful way to upcycle coffee cans and turn them into gorgeous office or desk storage. Just decorate your cans by covering them in twine and then add labels for what's inside. This would also be great for keeping kitchen utensils organized. Coffee cans work perfectly because they give you plenty of room for scissors, craft supplies, even smaller toys.
Source/Tutorial: simplykierste
32. DIY Rope Mirror
Turn your regular mirror into a beautiful work of art when you add a twine hanger. I love the nautical aspect of this one and it's so easy. You just need a round mirror and some rope or twine. Just create the hanger from your rope and then knot it on each side. Hang this wherever you want that nautical look and feel.
Source/Tutorial: apartmenttherapy
33. DIY Twine Accented Chair
This twine accented chair is perfect for the porch or deck, or you could make a set of them and have them around the kitchen table. You simply wrap the back of your chair in twine and that's it. You could do this in any number of ways, even wrapping the entire base of the chair if you want. It gives it a great old fashioned general store look, don't you think?
Source/Tutorial: centsationalgirl
34. Rustic Twine Snowman
This little snowman is perfect for your rustic Christmas decorating and he's not terribly difficult to make. You'll need three Styrofoam balls in different sizes to create the body and then buttons and other embellishments for decorations. Add a hat and glue him to a wooden base and you've got the perfect snowman to complement your country Christmas décor.
Source/Tutorial: craftsncoffee
35. Upcycled Tire Table
You can turn an old tire into a beautiful table with just a bit of twine. You just have to add a wooden circle for the top and then cover the entire tire in twine or rope. This is a great way to use up those old tires that you may have on hand and you can do different sizes depending on the tires that you have available. The table is perfect for the living room or even the porch or patio.
Source/Tutorial: wikihow
36. Twine Wrapped Toy Box
Turn ordinary cardboard boxes – larger boxes – into the perfect toy box for your little ones. Just grab an empty box of whatever size you need and cover it in twine! Toy boxes are so expensive and this is a really cheap alternative that looks just as good as anything you can buy at Toys-R-Us or Walmart. You could even do smaller boxes to match for holding books, Legos, and any number of other smaller items.
Source/Tutorial: allparenting
37. DIY Twine Wrapped Trashcan
Take a regular trashcan that you can get at the Dollar Store for a dollar and cover it in twine to get an amazing trash can that looks much more expensive than it is. This is one of the easiest projects and will instantly change how your trashcan looks – it also instantly changes the look of the room that it's in.
Source/Tutorial: creeklinehouse
38. DIY Knotted Twine Lamp Cord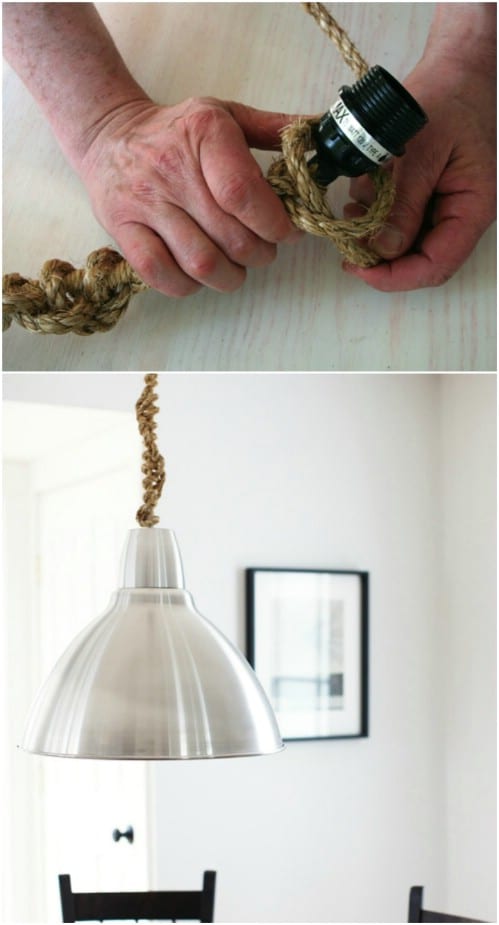 The light above your kitchen table or desk could be instantly transformed into a beautiful rustic light when you add a knotted twine lamp cord. You'll need a pendant lamp and you just cover the cord in twine. This is a beautiful look and perfect for covering up the otherwise boring cord from your pendant lamp.
Source/Tutorial: designsponge
39. DIY Twine And Wood Serving Tray
I love this serving tray that is made from old wood with a rope or twine handle. You make it from wood boards and it looks like the lid of an old wooden crate. Once the crate is finished, just add your handles that you can make from twine, and you're all set. Stain or paint the tray and even sand it a little to give it a great distressed look that fits in perfectly with your rustic décor.
Source/Tutorial: u-createcrafts
40. DIY Fall Twine Wreath
This great wreath is made from baker's twine and it's really easy. You just cover a Styrofoam wreath form with baker's twin in any color that you want. Add leaves or other decorations and use Mod Podge to keep it all together. It's perfect for fall decorating and you could do other versions with different colors for decorating your door for all of the seasons.
Source/Tutorial: merrimentdesign