A twisted bun with ribbon is a beautiful way to create a new look for your hair. Messy buns are easy, but this is just as simple and still looks upscale enough to be considered an event updo. Just use a different colored ribbon, and you have look that goes from daytime to evening with no problem!
Twisted Bun with Ribbon
A high twisted bun gives a bit of elegance to your day. Depending upon the style of ribbon you add to the bun, it can look simple and casual, or upscale and ready for a party. I find this style works best for medium-length to long hair. While shorter styles can be put into a bun, the lack of hair makes it harder to weave the ribbon enough to show
While this is a fast hairstyle to create, you may have even less time. If that is the case, check out these 5-minute hairstyles that are ideal for all types and lengths of hair. It's always good to have extra ideas on hand for those busier mornings.
What Do I Need to Create This Hairstyle?
This is a super easy hairstyle that really only requires three things. You will need a hair tie, a long ribbon or fabric piece, and bobby pins. If you are looking for a style that is super easy and can be created with things you have in your bag already, this is probably the one for you!
Tools I Use
While the items below are not necessary for this particular hairstyle, they do come in handy. Check them out and add them to your hair care products for future projects.
Other Items I Love:
Twisted Bun with Ribbon Tutorial
As with any hairstyle, begin with combing or brushing your hair out so there are no tangles. This style works best on straight or straightened hair, but if you have curly hair, you can still accomplish the style. Just finger-comb your hair to remove tangles.
While you can do this with freshly washed hair, it is not necessary to wash before putting your hair into this twisted bun. This style works great for hair that is a bit dirty as well as just washed hair.
Step 1
Create a high ponytail making sure you have it secured tightly. Use a comb or brush to smooth the sides and top of the hair to give a sleek look.
Step 2
Fold a long ribbon in half (around 4') and then tuck it underneath the ponytail holder. Pull it through so it lays under the elastic with one end on each side. Move the ribbon until it is an even length on both sides.
Step 3
Now, divide the hair into 2 sections. Begin twisting the hair around one of the ribbons on one side. Secure the bottom with a hair tie.
Repeat this process on the other side, so the hair and ribbon are twisted around each other. Secure at the end. Don't worry about any bites or pieces that stick out of the ponytail or twists. This is meant to be a bit "messy".
Step 4
Carefully loosen the twists a bit so the hair is a little fluffier and not such a tight twist.
Step 5
Now, take one of the twisted sections and wrap it around the ponytail holder at the top as you would a bun.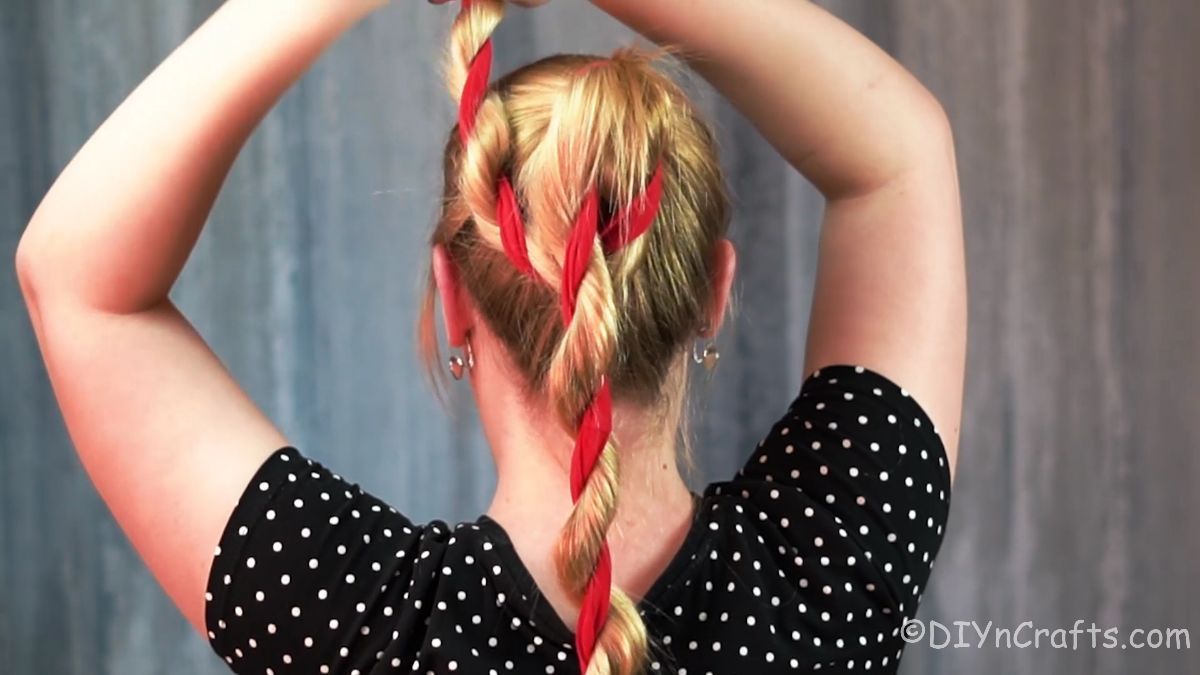 Pin this into place with bobby pins. There will be some pieces sticking out on top, but that is okay.
Now, repeat with the other twist of hair, wrapping it in the opposite direction and overlapping the first.
Carefully pin this down with bobby pins all around the sides, and tuck in any longer pieces that stick up or out with additional pins.
Spray with hairspray to set if desired.
What Other Ways Can I Accessorize This Bun?
A high twisted bun is already a fun way to put up your hair. Adding in the ribbon gives it a bit of extra pizazz. If you want even more ideas for how to make this a fun and unique hairstyle, below are some ideas that come to mind. Remember, this tutorial is a guide, but you can easily customize your hair to suit your style better.
Change the ribbon you use to match your outfit or a seasonal theme. In the summertime use neon colors or the classic red, white, and blue of the flag. For fall or Thanksgiving, use orange, maroon, yellow, and deep jewel tones. At Christmas use green, red, blue, silver, or gold.
Replace the ribbon with a beaded ribbon or a length of miniature flowers on a vine. This can make it sparkle for an event, or give a Bohemian vibe to the bun.
Instead of using ribbon, create basic hair twists by separating each section of hair into 2 sections to twist together. Then, add decorative pins or combs throughout the bun layers to accent instead of the ribbon.
More Hairstyle Tutorials
Having long hair often means you need new ways to style your hair. If you want to use your basic hairstyling tools and a few minutes o time, below are some great ideas that really create a fun new look. While these are ideal for longer hair, you can adapt them to suit your hair style and length. Make sure you take the time to bookmark these ideas, print out the tutorials, or pin them to a haircare board on Pinterest so they are handy when you are ready to style your hair!
Hairstyle model Agota from Womenio.com
High Twisted Bun with Ribbon Hairstyle
This high twisted bun with ribbon is the perfect way to make your everyday bun look different. A great day to night look ready in 5 minutes!
Materials
Tools
Instructions
Pull hair into a high ponytail and secure it with an elastic hair tie.
Fold the ribbon in half, then push it under the top of the elastic band. Pull so the ribbon has equal amounts on either side of the hair elastic.
Now, divide the hair into 2 sections, and twist each section with one of the ribbon pieces. Secure at the bottom then repeat on the second section of hair.
Wrap the twists around the ponytail holder into a bun shape. Secure with bobby pins all around. Repeat with both, going in opposite directions.
Add additional bobby pins to hold it in place and spray with hairspray to set it.
Notes
For a higher style with more volume, use this method with a hair donut.