We love adding a fresh new wreath to the front door, and this denim floral door wreath is a gorgeous look. This is a creative way to upcycle old ripped-up blue jeans and is super easy to customize for different seasons or holidays. Hang this on your front door to show off your DIY skills for a fun farmhouse look that is stylish and modern!
Denim Floral Door Wreath
Using some simple materials like artificial flowers, an embroidery hoop, hot glue, and of course denim, you can create a one-of-a-kind wreath that is sure to impress your friends and family. And the best part is that this project is totally customizable! You can choose any color of flowers you want to use to match your door or home décor.
This project is perfect for anyone who loves to craft and wants to add some extra personality to their front door. It's also a great way to use up fabric scraps that you might have lying around.
The finished product is a beautiful floral wreath that will brighten up any doorway. It would make an excellent addition to any home décor scheme, and it's sure to get compliments from your guests. And if you want to add something more to another door, consider making this denim rag wreath instead! Such a cute idea that also upcycled old blue jeans.
What Type of Wreath Form Should I Use?
Because this is a simple wreath, you want a small wreath form. I actually like to use an embroidery hoop for this one. It is thin and doesn't distract from the decorations of the wreath. You can use a thin wooden wreath form or even a grapevine one. The simpler the better.
You can use a styrofoam wreath form but would need to either wrap it in fabric or cover it completely with flowers. If you want something more elaborate, consider adding more flowers to the thicker or larger wreath form in order to balance it out. This Christmas wreath is an example that uses both an embroidery hoop and a styrofoam wreath form.
Can I Make My Denim Roses Different?
I am making my denim roses basic. I wanted it to have a simplistic look. To do this, I cut out the individual denim petals and then glued them into the rose shape.
However, you can make them differently. There are many ways to cut and roll the denim into a flower shape. Of course, you could also cut out the petals and dye the fabric so you can have different shades of roses on your wreath. You can also add different things to the roses, like using beads for the insides or even buttons to make them sparkle a bit. And, nothing works better than some glitter spray to liven up a craft!
What Fake Greenery is Best For This Wreath?
One of my favorite things to add to a simple wreath is some delicate greenery. It gives a natural look while not detracting from the pretty flowers you just made. For this project, I found some vines leftover from a past project. They are simple and small enough to accent the look without overwhelming it.
There are a few other ways to add fake greenery to the denim floral wreath below if you prefer over using the delicate artificial fines I used.
Buy different types of plastic/fake greenery from the craft department and cut it into pieces to glue together or onto the wreath form.
Cut out fabric or felt into a leaf pattern and glue it into place.
Use fabric, felt, or ribbon for the base, and then attach foam paper leaves or felt leaves all over to create your own vine.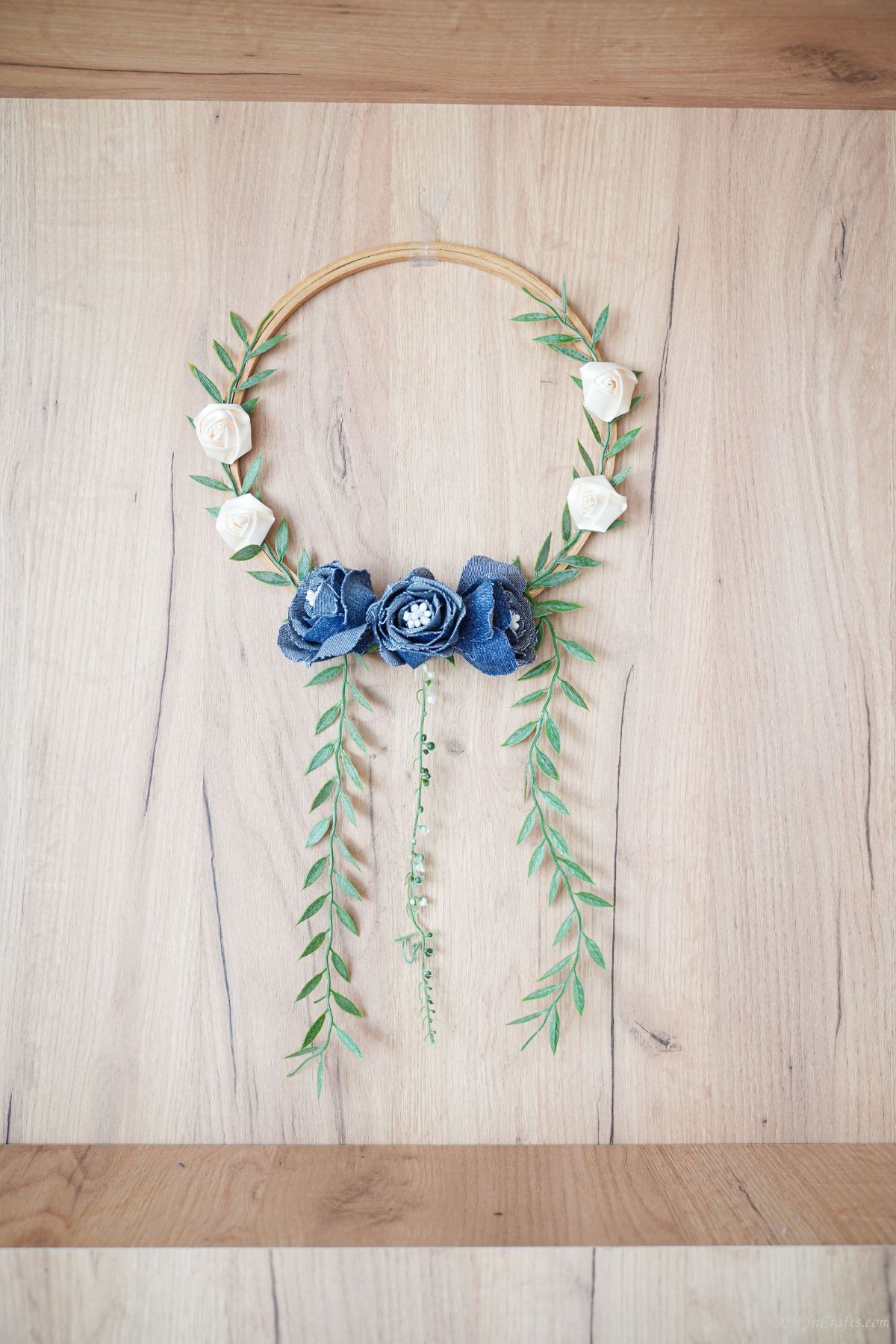 Can This Denim Wreath Hang Outside?
You can hang this denim wreath outside. I prefer to keep it in an area where there is a slight overhang so it is not getting completely hit by the weather. This helps it last longer. The more weather it is exposed to, the faster it will look dingy and worn.
You can also use a spray sealer on the denim and flowers of the wreath in order to help it look its best for longer. Of course, if you have a porch with a roof or awning, it should be fine outside. You can, always, bring it inside if you think there will be any inclement weather, or put on a door that also has a screen door on the front that would protect it between the two doors.
Supplies Needed
How to Make a Floral Denim Wreath
Gather your supplies and begin by cutting and measuring out strips of the old denim. I like to cut denim legs off the pants then cut up one side of the seam and unfold it to make a larger piece of fabric to work with. For this project, you will want to cut a 10" long by 2" wide strip of denim.
Once this is cut out, you will fold it in half, then in half again, and one final time, to make it only about 2" wide.
Now, cut through all of the seams on each side of this to make individual pieces that are small squares or rectangles.
Cut around the edges of these smaller pieces to create a teardrop shape with one side a bit more rounded. These will be the individual petals for your roses.
Once you have them all cut out, you will cut up the middle of the pointed end, about halfway up the petal.
Then, fold the sides over each other to create a petal that is curved inward at the pointed end. Glue this into place to create a single petal.
Now, you will continue this with all of the scrap pieces. Depending upon how large your flowers are and how large you want them to be, you may need to repeat this process with another 1-2 strips of denim.
Next, take a small piece of the babies breath or other small flower with a stem, and then wrap one of these petals around it and glue it into place. This will be the center of your flowers.
Now, begin gluing the petals around this first one, creating layers of petals and folding them over on the tops to create more texture.
Continue this process until you are happy with the size and shape of your flower. Repeat this process three times.
Begin assembling your wreath now by gluing the greenery vines around the embroidery hoop. You want them to just be on the top but not totally covering it. The hoop should be visible under the vines.
Now, cut and glue three longer pieces of the same vines, and glue them to the bottom edge of the embroidery hoop.
Then, just on the front of the wreath, above where you glued these vines, glue on the three denim flowers that you made.
On either side of those, you can add two fake roses. I added two per side, a few inches above the base.
Once you are happy with the overall look of the wreath, you can add a length of ribbon or twine around the top for hanging.
More Easy Wreath Tutorials
If you want to add something beautiful to your front door, a wreath is a perfect solution. There are tons of great ideas out there to really add style to your entryway. Below are some more of my favorite wreath ideas for you to check out. Make sure that you bookmark them, print out the tutorials, or just pin them to a board on Pinterest to make soon!
Yield: 1
Beautiful Denim Floral Door Wreath
This denim floral door wreath is a lovely combination of upcycled items that creates a true modern farmhouse decoration ideal for any season!
Materials
Instructions
Cut a 10" long by 2" wide strip of denim.
Fold it in half until it is only 2" wide, then cut through all of the seams so you have several small squares.
Cut around the edges of each of these to create a petal shape.
Now, cut a slit in the middle, halfway up each piece. Fold the sides over each other so one end is pointed and one rounded. Then, glue the pointed ends over themselves to create a petal.
Repeat this with all of the denim pieces.
Now, glue a small piece of babies breath to the center of one of these petals and wrap the denim around it with the flower poking out the top.
Now, continue gluing the pieces all around that to create a flower shape until happy with the size.
Repeat this process three times.
Now, glue the vines all around the embroidery hoop. Just one piece so it covers but the hoop is visible.
Then, glue three longer pieces off the bottom (opposite the connecting end of the hoop).
On the place where each of the dangling pieces is glued, now you will glue those denim flowers you made.
Then, add two white fake roses on each side of the hoop just above the base.
Notes
Add any color flowers desired to fit a season or holiday theme.
Recommended Products
As an Amazon Associate and member of other affiliate programs, I earn from qualifying purchases.
Finished Project Gallery
Add different colors of flowers and denim for different seasons.
This is ideal to hang above a mantle, on a wall, or on your door!