Trying to get organized and keep all of your things together? Whether it is a school notebook, a journal, or just your favorite notepad, having everything together is definitely a win. Use this denim pocket book cover to keep everything you need with your book, and cover that ugly or damaged book cover that exists.
Denim Pocket Book Cover
Book covers are a great way to protect your books while adding a touch of personality. They're also really easy and cheap to make! You'll be able to keep your favorite notebooks in great condition while showing off your unique style, while keeping everything you need together, like your favorite pens, bookmarks, and notes.
Unlike some book covers, this one, in particular, is designed to be a permanent cover. So, it is best to use oit n things like journals, notebooks, or on a beloved book that has a damaged cover. This is not a solution to covering school books where the cover will need to be removed down the road.
And if you have some leftover denim, you can turn it into this gorgeous old blue jeans necklace or even use it as a denim wine bottle cover for gifting.
Where Can I Find Old Blue Jeans for Crafts Like This?
Most people have old blue jeans laying around that have rips or holes in them or perhaps even don't fit anymore. They are ideal for this project and similar. But, if you don't have any on hand, below are some great ideas for where to grab denim for crafting.
Your local thrift shop or second-hand store will often have a color tag sale day when denim is inexpensive. Watch for the pairs that are $2 or less each for projects like this.
Garage sales and yard sales are other excellent place to find cheap denim. Especially if you don't mind smaller sizes as kids' pants are often a bit more worn and cheaper.
Fabric stores also often carry denim or denim-like fabric. It will be pricier but is an available option you can use.
Can I Make This Book Cover Waterproof?
Even though this cover doesn't come off of the book, you may still want it to be easy to clean. One of the best ways to do that is to cover the exterior with something like Mod Podge that will keep it protected. However, this is not an easy task and may not work well for all the nooks and crannies in denim or the pocket.
What All Can I Use This Denim Book Cover For?
Since this is a more permanent solution than some book covers, what you put it on should be something you will keep long term. You need this to be used on something that it won't matter if you can no longer see the original cover.
For me, this is ideal for a personal journal or a notebook for taking notes in a classroom. It is also excellent for use on a 3-ring binder or similar office item that you can add pages to and remove as needed.
The front pocket on this is perfect for holding things like your pens, pencils, or highlighters. It can also hold bookmarks, paper clips, binder clips, or even a few pieces of candy to have on hand for those "emergencies". And, depending upon the size of the pocket, you could even slide your phone inside so it's handy while you take notes.
What Ways Can I Decorate My Book Cover?
There are so many ways that you can decorate your book cover! It's just fine as it is, or you can really make it unique with your own style. Below are some ways that you can decorate your book cover.
Add rhinestones, beads, sequins, or charms to make it sparkle or pop.
Burlap lace, lace ribbon, and fake pearls can dress this up a bit and make it a little more feminine.
Use paint pens or fabric paint to create a scene with flowers or other colorful themes if desired.
Glue on patches or other bits of fabric in different shapes as patches.
Add ribbons, beaded ribbon, twine, or embroidery floss edging around the top, sides, and bottom.
Attach a belt loop or strip of denim on the top corner for grab and go or to hang it on a hook in your locker or at your desk.
Add more fabric to the inside cover and put an additional pocket inside. This is especially nice if using on a 3-ring binder or similar.
Supplies Needed
How to Make a Denim Book Cover
Begin by cutting the leg(s) off a pair of old blue jeans. Depending upon how large the book is that you will cover, you may need to use both legs. Then, cut the seam off of the leg, unfolding the leg so it is a solid piece of denim.
Lay this denim onto a clean surface, so the outside is facing down. Then, place your book on top and measure around it, marking around 1" wider all along the sides of the book.
Cut the denim following the lines you traced onto the denim. Discard or set aside the extra blue jean pieces for other crafts later.
Now you will attach the denim to your book. Lay the book onto the denim so the inside of the denim is facing up against the book. Center the book, then begin by gluing the denim to the back and front covers, as well as along the spine of the book.
Now, you will fold the denim over the sides, gluing it into place on the inside of the book cover.
Repeat this for the second side, and then you will work on adding to the tops and bottoms.
At the spine of the book, you will cut the fabric off that would otherwise fold into it. Now, you have the two sides on both top and bottom.
Fold these over and glue them into place, folding the corners in and gluing them onto themselves.
Once the book is covered in denim, you will then cut out a pocket from another pair of jeans, or the same pair you got the leg(s) from just now.
Glue the pocket onto the front of the book.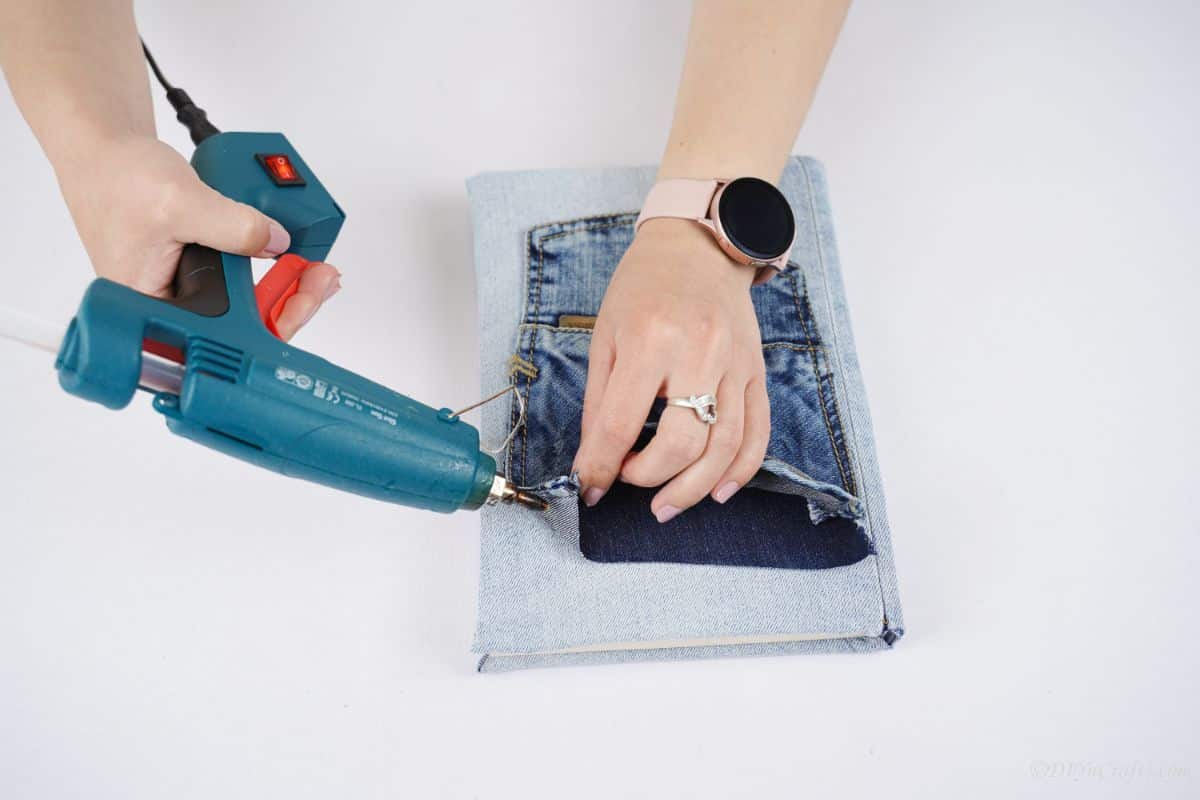 Add a bit of lace ribbon along the top of the pocket and/or add any remaining lace, ribbon, bead, or charms you want to decorate the outside of the book.
More Upcycled Denim Crafts
Nothing is more satisfying to me than making something from nothing. In this case, a denim craft is a great thing because it gives my old worn-out blue jeans new life. Below are some more ideas for turning your worn-out blue jeans from trash into treasure. Make sure that you bookmark these ideas for later, print out the tutorials, or just pin them to Pinterest to make soon.
Yield: 1
How to Make a Denim Pocket Book Cover
Make this denim pocket book cover in just a few minutes! A perfect way to update a journal or book with something fun!
Instructions
Cut a leg off of a pair of blue jeans, then cut the seam off and unfold so it is one solid piece of denim.
Lay this down so the inside is facing up, and place your book on top.
Trim to around 1" wider than the book on all sides.
Now, center the book on denim, fold the side over, and glue it into place over the front of the book.
Repeat on the second side.
Then, trim in the middle/binding area of the book, fold over on the tops and bottoms and glue into place.
Now, cut a pocket from a pair of blue jeans.
Glue the pocket onto the front of the book.
Then, finish with some lace ribbon on top of the pocket top.
Notes
This can be wiped off with a damp cloth and soap when needed.
Recommended Products
As an Amazon Associate and member of other affiliate programs, I earn from qualifying purchases.
Finished Project Gallery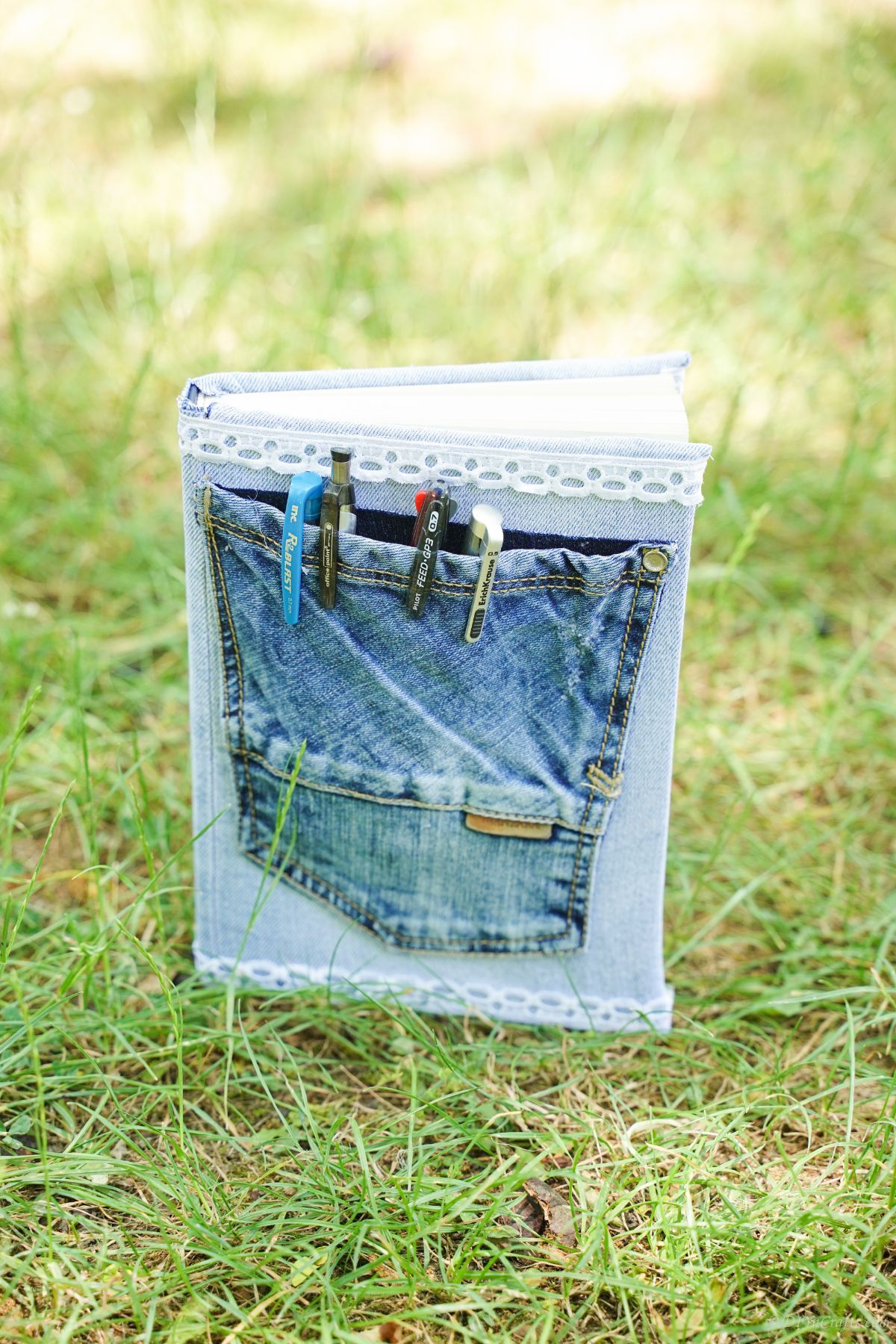 This is a great project to cover a boring journal for gifting.
Add a patch or embroidery initials onto the pocket to personalize this.