Looking for a way to add some personality to your outfit? Check out how I made these denim sandals! An old pair of sandals that were boring is easy to upgrade with some worn-out denim and a bit of lace! These fun and funky sandals are made from upcycled denim, and it's such a simple way to add a bit of flair to a boring pair of summer shoes. They're easy to make, too - just follow the tutorial, and you'll be rockin' your own pair in no time!
Upcycled Denim Sandals
Not only are these denim sandals stylish and unique, but they're also a great way to show your creative side. Plus, you can make them in any color and style you want. You'll be able to rock these sandals at all your summer events – from barbecues to beach days.
I love making my own unique style for clothing and accessories, and that includes things like these shoes. In fact, I have over 200 pairs of shoes! So, if you are like me, then you might also like these ideas for organizing shoes or even these ideas for DIY shoe racks.
Can I Do This With Any Pair of Sandals?
You can do these with almost any type of sandals. The only thing you need to keep in mind is that you need a strap to attach the denim onto. I prefer something around 1" wide, but you can go smaller. It will depend on your preferences and your comfort with that pair of sandals.
You will have to change up the size of the denim because the size of the space on the sandals will vary, but otherwise, it will work perfectly with whatever shoes you choose. As long as there is a place to put the denim, you should have no problem using this tutorial to create the perfect upcycled denim sandals.
What Glue is Best to Secure Denim to Sandals?
While I almost always stick with hot glue, you can use any number of glues to secure this. It will depend upon what material the sandal strap is made from. If you aren't sure about the hot glue sticking, I recommend using E6000 glue because it works well on a variety of materials and will hold the denim in place. You can find this type of glue at most craft stores.
You can also use something like Gorilla Glue and there are some fabric glues that work well. Just remember that the texture of the sandal strap will be more important in determining what glue works best. You can always roughen up the sandal strap a bit to make the denim stick to it better.
What Other Ways Can I Customize These Shoes?
There are so many ways that you can customize these shoes. Below are just a few ideas that I think look good with denim.
Add fake pearls as we did for some sparkle or just a bit of extra texture to the look.
Rhinestones, sequins, or glitter are beautiful on this and easy to add for more sparkle.
If you are putting this onto a brown sandal, you can always leave them showing some brown and adorned with wooden beads.
Adding things like small flowers or metal charms like butterflies, dragonflies, or bumble bees to the shoes would look cute too. This works especially for kids' shoes.
You can also paint the shoes or add other types of fabric to them as we did with the lace ribbon around the ankle strap.
Another idea is you can also add fringe to the shoes for a fun and funky look. Do this with string or cut and fray the edge of the denim.
How Can I Wash These If They Get Dirty?
No one wants to wear dirty shoes. However, you do not want to put these shoes in the washing machine. As long as the shoes you chose to use as the base of this tutorial are able to get wet, you can rinse these shoes, denim included. I tend to use a garden hose to remove most of the dirt on shoes, then put them into my utility sink with warm water and soak or just with warm water and a soapy cloth to wash the specific parts that are dirty.
Supplies Needed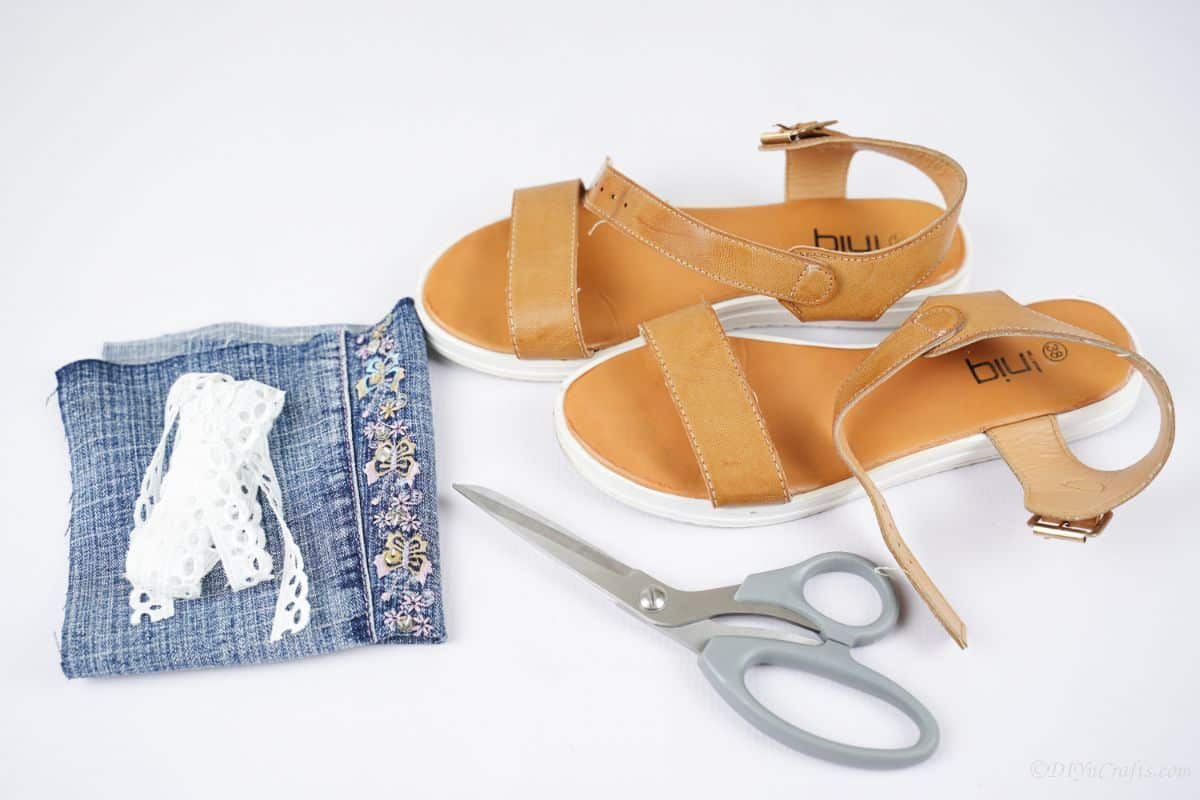 How to Make Denim Sandals
Choose the sandals you want to update and then measure the straps. You will want a sandal that has a wider strap if possible. Measure the width, and the length of them, and if possible, choose a pair of denim pants or skirt that already has some beading or embroidery on it. If not, you will be able to add your own beads.
Now, measure and cut a strip of denim for the strap that is the width and length of the strap you are covering. If desired, and the sandals are roomy enough, you can measure the width to go all the way around the strap and not just on top.
When measuring and cutting this out, choose a part of the denim that has beading on it already if you can.
Now, glue the denim to the front strap on the sandal. In this case, it was the only one along the top of the foot. If you are adding it to wrap around the sandal, do so and hold until the glue has dried and it is secure.
Now, measure around the ankle strap and cut out a piece of lace ribbon that fits the same measurements.
Glue the lace ribbon onto the other strap or straps. If you have multiple straps on the sandals, you can add lace ribbon or denim to all of them.
If your denim did not already have some beading or embroidery, you can now glue beads onto the denim in any pattern that you want. A few fake pearls or white/silver beads can be glued into a flower shape or just added as stripes along the edges.
More Easy Fashion Crafts
If you like this easy way to update a pair of ordinary shoes, then you'll love some of our other fun fashion crafts. There are tons of ways to upcycle items you already have on hand to make something fantastic and fresh! Make sure that you bookmark the ideas below, print out the tutorials, or pin them to Pinterest.
Yield: 1
DIY Upcycled Denim Sandals Tutorial
Turn an old pair of blue jeans and sandals into these adorable denim sandals! An easy DIY fashion tutorial!
Materials
Instructions
Pick a pair of sandals that have a 1" wide strap or larger and a pair of old blue jeans that have some embroidery or beading already on a seam or area that can be used. If not using decorated denim, you can use beads and make your own decor.
Measure and cut the denim around the decoration, to 2" wide and the width of the strap on the sandals.
Now, glue the denim to the front widest strap on the sandal, and wrap it around so it is on top and underneath to secure.
Then, cut and glue a bit of white ribbon along the outer edge of any other straps on the sandals, especially around the ankles.
If your denim didn't have beading or embroidery, you can glue on beads in any pattern you want at this point.
Notes
This works on any type of sandals with wide straps.
Recommended Products
As an Amazon Associate and member of other affiliate programs, I earn from qualifying purchases.
Finished Project Gallery
This method can be used on any sandals with a strap.
Add details like beads or sequins if your denim isn't already decorated.