Summer means painted toenails, flip-flops and sandals. If you love showing off those tootsies during warmer weather, have we got a great collection for you!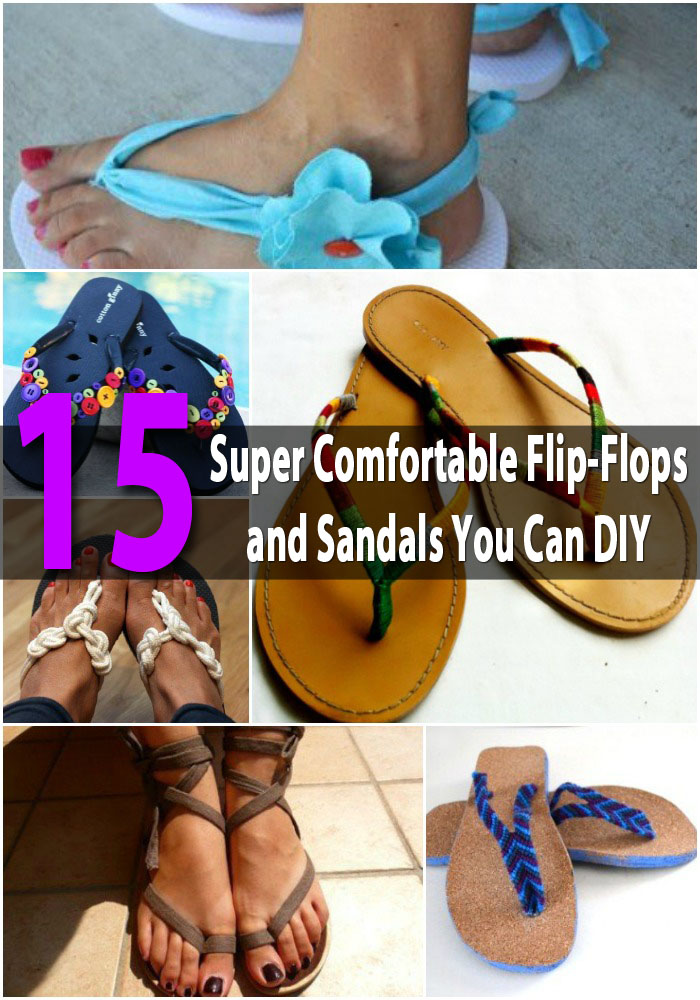 We have found 15 of the neatest and easiest ways for you to DIY your own summer flip-flops and sandals. They are all really easy and there's something in here for every occasion. Need something fun and colorful to wear to the beach? Or how about something a bit more formal for one of those June weddings you plan to attend?
We've got you covered no matter what you need great summer shoes for. And, many of these simply require you to recycle your old flip-flops. In the event that you do need to buy a new pair, we strongly suggest getting the cheap ones at the Dollar Store or Old Navy when they're on sale. Then, just choose the pair in the collection that you want to recreate and voila – you've made a great pair of summer shoes for only a couple of bucks! What could possibly be better than new shoes? Well, besides adorable, fun and cheap shoes, that is.
Recycled Flip-Flops
These great recycled flip-flops sort of resemble suede but they're actually felt. You just cut the straps off your old worn-out flip-flops and then use the felt to make a new pair of sandals that are so adorable. They've got that cute little big toe catcher and the felt ties up the ankle a bit sort of like gladiator sandals. The best part is you are recycling old flip-flops and turning them into sandals that are sleek and sexy and will cost you nothing if you have a bit of felt on hand. You can do these in any color, although we love the brown because it makes them look like suede.
DIY Instructions and Project Credit - Cutoutandkeep
Knot So Hard Flip-Flops
These cute flip-flops are also a great recycle project and if you have a bit of scrap fabric on hand, they also won't cost you a dime. You need a pair of flip-flops and again, if you don't have an old pair that you can use, then take advantage of Dollar Stores or even yard sales to get a cheap pair. The entire project takes less than half an hour and there is no sewing required at all. You just cut the fabric, stick it through the holes where you removed the straps and then knot it. You can glue it if you want, but it's really not necessary as long as you tie a pretty good knot.
DIY Instructions and Project Credit - Themotherhuddle
Macramé Sandals
Here's a great pair of sandals that you can completely DIY in less than an hour. And, you don't really even need to know how to macramé. There is absolutely no sewing required although you do need to have a little know-how when it comes to square knots but those are really easy. You will need an old pair of flip-flops (or a new cheap pair) and some t-shirt yarn. By the way, if you don't already have t-shirt yarn on hand, you can make some yourself. The sandals are gorgeous and have that "tie up the ankle gladiator" look to them. Plus, you can do them in whatever colors you want.
DIY Instructions and Project Credit - Bywilma
Beaded Flip-Flops
Beads would be the perfect embellishment for your flip-flops if you want them to look a bit more dressy and elegant. Have a wedding to attend this summer? Why not create your own beautiful sandals to wear? These beaded flip-flops are really easy to make. You will need a pair of flip-flops, some ribbon, beads in various different shapes and sizes, some tiny seashells – if you want that great beachy look – and a hot glue gun. You do need to sew just a bit but it's all hand sewing. You can turn even the cheapest pair of flip-flops into a pair of beautiful and elegant summer shoes.
DIY Instructions and Project Credit - Trinketsinbloom
Friendship Bracelet Flip-Flops
Remember friendship bracelets? Well, you can recreate that look and get yourself a great new pair of flip-flops at the same time. Friendship bracelets are so easy to make, even if you've never done them before. You need some yarn and the soles of old flip-flops – or you could completely DIY this and make the soles yourself. These are so easy and you can have them completely finished within an hour. Plus, you get to choose whatever colors you want and they have that great "friendship" look about them. Note that once you've finished, you will need to trim down the yarn so a utility or crafting knife is a good idea for this one.
DIY Instructions and Project Credit - Dreamalittlebigger
Jeweled Sandals
Inexpensive jewels and glue. That's all you need to create these amazing sandals that are as colorful as they are cute. You can make these so elegant looking by maybe using all one color of jewels or make them as colorful as you want. You can buy the jewels at your local craft store along with the glue and this is the perfect way to reuse those old worn out sandals that you may be thinking of throwing out. If you have leather sandals that have nips and cracks in them, just cover those imperfections with jewels and enjoy a brand new pair for summer.
DIY Instructions and Project Credit - Paperyandcakery
Key West Flip-Flops
How about a beautiful pair of bright blue flip-flops that are perfect for the beach? These Key West flip-flops are perfect for lounging by the pool or getting a little attention when you head to the beach this summer. Lightweight fabric is perfect for these and you can add a little (or big) bloom to the side to really make them unique. The fabric is knotted into the flip-flops so there's no sewing required unless you want to add the flower. Plus, you can make these from cheap Dollar Store flip-flops or any old pair that you have on hand. You know, those with the straps coming out.
DIY Instructions and Project Credit - Themotherhuddle
Embroidered Sandals
We simply love this idea of adding embroidery thread to regular old sandals. Not only is it a great way to customize them but you can redo them whenever you want. This gives you the perfect way to always make sure your shoes match your clothes or even your toenails. Thinking about doing those tootsies in red? Just wrap red embroidery thread around your sandals. Next week, when you opt for blue toenail polish, you can just rewrap them and really, it doesn't take long to do it and you can have one pair of sandals that gives you the fashion possibilities of ten.
DIY Instructions and Project Credit - Awelltraveledwoman
20 Minute Flip-Flops
Ok, so head to Old Navy or the Dollar Store when they have their flip-flops for a buck. Then when you get home, turn each pair into an amazing pair of summer shoes that takes only twenty minutes per pair. You can do these with craft supplies that you have left over from other projects. Things like fabric scraps, felt, buttons and button covers work perfectly. You will need some Gorilla Glue to hold them all together but just imagine the summer flip-flops that you can create from your craft supplies. And you pay a buck for each pair.
DIY Instructions and Project Credit - Tatertotsandjello
Clothesline Flip-Flops
Imagine using inexpensive clothesline to create an adorable pair of flip-flops that you'll want to wear everywhere. These look so great and you only need a pair of flip-flops, 3/16 inch clothesline rope, needle and thread and a hot glue gun. You don't actually use all of the clothesline so if you have a couple of pair that you want to redo, you have plenty of rope left over. The clothesline is knotted and looks really great. Once you get the hang of the knots, this little project won't take long at all and the rope is much more durable than those plastic straps that normally come on flip-flops.
DIY Instructions and Project Credit - Whollykao
T-Shirt Flip-Flops
This may be our favorite yet. These are so easy to make and they look so great when they are finished. If you have old t-shirts around the house, don't throw them out. You can use them to create these great braided flip-flops that are as fashionable as they are comfortable. They have a neat little strap in the back to hold them in place so there's none of that walking out of your shoes on the beach. If you don't have an old t-shirt, you can actually buy t-shirt yarn at most craft stores but it's much better if you just do it all DIY so go through your closet and grab those shirts that you just don't have any need for any longer.
DIY Instructions and Project Credit - Makeit-loveit
Extraordinary and Elegant Flip-Flops
You wouldn't really wear your everyday flip-flops to a wedding, would you? If you turn them extraordinary, you can. These flip flops cost less than $5 to make, including the flip-flops and take just about five minutes. You just need the flip-flops, embellished ribbon that you can get at your local craft store, Gorilla Glue or a hot glue gun and something for embellishment. These are so gorgeous and really would look great with semi-formal attire. You can do them in whatever color you need and decorate them however you want.
DIY Instructions and Project Credit - Sweetcharli
Buttoned Down Flip-Flops
Some colorful buttons, a little glue and an old pair of flip-flops later and you have these adorable and really colorful shoes that you are sure to love wearing. These are so easy to do. You literally just sew buttons on ribbon and then attach that to your shoes. You can do really colorful or choose a color theme, whatever you want. The point is that this little DIY project turns those boring old plain flip-flops into a pair of beautiful shoes that you are certainly going to want to show off this summer. Plus, this is a great way to get rid of all of those mismatched buttons in your sewing box.
DIY Instructions and Project Credit - Scrapbookandcardstodaymag
Ribboned Flip-Flops
Who would have thought that wrapping ribbon around flip-flops and gluing on a cute bow would make them so adorable? These are super easy and if you have a few craft supplies on hand, they may not actually cost anything. You need some ribbon, in whatever color or design you want, and a hot glue gun. Once you have the ribbon wrapped around the straps, just choose your adornment for the top. The satin bow gives them a really elegant look but if you want something a bit more fun or casual, just use old jewels or anything you have on hand.
DIY Instructions and Project Credit - Thecraftyninja
Open Toed Sandals
You can take an old pair of flip-flops and actually turn them into lovely summer open toed sandals. You need the flip-flops and if you have an old pair that have broken straps, they are perfect. You also need old t-shirts for fabric and a few supplies to put them all together. If you don't have an old t-shirt that you can use, check yard sales or you could use other fabric if you wanted. The t-shirt material is really comfortable though and if you have them on hand, it's also the least expensive option.
DIY Instructions and Project Credit - Annekata

Great Summer Fashion DIY – Make Your Own Fabric Flip-Flops
Did we mention that we simply adore flip-flops? Well, we do and we love these fabric ones from Krystal at Sassy Sanctuary. You just need a cheap pair of flip-flops and you can normally find some at the Dollar Store for around $1. Just take out the plastic strap and then add the fabric. You get the entire tutorial on the site and it takes less than an hour to complete a pair. If you have fabric and an old pair of plastic flip-flops around the house, these will actually cost you nothing. At that price, you can afford to make several. Oh, and we love the patriotic toenail polish as well.
DIY Instructions and Project Credit -sassysanctuary