Shoes – every woman loves shoes. Most have at least 10 pairs that they wear regularly and keeping them organized is important.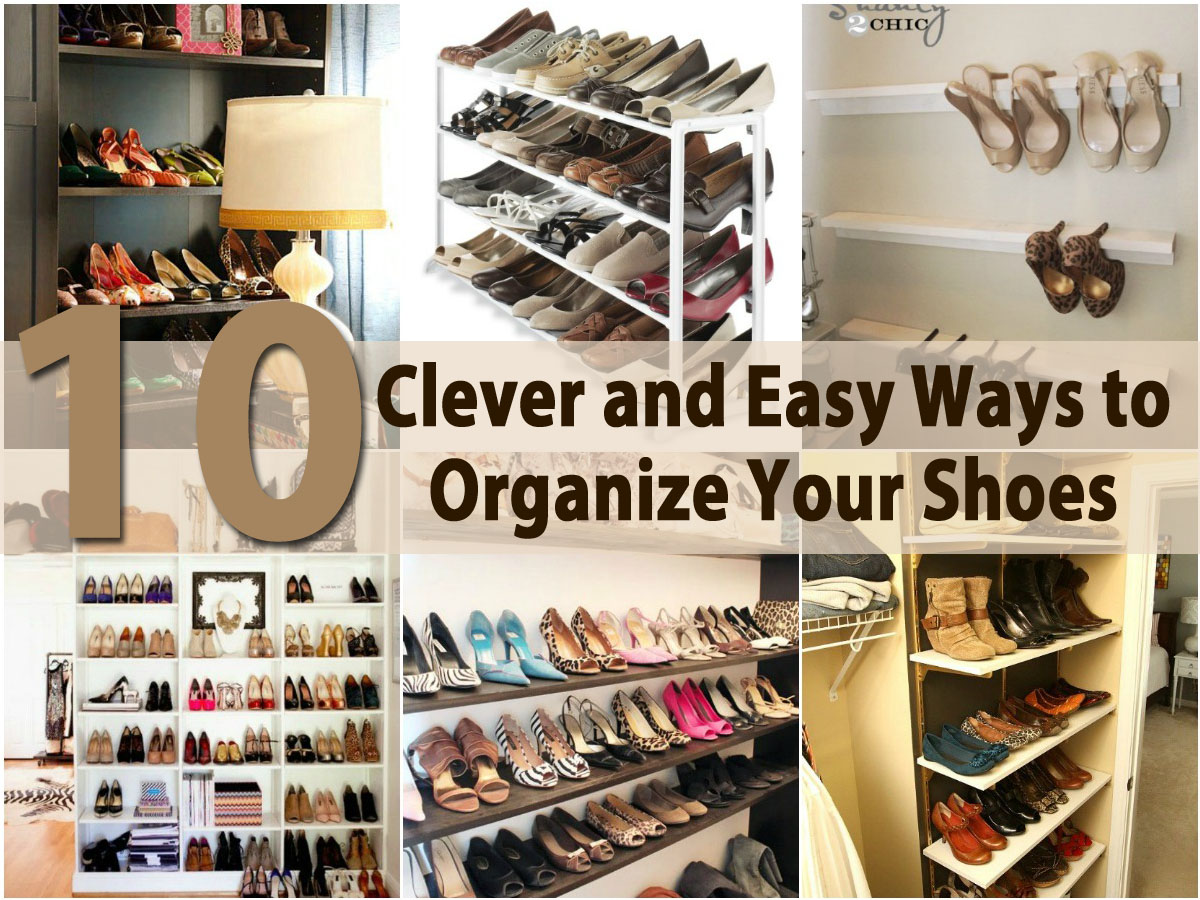 If you have ever had one of those mornings where you just can't find the mate to your favorite pair of shoes, then you know just how important organization is.
Organizing your shoes doesn't mean that you have to spend a fortune and it certainly doesn't mean that you have to have a closet the size of a small house.
You can easily organize all of those shoes into the perfect little pile and never have to worry about losing one again.
There are many things that you can turn into shoe organizers that look great and are really effective at keeping everything neat and tidy in the closet.
Jump to:
Organize by Style
If you tend to wear different types of shoes, flats, pumps, boots, etc., then you can organize your shoes by style.
This way, you can go straight to the style that you want for the day without having to look through tons of tennis shoes when you are heading out to the office.
You can even take it a step further if you have a lot of shoes and organize them by style and then by color.
Via - Marcusdesigninc

Turn Shelves into Organizers
If you have the space, you can just add a few shelves to your closet to hold your shoes. Adding shelving to one wall is a great way to keep all of your shoes together and have plenty of space for other things.
This works best if you do have a rather large walk-in closet but you can put up new shelves in any closet where you have an empty wall.
Via - Eatsleepdecorate

Use a Bookshelf
Bookshelves are great for organizing just about anything and you can use them to keep your shoe collection tidy as well.
If you have room to build in the bookshelf in the closet, great. If not, you can just keep your shoes organized on the shelf in your bedroom or master bath – just wherever you have the room for it.
Consider building it into the bedroom wall to save space and have the perfect place to keep shoes and other accessories organized.
Via - Pinterest originals
Finding the Ultimate Space
There are so many places where you can store your shoes.
If you have the room to create shelves then you can put them in your master bedroom or closet.
You can also use a vanity shelf to store them neatly and even those smaller shelves that hang on the walls are perfect for keeping shoes off the floor. Use your imagination when creating your shoe storage space.
Via - Brabournefarm

Hanging Shoe Storage
With a few strips of board, you can create the perfect place to hang your heels in the closet.
You just need the strips nailed or screwed to the wall, making sure that they are level. Then you just have to hang those heels on the strips by the heel. This works well for smaller spaces and you can get several pairs of shoes on one strip.
Via - Shanty-2-chic

Shoe Rack
This thing holds so many shoes! It's wonderful for organizing the closet, and will fit perfectly on the shelf above where I currently hold my shoes.
You can easily get five or six pair on each section, and there are three sections, so you can imagine how many shoes you can organize. It took a bit of time to put together, but once I got it done, it's as sturdy as any shoe shelf I've seen, and it's lightweight but still durable enough to hold heavier shoes and boots.
Via - Amazon

Tailor Shoe Storage
Getting the perfect shoe storage depends on the types of shoes that you wear.
If you have several pairs of boots then you want shelving that is going to be taller on bottom to accommodate those boots. If you wear a lot of flip-flops then you can have several smaller shelves for holding those and other sizes for the other types that you wear. Keep your shoe collection in mind when choosing the organization method.
Via - Ariannabelle

Behind the Door Storage
If you just don't have the room in your closet for shoe storage, consider putting shelving up behind your bedroom door.
Just a few pieces of boards and the hardware to hang them will allow you plenty of places to keep shoes and you can add as many shelves as you need depending on how much space you put between them. This keeps your shoes hidden from view as long as the door is open.
Via - Thevintagecabin

Build a Garage Shoe Storage System
If you have shoes in the garage, you can build your own system to store these shoes and keep them off the floor.
This is a great idea for those who have muddy shoes or rain boots. Not only does it keep these items out of the house, the storage system keeps them neat and tidy in the garage and building it is relatively easy. You just need a few boards and other supplies and a day or two to devote to the project.
Via - Ourhomefromscratch

Ikea Bookcase Turned Shoe Organizer
Ikea hacks are great and this one involves shoe storage, so it's super great.
An ordinary Ikea bookcase can easily be converted into shoe storage that is beautiful to look at and very effective in keeping your shoes in their place.
You can create this DIY shoe organizer in just about an hour and has loads of space to store all of your shoes.
Via - Howtodiyright