This easy-to-make wood slice door wreath craft is perfect for adding a touch of natural beauty to your home. While it is ideal for the holiday season, it can also be used year-round with just a few changes. Made from slices of natural wood, this charming wreath is perfect for hanging on your door or anywhere you want to add a touch of rustic charm whether it is inside or outside.
Wood Slice Door Wreath
Are you looking for a new door wreath? Making your own wood slice door wreath is the perfect way to add some rustic charm to your front door. It's made from real wood slices so each wreath you make is unique. It's handmade so no two will ever be exactly alike. You can easily change things to make each wreath its own special design, while still making a simple basic wreath.
If you have extra wood slices leftover, you can make this wood slice snowman decoration. Other options include this rustic wood slice reindeer ornament. All of these are great ideas to use for adding cute holiday decor around the house.
What Should I Use as The Base?
You can use almost any type of wreath form to make the base, but I actually just used additional wood slices! It works great to layer them over each other to hold secure, and you don't have to go out buying a different form.
Other options include a vine wreath form or a wire wreath form. These both work great for this wood slice door wreath. There are also foam wreath forms that you can get that will work. You can often find the floral foam wreath forms at your local dollar store. I have even used a cardboard circle to create a wreath form. All of the forms, except for the cardboard version, will work for an outdoor wreath.
Whatever form you use, make sure that it is strong enough to hold all of the wood slices you are adding to the wreath.
Can I Paint the Wood Slices First?
I love the look of the natural wood slices. They are so natural and rustic. However, if you prefer, you can absolutely paint the wood slices first. You can also stain the wood slices, either with traditional wood stain, or use paint that is watered down to create a slight color pop while still allowing you to see the wood grain.
If you paint or stain them, just make sure they are dry completely before you begin assembling the wreath. In this case, I can imagine using watered-down red and green paint to create a lovely holiday theme.
How Can I Change This for Different Seasons?
This wood slice door wreath is good for all seasons the way it is but if you want to add some pops of decorations you can add colorful ribbons that match the seasons, like red for Christmas and green for Saint Patrick's Day. You can add pastel pink and yellow ribbons for Easter.
Other ideas include adding things like trinkets to bring in some seasonal designs. Add plastic eggs for Easter, and Christmas ornaments for Christmas. These little trinkets will bring in the holidays without having to change the design much. Get creative and have fun making sure the wreath really fits the holiday theme you are targeting.
Where Can I Find Wood Slices for Crafting?
A lot of people who make crafts using wood slices have the wood slices from fallen branches or trees that have been cut down in their own yard. This is a great way to use the trees and branches that are going otherwise decompose in the yard. Plus, it's free - and that is always a hit when it comes to my craft budget.
However, not everyone has tree branches in their yard to use. Wood slices can be found at many stores. Oftentimes, you can find them at big box stores or local craft stores. During certain times of the year, you might even be able to find them at the local Dollar Tree or Dollar General store. If you can not find them at the stores around you, you can also find the slices online. Amazon and craft store websites, like Michaels, offer these wood slices. You can also help smaller stores by looking for these wood slices on Etsy.
Supplies Needed
How to Make a Rustic Wood Slice Wreath
Clean the wood slices and pinecones or acorns you are using and let them dry completely. Then, arrange 8 to 10 wood slices on a flat surface, into a circle.
Next, glue more wood slices on top of these, overlapping them so the ones on top are glued half on the two below.
Continue this until the wreath is secured and you have created a solid circle of wood slice wreath.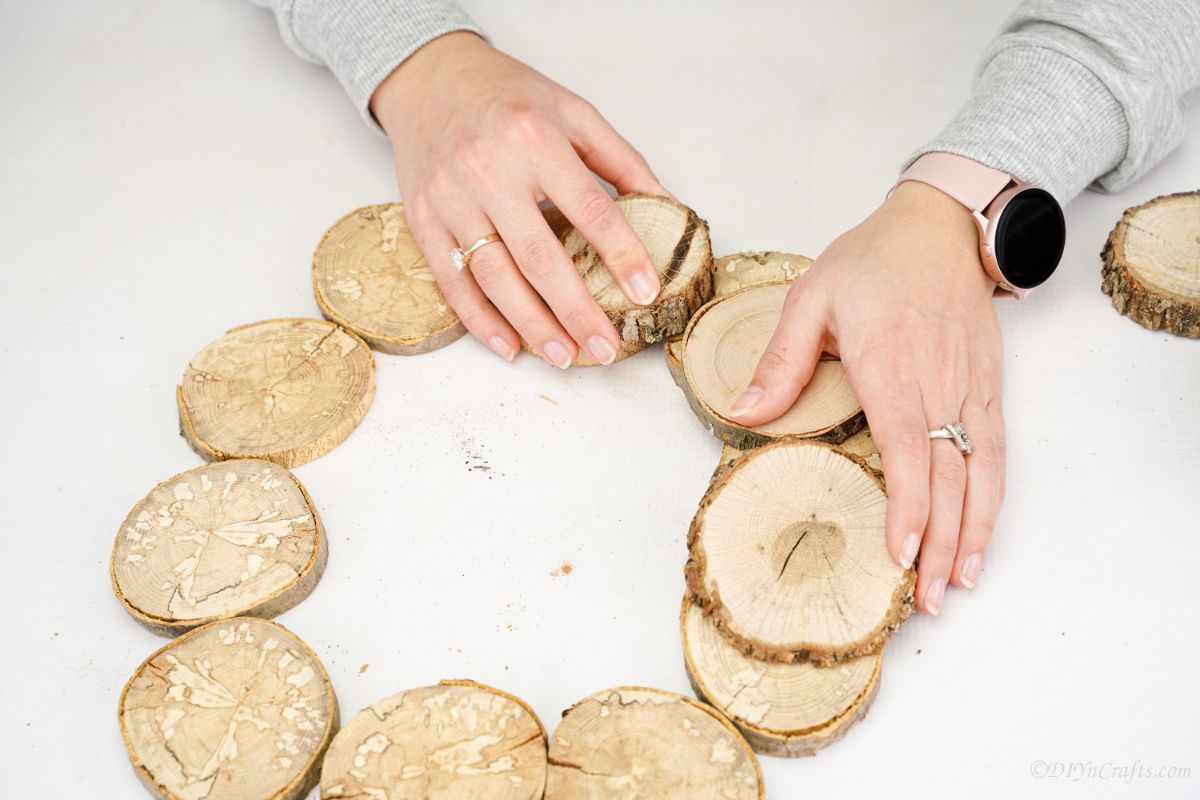 Once the wrath is together, use glue and brush between the top slices, then sprinkle with glitter.
Continue this until all of the spaces between each wood slice have a little glitter to coat them.
Once this is done, use a length of green lace ribbon to create a bow. Make four loops, then cut them with enough on the ends to dangle down.
Next, use a bit of twine to pull the loops of the bow together in the middle and secure it. Pull the dangling pieces down and fluff to make a nice-sized bow.
Glue this bow onto the bottom of the wreath at an angle or centered as desired.
Then, make a smaller bow using burlap lace ribbon.
Tie the center of this one together with some gold ribbon leaving some dangling if desired. Glue this onto the center of the larger bow.
Lastly, glue a few small pinecones or acorns onto the center of the bow.
You can also add in other holiday-themed items like gold stars to the center of the bow.
More Christmas Wreath Ideas
For the holidays, adding a wreath to the front door is a must. I love making my own, and below are a few more easy ideas that work great for adding to your door throughout the season. Make sure that you bookmark these ideas, print out the tutorials, or pin them to Pinterest to make soon for the holidays.
Yield: 1
Rustic Wood Slice Door Wreath with Pinecones
This rustic wood slice door wreath with pine cone accents is a gorgeous home accent to hang on your front door!
Materials
Instructions
Arrange 8 to 10 of the wood slices on a flat surface, into a circle.
Now, use the remaining wood slices to connect these by gluing them on top, overlapping two below.
Continue this until the wreath is secured.
Between each slice, in the gaps showing the ones below, brush-on glue and sprinkle with gold glitter.
Do this throughout between each slice so the backside is coated in gold glitter.
Use the green lace ribbon to create a large bow by looping it four times into a bow shape and cutting the end of the ribbon.
Scrunch the ends together to create two loops on either side, with a bit of extra ribbon to dangle at the end, then wrap a piece of twine around the middle and tie it to secure it in place.
Glue this on the bottom of the wreath at an angle.
Then, create another smaller bow with the burlap lace ribbon.
Tie it in the center with a bit of gold ribbon.
Glue this bow into the center of the larger green lace ribbon bow.
Now, add a few small pinecones and acorns onto the center of that bow. You can also add in holiday-themed items like gold stars if you wish.
Notes
Add any color of ribbon you want to use this for any holiday season.
Recommended Products
As an Amazon Associate and member of other affiliate programs, I earn from qualifying purchases.
Finished Project Gallery
You can easily add more ribbons, bows, or rustic accents as desired.