This is a quick and easy Christmas craft that's going to make a great addition to your handmade decorations this year! If you want to find a simple craft to occupy your time, you've found one that makes for a charming decoration! This festive Santa wreath has all of the Christmas magic you need to kick off this holiday season right. Add some simplistic, and heartwarming Christmas charm you can decorate with year after year!
Festive DIY Santa Wreath Decoration Craft
The beauty of this DIY craft is that it doesn't take much to make! Simple, and easy-to-make pieces like this are great for those relaxing winter nights by the fire. Crack open your craft supplies, and you'll probably be surprised to see what you've already got on hand! If you're looking for something to make on short notice, you're in luck!
Santa motifs like these make for great crafts because all it takes is a little red, black, and gold to bring the design to life! That being said, it's also something you can customize and make all your own. If you're looking for a Christmas craft to make with basic art supplies, we've got you covered!
We love making quirky and thematic crafts like these every holiday season to start off the celebrations right.
What Kind of Clothespins Should I Use?
For this easy DIY Santa hat wreath craft, you'll need to find yourself some wooden clothespins. These are an essential part of this project since most other kinds would be harder to paint.
The plain, unpainted wooden clothespins have the perfect surface for craft paints to adhere to! Besides that, you're able to swap out any of the other art supplies to customize this craft! Make it your own with something fun, or unique you've got in your craft supplies.
Customize Your Wreath Craft
There are more than a few ways you can add to this fun DIY Christmas craft to really make it your own! Aside from a few basic supplies, you can mix and match different pieces and materials!
The fun of making these crafts are adding your own little touch. The best part about these things though is that you can easily make more than one at a time! Set up a whole batch of Santa wreath decorations with different materials and colors for a fun and thematic Christmas craft!
Clothespins aren't just great for attaching to the center of the craft and painting. They're also really simple to manipulate or add pieces and decorations too. You can very easily tie fairy lights around the ends of them, for example. This could bring your Santa wreath decoration craft to life with a warm festive glow!
Here are a few ways to personalize your Santa wreath decoration:
Add cotton balls to the white brim of the Santa hat for a fun texture
Replace the red part of the Santa hat with red felt
Go with a different color scheme with different craft paints
Add faux branches, snow or holly around the wreath for a festive natural element
Use foam craft snowflakes, glitter or small paper snowflakes to decorate
Use small stick-on magnets to hang it on the fridge
How do I Paint the Wreath?
The easiest way is by using a small craft paintbrush. Other options include a small paint roller or medium sized paintbrush! The great thing about this craft is you can readily utilize what you've got on hand. You'll get the best paint coverage by using a small craft paintbrush.
These are ideal for getting into the sides of the clothespins, as well as the nooks and crannies around the spring. Painting each clothespin doesn't take long, and they dry in no time! The easiest way to apply the paint is after you've attached the clothespins to the wreath. Since you can hold the entire piece and avoid getting as much paint on your hands.
What Else Can I Use for the Center?
One option is definitely paper plates! Personally, I've used this plenty of times for crafts with my kids! Applying the clothespins will make it a little sturdier, but it will be more difficult to hang up. Alternatively, you can look for large cardboard rings, plastic saucers, or other thick craft materials to cut to shape.
If you've got flat cardboard, poster board, or construction paper, use a pair of scissors, bend the material in half, and cut a semicircle through both halves. Cut another smaller semicircle with a smaller circumference inside of this one to make a large ring shape!
Supplies Needed
How to Make a Santa Hat Wreath
Trace the shape of a Santa hat on the red craft paper.
Use a pair of scissors to cut out the shape. Next, use the cutout to measure and mark the white brim of the hat on another piece of paper.
Cut out the brim for the hat.
Glue the piece onto the hat, along with a white circle for a pom.
Cut out a rectangular shape from a piece of gold glitter paper. Next, fold in half and cut a smaller rectangle in the center. You can then apply it to a black strip of paper for the belt.
Arrange the clothespins around the cardboard ring. Do this by clipping them alongside each other in a circular pattern.
Once you've completed the circle all the way around, begin to paint them using a red craft paint.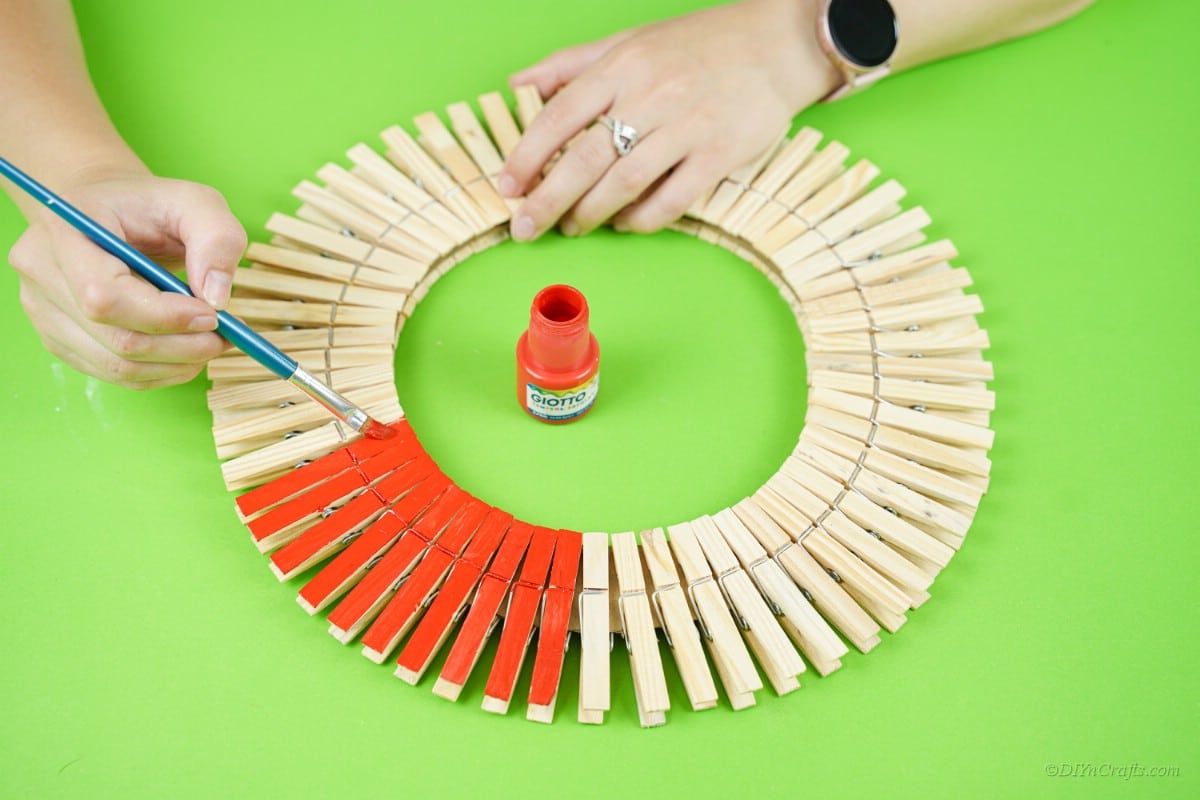 Glue the belt to the front of the craft, as close to the middle as you can.
The Santa hat will be glued to the top of the wreath, just above the belt.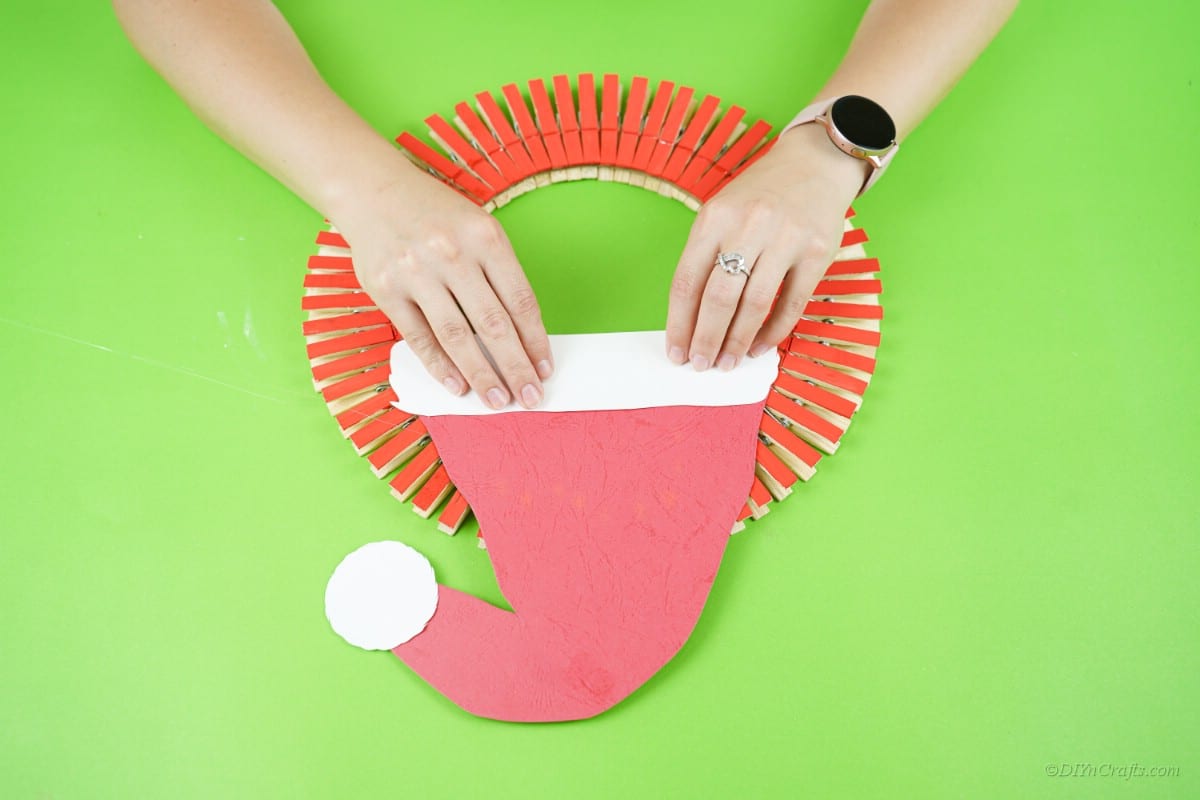 After you've complete these steps, you should have a Santa Claus wreath that looks something like this!
More Fun Christmas Craft Ideas
The holidays are the perfect time to break out some simple, easy-to-make craft projects. They can make for some great pieces of decor or something that will just bring a little joy to your life! Stock your decorations with some affordable DIY pieces that you can be proud of, and excited to display each year! There's nothing better than a crafting project that can save you some money, too! Check out some of these other Christmas-themed crafts for some more inspiration!
Yield: 1
Festive DIY Santa Hat Wreath Christmas Decoration
This is an incredibly easy DIY craft project that will help you create an adorable Santa themed wreath!
Materials
Instructions
Start by tracing, and then cutting a Santa hat shape from the red paper.
Next, use the shape to measure out a white brim for the hat.
Cut out the brim for the Santa hat.
Glue the brim directly to the Santa hat
Begin clipping clothespins to the ring cut from posterboard
Paint each of the clothespins red once you've completed pinning them together
Apply the Santa hat directly onto the clothespins
Create the Santa belt using a black piece of paper, and a rectangular piece of gold glitter craft paper. Cut each to scale, also folding and cutting the inside of the gold rectangle to make a belt shaped piece.
Now you've got an adorable, finished Santa Hat wreath!
Recommended Products
As an Amazon Associate and member of other affiliate programs, I earn from qualifying purchases.
Final Product Gallery
Arrange these with some indoor Christmas lights for a bright colored craft with a dazzling touch!
Make a few, and hang it on doors throughout your house for a fun and festive touch!