If you're anything like me, you can really appreciate the charm of something totally handmade! Nowadays, it seems like just about everything around the house comes from the decorating store. This gorgeous homemade snowflake Christmas wreath is one handmade piece of décor that looks like it came off a shelf! Show off the awesome appeal of this easy to make craft on your front door for the perfect piece of winter-themed decoration.
Gorgeous Homemade Snowflake Christmas Wreath for Your Door
Place this lovely handmade wreath on your front door this Winter for a bright and fun touch! Not only will it fetch a fair bit of compliments, but it's a ton of fun to make! It can easily match the rest of your decorations to fit in. Or, you can use it as inspiration to broaden your design horizons a bit!
Take it from me, this homemade snowflake Christmas wreath craft is an absolute blast to decorate! And creating it is a relaxing activity that goes particularly well with some cozy socks, hot cocoa, and Christmas music.
How Can I Display This Wreath?
There's a couple of places where wreaths can really make an impression around your home! You can make a big impact with a wreath as a part of your dining room's decor on a cabinet. Or, you can set them on the fireplace mantle to draw some attention to the rest of your Christmas and Wintertime decorations!
There is of course the most commonplace for wreaths: your front door! Greet guests and neighbors with a heartwarming and eye-catching door hanging! The easiest way to hang it is to use a wreath hook. This is a flat piece of plastic or metal with opposite-facing hooks on either side. It clips on to the top of your front door and provides a hook for your brand new wreath to sit on.
What Else Can I use for the Center of This Wreath?
Chances are you haven't come across one of these springy rings before! They're foam floral wreaths, and they're perfect for making wreaths from whatever you'd like! Alternatively, there's also metal wire wreath wrings available, too! Well there's a lot of different types of wreath forms you can use, the reason we stick with the Styrofoam is for the surface area.
It's large enough to accommodate the decorations as pictured. And, it gives you enough structure to glue each piece down reliably so it won't fall off! The string lays flat nicely, making this the perfect material for making this homemade snowflake Christmas wreath.
Do I Have To use a Hot Glue Gun?
No, not necessarily. Since we're using foam to create our wreath, we've got some other methods for applying the decorations. One thing you've got to consider is that your wreath should be able to hang outdoors without falling apart! You want to make sure you use something to carefully attach each of the pieces.
While a hot glue gun makes the job a lot easier, you can certainly use spray glue or even pins.
Other Options for Creating This Wreath
What I love most about this craft is how it uses color to create an impactful and bright winter theme. If you love the style of this wreath as much as I do, you're probably wondering what else you can do with it. All you've got to do is swap out some of the materials.
Consider using a deep red colored string, and some green craft materials to create a Christmas theme! Small foam craft presents or Santa motifs would make great decorations to match the colors. Regardless of what you decide to go with, this is a simple to make wreath with a lot of room for adding your own touch.
How Can I Personalize This Craft?
This wreath is flush with possibilities for customizing, and personalizing it to suit your taste! There are different color schemes, and decorations you can use to make this piece truly one of a kind. For instance, you can use different colored string, or pieces to adorn this wreath to your taste! Small Christmas and Winter themed craft supplies are a great place to look! Here are a few examples you can use to make it your own:
Wrap strands of tinsel, or pipe cleaner for added decoration over the string
Tie lights around the wreath to match your home and add some glow
Use spray glue and fake snow for an authentic and fun winter look
Make it Santa themed by switching up the colors and decorations
Add bells and ribbon for a warm Christmas themed look
Supplies Needed
How to Make a Homemade Snowflake Christmas Wreath
The first thing you'll want to do is begin wrapping your blue yarn. You can either use your hot glue gun to affix the yarn to the foam or tie a knot. Afterward begin wrapping the yarn in the same direction all the way around.
Once you've reached the other end of the foam circle, cut the yarn. Now, you can use the hot glue gun to attach it to the back of the wreath.
Simply apply 3 dots of glue with your hot glue gun, and arrange the white pom poms next to one another.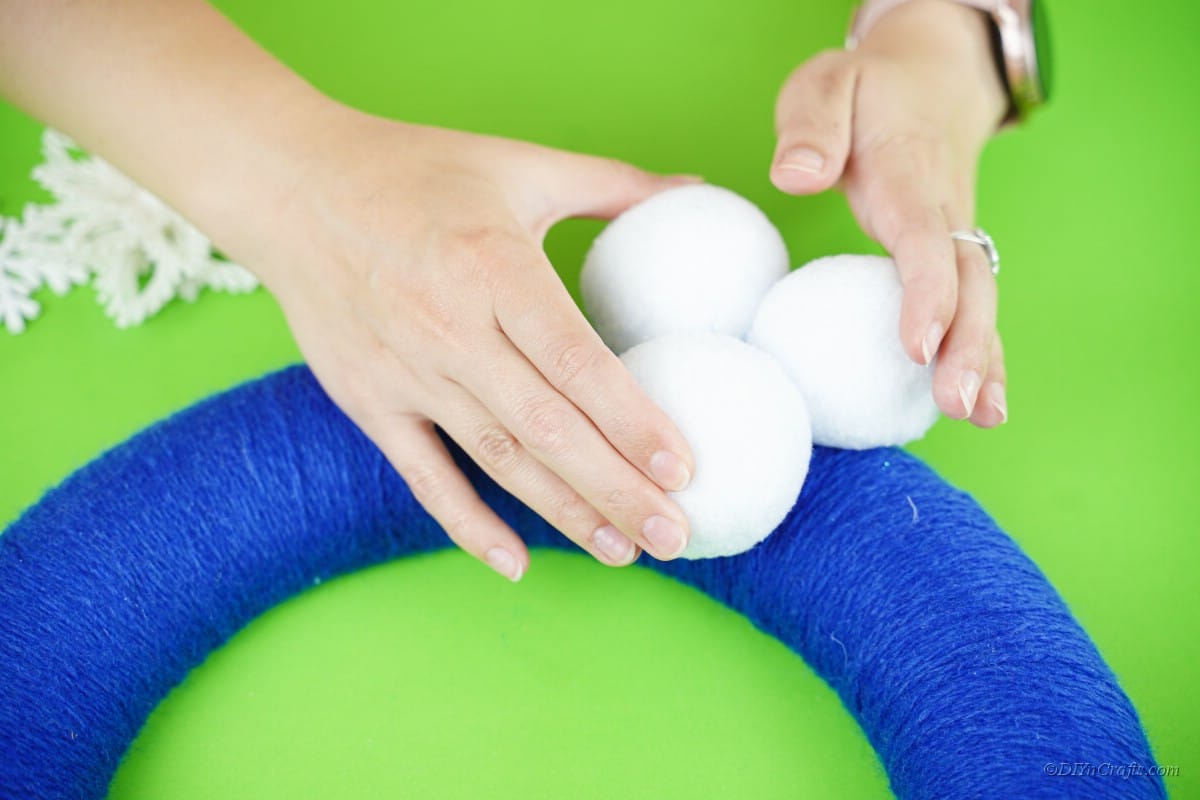 Repeat this process with all of the craft snowflake decorations around the same side of the wreath.
Enjoy your winter wreath on your front door for the whole neighborhood to see! You can hang it easily using string, or a wreath hook.
More Christmas Crafting Ideas
There's so much more you can do to add some seasonal winter charm to your home! Crafts are an inexpensive and simple way to add to your collection of home decor without breaking the bank. This wreath is just one great example of how easy it is to make an impactful decoration. Here's some more inspiration so you can expand your holiday decoration bin!
Yield: 1
Gorgeous Homemade Snowflake Christmas Wreath
Simple and decorative wintertime wreath for decorating your front door with.
Tools
Instructions
Start wrapping the yarn around the foam ring. Attach the end of the yarn to the back of the ring, and wrap around the entire wring.
Continue wrapping the yarn until you circle back to where you started.
Cut the yarn off once you've reached the end. Use the hot glue gun to secure the loose end to the wreath.
Attatch the pom poms to the wreath next to each other on the wreath.
Add the decorations along the surface of the wreath using the hot glue gun.
Hang your wreath with either a wreath hook or strand of yarn.
Finished Product Gallery
I love the bold blue color of this wreath, it's especially impactful paired with some other holiday colors!
Make it a part of your wintertime tradition, and use it as inspiration for other seasonal wreath designs, too!