In the spirit of Christmas, this pinecone ball Christmas door hanger is the perfect craft to combine beauty, rustic style, and frugality into one decoration! It will look beautiful hanging near the front door or you can hang it around the inside of the house. This hanger can even be used as part of a centerpiece. It is too lovely not to make for your home and for gifts.
Pinecone Ball Christmas Door Hanger
Christmas is coming and you're looking for a fun craft to do with the kids? This pinecone craft is the perfect Christmas door hanger to make. It's easy, quick, and inexpensive. Plus it looks great on any door. You can make these in advance and keep them around for when friends come over or as gifts.
With this craft, you'll have a beautiful decoration that will last through the holiday season without breaking your budget or taking up too much time. And if you want to get creative with it, there are plenty of ways to customize your pinecones so they match your decorating style perfectly! If you have more pinecones to use, check out this great list of ways to transform pinecones into holiday decor.
What All Can I Use to Decorate This Decoration?
This pinecone ball Christmas door hanger is made using pinecones but you want to add other things to it as well. You can paint the tips of the pinecones to make them look like it is snow covered. Add some red berries to bring in a pop of color. Then add in more decorations like adding evergreens and sticks. Things like glitter and gems will add some sparkle to this Christmas door hanger. You can also add small trinkets to add more Christmas spirit to the door hanger.
It's a simple but fun decoration that can be customized so easily. Just reach for anything that is rustic, sparkly, snowy, or reminds you of the rustic farmhouse style crafts and home decor that are so popular these days.
Where Can I Hang This Pinecone Ball?
Typically this pinecone ball is designed to be hung right outside the door of your house. However, it can also be hung inside of the house. You can hang it near the inside of the front door. It can also be hung around the inside of the house too. Near the archways of the doors or in the space between rooms.
You can hang this pinecone ball anywhere around the house. You can also use it in centerpieces on tables or shelves. Of course, one of my favorite things to do is to hang it in a doorway with a bit of mistletoe hanging from the bottom as another great little idea that matches the season.
What Paint Can I Use on Pinecones?
You want to use solid paint that does not come off with water. I prefer to use acrylic craft paint since it is so versatile and affordable. Oil-based paints will also work but tend to be much more expensive. You want to avoid using something that comes off with water. Since the Christmas door hanger may be used outside, you want to make sure that the paint doesn't wash off from the elements.
Should I Clean The Pinecones Before Using Them?
You always want to clean the pinecones before using them. This removes anything that might be on them like mold, fungus, or other unwanted things. It will also remove any little bugs that might be hidden in them.
To clean the pinecones, I recommend filling a bucket or sink with hot water and either ¼ cup vinegar or 1 capful of bleach. Let the pinecones soak for at least 30-minutes, then rinse them off well and let them air dry.
Make sure the pinecones are completely dry before you use them so the paint will stick and you won't risk a moldy ornament happening. Moisture makes the pinecones delay faster, and can be a mess if stored year after year.
If you have purchased your pinecones, instead of finding them outside, they most likely will not have to be cleaned as they have been through a process before packaging. You can, however, still clean them just to be certain nothing is lingering.
Supplies Needed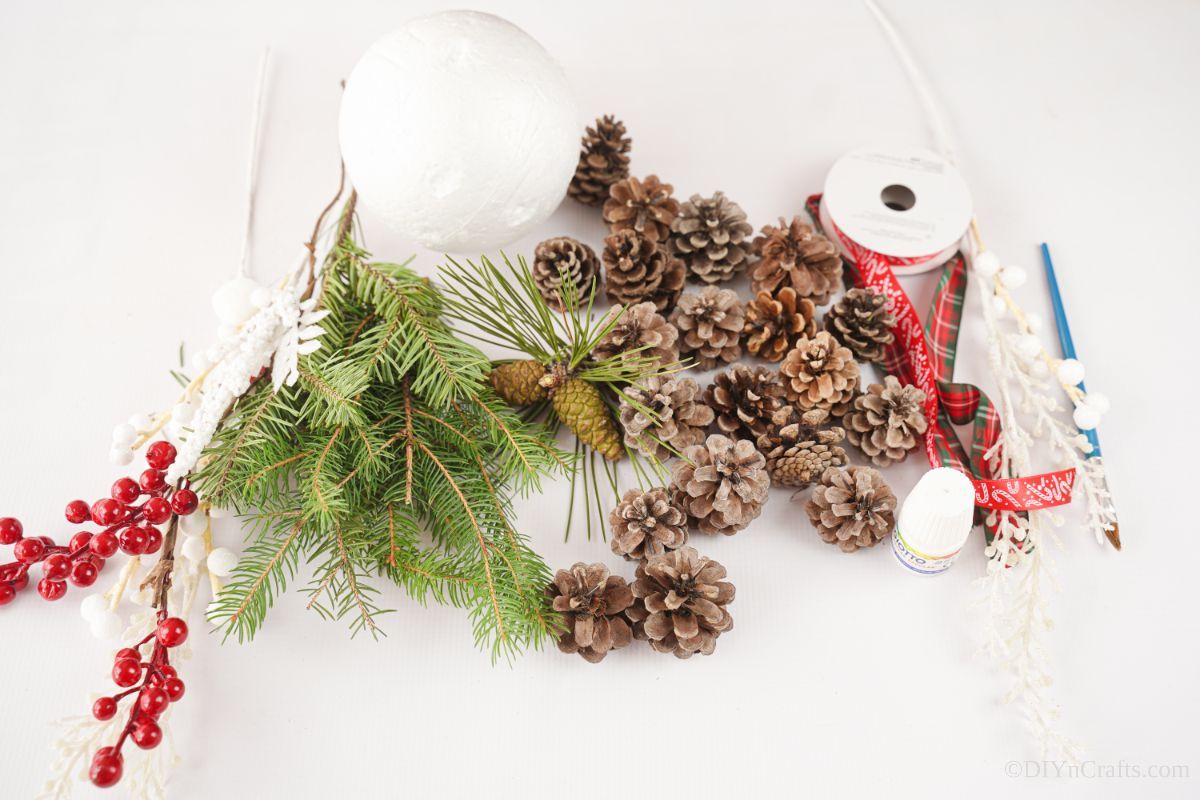 How to Make a Pinecone Christmas Door Hanger
Once you have cleaned your pinecones and let them air dry completely, you can start assembling your door hanger.
Cut a 12" or longer length of plaid ribbon for hanging the ball with. Fold and tie it on the end to create a loop.
Then, use a pair of scissors to create a hole in the top of the Styrofoam ball. This will be used to add your loop of ribbon.
Then, push the tied end of the loop into the hole, and add glue around the edges to hold it into place for hanging.
Now, you begin gluing the pinecones onto the Styrofoam ball. Glue them flat side toward the styrofoam and pointed side facing outward.
Continue this until the Styrofoam ball is completely covered.
Once the ball is covered in pinecones, you will begin painting them to look like they have snow on them. Use white craft paint and dot it onto the edges of the pinecone "seeds".
Continue this all over the ball, making it look like the edges of the pinecones have snow on them.
Now, glue small pieces of fake pine needles, berries, or other holiday-themed picks into any of the open spots between the pinecones.
Once you are happy with the way it looks, you can hang it on your tree or from the door, porch, or ceiling in your home.
More Christmas Decorations
For more ideas to add to your holiday decor, check out some of my favorites below. There are tons of easy-to-make craft ideas, but mostly, the ornaments are what I love. Make sure you take the time to bookmark your favorites, print out the tutorials, or even pin them to a Christmas ornament board on Pinterest.
Yield: 1
Pinecone Ball Christmas Door Hanger
This rustic pinecone ball Christmas door hanger is a great addition to your holiday decor! A fast and easy craft that is also frugal to make!
Additional Time
30 minutes
Instructions
Cut a length of plaid ribbon, and loop then tie the end.
Now, use scissors or a pencil to push the end of this down into the top of the Styrofoam ball. Add glue around the edge once in place if desired, to hold in place for hanging.
Next, begin gluing the pinecones all over the styrofoam ball.
Glue them flat end to the ball and the pointed end out. Cover as much of the styrofoam as possible with the pinecones.
Now, use a bit of white craft paint to dot and brush on the edges of the pinecones to resemble snow.
Do this all over the ornament, covering all tips, but not the whole pinecone.
Go back over the ornament and glue small picks of pine needles, berries, or other winter or holiday-themed items in any open spots around the pinecones.
When happy with the overall look, you can hang it on your holiday tree.
Notes
You can spray with paint for a faster application around the edges of the pinecone.
Recommended Products
As an Amazon Associate and member of other affiliate programs, I earn from qualifying purchases.
Finished Project Gallery
Add extra ribbon or beads to your door hanger to make it sparkle even more!