If you are looking for easy and adorable Christmas decorations you need to make this wine cork Santa Claus hat. It can sit on a countertop or mantle, just as easily as it can hang on a holiday tree! It's the perfect way to reuse those wine corks you have collected. So simple to make that children can make them, but this is a craft that adults will enjoy making as decor for around the house.
Wine Cork Santa Claus Hat
Make this wine cork Santa Claus hat as a decoration for around the house or use it as part of a centerpiece. This hat can be displayed on shelves around the house or displayed on the mantle. I like the idea of placing it as part of the centerpiece. Use it with fake snow, holly berries, and other decorations to create a holiday theme on a table, shelf, or even just a side table.
I even love the idea of making this in a smaller version to go on gifts or hang on the tree! It's super easy to make and definitely has tons of potential for use in your holiday preparations. Of course, if you like Santa Claus hats, you'll love this Santa Claus hat wreath! A perfect addition to your holiday front door decor!
Where Can I Get Wine Corks if I Don't Drink?
There are a lot of people who like to do wine cork crafts that do not drink. If you need supplies to make your wine cork Santa Claus hat you can get corks from local bars. Oftentimes, they will save them for you if you ask. Some save them anyway because people ask for them often. Just hop over and ask.
You may also find that you can easily find them at a local liquor store, but of course, the easiest method is to ask your friends. If you have a circle of friends who appreciate wine, then ask away! There are tons of great ways to find them, and if all else fails, you can easily find them on Amazon, at Walmart, or of course, at your popular crafting stores like Michael's or Hobby Lobby.
What Other Ways Can I Decorate This Santa Hat?
Starting with the basics of this wine cork Santa hat is to paint it red and white. Then you decide to decorate it further. My example is pretty simple, but that doesn't mean yours has to be. In fact, I suggest using this as a way to show your creative side and make the hat super unique. Below are a few ideas.
Choose different colors of paint other than the classic red and white. While not traditional, it's not uncommon to find purple, green, silver, or gold Santa hats around the holidays.
Sprinkle glitter on the bottom white layer to make your hat sparkle more against holiday lights.
Instead of painting the bottom, or in addition to it, line the lower row of corks with pom poms or cotton balls. You could even add a strip of fake snow if you want.
Add additional sparkles like rhinestones, beads, sequins, and tons of glitter to make it sparkle.
Add fake holly leaves and berries on the corner of the hat or even hang a bit of mistletoe from the end.
What Paint Works Best on Cork?
My favorite to use on wine corks is the classic acrylic craft paint. It is an inexpensive paint and it is easy to find. It also coats well on the wine corks. Spray paint is another option for painting the corks but may be a bit extreme for this project. If using it, just make sure you paint them in a ventilated area for safety.
You may also use water-based paints if you don't want a solid color, but more of a stained look. Lastly, you can use paint pens or just markers to color the ends of the corks. This is a great idea if working with kids on this project.
What Glue is Best to Hold Cork Together?
Regular crafting glue doesn't work well on the cork. While it can hold, it tends to not be as strong and easily falls apart.. There are a few types of glue that work well on the cork for you to choose from. If you want this to hold for years as a decoration, then hot glue is the go-to that works best. It stays and holds strong, while also being convenient and affordable.
Other options that work well include heavy-duty glue like Gorilla Glue, E6000, or even super glue. These aren't as easy to work with and can be more expensive given how much you need.
If you are making this craft with kids, you want to be careful which glue you are using. Hot glue will easily burn kids. Some of the other glues will be ok for kids, but there is a chance that they will stick to their little fingers. In this instance, you can use a non-toxic craft glue knowing it may not stick for long, or you can look into a cool glue gun rather than a hot glue gun.
Supplies Needed
How to Make a Wine Cork Santa Claus Hat
Line up 6 corks side by side and glue them together laying on their sides.
Then, continue by gluing 5 corks in a row on top of these, again on their sides. This time, at a slight angle, so they are glued between the ones below. Repeat this step by gluing 4 corks on the net row up.
Then 3 corks, 2 corks, and finally 1 cork on top.
Now, to the side of that top single cork, add a second cork, then a third, curved downward as a hat would naturally curve.
Once all are glued in place and dry, begin painting the corks fronts.
Start with the second row of 5 corks, and paint them red, then paint the remaining corks above that row red.
After all but the bottom row has been painted red, paint that bottom row with white craft paint.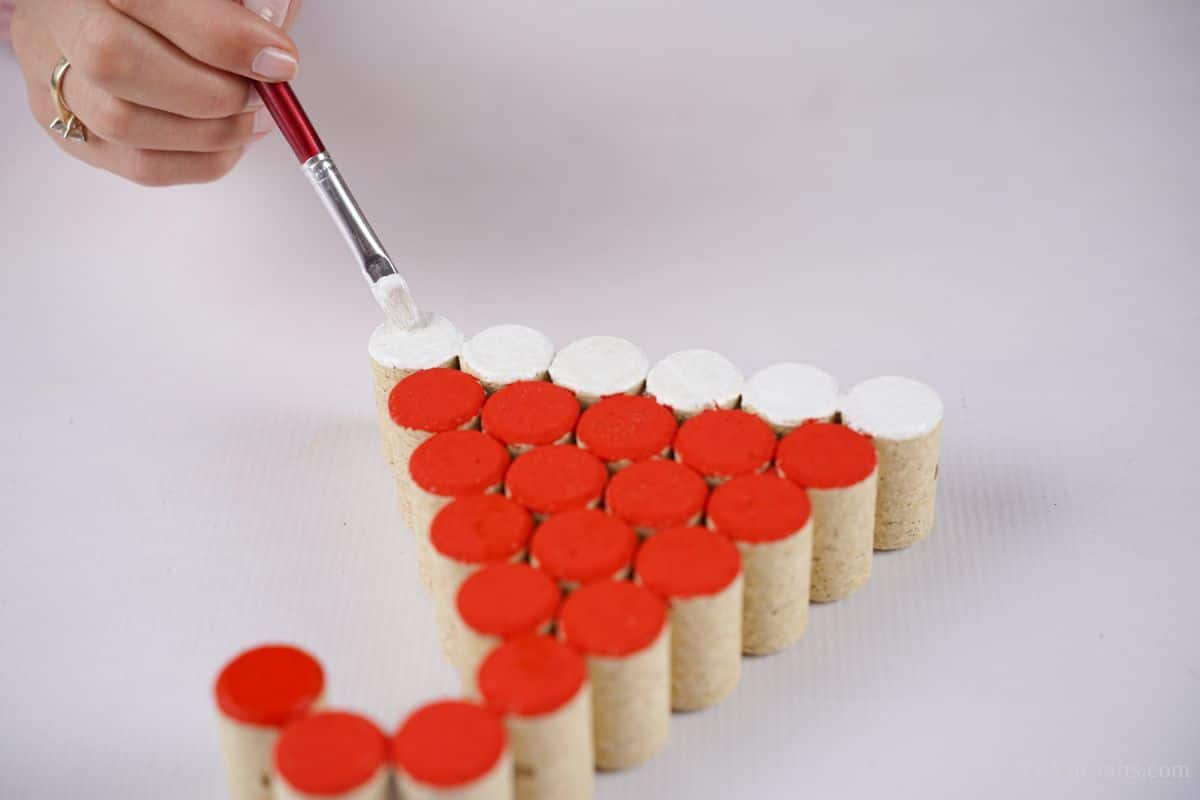 Set them aside to dry completely. Once they are dry, then you can glue a sparkly pom to the very last cork on the top curve.
Now, you can display this on a table or you can easily add a twine loop on the back to hang this from a tree.
More Easy Santa Claus Crafts
If you are a huge fan of the holidays like I am, then you know that crafting is a huge part of that holiday process of decorating. This year, make some or all of these great ideas below. Just make sure that you bookmark the ideas, print out the tutorials, or at least pin them to a Christmas Pinterest board to easily find them later.
Yield: 1
Adorable Wine Cork Santa Claus Hat Christmas Decoration
Make an adorable wine cork Santa Claus hat ornament with just a few craft supplies you already have on hand! So cute and easy!
Additional Time
30 minutes
Materials
Instructions
Begin by gluing 6 corks side by side.
Then glue 5 corks on top of those, on their sides, at an angle between the bottom ones.
Continue this process, reducing the number by 1 cork, until you only have 1 on top.
Now, glue three more corks, at a curve off the top one, to create that hook on the Santa hat.
Now, paint the front of these corks red, starting on the second row, all the way to the last on top.
Once the rest have been painted red, then paint the base 6 corks white.
After the paint has dried, glue a sparkly pom pom to the top last cork that is in a curve.
Notes
Spray with glitter to create a bit more sparkle in the holiday lights!
Recommended Products
As an Amazon Associate and member of other affiliate programs, I earn from qualifying purchases.
Finished Project Gallery
Add glitter for extra sparkle on this fun little craft for Christmas!