Excited for the season to deck the halls? The thing is, they never talk about decking out your dining table, too! This Santa themed Christmas boots craft table decoration is just that, the perfect centerpiece! Use this lovely decoration to grace your table with some unmistakably cheerful and fun holiday goodness. This awesome little craft resembles an adorable, cartoon-ey Santa Claus boot!
Fill it up with candy canes, candles, or even wrapped cutlery for a Christmas dinner! There's an endless list of awesome things you could do with this decorative piece. The best part is, it;' incredibly simple to make. This is one of those craft decorations that practically looks store-bought by the time you're done! (But it doesn't cost a fraction of the price!) In fact, you might even be surprised to find that you've got most of the components sitting around already!
Adorable Santa Themed Christmas Boots Craft Table Decoration
I absolutely love crafting around the holidays, and this centerpiece is the perfect project! It doesn't take much to throw this thing together, so you could easily make a few in an afternoon. Gift them to friends, or make an adorable display to match your dining room decor. You could even use these as clever gift baskets for Christmas party attendees, or as candy-cane holders in your front entranceway! Spread some joy and brighten things up a little bit with this adorable project.
Below we'll show you some step-by-step instructions with detailed photos on how to construct this table decoration! It's a lot simpler than you think, and this clever craft will have your guests asking where to buy one themselves.
Where Can I Find the Materials to Make This
This craft is made easier by picking up the right materials! I was surprised to find just how much of it I had laying around from previous craft projects. If you're in a pinch though, the dollar store makes a great starting point! From there, you've probably got printer paper, and a plastic water bottle at home already.
After that, just a little bit of scissor skills and a hot glue gun will leave you with a Christmas decoration that's incredibly versatile! Make a few to suit your decor, and place them around the house for a variety of different uses!
How Can I Decorate With These Crafts?
They're just perfect for holding any number of things! Personally, I love using them for a bunch of candy canes! You can arrange them leaning against the inside, or tie a bunch with a piece of twine for a decorative touch. Alternatively, you can use these in the center of your dining room table as a clever and cute centerpiece. I'd recommend using candlesticks in the middle, and arranging a few strands of fairy lights around them to make for a magical Christmas display!
It seems no matter where you place these crafts, they'll shine! Not only that, but they're great for gifting too! Use them for any type of small gift, especially treats! Thanks to the plastic water bottle on the inside you can easily fill these with small candies or chocolates. After that, stuffy some decorative gift paper in the top to add some delightful surprise and flair to this adorable boot!
What Are Some Cute Ways to Customize This Craft?
Adding a little extra holiday charm to these boot crafts isn't difficult at all! One thing I love about them personally is that they're so easy to personalize and make your own. One thing you can do is rummage through your crafting supplies to look for anything Christmas-y.
Add old buttons to the ends of the paper straps for more detail
String fairy lights around the tall part of the boot, keeping the battery box inside the boot
Use glitter spray to make it shimmer even more
Stuff the center with mistletoe for something truly festive
Using cardboard, or whatever else you've got lying around, fashion a cute snow ski to go underneath the boot
Add a cute pom to the tip of the boot for a fun, lighthearted touch
Supplies Needed
How to Make Santa Themed Christmas Boots Craft Table Decoration
First, trace the shape of the boot design you'd like to use. If you want something that looks a lot like ours, copy the shape from the photo below. Next cut out the shape to create two sides.
Use a strip of tape, or another piece of material to adhere the two sides together at the joint. Use the picture below for reference on which way the boot-shaped pieces of foam paper should be facing.
Add a piece of wrapping paper, with the designed side facing out, where the two sides of the boot create a gap in the front.
Next, cut a used plastic water bottle which will sit on the inside of the boot. Cut the bottle along a dotted line where the top of the bottle tapers.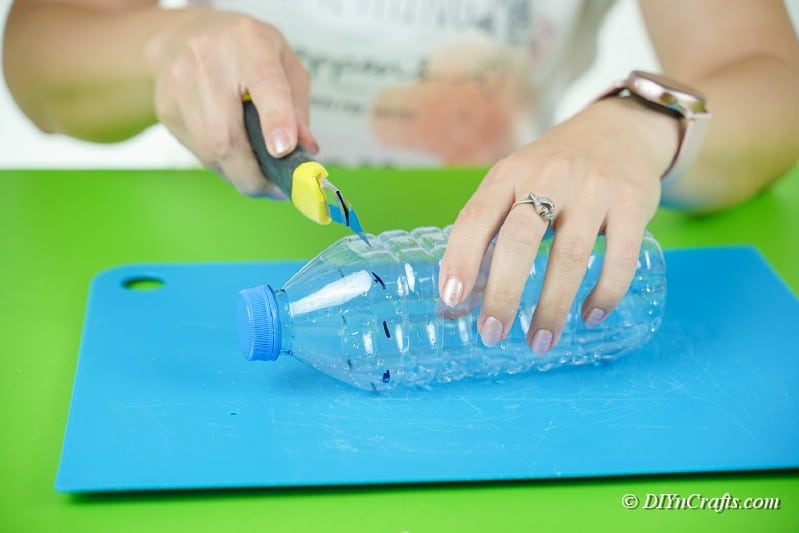 Superglue the bottom of the bottle to the foam craft sheet. At this point you can also add glue to the bottom of the bottle where you'll place a piece of craft sheet cut to the shape of the bottom of the boot.
Adhere this cutoff piece to the bottom of the boot, covering the water bottle and bottom edge of the foam craft paper.
At this point, you can use either white paper, or white foam sheets to cut long pieces that will serve as bootstraps as pictured below. Use your hot glue gun to secure these in place on either side.
Now, you can cut out triangular pieces of paper to hang outside of the top of the boot as a decorative touch. Glue the flat side of these pieces to inside of the boot.
Again, use a hot glue gun to secure decorative craft bells to the end of the triangles.
Last but not least, you can add a little craft pom to the very tip of the boot, or whatever other types of decoration you'd like!
Yield: 1
Santa Themed Christmas Boots Craft Table Decoration
This Christmas themed upcycled craft will give you a neat little decoration that makes a great centerpiece!
Materials
Instructions
First things first, start out by tracing the shape of the boot on to the back of your craft paper. Secondly, cut the out into two pieces. After that, you can join the end to end using a strip of foam paper, or even tape.
Next, cut a used water bottle along the top of the bottle where it tapers. The bottle can be used to form the body of the boot.
Place glue along the bottom of the bottle, and cut a piece of craft paper by tracing the bottom of the boot. Adhere this to the bottom of the boot to cover up the bottle.
Cut strips to serve as bootstraps. Glue these to either side of open part of the boot for decorative purposes.
Cut triangular pieces of white paper, gluing the flat end to the inside of the boot. The end should be pointing out and curled slightly. Glue bells to the ends of these to make them spring-y and decorative.
This is what the boot should look like by the time you're done!
Recommended Products
As an Amazon Associate and member of other affiliate programs, I earn from qualifying purchases.
Final Product Gallery
These boots are perfect for setting out just about anywhere around your home!
Whether it's setting out candy canes in your entryway, or adding a practical touch to a bathroom, this adorable boot is incredibly versatile.
I love how charming these look as a dining room table centerpiece!