I love it when spooky and cute collide and this pom pom monster Halloween wreath is a great example. Googly eyed monsters are a fun way to get rid of the scary stigma attached to the word monster. When Halloween arrives, I love having something fun to add to my decor, and this is always a hit. The colorful pom poms make it pop against the front door, and even though it's typical for Halloween, it still brings life to your decor.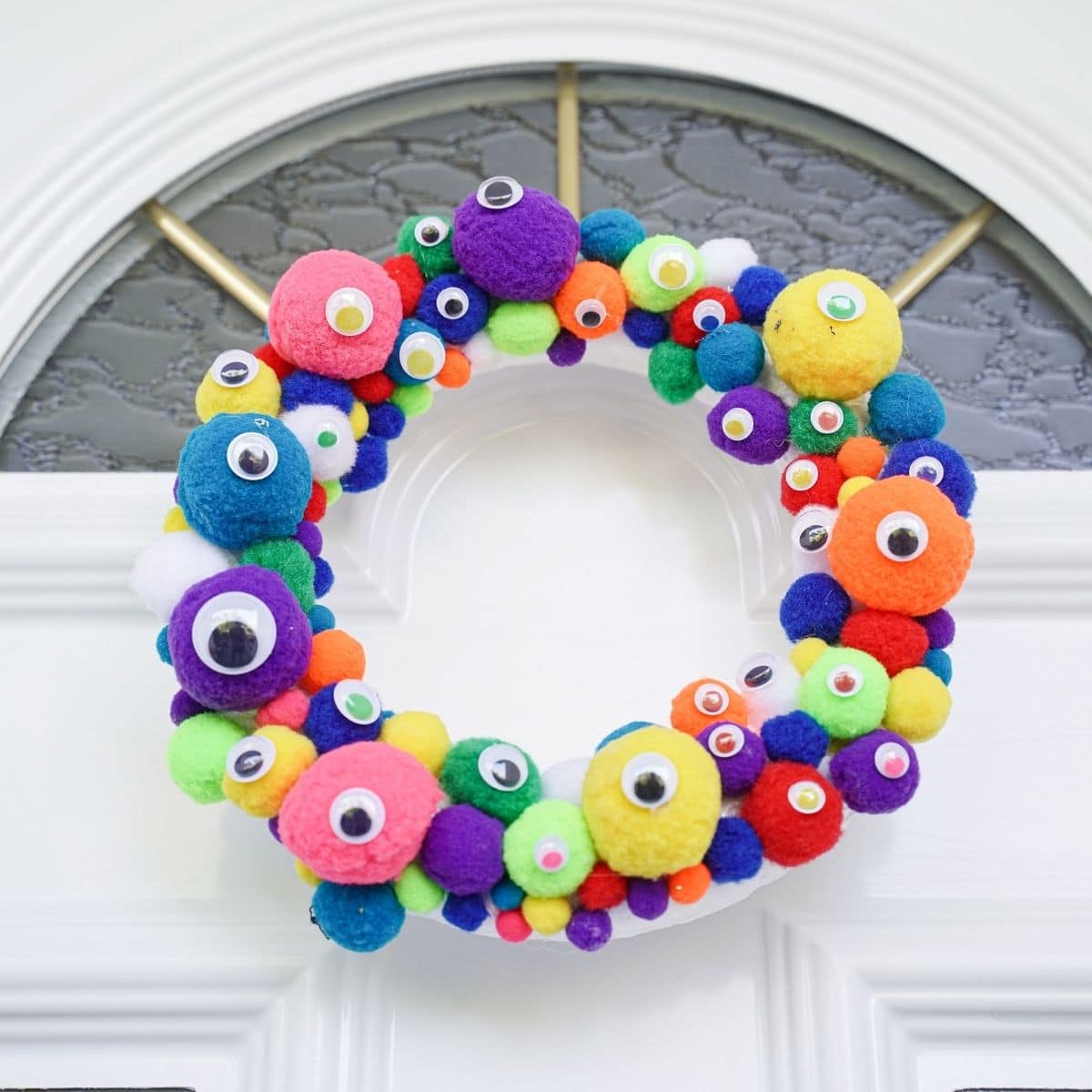 Colorful Pom Pom Monster Halloween Wreath
I've always loved the monsters you see in kids' decorations. With the bright colors, the single eye and wild hair on them just don't seem scary at all. For this wreath, I loved the idea of gathering up all the colors of the rainbow to add to one wreath and make it look like a bunch of little monsters staring at me.
Kids will love if you let them help with making this one. It's all about adding those little touches that make it feel homemade. Not perfect, but fun, cute, and easy to add to your front door! If you want more ideas to add to your Halloween decorations, you should check out my other list of monster doors and monster wreaths. So many cute ideas there! You should also make these little Halloween egg carton monster treat boxes for the kids. Tuck a few candies inside and hide them around the house!
Can I Make Homemade Pom Poms for This?
I love using yarn to make homemade pom poms for a number of different projects. For this one, I just picked up the large bin of ready-made pom poms in different colors and sizes. I didn't have a lot of time to make them all homemade, so I went with store bought instead.
If you prefer homemade, feel free to take the time to whip up your own colorful pom poms to use on this wreath. They will add an even more fun element to the wreath and are sure to look adorable. Plus, it's a great way to use up scrap pieces of yarn from other projects you've made.
You can also use homemade pom poms to make these cute clothespin monster kids crafts or these cute yarn pom pom monsters. They are both super cute and a great way to use up leftover yarn without needing to make as many as the wreath would require.
What Can I Use for the Wreath Form?
For this project, I stuck with a classic styrofoam wreath form. I always seem to have a stack of them on hand in the craft closet, but you can use any other form you want. You don't have to use just what I do for these crafts. Making them different is what makes them so fun! A unique look is always nice to see on the front door and is sure to make your porch a hit in the neighborhood. Some I think would work well are below.
Cardboard you've cut into a circle.
Metal hangers formed into a circle.
Wooden wreath forms.
Grapevine wreath forms.
An embroidery hoop.
Hang over a branch on a tree or shrub.
How do I Hang Wreaths on Doors?
This wreath being a styrofoam form is perfect for hanging on doors. Most traditional wreath hooks easily fit underneath the form and hold it securely against the door. You can also use a simple nail in the front door to slip this over. I've also had great success using things like Command hooks or strips to hold wreaths, but make sure they are made to hold up a heavier weight.
Other options include using yarn or twine to hook them over a hook at the top of the door, or even leaning against the wall on a mantle. I've even seen some people use wooden stands for wreaths by their front doors, but I think this one looks the best hanging on the door instead.
Supplies Needed
How to Make a Pom Pom Monster Halloween Wreath
Glue the pom poms all over one side of the wreath form.
Make sure you add different sizes randomly to fill in any gaps.
When all of the front side of the wreath is covered, start gluing the googly eyes onto the pom poms using different colors and sizes to fit them.
Use a variety of sizes of eyes to give it a unique look.
Hang from the door using a length of twine or yarn.
More Cute Halloween Crafts
Halloween is probably my favorite time of year to decorate with the kids. There are so many fun spooky and cute ideas to add to the decor. This year you can use some of my favorite spooky ideas below or even add a ton of the cute ideas that are better for little ones. Below are some of my favorites to create and add to our house for the spooky season.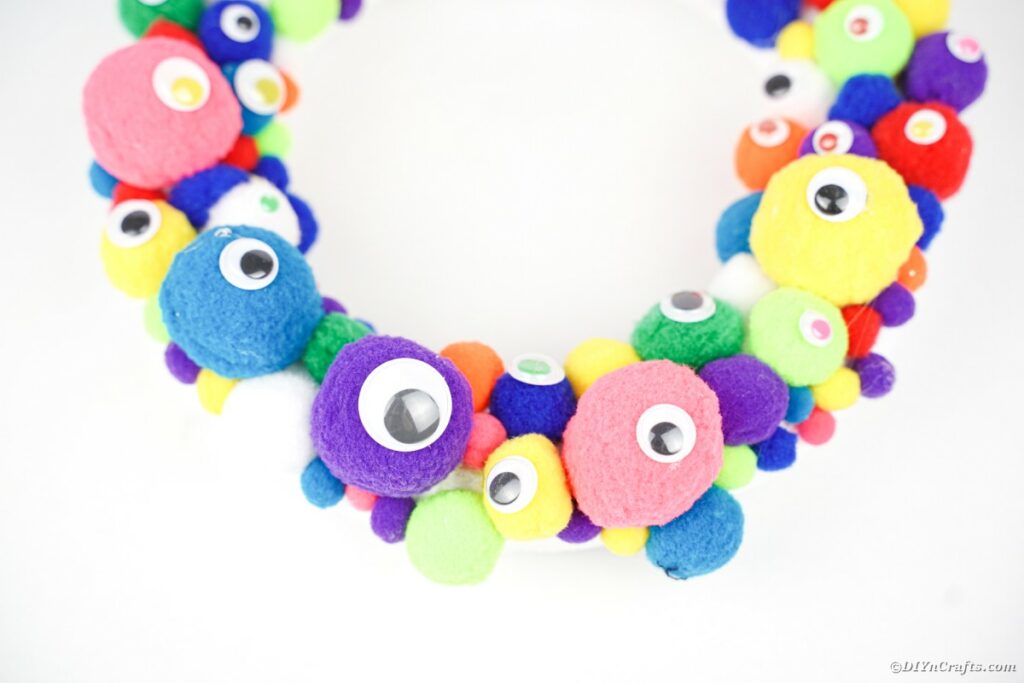 Crafting Tip

When you craft a lot like I do, then you need extra supplies on hand. I love using Dollar Tree online to order big boxes of regular supplies to keep on hand at all times. These are ideal because they are shipped right to your front door!
Yield: 1
Colorful Pom Pom Monster Halloween Wreath
Add this cute little pom pom monster Halloween wreath to your crafting and create a cute front porch decoration that is sure to be a hit with the kids!
Tools
Instructions
Glue pom poms onto the front of a styrofoam wreath using different sizes to fill in the gaps;
Add googly eyes in different colors to each of the pom poms;
Hang on your door!
Notes
Use yarn or ribbon to hang this wreath from your front door.
Recommended Products
As an Amazon Associate and member of other affiliate programs, I earn from qualifying purchases.
Finished Project Gallery
This is perfect against a light-colored door since it is full of vibrant colors.
I like it added to a mantle or wall for a kid's party too. Such a fun idea that is colorful and silly.
Of course, you can also hang this outside as part of your decor, but know that the pom poms will look weird if they get wet, so bring it in before the weather hits.