This is a decorative fall acorn themed craft that will add something special and handmade to your decor collection! Show off your love for the season with this eye-catching and adorable oversized acorn decoration that practically looks store-bought! Guests will ask you where you found these little treasures, will you spill the beans? If you're looking for something that's a little more 'outdoors', check out these 20 fall decoration projects for your yard!
Stunning Decorative Golden Fall Acorn Craft
Make these gorgeous little decorative acorns to adorn your home with this fall! They have a sleek classy appearance, thanks to some gold metallic spray paint!
They're a lovely addition to an autumn centerpiece, your usual fall decor, or for exploring a new decorating trend in your home! Using our step-by-step directions below with pictures, you'll be able to get a sense of just how easy these are to make!
The best thing about handmade pieces of decor like these is that you can explore what you like! Instead of shelling out at the store, invest a little bit of time to experiment with different pieces around your home!
Make them using the colors, texture, and pieces that will most suit your decorative taste. Don't forget to let us know how they turned out!
What do I use to Make the Bulb Piece of the Acorn?
It might not seem obvious at first, but these are closely akin to plastic egg forms. One great example would be oversized plastic easter eggs that break open. Or, egg-shaped Christmas tree ornament bulbs. These are easy to find in craft and hobby stores, or online! With a little bit of shopping you'll have some in no time.
Besides that, the other materials you'll be using for this craft are more than easy to come by. You can find twine string, ribbon and of course pinecones just about anywhere! This craft even goes together simply, too! Don't be surprised to find some of these materials in your craft supplies already!
Where Should I Display These?
While they're great for the classic centerpiece, these things have a lot more potential than you might have thought! You could create quite the magnificent garland with them, for instance. Stringing them along in sets, (since they're so lightweight) is incredibly easy! And, they'd make quite the statement hanging down the banister. The gold metallic spray paint on these acorns takes light really well, resulting in a rich and dazzling compliment to your lighting! Farmhouse style is blowing up, too! Compliment your acorns with these decorated jars to create a set of fall decorations to match!
How can I Personalize This Craft?
These lovely painted acorn crafts are simple enough to make, but there's plenty of room for adding some character of your own! The acorn that uses pine cone petals can easily be replaced by other natural elements as well!
The combination of rustic materials and natural touches provides lots of room for your own creativity! That way, you can make a few and put them on display together, or throughout your home for a new decor design!
For even more inspiration, check out this fall-themed decoration that includes lots of detail you could pull from!
Here are some ideas to get you inspired, and let your creativity flourish:
You can easily substitute twine for burlap or other crafting materials for a different texture
Incorporate other natural elements as well as pine cones including acorn caps, or branches
Use a glittery ribbon with autumn colors that stand out even more, or compliments the rest of your home
Grab a can of silver metallic spray paint to alternate colors in between acorns, and make a unique pair!
Throw a Halloween spin on these acorn crafts with an orange and black color scheme using your spray paint and ribbons
Supplies Needed
How to Make Stunning Decorative Golden Fall Acorn Craft
First, start by disassembling your plastic eggs. The next thing you'll want to do is spray paint each side of them evenly using a metallic gold color. Give them ample time to dry before continuing on.
Once they're dry, seal both sides together to for a full egg. This will comprise the body of our gold acorn. Depending on what kind of eggs you're using, they might seal horizontally unlike the one in our pictures. If that's the case, don't worry! It won't affect the design of the craft at all.
Next, use an adhesive of your choice to affix a piece of cinnamon stick, or potpourri to the top of the widest side of the egg. I'd personally recommend super glue.
Begin twirling some twine from the top of the stick going in a downward spiral, applying hot glue each step of the way.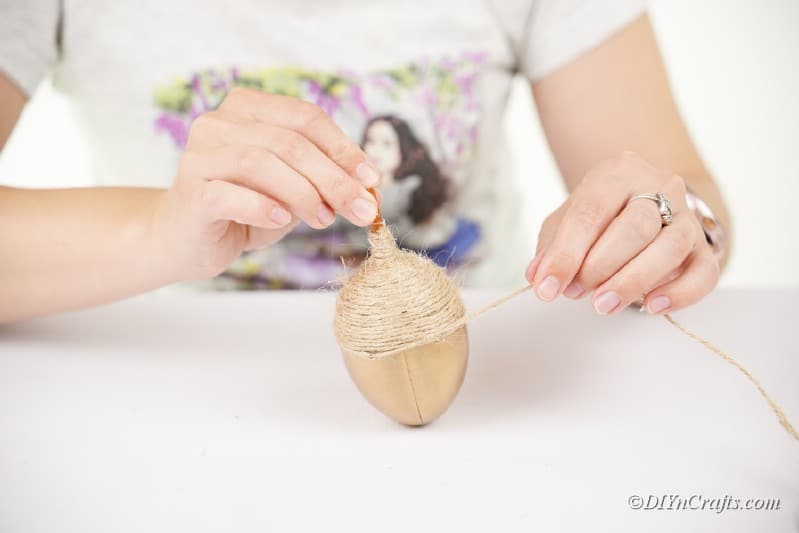 On your second edd, begin gluing a series of either nut shells, or pinecone pieces in a sequence starting ⅔rds of the way up the egg.
Once you've added the materials to each egg and decorated them to your liking, add a tasteful ribbon to the piece of the cinnamon stick!
Your completed acorns should look something like this! Where are you going to display them?
Yield: 2
Decorative Golden Fall Acorn Craft
Check out these stunning gold acorn crafts to ring in the fall season!
Instructions
Start by spray painting two sets of plastic egg shells a metallic gold color.
Attach each piece to one another, and add a cinnamon stick or piece of potpourri at the top to resemble the cap of an acorn.
On one egg, tie a piece of twine from the top, swirling downwards on row touching the last. On the other, begin gluing a series of pinecone pieces in a similar fashion.
Tie a piece of ribbon to the top of each, and they're ready to decorate with!
Recommended Products
As an Amazon Associate and member of other affiliate programs, I earn from qualifying purchases.
Finished Product Gallery
These are so simple to make, yet provide so much room for extra decoration if you wish! Let this project inspire your imagination, and take these wherever you want! You can easily string these by the small piece of cinnamon on potpourri! Simply tie each one down the length of a piece of twine, or even lighting! There's a ton of ways you could decorate these things!
Small and light, these could easily be hung up as decorations, placed in a centerpiece or together on a shelf! Looking for more natural-themed fall decorations? You'll want to check out these decorations all create with pinecones!
Set these acorns out wherever you'd like to make an elegant and understated autumn decorative display in your home. To complete your centerpiece project, why not try adding some decorative DIY fall themed placemats too?