Ornaments you pick up at the store can easily run a fortune. Keep a handle on your decorating budget by creating some things at home! These snowman and gingerbread man craft stick ornaments are the perfect examples of a simple ornament project! They add a wonderful touch of handcrafted charm to your Christmas tree you can't really find anywhere else!
We're going to explore some of the materials that go into making these pieces, as well as some detailed step-by-step instructions to get you started! Think about where you want these little fellas to hang, since you can easily adjust the colors to match your existing decor.
Craft Stick Ornaments - Gingerbread Man and Snowman
Put your crafting skills to good use with these absolutely adorable Christmas holiday stick ornaments! These little fellas can come with a happy expression, and any accessories you'd like! Whether you're making Christmas tree ornaments to add to your collection, or putting together a rustic Christmas village these are the perfect craft! Also, they can be made with or without a loop for display.
If they're hanging from your tree, you'll find that it's not difficult to make these by the batch at all! You can paint a bunch, and then add details individually so you can hang handfuls of them when it comes time to decorate the tree.
What are Some Other Creative Uses for These Ornaments?
Thanks to their small size and lightweight design, this craft is incredibly versatile! Really, you can use them just about anywhere. One great idea would be to use them as handmade holiday gift tags! Use the backside of the popsicle stick to clearly write the recipient's name, and you've got the most adorable tag anyone's ever seen.
Do I need to Paint Each Popsicle Stick?
That's the beauty of it! You can of course leave them plain, but what's the fun in that? Check out your local dollar store, or craft supply store for a wide selection of popsicle sticks. You're probably going to be surprised to find out they carry different colored popsicle sticks, as well. That way, you can make a colorful range of adorable popsicle sticks to brighten up your Christmas tree!
What's the Best Way to Paint These Popsicle Sticks
Applying paint to these popsicle sticks doesn't have to feel like such a chore! The best way you can make it easier on yourself is by using the right tools. The first thing you can do is make sure you've got a craft painting brush and some acrylic craft paints. These adhere perfectly to the unfinished surface of the popsicle stick. And, they dry the quickest. Don't worry if it seems like it streaks a little, it will add a rustic touch!
Another option would be to use spray paint, however, you may find that this leaves the sides somewhat unpainted. Apply head-on, as well as at an angle when spraying each side if you choose to go this route!
What's the Best Way to Customize This Craft?
These popsicle sticks are a great example of something you can really add some flair and personality to! Since we're using lots of small decorations, there's potential for whatever you've got on hand. Don't forget to take a look through your craft supplies to see whether or not you've already got some of what you need on hand! Fabrics, felts and small decorations are perfect for adding to these popsicle stick characters. Here are a few ideas for some inspiration.
Use glitter to add some shimmer to these tree ornaments
Create a Rudolf, and Santa Claus themed set of popsicle sticks as well
Use ribbon to create the loops of these ornaments for hanging
Paint them as Christmas carolers, with mini music sheets
Use felt to make them little coats, do this by taking a tapered piece of felt and wrapping around before gluing in one spot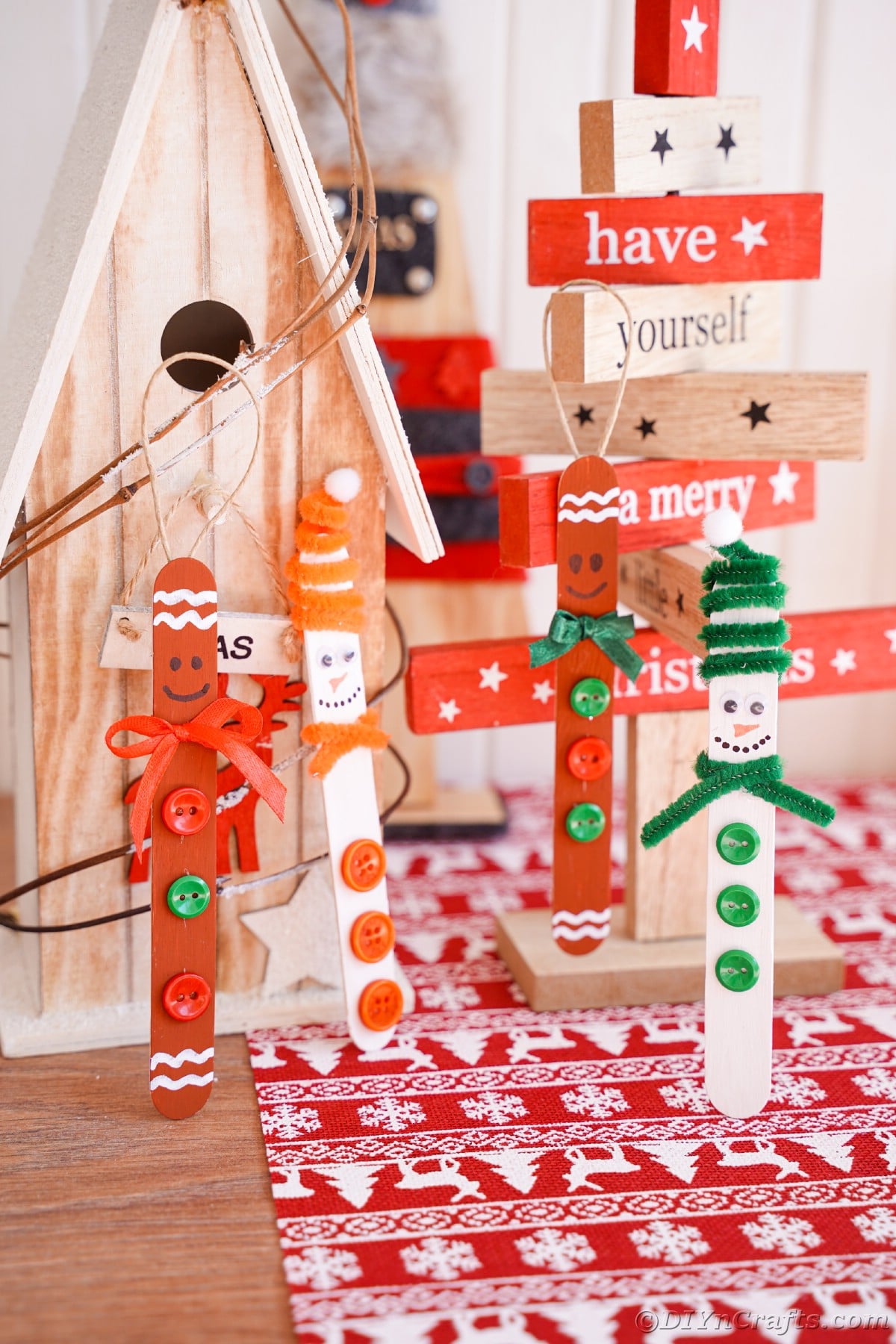 Supplies Needed
How to Make Craft Stick Ornaments
First things first, you'll get to paint your popsicle sticks! Choose which type of characters you want to create ahead of time, so you can have your paints ready to go! The easiest way to paint these is to get your hands a little messy. Hold them down, and apply paint to one side at a time. It's best to do these in batches so you don't have to wait too long to begin decorating!
Use markers or paint sticks to apply small details to each of your characters. In the picture below you can see the white paint as a stand in for icing details on the gingerbread man popsicle stick.
Use a permanent marker to apply details like faces to your popsicle stick characters.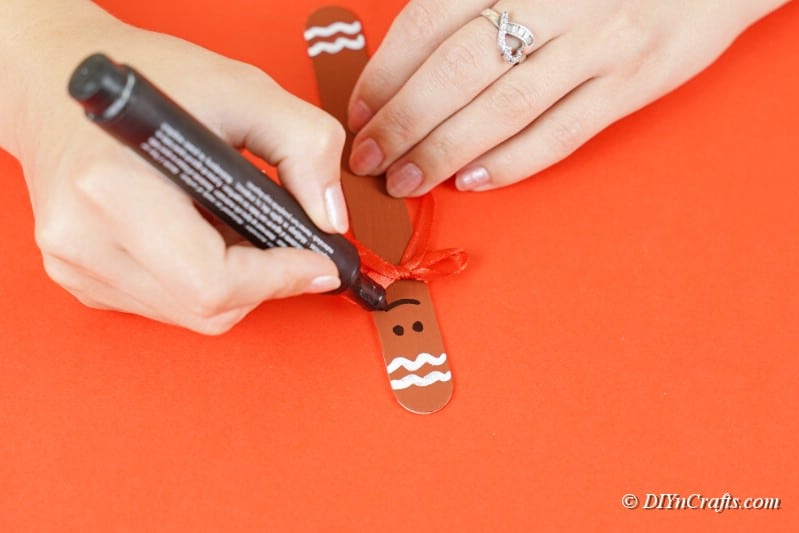 Small crafting decorations and accessories like buttons make for decorative details you can dress up your ornaments with. Use a hot glue gun to apply these to the popsicle sticks.
Repeat this process for the other characters you've painted popsicle sticks for. Below you can see a wound strand of pipe cleaner being used as a hat.
After you're done decorating, glue together a small piece of string on the backside of these popsicle sticks. That way, you can hang these easily just about anywhere you'd like.
These are what your joyful character ornaments should look like!
Yield: 4
Snowman and Gingerbread Man Craft Stick Ornaments
These adorable popsicle stick characters make for great ornaments! Where will you hang them?
Materials
Instructions
You'll start off by painting your popsicle sticks in order to begin decorating them. Be sure to do this in batches, according to these color of the Christmas characters you want to create.
Once your popsicle sticks have dried, you can begin adding detail and decorations. Use markers, and small crafting accessories like buttons to add detial. Pipcleaner can be used for hats, or scarfs.
Do the same for the other characters you're making. Get creative, and feel free to add your own touch to these adorable ornaments.
Once they're complete, glue a piece of string on the top, backside of the popsicle stick.
Recommended Products
As an Amazon Associate and member of other affiliate programs, I earn from qualifying purchases.
Final Product Gallery
You can apply various decorative touches to these characters such as winter clothing, accessories, and adorable faces!
These decorations are made to hang from your Christmas tree, but you can use them absolutely anywhere! Where will you hang them?
Lastly, you can use these adorable characters as gift tags! Their long back allows you to write recipients' names on them to serve as a kind of the second gift your friends and family members can add to their ornament collection.