One of my favorite things about the Christmas season is seeing just how many homemade gifts I can make. In today's hectic and mostly technology based world, I think it's a nice change to add some homemade goodness to the holidays. On that note, I have been obsessed with cookies in a jar for years. These adorable little homemade gifts are often my go-to when I need something quick and easy to give but want something special. This year I decided to forgo my normal chocolate chip cookie in a jar recipe and branch out to include more cookie types, as well as other food mixes that go great in a jar.
So, I compiled a list of my 30 favorite and really festive gifts in a jar recipes that you can use to give homemade gifts to your loved ones this season. From cookies and brownies to soups and even pancakes, there are just so many things that you can make from a few basic ingredients and a nicely decorated mason jar. You all know how much I love my mason jar crafts. Remember these 50 decorative mason jar projects? There are literally hundreds of ways to work those mason jars into your decorating and your gift giving.
Mason jars themselves are really inexpensive and when you add food ingredients, they become the perfect gift for friends, family and neighbors. Need something great for a coworker? These work perfectly and they are all really easy to put together. The gist of a food in a jar gift is to add all of the dry ingredients into a mason jar, include a recipe tag that tells them what else they need to add to actually bake or cook their gift and then add festive ribbons or bows to decorate. Easy! And, you can even color that mason jar. I've got a great tutorial on how to tint mason jars into any color you want. So, grab those mason jars…We're going to make so many wonderful food gifts in jars for this holiday season!
1. Homemade Alphabet Soup In A Jar
Alphabet soup is a wonderful gift in a jar recipe for many reasons. Since it's getting colder, any soup recipe is a great idea for a Christmas gift. This particular recipe has really colorful ingredients that make it a lovely looking gift and the ingredients are really easy to find at any grocery store. Just add alphabet pasta along with barley, a few dried vegetables and a few spices and you'll give them the gift of a delicious and warming soup this Christmas.
Recipe: hannaford
2. Caramel Apple In A Jar
Caramel apples are my favorite part of fall and this delicious treat can easily be stretched out for Christmas. These caramel apples in a jar use smaller jelly sized jars. Just add M&Ms and individually wrapped caramels to your jar and then tie an apple on top. Add a tag that tells them to simply melt their caramels and then dip the apple into caramel and then M&Ms for a wonderful treat.
Recipe: thegunnysack
3. Chocolate Chip Cookies In A Jar
I simply had to include my go-to recipe for cookies in a jar. These are so easy and so very inexpensive to make. You can do several jars with one bag of chocolate chips and even add in a layer of walnuts or other flavored chips if you want. You just layer the dry ingredients, including your chips and other flavorings and then attach the recipe tag for whatever else they need to add to bake these delicious chocolate chip cookies.
Recipe: addapinch
4. Chocolate Peppermint Cookies In A Jar
These chocolate peppermint cookies are a wonderful idea for Christmas and they use ingredients that you may already have on hand…provided you bake a lot during the holidays. The cookie mix itself requires flour, cocoa, sugar and brown sugar and then you add in chocolate and peppermint baking chips. You only use two-thirds of a cup of each, so you could easily get three jars from each bag.
Recipe: crazylittleprojects
5. Delicious Christmas Mint Cookies In A Jar
These yummy Christmas mint cookies are a candy lover's dream. They use M&Ms and peppermint hard candies for their flavorings and your gift recipients will only have to provide the eggs, butter and vanilla. You could really dress this one up by using Christmas colored M&Ms and even add it to a basket with cookie baking supplies.
Recipe: pandpkitchen
6. Cinna-Bun Butter Cake In A Jar
There's no rule that says your sweet treat has to be a cookie in a jar. These cinnamon flavored butter cakes are delicious and use ingredients that you likely already have in your pantry. What's great about this one is they can bake their little cake right in the jar, which eliminates the need for added dishes.
Recipe: picky-palate
7. Cinnamon Spice Muffins In A Jar
This cinnamon muffin mix is gorgeously colored and perfect for your holiday gift giving. The muffins have flour, sugar, cinnamon, nutmeg, ginger and cloves, which give them a wonderful Christmas flavor. Make this one extra special by adding some cupcake cups to the top and tying them in place with ribbon or twine. Then add your recipe and you've got a wonderful treat to give.
Recipe: positivelysplendid
8. Homemade Cinnamon Sugar Pecans
Add these homemade cinnamon sugar pecans to a mason jar and you've got a wonderful gift for those on your gift list. Not only are these pecans delicious but they also make a gorgeous gift when you add them to your mason jar with some festive ribbon. You can give these as a snack gift or they can use them for baking if you want to add this to a basic cookie in a jar recipe basket.
Recipe: thegrantlife
9. Cinnamon Sugar Popcorn
Cinnamon is one of my favorite flavors, particularly around the holidays, which is why I love this cinnamon sugar popcorn gift idea. You add popcorn kernels to a mason jar and then include a baggie with the cinnamon sugar mixture so that they can flavor their own popcorn. You could also do this with other flavors and each jar that you prepare makes about eight cups of flavored popcorn. Give this in a basket with popcorn bowls (that you can get at the Dollar Tree…four for a dollar).
Recipe: domesticcharm
10. Friendship Soup Mix In A Jar
Soup is such a wonderful Christmas gift. Since winter hits full force right after the holiday, it's a great time to give someone the gift of a warming and delicious soup. This friendship soup recipe is perfect. It's filled with color…due to some delicious dry ingredients…and the only thing that your gift recipient has to provide is tomato soup and you can add a can of that, too if you want.
Recipe: sweettmakesthree
11. German Chocolate Brownies In A Jar
Brownies in a jar are a wonderful gift idea and these German chocolate brownies are absolutely delicious. They're really easy to make and have wonderful flavors of coffee and German chocolate. They're moist and the perfect size for gift giving. Add a few of these to your gift basket or just give them out as a small personal gift.
Recipe: foodiecrush
12. Gingerbread Buttermilk Pancake Mix In A Jar
Gingerbread pancakes would be wonderful for Christmas morning breakfast, don't you think? You can make that happen for your loved ones with these gingerbread pancakes in a jar. The pancake mix makes about 30 pancakes and the only thing your gift recipient has to provide is the buttermilk and eggs. Add some maple syrup to a basket with this and you have the perfect Christmas morning gift.
Recipe: alwaysorderdessert
13. Yummy Gingerbread Cookies In A Jar
I love the idea of adding a cookie cutter to your cookies in a jar gifts and you can use a gingerbread man for these gingerbread cookies. Just loop your ribbon through the cookie cutter and tie it around the top of your jar. These little cookies are so good and so easy to make. Your gift recipient will need butter, molasses, eggs and vinegar to complete the cookies.
Recipe: intimateweddings
14. Gingerbread Granola Jar Gift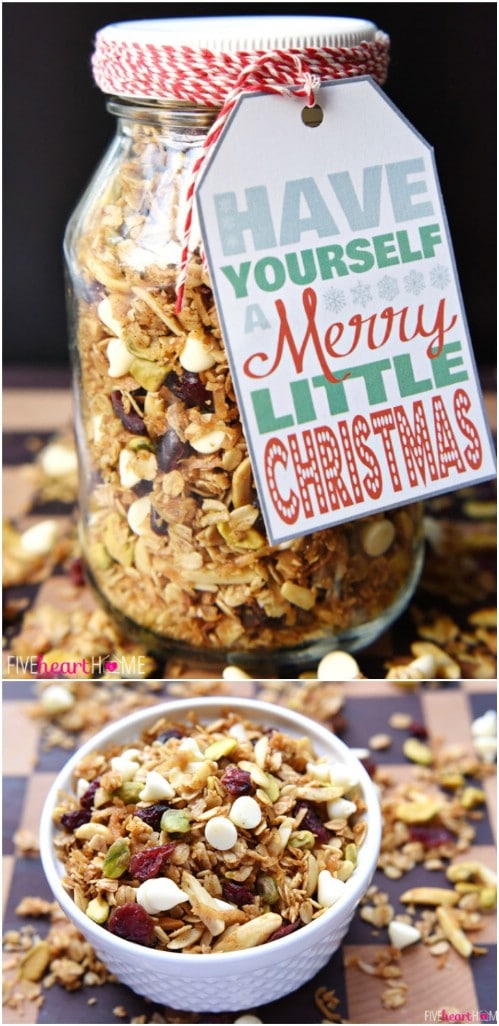 Granola is always a good gift idea, particularly for those who seemingly have everything. This gingerbread granola in a jar mix is filled with cranberries, pistachios, white chocolate chips and delicious gingerbread flavor. It dresses up really nicely too and looks beautiful with all its Christmas colors. It also includes oats, coconut, almonds and a number of spices, including maple syrup and molasses to give it that great gingerbread taste.
Recipe: fivehearthome
15. Holiday Pie Trifle Jar Gifts
These little holiday pie trifle jars are gorgeously colored and perfect for gift giving. Just add a plastic or wooden fork that you can also decorate for the holidays and you're all set. The trifle mixes include bits of already cooked pies along with whipped topping and they are sure to be a huge hit with anyone on your gift list. Note that these need to be refrigerated until you give them but you can make them ahead and even freeze them before decorating the jars.
Recipe: thenerdswife
16. Holiday Puppy Chow In A Jar
This isn't real puppy chow…it's a holiday puppy chow mix that includes Chex mix cereal, chocolate chips, peanut butter and powdered sugar. If you have ever eaten Chex Mix Muddy Buddies, this is sort of the same thing and it's delicious. Plus, it looks like little snow covered squares in the jar so it's the perfect gift to give at Christmas. You can mix this up and fill up several jars with the one recipe.
Recipe: buzzfeed
17. Chocolate Brownies In A Jar
What's better than a homemade chocolate brownie? These brownies in a jar are so easy to put together and you can customize this one by adding chocolate or white chocolate chips, walnuts or even M&M candies to make it more colorful. Everyone loves a good chocolate brownie and you probably have most of the ingredients for this one already on hand. Plus, when they're finished with the brownies, they can make their own mason jar Christmas crafts.
Recipe: allrecipes
18. M&M Cookies In A Jar Mix
Here's a traditional favorite for cookies in a jar. This M&M cookies in a jar mix is super simple to put together and you can use holiday colored M&M candies to make it more festive. Just layer your dry ingredients, including the M&Ms in the jar and then add a tag with instructions and additional needed ingredients. These are a favorite of so many and make the perfect gift for teachers.
Recipe: damndelicious
19. Pumpkin Cupcakes In A Jar
Pumpkin cupcakes are perfect for Christmas gift giving and these cupcakes in a jar are so simple. These would be great if you added some cupcake cups to the top and tied them all together with festive ribbon or twine. You can also make the cupcakes in the jar and give those out as gifts if you want to do a huge batch of gifts at the same time. The little cupcakes are moist and delicious and you get a full two dozen from each recipe.
Recipe: sheknows
20. S'Mores In A Jar Mix
S'mores in a mason jar sounds like such a wonderfully rustic gift, doesn't it? I love the idea of giving s'mores for Christmas. Not only are they delicious, but this classic summer treat is perfect for colder weather. These are treats that you actually make up ahead of time in jelly sized mason jars. You get four jars with each recipe and these are perfect for adding to a gift basket with maybe some flavored hot cocoa or coffee.
Recipe: sheknows
21. Hershey's Kisses In A Jar
If you need a quick and easy homemade gift, this Merry Kissmas jar is perfect. It's a mason jar filled with Hershey's Kisses. You simply have to find a jar, fill it with candy and then add whatever decorations you want like a label and maybe a festive ribbon or bow. These are great for teachers or Sunday School teachers or even for your neighbors if you need something easy that's not terribly expensive.
Recipe: isavea2z
22. Mini Strawberry Shortcake Trifle Jars
I love these little treats that you bake in jelly jars. These little strawberry shortcakes are so delicious and so easy to make. You just add angel food cake and roasted strawberries along with whipped topping to your jars in trifle fashion. Then put on the lid and decorate however you want. You'll want to keep these in the fridge until you give them out.
Recipe: greensnchocolate
23. Reindeer Food Jars
Have you ever made reindeer food? If not, then you are seriously missing out on a delicious snack…and this is one that you can add to a mason jar and make a really festive, not to mention yummy, gift in a jar. These also look really cute in recycled coffee bottles – like those Starbucks ones that you buy in convenience stores. Just add a cute Christmas label and a bow and you're all set.
Recipe: sweetcheekstastytreats
24. Salted Caramel Sauce In A Jar
If you don't want to give something that your gift recipient has to cook or you plan to give an ice cream sundae set, this salted caramel sauce is the perfect gift in a jar. This also works well if you want to throw a few apples into a basket. Just add this sauce and then tie everything up with a nice ribbon. It's a delicious sauce that is really easy to make and you get four jars from each recipe.
Recipe: recipegirl
25. Santa Cookies In A Jar Mix
What better gift than Santa's cookies? These are great for households that have little ones who anxiously await Santa on Christmas Eve. You can give these cookie jar mixes ahead of time and they can bake them to offer to Santa. These have M&Ms and chocolate chips and are a delicious cookie when they are baked. Plus, the mix is really colorful and festive, especially if you use Christmas colored M&Ms.
Recipe: culdesaccool
26. Triple Chip Oatmeal Cookie In A Jar Mix
Three types of baking chips make these the best cookies you have ever tried. They have peanut butter, white chocolate and chocolate chips as well as oatmeal and a host of spices that make them so yummy. Your gift recipient only has to provide the eggs, butter and vanilla. These are so gorgeous in the jar and you can get several jars with each recipe. And you could even add a professional cooking chart as an added bonus.
Recipe: thelawstudentswife
27. Ultimate Trail Mix In A Jar
This trail mix in a jar is filled with delicious ingredients including oats, walnuts, pecans, almonds, pumpkin seeds and so many others. You simply mix this one up and then add to your mason jars. You can do smaller jars if you are planning to do a basket or fill larger jars for a single gift. This one is super easy to put together and you can modify it with other ingredients like banana chips or cranberries…whatever you want.
Recipe: myblessedlife
28. Vegetarian Five Bean Soup Mix
Here's a wonderful soup mix recipe that is perfect for those on your gift list who adhere to the vegetarian lifestyle, or anyone who loves bean soup. Not only is it a delicious soup mix blend, but it's really colorful and makes a wonderful gift. Add burlap or festive ribbon to the top and a label with cooking instructions and you have a great gift for anyone on your holiday list.
Recipe: backtoherroots
29. White Chocolate And Cranberry Cookies In A Jar
White chocolate chips and dried cranberries give these cookies such a delicious flavor and they're really pretty when you layer them together. This recipe makes a quart sized jar full of cookie mix, which yields a couple of dozen cookies. Just add your instruction label and the list of additional ingredients needed to make them and a nice ribbon and you're all done.
Recipe:sheknows
30. White Christmas Pretzels In A Jar
White pretzels are always on my list of Christmas candies to make and now they can be on your list of gift giving essentials. Making white chocolate pretzels is really easy and everyone loves them. Note, you could also do this one with dark or milk chocolate. Just dip your pretzels and then add colorful Christmas colored sprinkles. Once they have dried, just add them to a mason jar and top it off with a festive bow. You can make bulk batches of these if you have several gifts in a jar to make.
Recipe: raininghotcoupons