Check out these homemade burlap gift tags for holiday gifts if you're trying to find a way to spruce up your gift-giving! This is the Christmas season where you really want things to stand out! Impress your family and friends with a clever, handcrafted gift tag that will give them quite the surprise. These small tags are incredibly easy to make but leave a huge impression. They're great for gift giving at the office gift exchange, adding some flair to the gifts under the tree, or making something a little more personal!
Show them you care with something totally handmade. After all, there's something to be said for the art of gift-giving. Whether you use these as decorations or adorn your Christmas tree with their irresistible charm, you'll find they go great just about anywhere! The thing I love most about these little handcrafted gift tags is that they're so easy to personalize! Use your recipient's favorite Christmas motif, or add something to let them know who it's from! There's no little to the types of designs you could add to these things!
The Most Adorable Homemade Burlap Gift Tags for Holiday Gifts
Make these little tags the newest part of your holiday crafting traditions. Since they're so simple to make in bulk, you can even add them to each gift you give out this season! There's nothing I love more than doing my gift wrapping while watching some holiday movies in front of the TV. Get set up with your supplies, and you can easily make some of these while enjoying your favorite holiday traditions.
What Can I Use Instead of Burlap?
Of course! We chose burlap for this craft project simply because of how it looks. It's easy enough to swap it out for something else, but it does have its advantages. Burlap stands up exceptionally well to hot glue guns, decorations and doesn't fall apart very easily. While you're using other materials, you might notice they can easily tear or become blotchy.
This is really only a problem if you're using these as decorations for the Christmas tree. If they don't need to last you several Christmas seasons, you can surely use any material you'd like! Think about how you'll be using them. If you're using them as gifting tags, you probably want a material that's really easy to write on, for instance. Some great alternatives include heavy-duty craft paper (that comes in a variety of colors and textures!) Fabric sheets, as well as small fabric bags all make great options.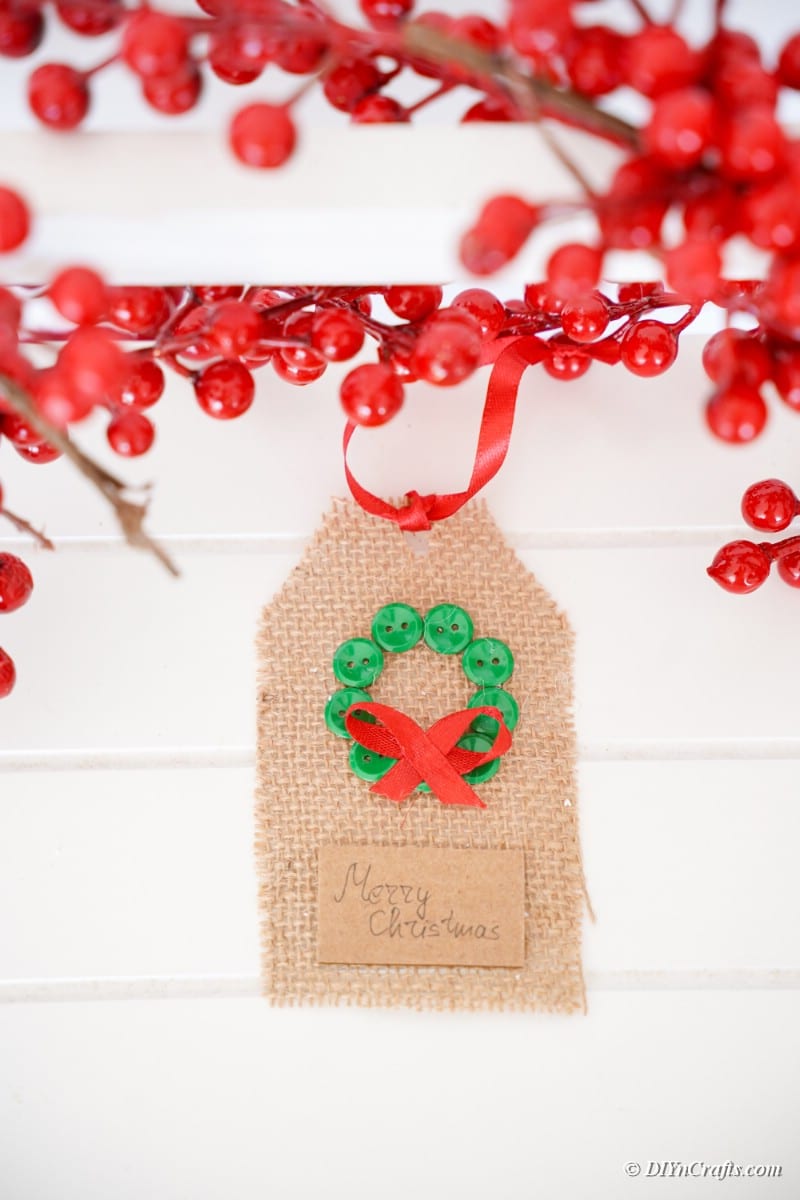 What are the Best Scissors for Cutting Burlap?
Traditional burlap is coarse and somewhat dense, at least compared to ordinary paper! Get ahead of the frustration by choosing a pair of scissors that will more than easily cut through the material so you can enjoy your crafting. Some options include fabric scissors or other cutters with serrated edges. That is of course if your go-to scissors can't make the cut!
How Else Can I Decorate These Gift Tags?
Personally, I love that you can make just about whatever you want out of these adorable, rustic looking tags! In our detailed step-by-step instructions below we'll show you how to make a snowman, wreath, and ornament designs. These are incredibly simple to make, using some of your most basic craft supplies. However, the only limit is your imagination! Break the mold, and create something that's personalized so the person receiving a gift with one of these tags knows it's from you. Try using cotton balls and felt to make a hearty Santa Claus design, or some brown felt and sticks to create a rustic-looking reindeer!
How Do I Add a Name to Homemade Gift Tags?
The easiest way to do so is to add the name on some separate material! Burlap, being threaded, is somewhat frustrating to try and write on with any amount of detail. Ordinarily, it would cause for a sloppy-looking finished product if you intend to write on it. Thankfully, you can easily add a place for a name. Using a heavy-duty craft paper of your choice, hot glue gun a small piece onto the bottom half to replace the holiday greetings message. Next, simply write the name directly onto it. Another option is to repeat the same process, except using a different type of material. Smooth cloth would also work well for this.
Supplies Needed

How to Make Homemade Burlap Gift Tag
The first thing you'll want to do is begin cutting your tag shapes out of burlap. The easiest way to do this is to fold a square shaped portion several times over. After that, cut the tags in the shape shown below to your desired size. If you're not feeling too confident, outline with pencil or pen ahead of time.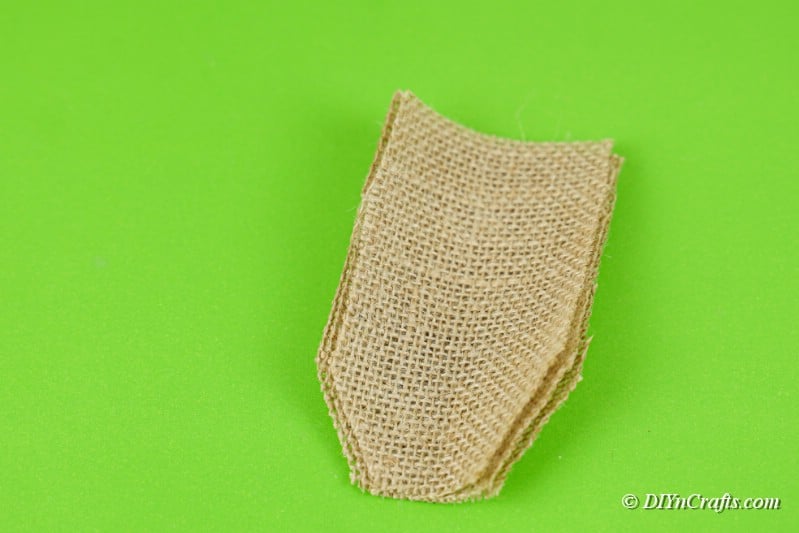 Use a hole punch to create a clean hole through the whole stack of gift tags.
Now, you can start to apply your details. In our example we use ready made tags, however you can of course make your own! Cardboard is perfect for this, but fabric materials would work well, too.
Design each tag however you'd like! The supplies and methods listed here will yield three unique designs with lovely patterns made from crafting materials. If these don't resemble your supplies directly, use these designs as inspiration to create your own!
Marker is helpful for adding small pieces of detail as shown below with these ornament bulbs.
These are what your completed gift tags should look like! When finished, tie a piece of ribbon to use as a string for your tag.
Yield: 3
Homemade Burlap Gift Tags For Holiday Gifts
Use these simple to make DIY burlap gift tags to spruce up your gift giving game this holiday season!
Instructions
Start by cutting through a folded stack of burlap squares. Depending on the size you want, replicate the shape below to create your tags.
Use a holepunch to create a hole for tieing a piece of ribbon through the top of the tag
Now you can start applying details! Use a hot glue gun to secure the pieces in place. Use our designs as inspiration to make your own, or follow along with the supplies listed above.
These are what your finished tags should look like!
Recommended Products
As an Amazon Associate and member of other affiliate programs, I earn from qualifying purchases.
Finished Product Gallery
Use these tags to display just about anywhere you'd like! They have a whole wide range of uses outside of gifting. Their lovely rustic charm gives them a lot of appeal as decorations, too.
These homemade burlap gift tags also make excellent tree ornaments! Take it a step further by personalizing them with your friends, or family member's names!