The weather outside may not be frightful but I've definitely found a delightful collection of DIY gift tags you can use this Holiday season. It's the time of year when you get so busy decorating and baking that you may not think about your Christmas gift tags. You can make those presents really special with a homemade gift tag. While you're stringing up those lights or deciding where you're going to put your Elf on the Shelf this year, take a few minutes to think about making your own unique gift tags, too.
These tags will add just the right touch, and they're all so very unique! Plus, many of them can be made with items that you probably already have around the house, and did I mention that some of them are upcycles? You can reuse something that you're probably planning to throw out and instead, turn it into an amazingly gorgeous homemade gift tag that is sure to make your family and friends smile.
Take a look at these 35 Christmas gift tags you can easily DIY in an afternoon. Fill the tree with presents this year that are a reflection of your craftiness. Plus, save money by not buying those stick on tags. Let's get started making this the best DIY Christmas ever!
Soda Can Tab Santas
These little Santa tags are adorable and really easy to create. You just cut the shapes out of stock paper, or whatever you may have on hand, and then use the soda can tabs for the belt buckle. They're unique and everyone will love getting a gift with a little Santa attached. Use twine to tie it to your gift and you've got a creative and fun gift tag that you sure aren't going to find in a store!
DIY Instructions and Project Credit: craftymorning
Embroidered Tags
If you like to embroider, and even if you don't, these personalized tags will be a cinch. You just create snowflakes, ribbons, or whatever you want onto cardstock using embroidery thread. These certainly have that homemade look, and will give your gifts such an old world vintage look that is sure to please. You can be as creative as you want to make your gifts as special as you want them to be.
DIY Instructions and Project Credit: miniaturerhino
Washi Tape Tags
Ok, you knew I was going to have something with Washi tape. This stuff is so flexible and great for nearly every craft imaginable. You just stick the tape onto a sheet of paper basically, and you have a great tag that is unique and creative. Use your imagination and create wonderful Christmas scenes or just keep it as basic as you want. This is the perfect tag if you want to completely personalize all of your gifts.
DIY Instructions and Project Credit: aspoonfulofsugardesigns
Mini Wreath Tags
These mini wreaths are perfect for dressing up your gifts, and they bring a bit of nature to your gift giving. Just gather up some greenery, there's plenty of it outside, and decorate card stock with your wreaths. You can use evergreens or whatever you can find. Make the wreaths and then just write your special message on the tag.
DIY Instructions and Project Credit: frolic-blog
Cereal Box Tags
These tags made from recycled cereal boxes are great, and no one will ever know that you're using old boxes to make them. You're sure to have at least a couple of empty cereal boxes by Christmas. Just keep the boxes and turn them into these gorgeous homemade gift tags. They're easy and best of all; they will cost you nothing but a little time.
DIY Instructions and Project Credit: assimouassado
Holly Sprigs Tags
This tag is so easy to make, and it gives your gifts such a great homemade look. You'll need felt, which you can get pretty cheap at most craft stores if you don't already have some on hand. Then just create the holly, add buttons for the berries, and you have a great tag that gives your presents a bit of vintage style. Just attach it all to a piece of cardstock or a homemade tag and you're set.
DIY Instructions and Project Credit: 1dogwoof
Button Snowman Tags
Some cardstock or a small piece of cardboard (see the cereal box tags above), buttons and ribbon, and you can make these adorable snowmen tags. Just glue the buttons onto the tag and add ribbons to make your snowman come to life. These are so cute and great for kids' presents. Use your imagination and create all sorts of adorable tags with your buttons and bows.
DIY Instructions and Project Credit: bhg
Fingerprint Tags
These homemade fingerprint tags are perfect for grandparent gifts. Just get the little ones to give you a fingerprint and create adorable reindeer on cardstock. You'll just need to add the antlers and faces. What a keepsake for parents and grandparents! Plus, the kiddos will love helping you to make these, so you can make an afternoon of crafting together.
DIY Instructions and Project Credit: celebrations
Christmas Stocking Tags
Really give your gifts the Christmas spirit with these easy to make stocking tags. You'll need cardstock and a few other crafting supplies to create these adorable peek a boo tags that you can completely personalize. Just imagine how great your tree will look with stocking embossed gifts under it!
DIY Instructions and Project Credit: inkingidaho
Paper Yarn Tags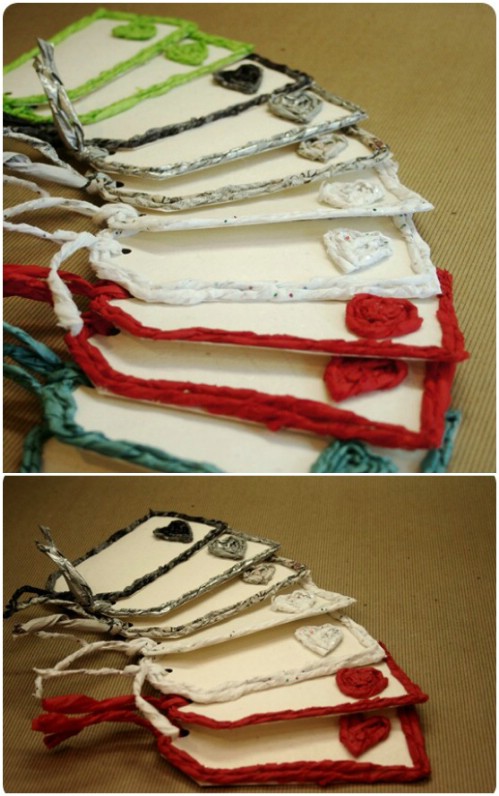 This is a really cute idea and such a fun craft. You can make so many things with paper yarn, and it's really simple to do. Cut some tags out of cardstock and then attach the paper yarn with glue. You can be really creative and do snowflakes and other Christmas worthy decorations, or just create a border in festive colors. However you do it, these are sure to add some great craftiness under your tree.
DIY Instructions and Project Credit: whipperberry
Evergreen Tags
Here's another take on adding some nature to your gift tags. These evergreen tags have beautiful foliage all tied up with a festive red ribbon. Just add your evergreen creation to cardstock or oversized tags and really give your presents a merry look. Tiny little ornaments double as berries to make your evergreens look authentic.
DIY Instructions and Project Credit: heatherbullard
Sugar Cookie Tags
Who wouldn't absolutely love a little Christmas cookie with their gift? You can make these little cookies and use them to tag your gifts. Then, not only are your family and friends getting a gift from you, they're also getting a bit of sweet. This is such a neat idea and one that everyone is sure to appreciate. Plus, you're making cookies anyway, right? Just dedicate a few of them to your gift tags.
DIY Instructions and Project Credit: nelliebellie
Christmas Tree Tags
These Christmas tree gift tags are perfect for adorning any gift under your tree. They're easy to make and you can give them a great 3D effect with a few basic craft supplies. The tree and trunk are basically rolled paper, and so easy to create. These are perfect for Christmas tags, and you can attach the trees to cardstock or another tag that you have on hand.
DIY Instructions and Project Credit: lynniemarie
Clay Ornament Tags
These little clay ornaments are gorgeous and can be turned into a wonderful gift tag for all those presents. If you've never done clay before, it's easier than it looks. You can be very creative and make different tags for everyone or stick to the same basic design to make it a bit easier. However you do it, everyone is sure to appreciate the attention to detail and the elegance of these clay tags.
DIY Instructions and Project Credit: abeautifulmess
Fabric Tags
Take that leftover fabric you have from making Christmas presents or anything that you have in your scrap bucket and create these beautiful and vintage looking fabric tags. These are so simple yet so elegant and are sure to be a hit. You'll just need a small piece of fabric for each one and you can embroider or draw on them, however you want to do it.
DIY Instructions and Project Credit: 100directions
Another Washi Tag
Washi tape is so great. You can do just about anything with it. Here is another fantastic way to put that Washi tape to use for the Holidays. These layered tags are much different than the others, and let you be as creative as you want to be. Kids, especially teenagers, will love helping you to create the colorful neon looking gift tags for everything under your tree.
DIY Instructions and Project Credit: thinkingcloset
Mitten Tags
What better way to dress up those Christmas gifts than with warm, fuzzy mittens? These little mitten tags are not only functional, they're cute, too. You just cut out the shapes from cardstock, old cards, or whatever you have on hand, and then create the mittens with yarn. This is a great project for the kids, and it makes adorable mitten tags that your family is sure to love.
DIY Instructions and Project Credit: designsponge
3D Gift Tags
Create these stunning 3D gift tags that are sure to make you the gift giving queen of the Holiday season. They're really easy, and so creative! You just need cardstock or some rather large plain tags. Then just get creative and add Christmas trees, stars, or whatever you want and build them up so that they're 3D. This is another project that the kids will love and even toddlers can help you to create these tags.
DIY Instructions and Project Credit: warmhotchocolate
Christmas Sweater Tags
Nothing quite like a sweater for Christmas, right? These sweater tags are the next best thing to getting a real sweater. Cut your sweater shapes out of old Christmas cards or anything similar that you have on hand. Make everyone on your gift list an ugly sweater gift tag that they're sure to love. you can even embellish these with stickers or other craft supplies if you really want that ugly Christmas sweater look.
DIY Instructions and Project Credit: zakkalife
Cinnamon Dough Tags
The smell of cinnamon alone is enough to make me love these tags. The fact that they're also gorgeous really helps, too. These are so unique, and they can double as ornaments. So, you're giving everyone a little extra gift with their gift. I love the idea of having cinnamon under the tree, just for the scent alone. These are so easy to make and will have your entire home smelling like Christmas.
DIY Instructions and Project Credit: domestifluff
Monogram Recycled Tags
Monogrammed tags are so easy to make from old cards or cardstock. Just choose the letter you need and cut it out. Simple! You can do whatever size you want and really make those presents special. Tie the monogrammed letter tags to your gifts with a piece of yarn or twine.
DIY Instructions and Project Credit: marthastewart
Metallic Embossed Gift Tags
These metallic embossed tags are absolutely gorgeous and probably the most unique idea I've found for DIY tags. They'll add an elegant shimmer to all of your gifts and although they look complicated, it's really not that difficult to create them. They're not terribly expensive, either, so they're a complete win in my book. And, they'll look great with foil type wrapping paper.
DIY Instructions and Project Credit: papercrave
Bauble Tags
If you want really easy, these bauble tags fit the bill. Just print them out on cardstock or photo paper and customize however you want. They're colorful and will add that special touch to any gift that you're wrapping. You can embellish them if you want with glitter or paint, but they're great just the way they are.
DIY Instructions and Project Credit: fellowfellow
Miniature Book Tags
If you have someone on your gift list that loves reading, these little mini book tags are perfect. You decorate them with plaster that you mold with a candy mold. You can find candy molds at any craft store for just a dollar or so and they're in all sorts of great Christmas shapes. Then use cardboard and fabric to create the books, and you've got a unique gift tag that is sure to please the book lovers on your list.
DIY Instructions and Project Credit: skiptomylou
DIY Marker Tags
You don't have to cut and paste to make unique gift tags. Sometimes all you need is a good magic marker and some cardstock. These tags are pretty and can be made in just a few minutes. If you want truly unique, but you don't really want to go all out with craftiness, just make these simple tags for your gifts. They're still homemade, and kids will love doing these.
DIY Instructions and Project Credit: madiganmade.
Made with Love Tags
If your gift list consists of homemade goodies like cookies, breads, or other sweets, these Made with Love tags are perfect. They resemble tags that you'd see in a bakery and they're so easy to make. I love the simplicity of the design and you'll love how they dress up those food gifts perfectly.
DIY Instructions and Project Credit: shewearsmanyhats
Nutty Rudolph Tags
Who doesn't just love Rudolph? These tags are so adorable, and easy to make. You'll need a half a peanut shell for each one, as well as a tag and markers. Make a little red nosed reindeer for all of your gifts and really get people into the Holiday spirit. Let the kids help with these. They'll love them!
DIY Instructions and Project Credit: clipzine
Chalkboard Gift Tags
Create these great chalkboard tags, which could actually double as an ornament. You just need small wooden cutouts, which you can get really cheap at any craft store, and some chalkboard paint. These are too cute and because they double as ornaments, you're actually giving two gifts in one. Or, they can be reused next Christmas by just changing the name. You can even write in a special message for everyone on your gift list.
DIY Instructions and Project Credit: rustandsunshine
Paint Chip Gift Tags
These great tags are made from paint chip samples that you can get at any home improvement store, or at Wal-Mart. You just cut your shapes out of the strips of paint samples. The different colors give them dimension, and they're so unique that you can bet no one else is going to be giving gifts with these same tags. If you have paint chips, you've got everything you need.
DIY Instructions and Project Credit: acasarella
Photo Tags
Personalize your gifts this Christmas with great photo tags. This is such a simple idea, and an easy project. You basically just need photos, which you can print off in black and white or color, whatever you prefer. Just cut them out into the shape of your tag and you're all set. This is a great idea for grandparents or anyone who would absolutely love a little photo on their Holiday gift.
DIY Instructions and Project Credit: photojojo
Polymer Clay Gift Tags
These clay gift tags are completely personalized, and also make wonderful ornaments when the gifts are opened. You'll need some rather small cookie cutters to make the designs and you can embellish with anything you want, or just leave them plain. Tie a ribbon through for attaching to your packages, which also doubles as a hanger to put the tag on the tree next year.
DIY Instructions and Project Credit: happyhourprojects
Embossed Gift Tags
These gold and silver embossed gift tags are so elegant and gorgeous! If you're planning to really dress up under the tree this year, these are perfect. They take a bit longer to create than some of the other projects on the list, but they are worth the extra effort. They'll leave your presents looking like they were wrapped professionally, and leave your gift recipients with a special feeling of Joy.
DIY Instructions and Project Credit: ohsobeautifulpaper
Frilly Tree Tags
These adorable little frilly Christmas tree tags are made with cupcake papers! They are really easy to create and so vintage looking. I love their simplicity and elegance, and they're sure to bring a smile to anyone's face. You can use mini cupcake cups for smaller tags or regular sized cups for larger tags. Then just add whatever embellishments you want, and you've got the most unique gift tags on the block.
DIY Instructions and Project Credit: mollymel
Upcycled Tags
Turn old Christmas cards, photos, or whatever you have on hand into gorgeous and unique gift tags by simply cutting them into shape. This upcycled idea is great, and helps you to reuse some of those Christmas cards from years gone by. You'll need a template for cutting out your tags and then just get to work snipping away. I love how this one lets you save money and get rid of old cards at the same time.
DIY Instructions and Project Credit: planningwithkids