My favorite Halloween movie has long been Bride of Frankenstein, so, of course, this fun little mason jar Frankenstein Halloween lantern is definitely a hit with me! I love how goofy he looks but also how friendly and fun this make what most call a monster. A bit of paint, an empty jar, and your imagination are all that are needed to create this cute little addition to your Halloween decor this year!
Mason Jar Frankenstein Halloween Lantern
Mason jar crafts are always a hit in my book. Even if I don't use an actual mason jar, old containers that I can upcycle are appealing. I love using something ordinary and turning it into a super fun little craft or decoration. This project is both a great Halloween decoration and a fun crafting project.
You can make this to use just as an addition to a shelf or centerpiece, or you can add it to your mantle as a lantern. Just tuck a candle inside and you have easily made a light that adds to the spooky look of Halloween. This is fun for kids to help you make, but can also be a great project for us moms to make and add to the box of decorations around the house.
What Jars Can I Use for This Lantern?
I tend to reach for mason jars as I have them on hand already, but if I plan to use them for canning foods (as is common), then I will simply use a jar from pickles, mayonnaise, or pasta sauce. I usually keep any jars food or condiments come in and wash them well then store in my craft closet. They are ideal for projects just like this one.
If using something other than a mason jar, you'll want it to be perfectly clean for the paint to stick properly. So, I recommend grabbing some GooGone to keep on hand for use when cleaning labels off of jars. This will help make your paint or craft paint pens stay on the glass or plastic better when you are crafting.
Can I Use a Real Candle Inside?
If you are using a glass mason jar, it should be safe to add a real candle to the inside of your Frankenstein lantern. That said, you may want to be careful regarding the paint you use and if you add it to the inside of the glass. While it won't necessarily burn like paper would, it could create a fire hazard.
I prefer to instead use an LED or flameless candle inside for the glow of a candle while still remaining safe. It's a great way to add light to a space without having a fire hazard. This is also really handy when you are hosting a Halloween party or event and don't want to tend a candle flame regularly.
What Other Ways Can I Decorate My Mason Jar Frankenstein?
Frankenstein may seem pretty simple, but there are a lot of ways you can add a little something extra to this jar to make it more unique. I am always excited to see my kids get creative and do things just a bit differently, so why not do that with a project like this? Below are some ideas for this project that could add extra character to the jar.
Turn the hair a different color or add "highlights"
Use white paint to add more life to the eyes
Give the bolts on the neck a different look with silver paint pen
Glue black yarn around the top as real hair
Give Frankenstein a smile instead of a scowl
Color in part of the teeth white for a happier look
What's the Best Paint for Making Frankenstein?
I used basic craft paint for making my lantern. A black paint pen or permanent marker was used to add the hair, bolts, and eyes to the jar for an authentic look. While this is an easy and affordable choice, you could also use spray paint or even watercolors to create the green jar if desired. If you wanted to reuse the jar, you could also coat with paper or tissue paper rather than paint to give the same look without paint.
Supplies Needed
How to Make a Mason Jar Frankenstein
Paint the inside of the jar green making sure to add just a thin layer of paint on the bottom and sides.
While this is drying, on the outside of the jar, use a black paint pen to draw and color in the top portion of the jar to create hair with jagged edges.
Add eyes, nose, and a jagged mouth to create the face.
Using the paint pen, color onto the sides of the face and neck to look like stitches and bolts.
Add a flameless candle on the inside and display as a lantern.
Feel free to add accents like different colored paint or a smile to make it look more unique.
More Halloween Decorations
Halloween is a special time of year and we absolutely love making new decorations. Whether it's something like this painted mason jar or a paper plate craft, there are tons of fun ideas we have gathered to share. Below, you will find some of my favorites and a few lists of ideas to make Halloween tons of fun for you and your family this year!
Crafting Tip

Dollar Tree online currently has a cute pint jar tealight candle that is designed with a candle already inside! All you have to do is paint it to create your mason jar Frankenstein craft. Pick up this or other empty jars on Dollar Tree online for low cost and convenience.
Yield: 1
Cute Mason Jar Frankenstein Halloween Lantern
An old jar, a bit of paint, and your imagination easily create an adorable Frankenstein Halloween lantern! A perfect kids craft for Halloween.
Materials
Tools
Instructions
Using green paint, add a light coat of paint on the inside sides and bottom of the mason jar;
Using a blck paint pen, draw the hair with jagged edge on top of the jar and fill in;
Add eyes, a nose, and jagged smile to the front of the jar;
Draw on squiggled lines for stitches and bolts on the neck to complete the look;
Add a candle inside and display for Halloween.
Notes
When using a plastic jar, use a flameless candle. If using a glass jar, you can use a traditional candle if desired.
Recommended Products
As an Amazon Associate and member of other affiliate programs, I earn from qualifying purchases.
Finished Project Gallery
Use this mason jar lantern in a variety of fun ways around the house throughout the Halloween season. Create a cute scene on a table or shelf with a fall themed cloth, some hay, fake pumpkins, or fall fruits.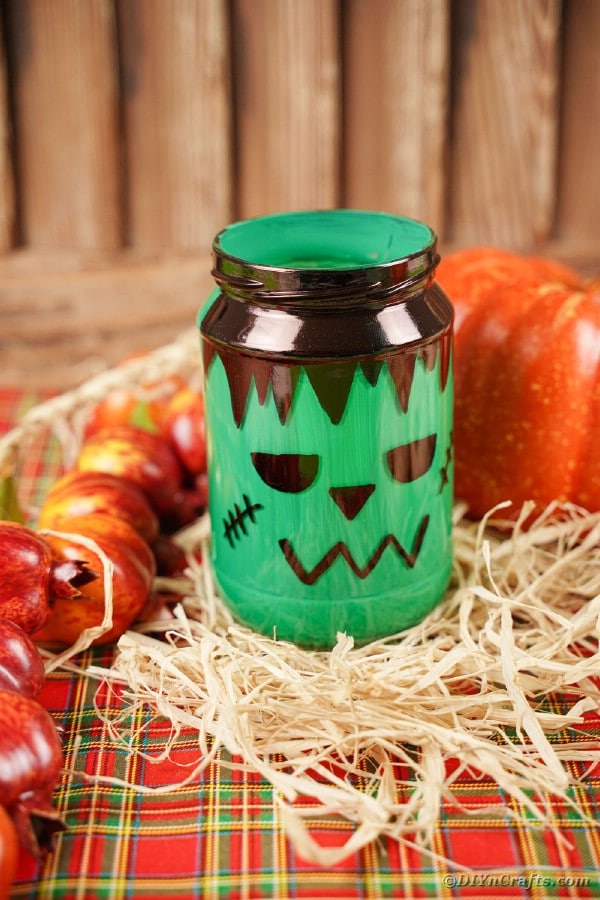 At night, turn the flameless candle on to make it glow and add light to the space.
Outside, you can add this to a stump or log and light to create a walkway at night for your Trick or Treaters.
Or, add it in front of a special Halloween sign with fake leaves and other Halloween decorations to create a welcoming scene on your front porch or near a Halloween snack buffet.
No matter where you place this cute little DIY lantern, the soft glow will light up to add fun to your Halloween events and parties.