As soon as the first hint of a chill hits the air, I am 100% ready to start making pumpkin everything. Whether it's this adorable smiling paper plate pumpkin lantern with the kids or a classic pumpkin pie, fall is always welcome. This easy little project is a great way to get kids excited about crafting, especially during the fall season.
Paper Plate Pumpkin Lantern
While designed as a Halloween lantern, you could use this same method for a ton of different paper plate crafts. I love using paper plates s part of kids crafts because they are inexpensive and so easy for small hands to handle and manipulate to create new things. There are tons of ways to customize this little lantern, and you don't even have to use it as a lantern if you don't want. It's just a cute decoration!
Do I Have to Paint the Plates?
No. You don't have to paint the paper plates if you have colored plates already. If you are trying to limit the mess with small children, then I recommend picking up a variety pack of colored plates instead. The Dollar Tree is my favorite place to grab colored plates. They have a huge selection of colors, including the orange and black used in this project.
Pumpkins don't have to be orange though. You can easily use green, purple, blue, or any color you want! I'd even use this project for the teal pumpkin that is commonly used to signify that you have non-food treats available for those with allergies or sensitivities. It's a brilliant way to add that to your porch with just a few simple steps.
What Candle is Safe to Use For the Lantern?
Obviously, you won't want to use a traditional candle with flame when making this paper plate lantern. I keep a stock of tealight flameless candles and votive flameless candles on hand for projects like this. A flip of the switch on the bottom and you have a candle glow that is completely safe for use around the paper plates.
Never use an open flame around something flammable like paper plates. The lantern glow is fun to add to your decor but is not worth the risk of fire. Always be safe when crafting or decorating your home, no matter how cute the look may seem.
How do I Create a Jack o Lantern Face?
The best part of making a jack o lantern is that nothing is exact. No two are alike, and that means you can freehand this or you can use a stencil. Mine has a smile but you can make the creepy or scary jack o lantern look if you prefer. Just start with two eyes in triangles, squares, or rectangles. Then you can make a jagged mouth featuring 3-4 pointy teeth.
Supplies Needed
How to Make a Paper Plate Pumpkin Lantern
Paint the top side of one paper plate entirely black then set aside to dry.
Flip a second paper plate over so you are drawing on the bottom, and use a pencil or pen to draw a jack o lantern face.
Cut out the face.
Paint the bottom side of that plate with an orange craft plate and set it aside to dry.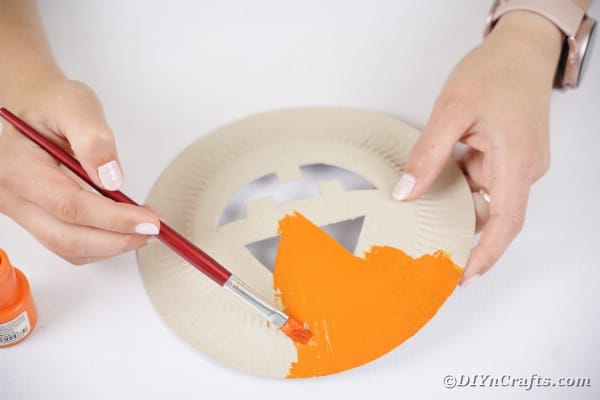 While the plates are drying, fold a green pipe cleaner in half and use a pen or pencil to wrap both sides around to create a spiral pipe cleaner to use as the stem.
When the plates are dry, add hot glue around the edge of the painted black side of the solid plate.
Add the pipe cleaner stem at the top so that the fold is on the plate and glued in place and the stem is poking above the plate.
Press the second plate on top of the first, so that the orange jack o lantern face is facing outward and only the outside edges are glued together.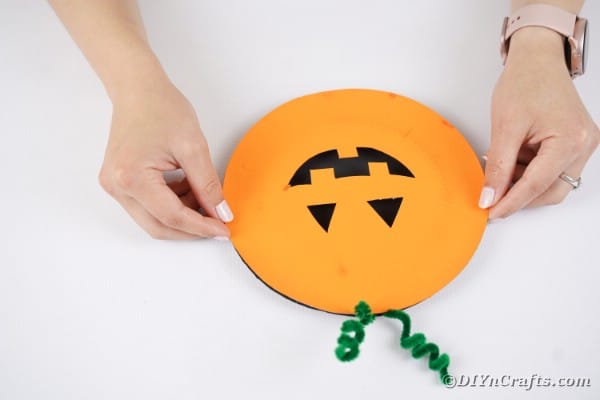 If using as a lantern, use a craft knife or scissors to cut the bottom of the plate off to create a flat surface.
Gently open the bottom of the plate and place over a flameless candle to create a lantern.
Display on your counter, a table, or even your front porch!
More Halloween Pumpkin Decorations
There are so many fun ideas for creating Halloween decorations with kids. I love using what I already have on hand or inexpensive items to create something new. Below are a few of my favorite additions to the Halloween decor list, and kids crafts especially make me happy. Whether it is decorating your porch, hosting a party, or just making the breakfast table more fun on Halloween, this list of ideas is sure to please.
Crafting Tip

Shop Dollar Tree online for tons of craft supplies to use in projects like this paper plate pumpkin. I like grabbing a variety of colorful paper plates, craft sticks, craft paint, pipe cleaners, and other crafting supplies and having them shipped directly to my house. This saves both time and money.
Yield: 1
Smiling Paper Plate Pumpkin Lantern Kids Craft
A simple painted paper plate turns into a cute little Halloween pumpkin lantern for your front porch or even a kitchen table!
Additional Time
30 minutes
Materials
Instructions
Paint the top of one plate black then set aside to dry;
On the bottom of the second plate, use a pen or pencil to trace a jack o lantern face outline;
Cut out the face and then paint the bottom of the plate orange then set aside to dry;
Use a pen or pencil and twist the pipe cleaner so it is spiraled and fold in half;
On the black plate, once dry, glue the pipe cleaner stem to the top then add glue all around the edges of the plate;
Place the orange plate on top of the black plate sealing around the edges;
If adding a flameless candle to this, cut the bottom edge of the plate off to create a flat base;
Gently open the bottom of the plates to sit over the candle and display as desired.
Notes
Use colored plates to avoid the painting step of this project.
Recommended Products
As an Amazon Associate and member of other affiliate programs, I earn from qualifying purchases.
Finished Project Gallery
I love how this pumpkin craft is smiling. It makes it so much easier to create with kids of all ages!

You can display with a flameless candle as a lantern on a wooden disc or slump alongside fake pumpkins, fake apples, and hay.
While I wouldn't leave it outside in the elements, you can still use it on a clear day to add light along a path to your doorstep!
I love the idea of personalizing each one with a different look on their face. Smiles, frowns, round, square, and oval eyes all make these unique.