If you want to create a paper flower that wows everyone, this paper lotus is a perfect choice. Simple folding techniques on pastel colored papers is all you need to create a stunning flower decoration. Use this as part of a centerpiece, in a bouquet, or to give as a gift on top of a wrapped package. Paper flowers are a perfect way to create something beautiful using only a few simple craft supplies.
Paper Lotus Flower Decoration
The lotus flower is a classic and elegant flower. When you make this as a decoration, you are adding a bit of elegance to whatever you are using it for in your decor. These flowers can be used in other crafting projects or can be used as-is to decorate a table, a shelf, or even a gift.
I love that this is so versatile, but mostly that it is practically free to create. You probably already have the colorful paper on hand, and, of course, you already have scissors. Those are the perfect crafts to make. Easy, inexpensive, and stunning to display!
What's the Best Paper for Making Flowers
When making paper flowers, I find that a lighter paper works best. It makes it much easier to keep the shape and make those intricate folds. Origami paper, in particular, is a great choice. It really is designed for this type of folding and holding of shape.
Other options are colored craft papers, scrapbooking paper, or old book pages. I have used card stock for a few projects and of course, you could even try this with some old newspaper. Get creative and use what you prefer to make flowers. You'll also love that you can add any little accents to them with paint and glitter, so the color of the paper doesn't matter as much.
Of course, if working with kids, you can even use construction paper if you wanted. And, while it is hard to make some shapes, there are a few types of foam paper or glitter paper that work well for making flowers. Just use your imagination.
How Can I Make My Flower Unique?
The real beauty of a lotus is that it is so simple all by itself. Adding accents elevate the natural elegance of the flower, but you should be careful how you do that so as not to overwhelm the look. Choosing different colors of paper is one great way to add to the look, but that's not the only way. Below are some other fun ideas.
Add glue and glitter along the edges of the petals
Glue a small pearl along each point of the flower petals
Attach the flower to a foam paper base
Spray paint the flower with a shimmer or glitter spray
What are the Best Ways to use This Paper Lotus?
One of my favorite things about making paper flowers is that they are so versatile! This one is a perfect addition to any gift in place of the bow. Flowers like this can also be used on wreaths or even as part of a centerpiece. They can be paired with holiday decorations or even a flameless candle on a table or shelf.
These paper lotus flowers are absolutely beautiful and they can be used in so many ways. You can use them to decorate the top of gifts in place of a bow. The flowers can be used on wreaths for indoors. They can also be used as part of a centerpiece. The flowers can be paired with holiday decorations or even flameless candles. The flowers can also be glued to a stable bottom and use it as decoration on the shelf.
One of my favorite ideas is to use them for party decorations. Scatter over the table with gifts or even a dessert buffet. They look super cute at tea parties, and when made different colors and sizes really accent the overall elegant look of a formal birthday event.
Supplies needed
How to Make a Paper Lotus Flower
On the purple paper, measure 3 equal sections vertically.
Now trace draw a line through the center of these 4 sections dividing them in half.
Cut apart the paper at each line so you have 8 equal portions of purple paper that are rectangular in shape and about 2" wide and 4" long.
Fold each piece in half vertically.
Unfold the paper, then fold the top and bottom ends inward into a point.
Fold the outside edges inward to the center and then fold and crease.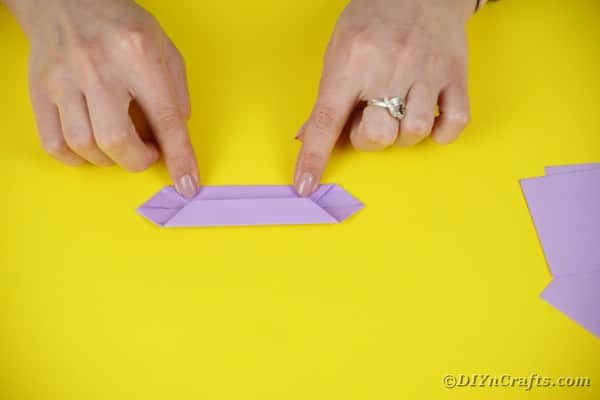 Fold the paper in half vertically again.
Repeat this process for all of the purple paper.
Now stack 2 on top of each other so they are doubled and you have 4 sets of doubled papers.
Stack these together side by side, then secure in the center with a twist tie or rubber band.
Separate the sections out to form a flower design.
On every other set of papers, pull the top section upwards to form a petal pointing upwards.
Next, fold the rest of the top sets upward and separate them so there are multiple layers of petals then set this aside.
Measure and cut 6 equal portions of green paper the same size you made the purple paper.
Fold these in half vertically.
Then, fold each end inward to create a pointed end.
Fold this in half again vertically.
Now, stack these together and tie in the center with a rubber band.
Fold the paper downward to separate and upward on the edge to form a leaf and continue this process all around to create the green leaf base.
Add a bit of glue in the center of the green base and attach the purple flower and hold it to secure.
Now you can use your paper lotus to decorate as desired!
Note: For a clearer picture of how to fold the papers, watch the video tutorial in full.
More Flower Tutorials
If you are a fan of making paper flowers, this isn't my only option. You can start with my favorite old book page flowers, or make some cute decorative fabric flowers or a fabric flower bouquet. Of course, I also love making repurposed paper roll flowers, pom pom flower bouquets, and the delicate tissue paper flowers. Simple craft paper makes these decorative paper flowers, and all of them in various combinations can create truly stunning fake flower bouquets.
Crafting Tip

I discovered a great site for getting scrapbook paper as well as paper for a variety of crafts. While it is mostly for artistic purposes, I found the options for scrapbook paper to be superior to my local craft stores. Plus, I can order and have it delivered right to my front door! CraftStash has a ton of art supplies at great prices and regularly offers free shipping.
Yield: 1
Beautiful Craft Paper Lotus Flower Decoration
Follow this simple step by step tutorial to learn just how easy it is to create your own craft paper lotus flower decoration!
Materials
Tools
Instructions
Measure 4 equal vertical sections on a piece of purple paper;
Draw a second line at an equal distance horizontally to create 8 sections on the paper;
Cut these pieces out so that each section is around 2" wide and 4" long;
Fold a piece in half vertically;
Unfold the paper, then fold again on both ends forming a triangle point;
Fold the paper inwards toward the center crease;
Now fold it in half again so it creates a paper that is pointed on both ends and open in the middle;
Stack 2 pieces together so that you have 4 of these folded sections of paper;
Place all four together side by side and connect in the center with a twist tie;
Separate out the papers so that there are 8 equal petals in a flower shape;
On every other petal, pull the top piece of paper upwards at an angle so that it creates a sharp pointed petal and continue this until every other petal is upward;
On the remaining pieces, fold the top section up as far as it will go, then the bottom section up so that it is just below the top;
You want a flower shape that is layered, see the video for more tips;
Measure and cut 6 pieces of green paper the same sizes you did the purple pieces earlier;
Fold each of these in half vertically;
Fold the ends inward at an angle to create a point on both ends;
Stack the green pieces together side by side and tie in the middle with a rubber band;
Pull the green pieces out into a flower shape like you did with the purple earlier;
Fold the green pieces upward and separate each one until it forms a base leaf shape;
Glue the purple flower into the center of the green leaf base;
Display as desired in your home.
Notes
For a better picture of the folding steps, watch the full video tutorial
Feel free to use any colors of paper or scrapbook paper desired
Recommended Products
As an Amazon Associate and member of other affiliate programs, I earn from qualifying purchases.
Finished Project Gallery