People everywhere find themselves with a bit of time on their hands and some extra toilet paper on hand.
What do you do with all of those empty rolls after use? This list of fun and yes, unique toilet paper roll craft ideas are great for keeping you and the kids occupied.
There are cute ideas for younger kids, fun ideas for adults to decorate around the house, and even a few holiday-themed ideas thrown into the mix.
Jump to:
Toilet Paper Roll Crafts for Kids
These craft ideas aren't just for toilet paper rolls. You can use paper towel rolls as well if needed.
The idea is to use up items you already have on hand to create crafts that are fun for kids.
This is a two for one deal in my opinion. Keep the kids busy, no need to purchase extra supplies, and have something new and fun to use as a decoration!
Unique Toilet Paper Roll Crafts for Kids
Your kids will love this fun list of toilet paper roll crafts! Grab those empty rolls and a few simple crafting supplies and turn trash into treasure with these amazing tutorials.
Minion Paper Roll Craft
I don't know anyone who doesn't adore the cute little yellow Minions! If your kids like Despicable Me or the Minions movies, then this is a great one for them to make together.
Tutorial: Crafts by Amanda
Toilet Paper Roll Cheesy Mac Costume
Okay, so not a traditional idea, but this one is amazing! Even if you don't make it right now, this is ideal for Halloween. Paint and glue them together to look like macaroni and cheese!
Tutorial: Crafty Morning
Toilet Paper Roll Train Craft
This one is ideal for your train-loving kiddos! I love the idea of painting each train a different color or even creating unique designs on them. This is more than just the toilet paper craft, but is hours of fun playing once dry!
Tutorial: Kids Activities Blog
Toilet Paper Roll Squid Craft
My son loved squids when he was little. This would have been a huge hit with him. I love that this has a fun little "fringe" of legs on the bottom. You can easily add a bit of fishing line to the top and hang them as a decoration.
Tutorial: Crafty Morning
Toilet Paper Roll Owls
What's not to love about owls? These are super cute and have several variations to make them a bit more personal for your kids. I love the purple one, but of course, you can make it any color you want!
Tutorial: Curious and Geeks
Paper Roll Fish
What an adorable little idea! This truly transforms a basic paper roll into something beautiful. Great for use with those studies about fish, or just to have fun with your little ones.
Tutorial: The Craft Train
Cardboard Tube Unicorn Craft
Are you on the unicorn loving train? I sure love them! This colorful rainbow unicorn is a great fun and easy to make craft that kids will love. All kinds of sparkly and fun to play with - this will be your favorite!
Tutorial: Red Ted Art
Grinch Toilet Paper Roll Craft
It isn't Christmas as I write this, but that doesn't mean you can't enjoy a fun Christmas craft. Make a bunch of these now to decorate with later in the year, or just to add to your home now. Nothing beats a bit of Christmas cheer to make tough times easier!
Tutorial: Crafts by Courtney
Cardboard Tube Bowling Game
What a fun idea! This is ideal for when you are stuck inside! A great craft that keeps kids busy playing for hours on end!
Definitely an addition to crafting and playtime that is worth making.
Tutorial: Craftulate
Star Wars Toilet Paper Roll Characters
May the Force Be With You! This is a fun craft idea that I, for one, adore. I'm a huge Star Wars geek, and this just appeals to that in spades. I definitely would make these on my own, even if I didn't have kids in the house!
Tutorial: Hello Wonderful
Toilet Paper Roll Monkeys
No craft project is better than one that gets kids using their imagination. Monkeys are perfect for making my kids get goofy and make silly sounds. Pretend play is a must for growing imagination and this is a great project to get that started.
Tutorial: Mom Unleashed
Toilet Paper Roll Octopus
This may be the one paper roll craft I remember best from my childhood. There is just something fun about cutting and rolling paper strips into the curve that turns them into a cute little tentacle on your octopus.
Tutorial: Easy Peasy and Fun
Toilet Paper Roll Castle
This is absolutely gorgeous! I will definitely take a bit of extra work to make, but worth it in the end. This is a great option for older kids to make since it takes a bit more focus.
Tutorial: Red Ted Art
Elephant Toilet Paper Roll Craft
I love that this one uses foam paper as well as painted toilet paper rolls. It's a super cute idea for any zoo studies, or just for the elephant lover in your life. This post also has other fun zoo animals to check out and make with paper rolls.
Tutorial: Sunshine Whispers
Hungry Caterpillar Toilet Paper Roll Necklace
Paint and cut toilet paper roll into short pieces then string onto yarn or twine to create an adorable necklace. This easily goes alongside the always popular Hungry Caterpillar books for kids.
Tutorial: Kids Activities Blog
Sophisticated Paper Roll Crafts
These are too adorable! A bit of paint and you have given an old paper roll the fun personality of a classy cat! A great choice for the crazy cat lady in your life! That would be me. I am the crazy cat lady.
Tutorial: Molly Moo Crafts
Paper Roll Dog Craft
Since I included one for the cat lovers, I can't leave out the dog lovers! This is a cute idea for a slightly different paper roll craft. Definitely a fun one for kids to make!
Tutorial: Easy Peasy and Fun
Poppy and Branch Trolls Movie Craft
Whether it's the Trolls movie or the latest release Trolls World Tour that has your kids loving these little creatures, this is a fun craft. I love that these are so cute and fit the latest release so well!
Tutorial: The Art Dream
Toilet Paper Roll Mice
Cut apart a toilet roll and glue together to make this adorable little mouse! While it was created as a Christmas ornament, you can use this for any project that needs a fun little mouse added.
Tutorial: Child Made Tutorials
Paper Roll Bird Feeder
Every kid needs to have fun making a bird feeder! This little paper roll bird feeder is super easy and a great way to teach your kids more about the birds local to your area.
Tutorial: The Chaos and The Clutter
How to Make a Coin Purse out of a Toliet Paper Roll
This video is amazing! A great little idea that little girls, especially, will love making! Check it out and have your kids make their own little DIY purses using those paper rolls.
Paper Roll Monsters
Monsters are always a fun character for kids. This little project lets them use their imagination to create their own unique monster to decorate their room or have fun playing with together.
Tutorial: The Best Ideas for Kids
Paper Roll Turkey Craft for Kids
Thanksgiving turkeys are always fun to make. Use a paper roll, some colorful construction paper, and a bit of glue. These are great to decorate the kids table at your Thanksgiving meal.
Tutorial: The Resourceful Mama
How to Make a Toilet Paper Roll Pillow Box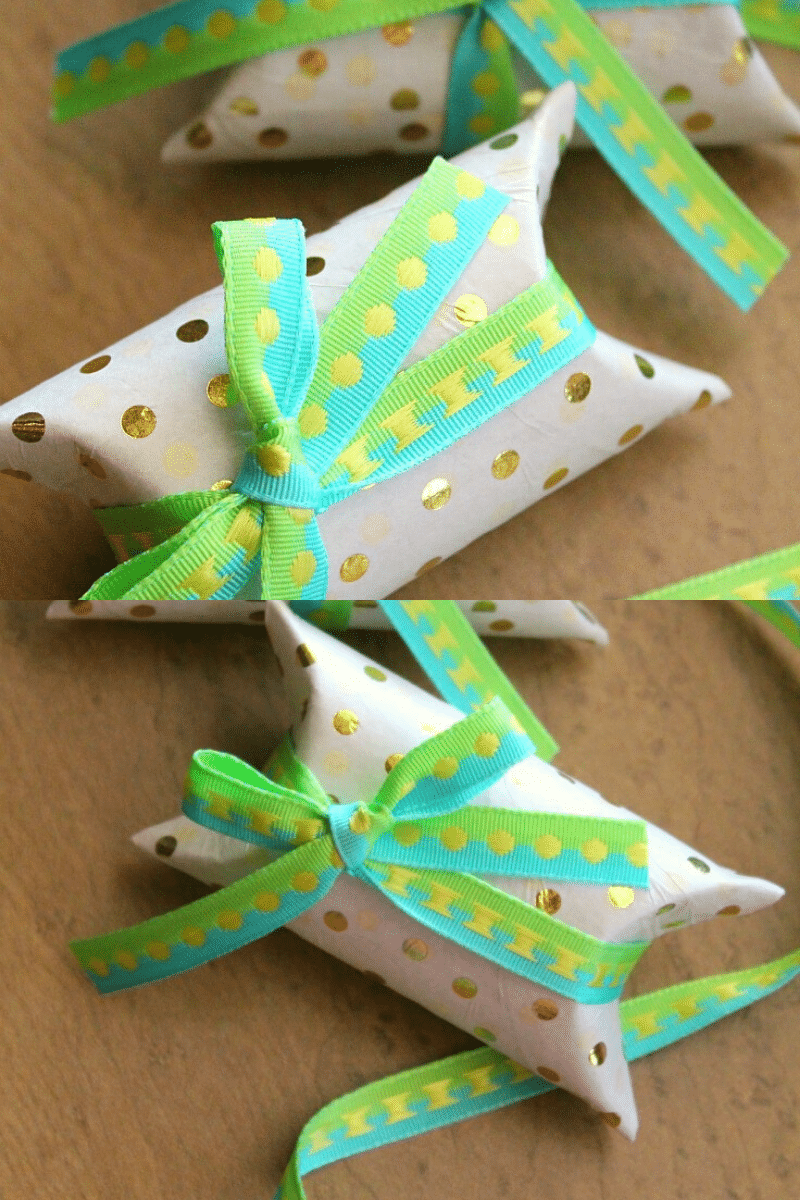 Don't have a gift box on hand? Use an old paper roll tube to make your own homemade box! These are lots of fun to make and decorate for different holidays and stuff with candy to give to kids!
Tutorial: Easy Peasy Creative Ideas