As the flowers start to bloom, and the weather starts to get warmer, kids get excited to see butterflies dancing around the yard. Keep that excitement alive with this easy butterfly kid's craft. With minimal supplies needed and lots of room for creativity, this is a fun and easy springtime craft.
Butterfly Kids' Craft
The best kid's crafts are simple and fun. This is definitely both. In my opinion, the fact that there is so much room for the kids to get creative and add variations to this craft makes it one of my favorites. Butterflies come in all designs and kids are going to love making their butterflies in different designs. Why wouldn't a craft have the same variety?
Another fun butterfly idea is this simple colorful paper butterfly craft. It's so pretty and great for decorating in springtime. While your kids are making these crafts, you could make this gorgeous rustic butterfly from old book pages, or even this fun butterfly terrarium.
What Paint Should I Use on Toilet Paper Rolls?
When it comes to painting toilet paper rolls, just about any paint will do. You want to use thicker paint that will cover well. This means you will want to avoid thin paints like the kind that is used for making stain glass painting and finger paints.
I also avoid watercolor as it will just be wasted on the darker color of the paper roll. I typically keep Apple Barrel craft paint on hand for projects like this. It's affordable, comes in a variety of colors and is easy to find at a number of stores.
These decorative paper roll flowers are another great way to use up empty toilet paper rolls to make a gorgeous decoration. Another excellent springtime craft is this super easy glittery paper flower basket. So cute and great for kids to help make.
Can I Use Different Colored Paints?
The best part of this Butterfly Kid's Craft is that the kids can make their butterflies any way they want to. That means, these adorable butterflies can be whatever color they like. Let kids paint the bodies their favorite color, a rainbow design, spots or whatever else their creativity.
I am always up for a fun craft that allows my kids to use their imagination. Things like this mushroom planter garden decoration are easy to make, but give your kids a chance to show their personality. Painted garden markers and painted ladybugs use basic colors, but can still be great for kids to create for springtime.
Variations of This Butterfly
There are so many ways to change up these butterflies besides just changing the colors. Bring out all the different craft supplies to make each one unique. Some easy ideas are:
Use Sequins: Kids can line the wings with sequins or add them to the body. Use a lot, use a little or use different types and styles of sequins. Grab this sequin organizer complete with multiple colors of sequins for a variety of needs.
Glitter: You can never go wrong with glitter. The wings can be coated in glitter or just make a design with glitter. It will ass so much beauty to these little bugs. This big set of holographic glitter has 15 different colors and is awesome to have on hand for crafts like this.
Fabric: While I have made these butterflies with paper wings, bring out the fabric and create fabric wings. You would only need a small amount and it is a fun way to use up scraps.
Felt: Another idea is to use felt or even foam to make the wings. There are many types of felt and foam that you can use to make different styles of wings. Each different type of material will add a new element and look to these butterflies. I like this multi-pack of felt for keeping on hand for many crafts.
Supplies Needed
How to Make This Kids Butterfly Craft
You will begin by painting the outside of the toilet paper roll pink (or chosen color). Set it aside to dry.
While the paint is drying, you will make the butterfly wings.
Fold a piece of paper in half, then cut a curved wing shape out. Unfold the paper to have two matching wings.
Attach the wings to the back of the painted paper roll once it has dried.
Now, glue a colorful button on all four corners of the wings.
Glue googly eyes in place and then use your marker to draw a smile.
Now, you will cut two small pieces of pink pipe cleaner and roll one end of each into a small circle. Glue a small pm pom into the center of each circle on the antenna.
Attach the antenna to the top back of the paper roll.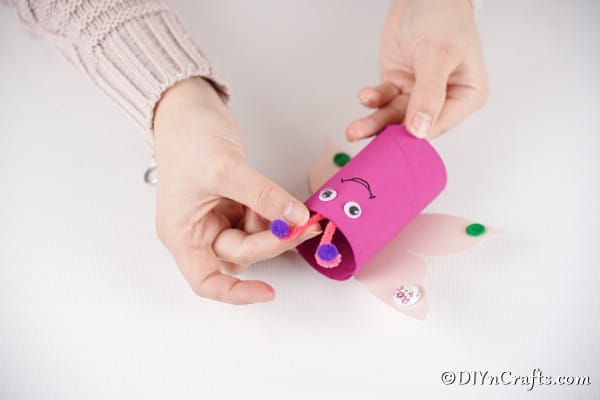 Feel free to add glitter, additional colored paper, buttons or pom poms onto the wings if desired.
Crafters Tip

One of the best investments I have made for my craft room has been craft paint smocks and craft aprons. Not only are they great for use with the kids for projects like this, but I have also found they saved my clothes more times than I can count. I really love these personalized kids' paint aprons. They are really durable and you can have them monogrammed.
Yield: 1
Easy Painted Paper Roll Butterfly Kids' Craft
This adorable painted toilet paper roll butterfly is a great kids craft for springtime! Have fun customizing your butterflies with fun colors and glitter to make them unique!
Additional Time
15 minutes
Materials
Toilet Paper Roll
Buttons
Tools
Instructions
Begin with painting the toilet paper roll on the outside in your chosen color (I used pink), and set it aside to dry;
While the paint is drying, you will cut the paper into butterfly wings by folding the piece of paper in half, then cutting a curved wing shape out;
Unfold the paper and glue buttons onto the four corners of the wings;
Attach the wings to the toilet paper roll once the paint has dried;
Glue googly eyes in place and use your black marker to create a smile;
Now, you will cut two pieces of a pink pipe cleaner and roll each on one end so it looks like an antenna then glue the pom pom to the center of each antenna;
Add the antenna to the top of the paper roll above the eyes.
Notes
Feel free to use different colors of paint, glitter, sequins, or other items to add sparkle and color to your butterfly.
Recommended Products
As an Amazon Associate and member of other affiliate programs, I earn from qualifying purchases.