I love that this little paper fan bunny wall art decoration is so easy to make. Literally ready in minutes, it's a great addition to projects for your kids to make. If your kids are clamoring for something new to make this Easter, grab some paper, scissors, and glue to create this adorable addition to your home.
Paper Fan Bunny Wall Art Decoration
I confess my love of Easter knows no bounds. It's just so fun to create all of the pastel crafts. Whether it's a cute bunny, a simple lamp, sheep, or the baskets and flowers, I love how much fun it is to create new things. This little paper fan style bunny was super easy, and a great addition to projects to make with my kids.
If you have younger children, especially those preschool ages, it's nice to have a craft that is cute but also lets them use their motor skills. Folding paper back and forth is a great project that is useful for this to add a 3D effect, but also easy for them to practice. Just another reason to add this to your project list!
I also love this easy printable bunny candy holder. It's super easy to make and ideal for tucking into Easter baskets this year!
What Paper Works Best?
Really, any paper works for this fan idea. I like thinner copy paper as it folds easier. If you have card stock on hand, it will work and stay stiff and folded better, but might be harder for kids to work with for this project.
Construction paper, copy paper, colored craft paper, and card stock are all great choices. Just pick what you have on hand or the colors you like and have fun making this!
If you need something different to add to your walls, check out this embroidery hoop and fabric bunny wall art decoration. So cute and simple to make! For something a bit more rustic, you can make this bunny-shaped wreath instead!
Where Can I Display This?
Anywhere and everywhere you want to add this bunny, it will work! I love this added to the refrigerator with a magnet. You can also attach to the mantle with one of my easy paper egg garlands.
Another choice would be in a frame on the wall, or even just with a craft stick on the back and propped on a cabinet. It's just a fun addition to any room, and to any decor.
What If I Can't Print The Bunny Face?
The printable bunny face makes this easy to assemble with just a bit of glue and copy paper. If for some reason, you don't have access to a printer at home to get this, you can also draw your own on any paper.
Having a template helps for those who aren't great at drawing. That said, it's okay if you need to make your own face instead. You can draw it out on paper, use stickers to create the face, or even pick up foam pieces at the craft store that fit the Easter bunny face you are looking for.
Supplies Needed
How to Make a Paper Fan Bunny Wall Art Decoration
Start by printing out the bunny face and cutting out the ears, nose, and eyes and setting them aside.
Now, you will take a piece of paper, fold it in half horizontally, and cut along that fold. Do this with two pieces of paper.
Each piece of that paper, you will then fold horizontally into a fan pattern going back and forth accordion style. Repeat this process with all 4 "half" pieces of paper.
Next, you will fold each piece in half so that it forms a fan shape.
Now you will use the double-sided tape to secure the two open sides to each other. Repeat this process with the other pieces of paper.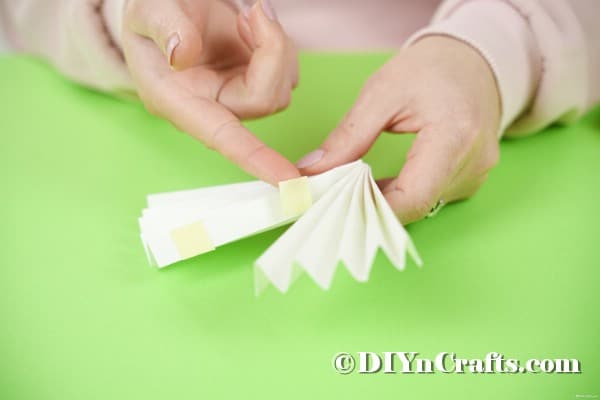 Attach the fans together by gluing two together for a half-circle, and another two together for the bottom of the half-circle, and glue them all together.
Once the paper fans have been glued together, you will then glue the eyes and pink nose/mouth in place.
Next, you will glue on the bunny ears and place the pink nose where you want it, but don't glue in place.
Using the pink pipe cleaners, you will cut each of them in half.
Now, glue the cotton balls in the middle of the paper bunny, and top with the pink nose. Glue the pink pipe cleaners, two on each side, of the nose.
Now you can display your bunny!
If you like making Easter paper crafts, then you'll love this printable Easter bunny card and this printable egg-shaped bunny card. They are super easy to make and fun! You can also make this cute handprint chick card for springtime or Easter! Of course, this list can't be complete without reminding you of this huge list of Easter decorations and my list of Easter centerpieces that are fun and easy to make.
Crafter's Tip:

When you want to add a paper decoration to your wall but don't want to damage it, I highly recommend putting them into a picture frame or even a shadow box. In fact, I like to keep one shadow box in my family room to rotate out items like this when my kids make them.
Yield: 1
Adorable Paper Fan Bunny Wall Art Decoration
This adorable paper fan bunny wall art decoration is a great addition to your kid's Easter crafts! A great addition to your easter decorations this year!
Tools
Instructions
Cut out the printable bunny face parts and set aside;
Now, fold a piece of paper in half and then cut along the fold. Repeat this process with the second piece of paper;
With each of the 4 smaller pieces, you will now fold each piece accordion style back and forth like a fan;
When you are done folding each piece, you will fold it in half again to create a fan shape;
Tape the paper together on the open side to keep the fan shape intact and repeat this with all 4 pieces;
Now, you will glue two of the fan shapes together to form a half-circle and then do the same with the other two and glue both half circles together to form the full circle fan;
Now, attach the bunny eyes to the paper fan with glue or tape;
Attach the ears to the top of the circle;
Cut the pipe cleaners in half making 4 equal pieces;
Glue the cotton balls onto the middle of the circle, and then add the pink nose on top of the cotton balls, then attach the pipe cleaners on each side of the nose;
Now your bunny face is ready to display.
Notes
Feel free to use any color paper to make your bunny face stand out more!
Recommended Products
As an Amazon Associate and member of other affiliate programs, I earn from qualifying purchases.