This printable Easter bunny card is easy to make and the kids will love it. It only takes a few minutes to make, and it is ideal for sending to friends and family. Kids will love making a card on their own, and you will love how easy it is to create. With little mess involved but still a beautiful colorful card, it's sure to be a hit.
Printable Easter Bunny Card
There are so many different types of Easter crafts, but for this simple Easter bunny card, I wanted something that was a little different. I think this little bunny is just super cute. It is the perfect craft for a lazy afternoon with the kids. They can decorate the front of the card and write a message to friends and family on the back.
Make several of these cards to send to all of your friends and family this year for a fun mid-year message. Perfect for adding kids pictures into and sending to grandparents, it's a multi-purpose card everyone will love.
Keep your kids busy making these cute plastic spoon bunny crafts while you make these cards for them!
What Paper Should I Print This On?
While you can print this card on basic copy paper, I recommend using a heavier weight or card stock. 220 is one of the best thicknesses when it comes to cards. This paper is thick enough to hold up but not so thick like cardboard. Another option is to print it on regular copy paper and then cut it out and glue it onto construction paper.
You can use extra cardstock to printable Easter gift tags for gifts and baskets.
Can I Use This For Other Projects?
There is no limit to what you can do with this card. Use your creativity to use multiple variations of this card to add to decorations and more. Below are some fun ways you can add this project to your Easter celebrations.
Garland: Print a lot of these cards and get them ready. Then glue them together on string or twine and create an Easter Bunny Garland. This will look adorable along the wall, over the fireplace mantle or hanging across doorways. I love adding this to the easy yarn bunny garland, or this simple carrot and egg paper Easter garland.
Place Settings: If you are having family or friends over for Easter brunch or dinner, print out these bunnies and write your guests' names on the carrots.
Wall Print: It can be hard to find cute Easter wall prints that you can frame. Create this card, but instead of sending it to friends, you can put it in a frame. No need to go way out on the frame, pick one up from the dollar store. Then, for the cost of the frame, you have this adorable Easter print as decoration for years to come. If you need more ideas, check out this method for making this Easter carrot wall art out of buttons.
Topper for Gifts: If you have presents to give this Easter, print this and place it on top of the gift or glue it to the front of the gift bag. You can also add to one of these awesome handmade Eater basket ideas!
If you are giving these cards to others, you might also want to create these fun paper flower photo cards for the grandparents. Add a picture of your child to the middle, and they have a keepsake to hold on to for years to come. You can also do similarly and use this tutorial for how to turn any picture of your child into an Easter bunny.
Supplies Needed
How to Make This Easter Bunny Card
Start by printing out the printable Easter bunny page (print HERE). This is best printed with colored ink, but of course, a black and white version can be edited with markers or paint if preferred.
Cut out the shapes from the printable including the bunny body, paws, and carrots.
Glue the googly eyes onto your bunny head.
Add the pink pom pom in the center.
Now, fold the carrot shape in half so that it is carrot on both sides.
Use the green craft paper and create a small stem for the carrot and attach to the wide end of the carrot.
Now, fold your large yellow card stock in half to create the card shape.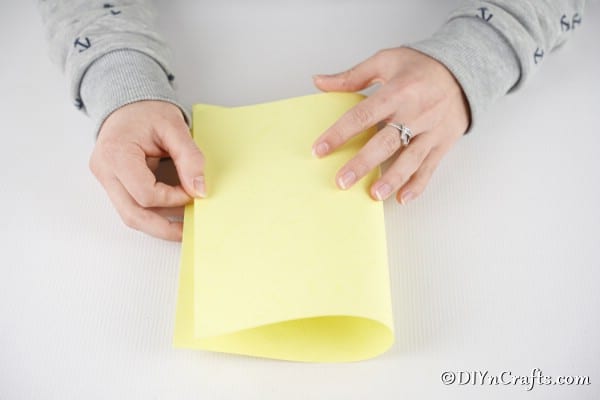 Glue your bunny head to the front of the card paper, but leave one ears loose at the top to fold over as shown.
Now, you will glue your carrot to the bottom of the page.
Attach the two paws on the top of the carrot, and add a few curved lines to create the paws. Add a smile to the bunny, and draw ear shapes inside the ears to accent.
Add a message to the inside of the card and gift to friends and family or use as a part of your Easter decorations around the home this year.
Crafter's Tips:

Since I use so much card stock in my various crafts, I like to take advantage of the deals on AdornIt for unique patterns. They are tons of fun to add to projects like this and can be ideal for all of the various crafts we share. Check them out before you head to your local craft shop to see their pattern collections.
Yield: 1
Free Printable Easter Bunny Card
This simple printable helps you create a fun Easter bunny card that is a simple craft for kids and a great way to send greetings to friends and family for Easter!
Materials
Tools
Instructions
First, you will print the Easter bunny printable;
Now, you will cut all of the pieces out, leaving the carrots as one single piece that will be folded;
Glue googly eyes onto the bunny;
Add a pink pom pom to the middle of the bunny as a nose;
Fold the carrot in half;
Now, you will use the green craft paper to cut a small portion and cut slices of fringe to then add to the wide end of the carrot;
Next, you will fold the yellow craft paper in half portrait style to create the card;
Glue the bunny head/body to the front of the yellow card leaving one ear loose at the top to fold over as shown;
Add the carrot to the bottom of the card;
Glue the paws onto the top of the card and use your black marker to craete curved lines to resemble paws then add add a small smile beneath the pom pom and line the inner ear of the bunny as shown;
Notes
Feel free to use different colors of cardstock for the main card paper. You can also add a bit of glue on the ear and sprinkle on some pink glitter for a fun accent.
Recommended Products
As an Amazon Associate and member of other affiliate programs, I earn from qualifying purchases.