This upcycled old book flower ball decoration is such a cute idea! Whether you keep this and add to your Christmas tree, or simply hang in a window as a fun decoration, it's tons of fun to make. After a recent project, I had just a few pages left from a book to use. Not quite enough to make a wreath, but enough to do something fun. This was the result!
Old Book Flower Ball Decoration
This was inspired by an old ornament I had made as a child using small bits of fabric and a Styrofoam ball. I knew I could create a similar style with paper, so I started experimenting, and this is the result. It's just a cute little craft that is easy for anyone to make. I love that it is a great way to use up a few more of those old book pages!
With a few adjustments, this could be a great craft to keep kids busy while home from school. I also love the idea of using this as a project for kids to make around birthday's, Mother's Day, or Christmas to give as a gift.
I like this fun old book page decorative feather as another fun project for using up extra pages. If you like that, you should also make this hanging paper fern from old book pages.
What Glue Should I Use for This Craft?
I used my go-to hot glue when making this, but if you are wanting something with a bit less mess and easier for kids, try some basic Tacky Glue. In this case, I would even say that Elmer's school glue would work.
Since you are using a stick or toothpick to push the paper pieces a bit into the Styrofoam, you won't need as strong a glue to keep this in place. So, I've used school glue, basic tacky craft glue, hot glue, and even E6000. It really doesn't matter which you choose, just make sure that you use a child safe glue when working with kids.
After you make this, grab extra pages to make this cute old book page star or this easy origami old book page wreath! Great additions for your home decor!
How Can I Hang This Decoration?
It's easy to add a loop of ribbon or twine to this for hanging, but you don't have to hang it. I love the idea of sitting this in a bowl, as part of a centerpiece, or even mounting it to a dowel and sticking in a vase. It could, in fact, be used with a few more to create a really unique bouquet.
If you aren't sure how to use this as a decoration, below are some ideas that I like and would try with this for adding something new to my home.
Sit in a bucket with beans or rocks (similar to the bucket with coffee beans shown)
Add to a clear jar or vase with decorative rocks as a terrarium style centerpiece
Glue a loop of ribbon to the top and hang from a holiday tree
Sit on top of any jar or bottle as a fun table centerpiece
Add into a basket with other decorative balls
Supplies Needed
How to Make an Old Book Flower Ball Decoration
Start by tearing or cutting pages from old books that can't be read or used for other things.
Next, you will use a hole punch in a flower shape or similar to cut out a number of pieces from your pages
Start with around 50, and add more if needed.
Now, you will fold those flowers in half around the end of the stick or dowel, and add a bit of glue to the bottom of the paper.
Then, you will push the piece of paper into the Styrofoam ball enough to secure it in place. This only needs a bit of glue and light pressure.
Cover the ball with these bits of paper until it is completely full.
Now, use a piece of ribbon, and create a loop for hanging to add to the top.
Next, use a loop of ribbon to make a bow.
Glue the ribbon bow in place.
Add an artificial flower accent if desired.
Now you can display your flower ball!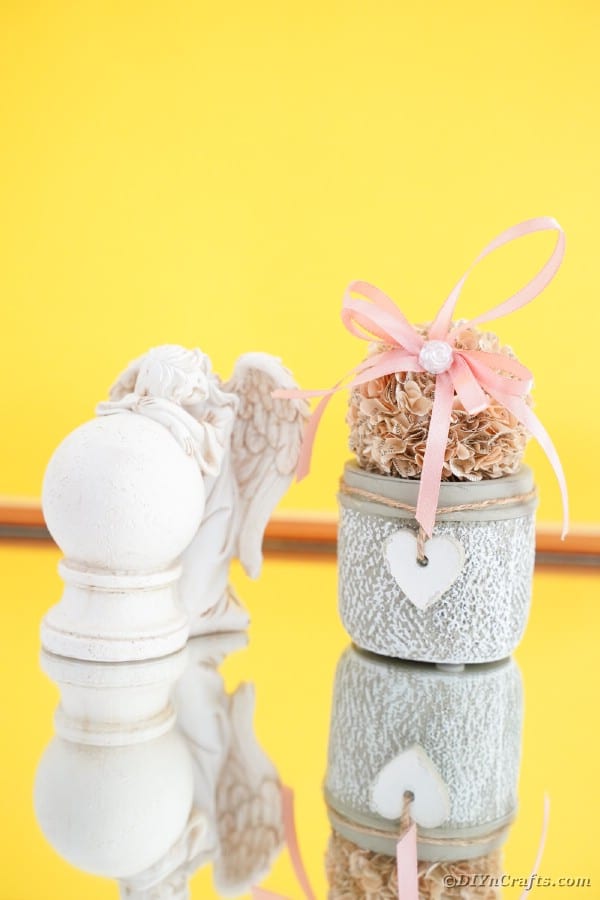 If you like this flower, then you will fall in love with this old book page romantic bouquet idea. So cute and a great addition to your decor. You'll also love this flower decoration, these paper hanging birds, and this gorgeous old book page rose wreath idea!
Crafter's Tip

If you don't have any scrap book pages already, you can pick up bundles of old papers on Etsy. They come in all quantities and are an excellent way to make gorgeous decor items like this.
Yield: 1
Upcycled Old Book Flower Ball Decoration
This upcycled old book flower ball decoration is a super easy way to use up scrap paper and make an adorable addition to your home decor!
Instructions
Using a hole punch in a flower shape, cut out 50 or more flowers from old book pages, you may need more later, but start with 50;
Now, fold the paper flower over the end of the stick, and add a bit of glue to the bottom then stick it into the Styrofoam ball;
Once the entire ball has been covered, you will then use a bit of ribbon and create a loop to attach for hanging;
Next, use ribbon to create a bow and glue on top of the ball next to the ribbon loop;
Lastly, add an artificial flower on the bow if desired;
Now you can hang the flower ball as desired!
Notes
You can use any color craft paper or scrapbook paper for this craft to create a different look to the flower!
Recommended Products
As an Amazon Associate and member of other affiliate programs, I earn from qualifying purchases.