Mason jars are one of my favorite things to use in crafting. This DIY jar chicken vase is so cute! It's a great addition to Easter decor, easy enough for kids to make, and can be made with any sized jar you have on hand.
DIY Jar Chicken Vase
If you haven't figured it out yet, I absolutely love flowers. Whether they are fresh flowers or artificial, I adore them. This little mason jar vase is one of my favorite recent craft projects. It's ideal for Easter, but because it is so simple, it can actually be part of your decor year-round. Just add fresh flowers and you can leave this out on your table for any season!
Crafting with mason jars is an easy way to repurpose and upcycle, but it doesn't have to be a classic mason jar. You could instead use an empty condiment jar. I save mine from pickles, mayonnaise, and pasta sauce for projects like this.
Don't miss this list of more Easter mason jar crafts and gift ideas. They are definitely one of my favorite items to craft with! You might also want to look over this list of homemade Easter basket ideas. So many great ways to make a personalized basket for your kids this year. Of course, you can't leave yourself out of the list. Make sure you pick a few of these beautiful Easter wreath ideas to add more beauty to your home this season.
Tips for Painting Inside a Jar
Painting inside a jar is definitely not the easiest option, but it isn't impossible. My favorite options are using longer paintbrushes, or even foam paintbrushes for things like this. Below are some ideas for making the process just a bit easier to manage. Especially with kids.
Pour a bit of the paint inside the jar, and swirl it around to begin coating the inside of the jar, then use a foam paintbrush to pull the rest of the paint up the sides to coat the inside.
Use spray paint to spray inside the jar for faster coverage that dries quickly.
Pour the paint inside the jar, swirl it around, then hang or sit the jar upside down so any excess drips down and out of the jar.
Use a long-handled paintbrush and start at the bottom then slowly paint up the sides. This will usually require 2-3 coats of paint.
Once you've mastered painting this fun chicken jar, you can grab more mason jars to make these summery painted fruit drinking jars. They are so gorgeous! Plus, you can grab the paints and dyes, and help your kids use some of these awesome Easter egg decorating ideas while their jars are drying.
What Can This Be Used For?
Obviously this is a great vase for flowers, but that's not all! Below are just a few of the ideas that come to mind for using this jar.
I love the idea of adding this to a kitchen counter to hold kitchen utensils.
You can add to the end of a buffet and put plastic forks, spoons, and knives in it for easy access at parties.
Add to your desk to store pens and pencils.
Put it on your bathroom counter to hold makeup brushes or combs and hairbrushes.
Add to your coffee table or side table to hold candy or mints.
Use as part of a table centerpiece for Easter.
Add this alongside some of these other great Easter decorations you can make on your own this year. I love personalizing my decor, and easy DIY projects like these make that so easy to manage. Make sure you don't leave out the outside of your home. This list has tons of great ideas for Easter decorations for outdoor spaces to choose from.
Supplies Needed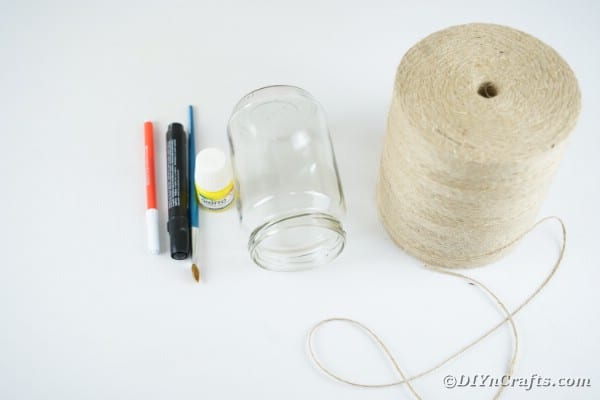 How to Make a Jar Chicken Vase
Paint the inside of the mason jar and set is aside to dry.
Once the jar has dried, you will use the black paint pen to draw eyes onto the front of the jar.
Now, use the orange paint pen or paint to draw a small orange triangle for the beak.
Then wrap jute around the rim of the jar as shown and glue in place.
Cut a length of raffia or jute, and tie into a bow to glue in the middle of the jar just below the beak.
You can add a small embellishment like a ladybug to the middle if you want.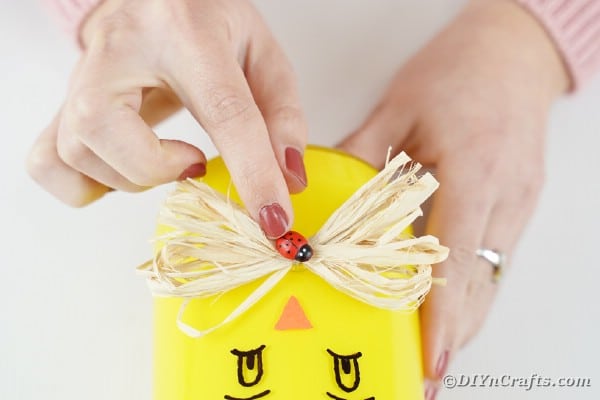 Fill with flowers and display.
Crafter's Tip:

To be able to use this jar repeatedly for holding flowers without worries of the paint chipping, you can simply slip a small plastic cup inside to fill with water for your flowers. Additionally, you can also purchase dishwasher safe Mod Podge to coat the inside of the jar after the paint dries. This will protect it and make it easy to use over and over again.
Yield: 1
Cute Upcycled Mason Jar Chicken Vase
A simple mason jar and paint quickly turn into this adorable upcycled mason jar chicken vase that is ideal for use at Easter to display flowers on your table!
Additional Time
30 minutes
Tools
Instructions
Paint the inside of the mason jar yellow making sure it is coated and opaque then set aside to dry;
Once the jar is dry, use the black paint pen to draw on eyes and eyebrows on the outside of the jar;
Then use the orange pen or paint to draw on a beak on the outside just below the eyes;
Glue the jute or twine around the rim of the jar;
Now, using the raffia, create a bow and glue to the middle of the jar below the beak;
Add a small ladybug or other embellishment to the middle of the bow if wanted;
Fill with flowers, pencils, or just leave empty and display.
Notes
Feel free to use colorful ribbon or twine for a brighter look over the rustic twine.
Recommended Products
As an Amazon Associate and member of other affiliate programs, I earn from qualifying purchases.