This DIY pasta decorated Easter egg garland is so cute and so easy to make. Kids will have a fun time painting the pasta and then decorating the Easter eggs. It's always fun to get a bit messy, so paint is a welcome project for kids. Pasta is an inexpensive option to use in crafting, and even if it breaks, kids can still use it to make an adorable decoration.
Pasta Decorated Easter Egg Garland
Kids will love that you are letting them play with their food! It's so easy to grab a few bags of pasta and give them the paint to get started making a cute little pasta garland for Easter. I love using different colored paints to add to this craft, but it isn't necessary. You could give them just one color to work with and this would still turn out amazing.
Pro Tip: Use foam paper instead of craft paper to make the eggs for a sturdier option for holding the pasta after painting.
I love adding garland and bunting to the mantle, counters, and doorways around holidays. It just adds a bit of extra cheer to the room. If you do too, then you'll love this simple paper bunny garland, or this cute paper and yarn Easter bunting. I also love this idea for how to upcycle a paper ball into an Easter bunny. There are just so many ways to get creative around the holidays with crafting!
Tips for Painting Pasta to Avoid The Mess
I just glue the pasta to the egg and paint with a simple brush, but, I know if you are working with kids that might not be as easy to manage. So, there are other options that work well for adding paint to your pasta.
The best way to paint pasta and avoid a mess is to use plastic bags. Put the pasta in plastic sandwich bags. Add the food coloring or paint into the bags and seal the top. Once the bag is sealed, start to massage the paint around. You can work the paint into pasta using the bag as a barrier. Kids will love manipulating the pasta and paint through the bag. Once the paint is covering the pasta well, you can pour the pasta out of the bag onto a paper plate or covered work surface to let it dry.
Another option is to just use spray paint on your pasta to create the colors you want. This is a bit messy but can be done ahead of time and allowed to dry before setting kids up to work at a table. While the paint is drying on your pasta, you should check out this list of cute Easter crafts for kids and toddlers. Tons of amazing ideas on the list to keep your little ones busy!
What's the Best Glue For Securing the Pasta
When it comes to gluing pasta to the paper, just about any glue will work. If working with children, you might want to consider using a craft glue that is water-soluble. Glues like Elmer's or similar brands are good for Kids. Oftentimes, there is a white craft glue, sometimes called tacky glue, that is kid-safe, sold in the craft aisles or stores. This glue is slightly stronger.
If an adult will be doing the gluing, and you are concerned with it not sticking, a stronger glue, like wood glue or even Gorilla glue can be used. Of course, my standard glue choices are hot glue gun and gue, or a tube of E6000 craft glue. They hold best and are affordable in bulk for crafting.
Some more simple but fun crafts for Easter include these decorative plastic Easter eggs, a simple bunny shaped Easter wreath, and my personal favorite, how to make a bunny out of an old book.
Supplies Needed
How to Make Easter Garland with Pasta
Begin by tracing an egg shape onto craft paper. Cut one egg out, and use it as a template to trace and cut out the rest of the eggs for your garland.
I used a variety of colors for paper, and recommend cutting out 1 egg for ever 2-3" of twine you are using. So, a 3 foot garland would need 12 eggs.
Now, glue the pasta onto the paper in a pattern you like, using all varieties if desired.
Using your favorite craft paint and a different color per pasta type, paint them and set aside to dry.
Tip: You can also use some of the systems mentioned above to paint them in bulk before applying to the paper egg.
Once the paint has dried and your eggs are all assembled, you will use a hole punch to create a small hole at the pointed top of the egg.
String twine or ribbon through the holes and secure both ends with a knot before hanging.
I sometimes will also tie a knot between each egg to keep them separate and not sliding back and forth on the twine.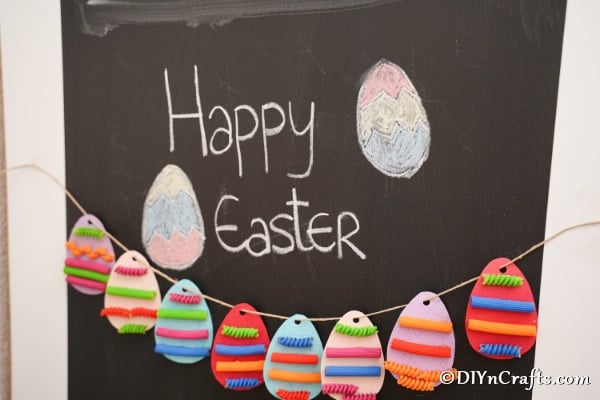 Time Saving Tips:
I love my investment in this roll of glue stick. Instead of individual glue sticks, this long roll (77 ft.) allows me to just keep working without having to shift back and forth to add more glue. It's an up front investment, but it also leaves me saving money in the long run.
Yield: 1
DIY Pasta Decorated Easter Egg Garland
A few pieces of paper, some glue, paint, and pasta turn into an absolutely brilliant and adorable little decorated Easter egg garland! Grab supplies and let your kids make this fun craft today!
Additional Time
15 minutes
Materials
Pasta in variety of shapes
Instructions
Begin by drawing an egg shape on your craft paper, and then cut it out to use as a template for the other colors you will be using;
Now, you will glue the pasta onto the egg in a pattern you prefer;
Paint each piece of pasta with craft paint, and then set the egg aside to dry;
Once the paint is dry on all of your eggs, you will use a hole punch to create a hole in the top (pointy end) of the egg;
Slide twine or ribbon through the holes in the top of the paper to create your garland;
Hang as you desire for Easter.
Notes
Save time and mess by painting pasta ahead of time before letting kids assemble the garland.
Recommended Products
As an Amazon Associate and member of other affiliate programs, I earn from qualifying purchases.