It is amazing how many uses you can find for old books! You can craft them into just about anything—including Easter bunnies. This video tutorial will teach you how to make a bunny out of an old book in a few easy steps.
There are only a few simple supplies which you need to gather to do this project. First of all, you will need an old book which you do not mind cutting up. The more worn the binding is, the better it will work for this project. You will also need a pink foam sheet, a bow or ribbon, and some googly eyes.
In terms of tools, you will find this project easiest if you use a precision cutting tool like a scalpel and a cutting board rather than a pair of scissors. If, however, scissors are all you have, they should still suffice. It may just take you a little bit longer to make sure that you are cutting matching shapes out of the pages.
If you are ready to begin crafting, see all the materials and tools you need below along with written instructions to accompany the video tutorial.
Video tutorial
Step by Step photo tutorial:
Materials:
Old, unwanted book
Pink foam sheet
Googly eyes
Ribbon or bow
Tools:
Scalpel
Hot glue and glue gun
Cutting board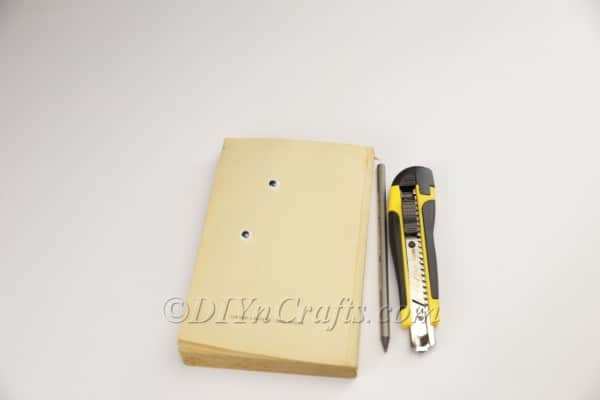 Instructions:
1. To get started, I took my old book and tore it in half down the center of the binding. How much of the book you will need will depend on how large your book is to begin with. Take note that you must discard at least one page, as you will need to reserve one to create the ears.
2. To describe the next few steps, it is easiest to give a bit of an overview, to begin with. Using the pages of the book, we are going to create the shape of an Easter bunny. There will be five total sections:
Basic bunny shape
Basic bunny shape with foot
Basic bunny shape
Basic bunny shape with foot
Basic bunny shape
Each section will be comprised of a bunch of pages cut accordingly.
It should be noted that sections 1 and 5 need to the comprised of an equal number of pages. This is also true for section 2 and 4. Section 3 should be the largest. You should probably count the pages out and mark them before you get started so that you do not under- or overestimate how large a section should be.
Also important is to leave one or several extra pages before and after the first and final sections to "bookend" your creation. Alternately, you could re-attach the completed bunny to the inside of the removed book covers, or the inside of a couple of pages you removed earlier, etc. You'll see what I mean later on in the project.
So initially, we will be cutting a section of pages with the basic bunny shape without the foot.
To do this, take your book and set it down in front of you. Take the first page and flip it over on top of a cutting board.
Sketch the shape of the bunny's body and head. This shape is hard to describe, but it helps to think of it like this. We will be looking at the bunny face-on. The center of the binding when the book is open will be the center of the bunny's body.
Because symmetry will be playing a part, you only need to draw half of the shape of the bunny's body from face-on on the page you are going to be cutting. This means drawing a large arc outward from the binding to represent the body, and a smaller arc on top of that to represent the head.
I really recommend looking at the pictures and watching the video to see what you should be doing. It is very simple, but not easy to describe in words.
2. Once you have sketched shape as described above, you can use your cutting instrument to cut the shape.
3. Continue turning over pages and cutting them to match with the exact same shape as you did the first one until you have created the first section.
4. When you have completed cutting the first section, you can create the second one. As already discussed, this section will include one of the bunny's feet.
The shape you cut is largely the same from top to bottom, but near the bottom at the corner of the page, you will need to include the foot shape attached to the body.
Do this with all of the pages in this section.
5. For the third section, the shape that you cut is the same as the shape you cut for the first section. You have completed creating the foot, and are now creating the center of the bunny's head and body.
6. The fourth section should be a duplicate of the second section to create the other foot. The shape and number of pages should be identical.
7. Finally, the fifth and final section should be a duplicate of the first section both in terms of shape and number of pages.
8. You have now completed the most technical part of this project. When you open the book and fan out the pages, you should see the three-dimensional shape of your bunny, complete with a head, midsection and two feet.
9. Use scissors or a scalpel to cut out the shapes of two identical bunny ears from an extra page.
10. Cut out smaller matching shapes for the inner ears from the pink foam sheet and use hot glue to attach them to the outer ears.

11. Use hot glue to attach the googly eyes to the bunny's head, and cut out a small piece of pink foam to glue on as the nose. At the neck, you can glue on a tiny bow.
12. Finally, you need only glue on the bunny's ears to the top of its head to complete your bunny-in-a-book. If you did not leave extra pages to either side of the bunny un-cut, insert your bunny back inside a couple of un-cut pages and/or the book's original binding.
Set Your Easter Bunny Book Out on Display for the Holiday
What is fantastic about this project is how easy it is to set it up to display. Because of its fanned-out shape, it can stand up on its own, especially if you support it inside the original binding.
That binding also provides a lovely frame for your craft and makes it very obvious that you created it out of an old book.
If you had fun making this craft, you probably also will want to check out some of the other video tutorials we have on the site to teach you how to make other cool things out of old books.
Easter Projects
Later in the year, you can try turning an old book into a beautiful Christmas angel. At any time of year, you can learn to make a romantic bouquet from an old book.
We also have so many other fun and easy Easter crafts waiting for you to try. Here's how you can turn an old book into a rustic centerpiece for Easter. After that, try making a cute paper Easter bunny candy holder.