This adorable bunny hiding in a flower pot Easter decoration is so adorable you will want to make them for both inside and outside the house. Make these cute decorations for friends and family and then make a few more as Easter decorations. They are always great for a little giggle seeing that bunny bottom sticking out of the flower pot, and it is an ideal hostess gift or your friends at Easter brunch.
Hiding Bunny Flower Pot Easter Decoration
So many people love the little bunny butt decorations. I have seen them as cupcakes and made out of baskets, but honestly, this flower pot Easter decoration is by far the cutest one ever. It is so simple anyone can make it and since the craft supplies are inexpensive, you can make lots of them for everyone you know.
I know for a fact that kids will absolutely love helping you make this craft. What is more fun for a little kid than making a bottom? Of course, giggles will ensue, and that makes it an even better bonding experience with your children. Making this decoration is one that will no doubt become a favorite memory for your children for years to come.
Flower pots are one of my all-time favorite craft supplies. They are inexpensive, easy to find, and super versatile. Aside from this idea, I love this little upcycled flower pot Easter bunny, my flower pot ladybug, and my son's favorite is this upcycled flower pot frog. Of course, for springtime decor, you absolutely can't forget this adorable flower pot bumblebee.
Can I Use a Plastic Flower Pot Instead?
I love that this is made in a terra cotta pot because I love the look of it, but if you only have plastic pots or can only find the plastic ones in the store, you can absolutely use plastic instead. It will not hinder the look of this Easter decoration.
In fact, if you plan to make these with younger children, using a plastic flower pot may be a better idea. Plastic is a bit safer and less likely to break if a younger child dropped it. Plus, in some instances, it may be less expensive to grab plastic ones than it is terra cotta.
If you need more ideas, make sure to check out this huge list of Easter decoration ideas. You can create those with your children, and even grab some of these fun Easter printables for the kids to work on while you make some of the larger crafts. Don't miss out on making some beautiful Easter centerpieces for your table while you are at it!
Should I Decorate the Outside
This flower pot will look adorable as is or you can certainly decorate the outside. You can paint it pink or purple, paint carrots or Easter eggs, or make little bunny paw prints on the outside. If you want to make bunny prints, you can make them using fingerprints. Use the thumb for the inside of the paw print and then using the pinkie make the outside of the paws. This makes this an even more special keepsake.
Get creative and make each flower pot unique. Remember, the focus is really about the bunny butt, so the pot itself can be decorated in any way you want. While you are creating things for Easter, make sure you check out this huge list of Easter egg decorating and craft ideas. So many cool things to create with your kids!
Supplies Needed
How to Make a Hiding Bunny Flower Pot Decoration
Stuff the flower pot with fake Easter grass.
Glue a pink pom pom to the styrofoam ball.

Now, you will draw feet onto a piece of white craft paper and cut them out.
Then cut out small pink footpads and glue them onto the white feet.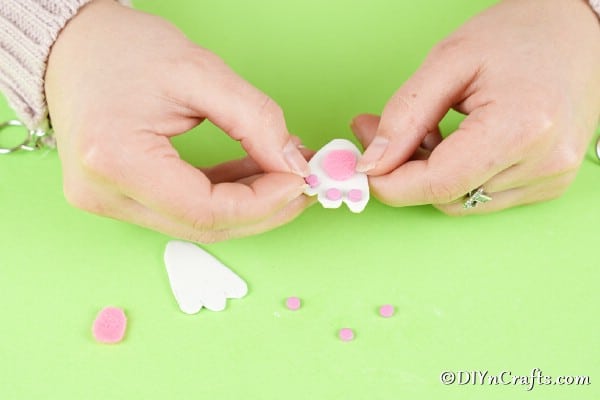 Attach the feet to the styrofoam ball by the pink pom pom.
Glue the bunny bottom into the flower pot.
Now you have an adorably hiding bunny or bunny butt decoration for Easter!
Crafter's Tip

If you want to remain eco-friendly, check out these bags of shredded recycled paper on Etsy to use for the Easter grass!
Yield: 1
Bunny Hiding in a Flower Pot Easter Decoration
Make this adorable bunny hiding in a flower pot as a fun Easter decoration! This cute craft is ideal for making with kids and takes only minutes to make!
Materials
Tools
Instructions
Stuff fake grass inside your flower pot;
Now, cut out 2 feet from the white craft paper;
Cut out 2 foot pads, and 6 toe pads from pink craft paper;
Assemble the feet for your bunny;
Glue the bunny feet in place;
Add a pink pom pom just above the feet as the bunny tail and glue the bunny ball in place ;
Now your bunny is ready to display!
Notes
Have fun personalizing your bunny with different colors and painting the outside of the flower pot to match your Easter decor.
Recommended Products
As an Amazon Associate and member of other affiliate programs, I earn from qualifying purchases.