I don't know about you, but I loved decorating Easter eggs as a child. This cute little Easter egg bunny craft is a whole new way of decorating eggs! Instead of the messy dye and stickers we used as a child, this version is super easy to turn an ordinary egg into an adorable little bunny to hide in your yard or in the kid's baskets this year.
Easter Egg Bunny Craft
The older my kids get, the less they want to spend the time dying eggs, but they still want to find them on Easter. So, finding something that is fun and cute, but less work was a must.
This little idea was a perfect solution! I can prep everything in no time at all, and assemble a bunch of these bunnies in just a few minutes. Of course, that means I have more time for creating other crafts I love!
If you are great at crocheting, make sure you whip up a few of these crochet Easter treat holders. They are perfect to tuck into an Easter basket right next to these bunny eggs!
Do I Have to Use a Real Egg for This Bunny?
Of course, you don't have to use a real egg! If you prefer, you can use a plastic egg in any color you wish, or even the Styrofoam eggs that are often used for decorating. The only thing necessary for this is an egg shaped item to add the bunny decorations to!
You could even apply this idea to these simple yarn eggs that are another fun way to decorate for the holiday. Easter bunny eggs are so fun to make, and there are tons of variations. Of course, I also love this idea for rustic glitter eggs. So much fun to make!
Can I Still Dye or Paint the Egg if I Prefer?
If your kids like dyeing eggs then definitely let them keep doing that. Once the eggs are dry, you can then add the decorations as shown and make this just as adorable.
There is no specific way to make this bunny craft. You simply need to create a cute Easter egg bunny and let your kids enjoy gathering them on Easter morning!
If you want more ideas to keep them busy, check out this list of Easter crafts for kids and toddlers for some amazing fun. One of my favorite easy ideas is this Easter card for kids. It's so simple, beautiful, and great for keeping them busy while you hide the eggs around your yard!
Tip: When Easter is over - use your eggs to make this cute little Easter egg planter idea!
Supplies Needed
Eggs (hard-boiled or plastic)
Pink craft paper
White craft paper
Googly eyes
White pom poms
Pink pom pom
Tape or craft glue
Scissors
Optional: Fake flower or bow for bunny "hair"
How to Make an Easter Egg Bunny Craft
Boil your egg if using real hard boiled eggs, then allow to cool completely. If using plastic eggs, skip this step and begin crafting.
Now, you will trace and cut out the ears from white paper.
Then, you will use that as a template, but cut the pink ears pieces slightly smaller.
Attach the pink to the white with tape.
Attach the ears to the back of the top of the bunny with glue or tape.
Now, you will glue in place the googly eyes, the pink nose, and the two white pom poms for the mouth/fuzzy face.
Add a flower or little embellishment between the ears if desired.
NOTE: If you are using a real egg, note that you will need to keep these refrigerated if you plan to eat them later.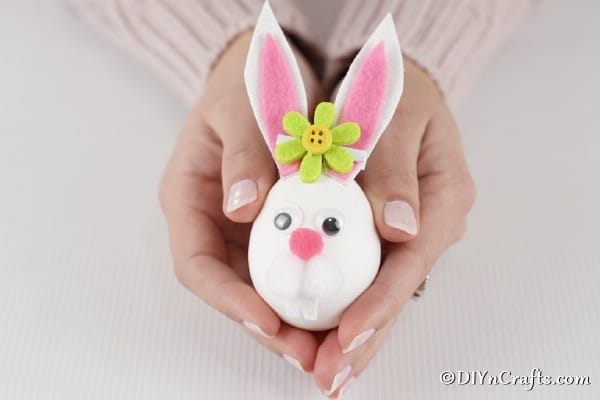 Yield: 1
Cute DIY Easter Egg Bunny Craft
Decorate your Easter eggs this year with this super cute Easter egg bunny craft idea! A perfect way to use up those eggs and scrap craft supplies for a fun and adorable little bunny!
Materials
Eggs (hard boiled or plastic)
Pink craft paper
White craft paper
Googly eyes
White pom poms
Pink pom pom
Tools
Tape or craft glue
Scissors
Instructions
Trace and cut out 2 ears from the white craft paper;
Using those as a template, trace out pink ears, but cut them slightly smaller;
Tape the pink ear onto the white ears;
Attach these to the top back of your egg using tape or glue;
Now, you will add on your googly eyes;
Glue or tape on your pink pom pom or felt nose, and two white pom poms for teeth;
Add a small flower between the ears if desired;
Make sure to refrigerate if using a real egg and planning to eat them later!
Notes
Feel free to substitue the real hard boiled egg with colorful plastic eggs to use and keep these eggs year after year!
Recommended Products
As an Amazon Associate and member of other affiliate programs, I earn from qualifying purchases.