This homemade candy cane ornament is a great rustic addition to your Christmas tree this year. It's so easy to make with just a few simple items and I love how you can customize it.
I've used twine and a bit of red ribbon, but you can easily wrap it with white and red fabric to look like a traditional candy cane instead.
Use some real candy canes for these fun candy cane decorations. The candy cane shape and the colorful red and white stripes scream Christmas. They look great alongside this festive mitten Christmas garland on the mantle.
Candy Cane Ornament
When I was thinking of different ways to add some rustic elements to my holiday decorations, I almost forgot about how candy canes are so iconic for the holiday.
I have them everywhere in my decorations, but mostly the real candy kind. This time, I wanted to add some rustic fake candy canes to the decorations, and I thought, why not make my own?
This craft was simple and super fun to come up with. Especially since I realized how fast I could make them with the right kind of wire. It was easy to add them all over my house, tree, and even, make some larger ones to go in my front yard.
I think this list of wooden signs for Christmas decorating has some great options that would benefit from a simple candy cane hanging on the sides. Another option would be these "Ho Ho Ho" blocks are such a great addition to your mantle that can easily match this rustic look of candy canes.
Can I Make This Larger for My Front Yard?
Yes! That's one of the reasons I love this idea. You can make them any size you want. I already love adding decorations outside like these Christmas door decorations, outdoor Christmas decorations, and especially these snowman porch decorations.
There are tons of options for decorating outside your house and in your yard.
Just use a larger piece of wire and cut to the size you prefer. I like the idea of making several candy cane ornaments in a multitude of sizes to put around the outside of my house like a fence.
It's so fun to decorate with these! You can use a variety of different ribbons and fabrics to make your candy canes so they are all different colors.
What Type of Wire Do I need for This Ornament?
You will need something that is stiff enough to hold shape, but flexible enough to bend. Some great ideas for this project are to use floral wire or craft wire you find in the craft store.
These come in a variety of thicknesses and sizes so you can customize them to your needs.
The other option that is easy and inexpensive, is to use a simple wire hanger from your closet. They are fairly simple to bend, and they can be snapped apart easily with some wire cutters or pliers you have in your toolbox.
I've used them for many of my favorite decorations.
Check out this list of gorgeous Christmas garland ideas to go on your mantle this year. You may also enjoy this list of wine bottle Christmas decorations to add to your repurpose and upcycle crafting this season.
Supplies Needed
Flexible Wire
Rustic rope
Red decorated rustic ribbon
Decorative jingle bells
Pliers
Scissors
Hot glue gun and glue
How to Make a Rustic Candy Cane Ornament
To begin, you will need to cut the wire to length needed.
Next, you will take the rope and attach it to one end of the wire with hot glue. Begin folding it around the wire candy cane.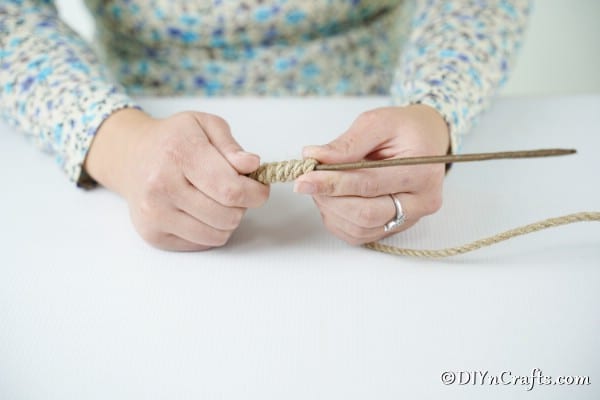 Continue wrapping the wire gluing every few inches as needed until the entire wire has been covered.
Once the wire has been completely wrapped, you will bend into the shape of a candy cane.
Next, cut a piece of ribbon and tie it into a bow then attach it to the middle of the candy cane with a bit of hot glue.
Add on a few jingle bells with hot glue.
Lastly, tie or glue a bit of twine or ribbon to the top for hanging this ornament on the tree.
Add this candy cane ornament to your tree.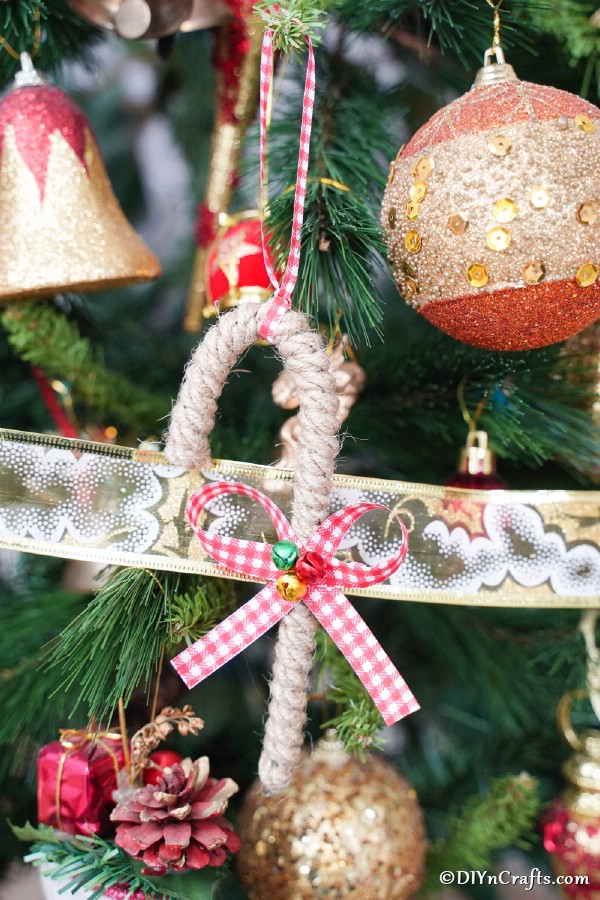 Yield: 1
Rustic Twine Wrapped Candy Cane Ornament
Make this rustic candy cane ornament with some wire and rustic twine to add to your rustic holiday decor this year!
Materials
Flexible Wire
Rustic rope
Red decorated rustic ribbon
Decorative jingle bells
Tools
Pliers
Scissors
Hot glue gun and glue
Instructions
Begin by cutting your wire into the length needed for your candy cane ornament;
Now, you will begin wrapping the wire with rustic thread or ribbon;
Attach the ribbon with hot glue every few inches to secure;
Once the wire is covered in ribbon or thread, you will then bend into the shape of the candy cane;
Now, you will make a small ribbon bow to glue to the middle of the candy cane;
Glue a few jingle bells to the middle of the bow;
Now, add a loop of ribbon or twine to the top for hanging on the tree;
Your ornament is done and ready to hang!
Notes
Make these with white and red ribbon instead of rustic twine to look more like a traditional candy cane.
Recommended Products
My favorite Etsy Christmas ornaments. (Affiliate links)