I absolutely love decorating for Christmas! I also love changing up my decorations from time to time, particularly the outdoor ones.
If you've been looking for new ways to dress up your lawn this holiday season, this is definitely the collection for you.
Jump to:
1. How to Make a Rustic Christmas Snowman Decoration
Are you into rustic design trends and all things homespun and delightful? I sure am. I admit it—I fell head over heels for mason jars, burlap, sliding barn doors, and all other things rustic the moment it became a big deal.
And I just know I'm going to have rustic décor in my life long after the trend goes away.
2. Giant Christmas Ornaments
These huge, colorful ornaments are just what you need to dress up your lawn. Hang them from the porch or just lay them around the yard. They're really easy to make, and kids will love them.
You make them from large plastic balls, which you can get from the Dollar Store for around a dollar each. Then you dress them up like ornaments and hang them all over the yard.
3. DIY Candy Cane Poles
PVC and duct tape are the main materials used to create these amazing candy cane poles….that light up! Note that you will need to hook up the lights, so you should feel a bit comfortable working with lighting, lamps, and the sort.
These are gorgeous when they're finished and the perfect way to light the path to your home for Christmas.
4. DIY Light Balls
These lighted ornamental balls all over your lawn will surely give off a merry look. They're relatively easy to make, and you only need chicken wire and some LED lights.
You just form the wire into a ball and cover it with lights. Do these in multiple colors or just clear if you're looking for that simple decorating look. They're so easy and so beautiful when they're finished!
5. DIY Pallet Christmas Tree
You know how much I love pallet projects. This one is really simple, although it does require a bit of cutting. Just draw out your tree shape on the pallet and then cut it out.
You can paint it if you want and then drill holes for your lights to show through. This is the perfect Christmas tree for the front porch, or you could have a couple of them in the yard, too.
6. DIY Starburst Ornaments
These starburst ornaments are very reminiscent of Christmas ornaments from years ago. They're easy to make, and this is a great project for the kids.
You use straws all tied together to create the starburst and then just paint them the colors that you want. Hang them on the porch or on an outdoor tree to really spruce up your yard for the holidays.
7. Concrete Holiday Gift Box
This DIY concrete holiday gift box may be my favorite outdoor decoration ever. It's gorgeous and actually really easy to make. You'll need Frog Tape, which you can pick up at most hardware or home improvement stores.
Take those concrete squares and turn them into something that you'll be proud to showcase year after year. This one is mostly marking off where to paint and painting – it's really simple.
8. Tiered Tomato Cage Christmas Trees
Tomato cages are the perfect shape for making outdoor Christmas trees. To make these, you'll also want to pick up some wired garland, which you can get at any Dollar Store or Wal-Mart fairly cheap.
You'll need lights, too, unless you get lighted garland, which will cut down your project by a step or two. These are gorgeous trees, and you can still use the tomato cages come spring for your garden…you just take the garland off when Christmas is over.
9. DIY Wooden Stars
You'll need a few pine boards, some clear lights, and a few other supplies to create these gorgeous wooden stars, which you can hang all over the porch or lawn.
Do them in different sizes to add dimension to your decorating. They're relatively easy to make and look so beautiful when they're finished.
10. Shutter Snowmen
If you don't have old shutters you can use for these adorable snowmen; I think you can probably pick them up at a thrift store or even a garage sale for pretty cheap.
Then, you just paint and decorate them to turn them into this adorable Frosty family that kids in your neighborhood are sure to love.
11. Lighted Gift Boxes
These gift boxes aren't made of concrete, and they're definitely worth the time it takes to DIY them.
What I love about this project is there are so many different ways that you can make these and so many different materials that you can choose from…you're sure to have something lying around the house that will help you put these lovely boxes together.
12. DIY Nutcrackers
These huge nine-foot nutcrackers would be perfect for guarding your front door, don't you think? I love nutcrackers and think this project is pretty easy, considering what you're actually building.
If you don't want them so tall, you could just shorten the plans just a bit. They're still bound to be the hit of the neighborhood and don't require nearly as much technical savvy as you would think.
13. DIY Lighted Candy Canes
These lighted candy canes are made from PVC pipe and a few clear Christmas lights. You'll need to do some drilling and putting together on these, and you can actually do them at whatever height you want.
They're perfect for lighting up the walkway to the front porch, or you could have them lining your yard however you want to use them. They're easy to make and really inexpensive.
14. DIY Gingerbread Man
You just can't decorate for Christmas without at least one gingerbread man. This one sits right out on the front lawn to welcome all of your holiday visitors.
You literally just cut him out from insulation foam and then paint and decorate him how you want. This would be a really neat project to do with any number of Christmas characters, and they could keep your gingerbread man company.
15. DIY Wood Lanterns
These DIY wood lanterns are the perfect outdoor decoration, and you can leave them up even after the holidays are over.
Once you get them built, just decorate them with Christmas colors, maybe a ribbon or bow, and you're all set. They have such a rustic Christmas look to them, reminiscent of the Victorian era, and they're not nearly as difficult to make as you would think.
16. DIY North Pole Sign
How much are your kids going to love this DIY North Pole sign? It's made from PVC pipe and rope lights. It's a little complicated and time-consuming but completely doable, and it will be so worth the effort when you see how gorgeous it is.
Let it light the way to your front door so Santa can find his way inside.
17. Large Christmas Candy Decorations
While visions of sugar plums dance in your head, imagine yourself creating these DIY Christmas candies to decorate the lawn or porch.
This is also a repurposing project, which I absolutely adore, and your yard will look great with these huge candies strewn around.
A few pool noodles, which you can grab for a steal right now, and some crafty cutting and wrapping, and you're all set to decorate your lawn.
18. Plastic Cup Snowman
This snowman is the most creative thing I think I've ever seen! It's made from plastic cups, and it's simply adorable. When you're finished putting the cups together, you can put lights in him and set him on the porch.
Kids will absolutely adore helping with this, and he'll really help to bring in the holiday cheer with everyone who enters your home. Plus, plastic cups are really inexpensive, so you could even make a pair.
19. Contemporary Christmas Trees
These cone-shaped Christmas trees are a bit more modern in their design, but they're just as beautiful as those made from evergreens.
They're inexpensive and the perfect project for beginning DIY'ers. The lights are fantastic and will really set you in the holiday mood. You can get all of your supplies at any home improvement store if you don't already have them on hand.
20. Giant Frozen Christmas Ornaments
I want to make these so much, but unfortunately, it doesn't typically get cold enough at Christmas, where I live. These giant ornaments are nothing more than frozen balls of water, and they're absolutely amazing!
If you live somewhere cold, you can easily make these or let the kids do it. They're going to love them! You just mold the balls of ice with balloons and use food coloring to give them color. When they're frozen, cut away the balloon, and you have gorgeous Christmas ornaments for the front lawn.
21. Giant Paper Plate Lollipops
These giant lollipops are the perfect addition to your outdoor Christmas decorating, and they are super easy and inexpensive to make.
Compare these to the ones that you buy in stores, and you're saving a bundle by DIYing them. Plus, you can create the designs and colors that you want. Paper plates, paint, plastic, and wooden rods are all you need.
22. Giant Outdoor Christmas Cone Trees
Are you wondering how to make your outdoor space festive for Christmas? In this tutorial, learn how to create giant cone trees using poster board and add durability with colorful Duct Tape®.
23. DIY Giant Lollipops
This DIY decoration is a fun-filled and budget-friendly craft that will let you create giant candy decorations. Using party trays, bowls, zip ties, ribbon, and white tape, you can make whimsical lollipop decorations.
24. Holiday Door Banner DIY
This DIY holiday door banner is made with sheet moss, gold ribbon, and white felt. It features foam core/cardboard letters glued onto moss and hung over the door with wreath hangers.
25. DIY Iced Faux Gingerbread Birdhouses
This Christmas outdoor decoration involves creating faux gingerbread birdhouses with wooden structures, colorful paint, Puffy Paint accents, and sparkly translucent glitter. It creates long-lasting, adorable birdhouse decor for the holiday season.
26. Christmas Swag
Are you looking for a unique holiday door decoration? In this guide, you'll learn to create a Christmas door swag using mini trees, floral stems, ribbon, and optional LED lights.
27. DIY Santa Logs
This Christmas outdoor craft tutorial showcases how to create Santa log decorations from simple, affordable materials. Embrace the spirit of Christmas with these charming and rustic Santa logs
28. Christmas Porch Decorations: Oversized Ornament DIY (From Trash!)
Do you want to repurpose your old sports balls? In this tutorial, learn how to transform old sports balls into oversized Christmas ornaments with spray paint and recycled bottle caps.
29. Super Fun Over-Sized Stars
This DIY guide demonstrates how to create large, eye-catching Christmas stars from wood scraps. Using cut, glued, and painted wooden strips, these stars add a rustic charm to holiday decor.
30. Christmas Front Porch & A Winter Planter Tutorial
If you want to create beautiful winter planters for your front porch, this tutorial provides step-by-step instructions on how to make them using fresh or faux greens. You can add red orb ornaments or red ribbon for a pop of color.
31. DIY Pom-Pom Holiday Wreath
This DIY tutorial guides you to create a lively, pom-pom holiday wreath. It's a calming and enjoyable project that results in a colorful, lively decoration.
32. DIY Wreath Doormat
This DIY guide offers a detailed process of crafting a stylish wreath doormat, utilizing black paint for an eye-catching design on a coir mat. It provides step-by-step instructions, making the project accessible for all DIY enthusiasts.
33. Colorful Front Door Christmas Decor
With an array of vibrant front door decorations and DIY wooden Christmas trees, this tutorial breathes life into the holiday season. It even incorporates Christmas cocktails in ornaments, adding a unique twist to traditional festivities.
34. DIY Easy Christmas Porch Pillow
Do you want to add a Christmas touch to your outdoor decor? In this DIY project, transform your porch pillows into Christmas-themed accents with burlap, ribbon, and natural elements.
35. Vintage Skate Door Hanger
This DIY guide brings a vintage vibe to your door with a skate hanger. Using simple black skates and pearl white paint, you can create an antique holiday charm.
36. DIY Jingle Bell Tree
This Christmas season, transform your door with a Jingle Bell Christmas Tree Hanger. It's a homemade decoration crafted from jingle bells and ribbon, adding a bright sparkle.
37. Outdoor Christmas Countdown Marquee Sign
Add a festive touch to your holiday decor with this Outdoor Christmas Countdown Marquee Sign. Create excitement as you count down the days to Christmas with this weather-resistant, illuminated display.
38. Pool Noodle Yard Lollipops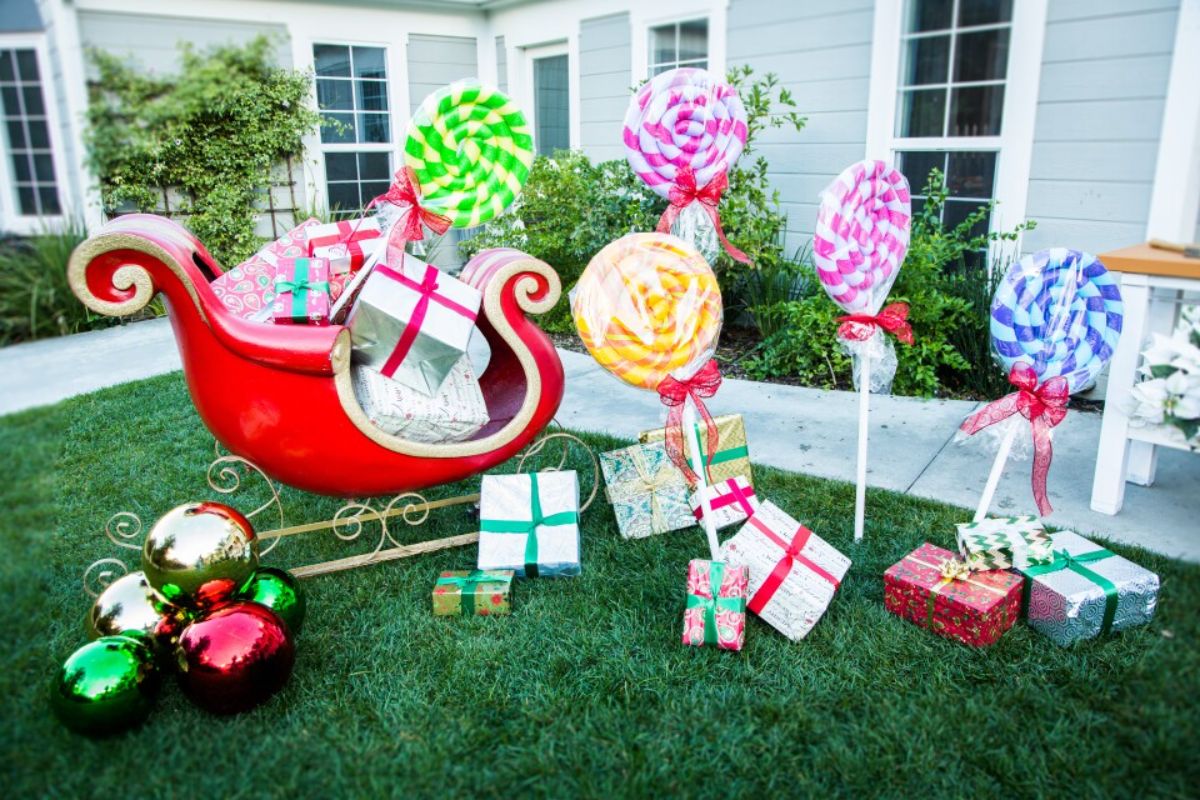 This DIY project guides you to create vibrant yard lollipops using pool noodles. Using duct tape, a dowel, and cellophane, they'll add a gleeful touch to any yard.
39. $10 DIY Wooden Sled Tutorial
With this tutorial, you can craft a charming vintage sled using basic materials and tools. It provides easy-to-follow steps, making it ideal for beginners.
40. Lighted Christmas Presents For Outdoors
This Christmas decor project involves making glowing outdoor presents. It utilizes wood frames, sheer ribbons, and lights for a jubilant and creative display.
41. JOY DIY Christmas Sign
This DIY project guides you to create a festive 'JOY' Christmas sign. Using basic materials like pine boards, craft paint, and a small wreath, anyone can participate.
42. DIY Outdoor Christmas Trees with Lights
Do you fancy creating your own magical holiday display? In this tutorial guide, discover the steps to construct eye-catching DIY outdoor Christmas trees using just 2x4s and fairy lights.
43. Classic Christmas Porch Decor
This classic Christmas porch decor elegantly combines a green wreath adorned with ornament clusters and a mini tree in a planter. Using a patterned bow and a vinyl "Merry Christmas" sign, it exudes holiday cheer.
44. Modernized Front Door
With vibrant yellow paint and modern hardware, this tutorial transforms an outdated front door. It highlights the impact of a smart lock and sleek fixtures on the overall look.
45. Farmhouse Christmas Door Decor
This Christmas season, craft a farmhouse-style NOEL door hanging featuring buffalo plaid. It's an adorable, straightforward DIY project doubling as lively wall decor.
46. Repurposed Skis
This DIY project breathes new life into old skis, turning them into striking holiday porch decor. Using paint and pre-assembled greenery, the skis become a holiday masterpiece.
47. Outdoor Christmas Decor-Snowflakes
With just stair spindles and some metallic paint, you can create exquisite outdoor Christmas snowflakes. It's a DIY project that adds a unique, celebratory touch to your holiday decor.
48. Personalized Custom Floor Mats
Do you want to welcome guests with a personalized touch? In this tutorial guide, you'll learn how to design your own custom, inexpensive doormat.
49. Christmas Reindeer and Angel Wooden Yard Decorations DIY
This Christmas decor tutorial teaches you to make plywood reindeer and angel cutouts for your yard. It offers a creative and visible day-and-night holiday decoration.
50. Grapevine Wreath Chandelier
Are you looking to add a rustic touch to your holiday decor? In this DIY guide, you will learn how to create an enchanting grapevine wreath chandelier.
51. DIY Outdoor Christmas Gifts (Inspired by Grandin Road)
With scrap wood and metal pieces, you can create your own rustic outdoor Christmas gift boxes. It's an economical DIY project that brings holiday cheer to your yard.