This orange peel star garland is a perfect way to add color and unique decorations to your tree this year. Lately, I've been loving the country chic designs and this orange peel garland fits right into that niche. Grab some twine, a few oranges, a knife, and have fun creating a beautiful star garland for your tree!
Did you know you can also turn orange peels into flowers? Check out my orange flowers tutorial and add those to some holiday potpourri displayed on your table this year!
Orange Peel Star Garland
Seriously, isn't this just the cutest thing ever? I love the look of a real homemade decoration that takes me back to those days when homemade items where all you had on the tree.
I love my pretty ornaments and purchased decorations, but there is just something about a truly homemade item like this orange peel garland that I love. It fits perfectly into the theme of rustic items I love like this easy aromatic Christmas tree decoration. Simple, elegant, and classic.
This Christmas mitten garland is a great addition to the decor, but this year, I really wanted this country chic or rustic option instead.
Add these "ho ho ho" blocks to the mantle and you have a perfect addition to your holiday decorating routine this year.
Do I Need to Use a Certain Type of Orange?
I prefer using navel oranges as their peel is a bit thicker than others. That means I won't risk tearing or breaking the star shape when adding them to the string or twine.
If you don't have those on hand, you can really use any citrus peel for this. Limes, lemons, grapefruits, and oranges are all excellent for this garland because of their thicker skin that holds up well throughout the holidays.
While you are making this garland, you can put the kids to work sorting scrap felt pieces to make this cute and easy pallet felt Christmas tree idea to go on the mantle.
If you want to stick to the truly rustic options, have them make a miniature Christmas tree out of pinecones instead.
How Long Will This Christmas Garland Last?
This question is really best answered by your preferences. Over a few week's time, the orange peels will dry out and harden.
At that point, as long as no pulp remains on them, you are unlikely to see mold or decay happen for some time. I have stored these in a dark and dry area from year to year with no problem.
On the other hand, it is something that if exposed to moisture could begin to decay and not be pleasant the next year when you unwrap your decorations.
So, I would typically say to create this star garland and use only one season of holidays. 4-6 weeks is a perfect amount of time to keep it before throwing it away.
If you want a homemade decoration that will last for years to come, check out my miniature pasta Christmas treeor these simple pasta snowflake ornaments.
They are great projects that are rustic and last for years.
Supplies Needed
Fresh oranges
Rustic thread
Knife
Scissors
Something to make holes in the orange peel (a Screwdriver or nail works great)
How to Make a Star Garland from Orange Peels
For this project, you will begin by peeling oranges. When peeling them, make sure you keep the peel as large as possible so cutting the stars out is easy, and there isn't much wasted orange peel.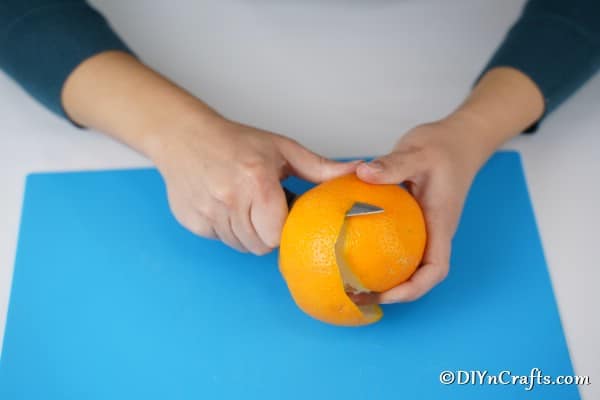 To cut the stars out of the orange peel, you will need to use a craft knife and trace out the star outline. You could also turn the peel over and use a pencil to trace the stars onto the white pith of the peel before cutting. Tracing the outline may be easier than freehand for some.
Now, you will cut as many stars as possible out of each peel.
Once you have cut out as many stars as you want for your garland, you will use a hole punch or a craft knife to cut a hole in the center of each star.
Next, you will thread your twine through each star placing them a few inches apart on the twine.
Create a knot at each end and hang on your mantle or tree.
Video Tutorial:
Printable Step by Step Photo Tutorial:
Yield: 1
Country Chic Orange Peel Star Garland Winter Decor
Create a beautiful orange peel star garland with just a few tools. Grab your oranges, rustic thread, and a knife and begin assembling this rustic look for your holiday decorations!
Materials
Fresh oranges
Rustic thread
Knife
Tools
Scissors
Something to make holes in the orange peel (a Screwdriver or nail works great)
Instructions
Begin by peeling your oranges and keeping the peel intact as much as possible;
Once the peel is removed from the orange, you will need to begin cutting as many stars as possible from the peel;
Cut as many stars as you can from the peels and then set them aside;
Now you will cut or punch holes into the middle of each star;
Once all orange stars have a hole in the middle, you will begin threading them together with a piece of twine leaving a few inches between each star;
Once you have threaded all of the oranges onto the twine, you will make a knot at both ends of the twine and hang it from the mantle or tree.
Recommended Products
As an Amazon Associate and member of other affiliate programs, I earn from qualifying purchases.