These rustic twig Christmas tree ornaments are such a perfect addition to your holiday tree this year. I love the rustic style, and, of course, I love that they are so inexpensive to make.
Grab some small twigs outside and use scrap ribbon now! That along with hot glue is all you need.
If you love the rustic style of decor as much as I do then you will just adore this simple rustic wreath made from cardboard and yarn. So cute and perfect for a classic rustic Christmas!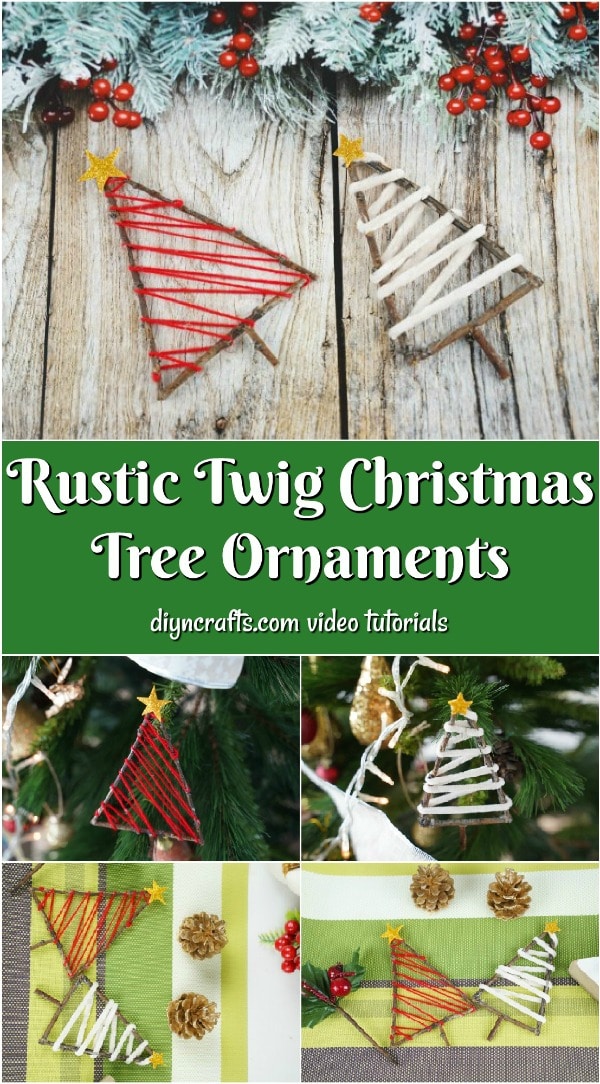 Rustic Twig Christmas Tree Ornaments
Aren't these just the cutest little ornaments ever?! You already know I am all about repurposing and upcycling, so why not go outside and use random twigs and branches to make an ornament?
That's exactly what I did to make these charming little rustic twig trees to go on my Christmas tree this year.
If you like the rustic style, you'll love my aromatic Christmas tree ornament that also uses a few pieces of the greenery from outside. There is just nothing that says Christmas to me quite like the homemade ornaments on the tree.
Don't worry - I don't leave the kids out of the ornament creation. The kids will love this trick for how to turn a pinecone into a reindeer or this super easy and fun way to make snowflake ornaments or a mini Christmas tree ornament from pasta!
There are just so many ways to make the holidays more fun with unique customized rustic ornaments!
How Can I Hang a This Ornament?
This ornament is great because you don't need a special hanger. While you can add a piece of ribbon for hanging you truly don't have to do so. You can simply slip this onto a branch on your tree and since it is rustic, it will fit right into the tree easily!
I like to add a simple loop of thread or twine to the back of the star for hanging on some trees. You just need to add a bit of extra hot glue to secure to the top of the tree.
These paper straw mini Christmas trees are another easy option you can make a simple ribbon hanger for to add to your tree. If these aren't enough for your tree, fill it up with some of these adorable paper Christmas tree ornaments.
Supplies Needed
Garden shears
Small twigs or branches
Glitter foam paper
Yarn, twine, or ribbons in a variety of colors
Hot glue gun and glue
How to Make a Twig Christmas Tree Rustic Ornaments
For this project, you will start by fining some small branches or twigs outside. To create the trees, you will remove all small stems and leaves from them and then cut them to the size you want.
I used a simple pair of garden clippers/shears but you may be able to use a craft knife or scissors if preferred. Remember, this is rustic, so it doesn't have to be exact. You can eyeball the length of the pieces, or use a ruler to cut more exact, but both ways are fine.
Once you have your pieces ready, you will glue them together into the shape of a triangle. Break off a smaller piece an glue to the bottom of the tree to look like the trunk.
Next, you will choose the ribbon, yarn, or twine, and begin gluing and wrapping it back and forth around the branches.
I started at the bottom and worked my way to the top, but you can start however you prefer.
Once you are done you will want to make a small star to go on the top of the tree. I traced and cut one out of some gold glitter foam board I had on hand already. Use whatever paper or miniature star you wish for this part.
You can add a loop of thread on the back to hang it on your tree or hang it as is.
If you want to add decorations like miniature ornaments or garlands, you can do that now before hanging on your tree.
Video Tutorial:
Printable Step by Step Photo Tutorial:
Yield: 2
Charming Rustic Twig Christmas Tree Ornaments
Check out these charming rustic twig Christmas tree ornaments! So easy to make using twigs, ribbon, and hot glue, you will make dozens to use on your tree this year!
Materials
Small twigs or branches
Glitter foam paper
Yarn, twine, or ribbons in a variety of colors
Tools
Garden shears
Hot glue gun and glue
Instructions
To make these twig ornaments, you will begin by gathering up the small branches and twigs from your yard. Remove any extra greenery or small pieces off of them and trim them to the size you desire for your trees;
Next, you will use hot glue to attach the 3 twigs together to form a triangle/tree shape;
Once that is dry, you will add a smaller piece in the middle of the bottom piece to create a tree trunk;
Begin wrapping the tree with ribbon, yarn, thread, or wire to create the look of a holiday tree;
I started at the bottom and worked my way to the top. You can go side to side or in a diagonal like the red one as shown;
Once you have added the ribbon, you will want to create a small star to glue on top of the tree;
I cut mine from gold glitter foam paper and glued it to the top of the tree;
Your final step is to a loop of thread to the back of the tree for hanging if desired, and then to display on your tree.
Recommended Products
As an Amazon Associate and member of other affiliate programs, I earn from qualifying purchases.