I know you are going to love this fun way to create cookie and gift boxes out of a plastic cup. This was a super fun way to take a few homemade cookies to a friend. They loved that the cookies came in a fun little handmade box, and I love that I was able to make a homemade treat even more special.
For more traditional gift-giving, I love making these DIY gift baskets for my friends and family. When I have just a small gift, then these cookie boxes are an excellent choice!
Cookie Boxes for Gift Giving
Cookies are one of my favorite things in life. I love them all. Homemade, from a bakery, or even the mass-produced brands. Cookies are just little bites of deliciousness that soothe my soul.
There is nothing, in my opinion, that is better than a sweet fresh cookie straight from the oven. I love these caramel apple peanut butter cookies, pumpkin cookies, and chocolate chip cookies for sharing with friends. Of course, if you don't have time to bake, any cookie will work!
That's why making a cute little gift wrap like these cookie boxes is brilliant! Of course, I want to share that delicious treat with my friends, family, and neighbors. Carrying cookies over to them in a baggie doesn't look very nice, plus they can break so easily.
What Type of Cup Should I Use to Make these Gift Boxes?
I often have leftover plastic cups from parties. They are inexpensive, sturdy, and easy to cut apart for a project like this. If you aren't sure the type of cup to get, then these are similar to the red Solo brand cup. You can easily find them in the party supply area of your department and discount store.
For inexpensive cups, I grab the different colored options in bulk at party stores. They are often much less expensive in bulk than to buy just a few at a time. I find these to be just right when I want to make a box for holiday cookie giving.
There are tons of excellent designs for any holiday, and that makes it a lot easier to decorate and make the cookies even more special.
I have even used these as part of a DIY hostess gift when going over to friends for dinner. It's just a simple gesture that others love.
Supplies for Making Cookie Boxes
Plastic party cups
Ribbon or bow
Cookies
Double-sided tape
Scissors
How to Make Cookie Boxes out of Plastic Cups
Make sure your cups have been washed and dried before you put your cookies inside them. Most pre-packaged cups are fine to use straight out of the bag, but if you purchase loose cups in a store, it's best to wash first.
Grab all of your supplies and set them up on the work station, so they are easy to grab as needed.
Pick the first cup you are going to use, and start by cutting the top lip (curved edge) off the cup with a pair of scissors.
Next, you will cut around the cup, making slits about 2" down and about 1" apart.
Place your cookies inside the cup.
Then, you will begin folding the flaps of the cup that you just cut. Fold them all over until the top is covered, and then use your double-sided tape to close the opening.
Next, you will tape or glue your bow on top. You can use a ready-made bow, or if you know how to make bows, create your own unique bow to top the cup.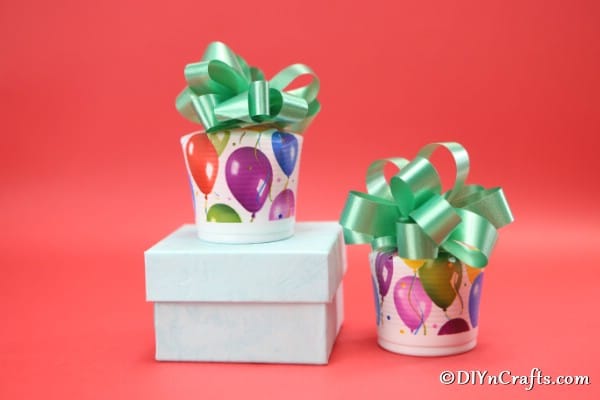 Video Tutorial:
Printable Step by Step Photo Tutorial:
Yield: 1
Plastic Cup Gift and Cookie Box Wrapping Craft
An ordinary plastic cups turn into cute cookie boxes in minutes with this easy tutorial!
Materials
Plastic party cups
Ribbon or bow
Tools
Double-sided tape
Scissors
Instructions
Make sure your cups have been washed and dried before you put your cookies inside them. Most pre-packaged cups are fine to use straight out of the bag, but if you purchase loose cups in a store, it's best to wash first;
Grab all of your supplies and set them up on the work station so they are easy to grab as needed;
Pick the first cup you are going to use, and start by cutting the top lip (curved edge) off the cup with a pair of scissors;
Next, you will cut around the cup making slits about 2" down and about 1" apart;
Place your cookies inside the cup;
Then, you will begin folding the flaps of the cup that you just cut. Fold them all over until the top is covered, and then use your double-sided tape to close the opening;
Next, you will tape or glue your bow on top. You can use a ready-made bow, or if you know how to make bows, create your own unique bow to top the cup;
Once you have completed your plastic cup cookie boxes, have fun delivering them to your friends and family;