No matter where you live, how big your house is or how many rooms you have, you will simply never have enough closet space. Closets are like kitchen cabinets, no one ever has enough. Even huge walk-in closets can often seem smaller when they are cluttered.
One way to open up those storage spaces and make them seem bigger is to organize them. And the great part is that you really don't need expensive closet organizers or a professional organizer to come to your home.
This doesn't only go for closets, though. You can make your life much easier by organizing every storage space in your home from closets to dressers and even under the bed storage.
We have compiled a list of 40 great DIY organizing hacks that will instantly help you to save space and time. From easier ways to get ready in the morning to ways that you can turn a small closet into a huge storage area, you can find everything you need to organize your home and your life.
Ornament Box for Storing Baby Clothes
Ornament boxes are the perfect storage solution because they take up relatively little space and they can store loads of things. If you have baby clothes that you need to organize, an ornament box is a great choice.
You can roll up bibs, onesies and even blankets and store them in the sections and most sections are large enough to hold two items so you can easily sort those little outfits and match them to save time in the morning when dressing your little one.
Source - Apartmenttherapy
Matching Wardrobe
If you need to save space and time, taking a bit of initiative to put your weekly wardrobe together will help. Just match those outfits for the entire week and put them on hangers together.
You can even put tags noting the day of the week that you plan to wear each of them, which will save you loads of time when getting ready in the mornings. Incidentally, this is a great idea for kids' closets and will help them to save time, too.
Source - Bhg
Hanging Shorts
Whether you wear those sexy cut-off Daisy Dukes or you just have capris or regular shorts that you need to organize, you can easily store them in the closet. Just insert a ring (like the one that comes on your keychain) onto a hanging bar and then hang the shorts up by running the ring through a belt loop.
Not only does this keep those shorts organized but it helps you to find them much easier than rummaging through drawers.
Source - Monicarosestylist
T-Shirt Drawer Organization
If you (or your teenagers) tend to wear a lot of t-shirts, you may notice that they often take up a lot of space in the drawer. One great solution to this is to fold them so that they take up less space.
If you fold the sleeves in and then the shirt in triples, you can get nearly three times as many in a drawer and when you stack them properly you will be able to see exactly which shirt you need so you don't tear the drawer up looking for it.
Source - Alldaychic
Wine Box Shoe Organization
Wine boxes are great for organizing your shoes. You just have to cover them with whatever type of paper or other covering you want (for décor purposes) and then add your shoes.
The boxes are relatively sturdy and if you don't drink wine, you may be able to pick up a few boxes at your local liquor store for free. You can get six pairs of flip-flops and tennis shoes type shoes in each box.
Source - Threeyearsofdeath
PVC Pipe Scarf Organizer
PVC pipe is really inexpensive and is a great way to keep scarves and neckties organized. You will need to measure the height of each drawer and then just cut the pipe into the proper height.
Depending on the depth of your drawer, you may be able to get several pipe organizers in there and then you just roll up your neckties and/or scarves and stick them in the pipes.
Source - Bhg
Hanging Scarf Storage
Hangers and shower curtain hooks make the perfect solution for storing and organizing scarves. If you have room in your closet or even behind a door somewhere, you can just add the hooks to the hanger and then add your scarves.
This is a great way to keep scarves from knotting and to keep them in view so that you can easily find the one you are looking for.

Drawer Labels
What better way to always know where everything is than with labels? You can print off very decorative labels and then use them to keep your drawers completely organized.
Just add the labels to the appropriate drawer and then make sure that you put your things away properly. Labeling drawers helps to cut down on the time it takes to find what you need so you can be ready much faster in the morning.
Source - Bhg
Jewelry Organizer for Scarves
Plastic boxes or jewelry organizers are great for keeping scarves, neckties, socks and other smaller items organized in drawers. Just add the boxes to your drawers and then choose the items to go inside.
This is a great way to keep socks matched with their respective partners and will help you to find things much easier. This is also a great way to organize belts. Just roll them up and stick them in the boxes to keep them out of the way.
Source - Livesimplybyannie
Slide-Out Closet Drawers
For linen closets, slide-out drawers are a great way to keep contents organized. You can buy drawers on sliders at most home improvement stores – think kitchen drawers that have the same concept.
Then just add towels, blankets or whatever you plan to store there to the drawers and instead of having to rummage through them to find what you need, you can simply pull out the drawer for a clear look.
Source - Houzz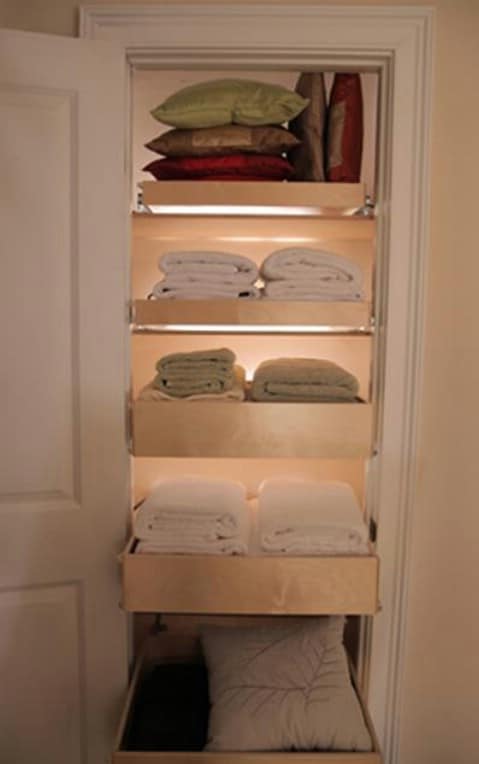 DIY Jewelry Armoire
So, if you have an old dresser that you just don't need, you can create a beautiful jewelry armoire from it. You just have to remove the top and add a glass panel and then install jewelry organizers in the top two drawers.
This gives you the rest of the dresser for clothing and other items and plenty of space to keep jewelry perfectly organized.
Source - Welke
Desk Storage
An IKEA small chest of drawers, some chalkboard paint and a bit of imagination will allow you to create a beautiful desktop organizer and display. Use the chalkboard paint to label each compartment and then add pencils, flashcards or whatever you need to keep organized.
This is a great idea for kids' rooms or study areas and allows you to clearly label where everything goes so you always know where it is.
Source - Martha Stewart
The Ultimate Under Bed Storage
You can easily create under bed storage from bookshelves or spare strips of wood. Just build the frame with small compartments for keeping books and other items organized.
Then add a lift feature to your mattress and you can easily lift the bed up to add more storage space underneath. This is a brilliant idea and a great one for smaller apartments and homes with very little closet space.
Source - Homedit
Let Go of Old Clothing
Ok, so some people just have a harder time letting go than others. If you are someone who just can't seem to get rid of those older clothing items, think about how much better your life would be with a little organization.
Organizing experts recommend re-thinking your closets and dressers about once every six months and giving away anything that you haven't worn during that time. You'll have loads more space and a lot of room for a new wardrobe if you want.
Source - Orgjunkie
DIY Clothing Rack
If you really just don't have enough (or any) closet space, you can build your own clothing rack with some steel pipe, scraps of wood and a few other supplies. This is a great weekend project and gives any room a really nice rustic look due to the wood and steel.
You can also build this as a laundry rack to hang those delicates to dry or just add it to any room where you need a bit of extra hanging space.
Source - Blackoakvintage
Pop Can Tab Organizers
Those little taps on soda cans are relatively useless, unless you put them to use in your closet. They are the perfect size for making great extended hanger organizers.
Just slip one over a metal hanger and then use the hole in the tab to add another hanger. Voila! You can now hang twice as many hangers in one space.
Source - Diyncrafts
Tension Rod Shoe Organizer
Tension rods are great for all types of organizing. They are perfect for closet floors if you want an inexpensive and easy way to organize your shoes. Just add various tension rods and secure them against the walls and then add your shoes.
High heels stick perfectly on the rods and they are so inexpensive that you can add as many as you need without breaking the bank.
Source - 3citygirlsnyc
Tank Top Organizer
A tie hanger makes a great organizer for tank tops. If you are someone who has several tank tops or camisoles, you can use a regular tie hanger to keep those tops out of your drawers and out of the way.
Just hang the hanger in the closet and add as many tops as you need to hang. The great thing is that these organizers are really cheap so you can buy several if you need them.
Source - Lifedesigncraft
Easy Tie Rack
For smaller closets, a DIY tie rack is an absolute must. If you just don't have room on the inside of the door for a hanging tie rack, you can easily build one yourself from wooden pegs.
You just attach the pegs to a strip of wood and secure it so that you can pull it out to get the tie you need. When you aren't choosing a tie, it will lie flat against the inside wall, saving you loads of space.
Source - Instructables
Inside the Door Bookshelf
Closet storage can be found in many places and you should never overlook the inside of the door. With just a few small boards, some nails and some time, you can create a great bookshelf that is hidden by the closet and completely out of the way.
This is a great project for kids' rooms to keep games and books in or you could use it for storing other items as well.
Source - Ana White
Perfect Organization
You can turn even the smallest closet into a beautifully organized space with just a little time and imagination. There are many baskets, totes and plastic containers that you can buy at your local Dollar Store for just a couple of bucks each and these make wonderful organizers.
First, think about what you need to do in order to get your clutter clean and then pick up the appropriate containers to do it. You may be pleasantly surprised at the outcome.
Source - Apartmenttherapy
Mini-Makeover
You don't have to have a huge walk-in closet to look like you do. Even the smallest closet can be redone to look bigger and to hold more clothing and other items. Instead of one large bar in the center for instance, hang two or three smaller bars so you get more hanging space.
Add plastic totes or even a small dresser to the bottom of the closet for drawer storage.
Source - 320sycamoreblog
Wicker Baskets
Wicker baskets make everything look so neat and organized and they are perfect for closets. You can dress up any wardrobe with baskets, decorative hinges and labels so that you always know where everything goes.
If you have open cubbies or storage areas, put smaller items in baskets and store in those space to make them look neater and less cluttered.
Source - Ninemsn
Know What You Should Have
Being able to organize and keep organized relies heavily on what you have. There are certain things that every closet should always contain and once you have those items, you can begin to keep them all neat and tidy.
If you tend to keep clothing in your closet that you have no use for, now is the time to get rid of it and begin organizing those things that do need to stay.
Source - Lettherealworldbegin
Repurpose Drawer Handles
Drawer handles make wonderful hangers for scarves and ties. You just have to attach them to the inside of your closet or even the inside of the closet door and then loop ties and scarves through them.
They are relatively cheap and take very little time to install so if you are looking for a really inexpensive and quick way to get those scarves and ties organized, this is it.
Source - Bhg
Pants Organization
Pull out pants racks are great if you have room. You can buy them from most home improvement stores and they install really easily. You then just hang your pants on the rack and it slides back against the wall to save space. This is a great way to organize that is relatively inexpensive and a real space saver.
Source - Bhg
Linen Closet Organization
Drawers, baskets and totes make wonderful organization tools for your linen closet. You can stack wash rags and towels in baskets or even put sheets and spare blankets in them, saving you loads of space and time. When it comes time to look for an item, you just have to pull out the basket it is in and go.
Source - Turnstylevogue
Crown Molding Shoe Holders
If you just don't have space in your closet floor for your shoes, you can just hang some crown molding at the back of your closet and hang your shoes there. This works great with high heels and will allow you extra space in the floor and on shoe racks for shoes that don't have heels.
You can pick crown molding up pretty cheap at most home improvement stores.
Source - Diyshowoff
Cheap Hangers for Shoes
Metal hangers are really cheap. You can buy several of them for about $1 and they make great shoe organizers. You just bend the hanger so that your shoes will stick on the ends and then hang them in the closet or wherever you need to.
If you have shoes that you prefer to keep by the front door, just hang them on a coat tree.
Source - Instructables
Closet Jewelry Organizer
A towel rack or two, some S-rings and toilet paper holders will give you plenty of behind the door storage for your jewelry. Just attach these items to the door, or any spare wall space you have in the closet, and you can put bracelets and necklaces in the closet and out of the way.
Hanging baskets are another great organizing trick for jewelry and are really cheap, too.
Source - Overthrowmartha
Baby Size Labels
Every mom knows that babies outgrow clothing faster than it can be replaced. If you have multiple sizes of clothing and need to organize it, just label those pieces by size.
Hang them in their respective places behind the labels and you can easily find the sizes that you need. This makes it much easier to get rid of clothing that is too small once baby does outgrow it.
Source - Indulgy
Shoe Hangers Hold More than Shoes
Over the door plastic shoe hangers are great for organizing all types of things. Whether you need them for shoes, jewelry, scarves, belts or anything else, they are cheap (about $1 each at most Dollar Stores) and they are easy to hang.
You just fill the spaces with whatever you need to sort and organize and you can have them hanging behind practically every door in your home if needed.
Source - Welke
Drawer Dividers
Drawer dividers are a great way to keep t-shirts, athletic shorts and other items perfectly organized. For children's rooms, these dividers are the perfect way to keep all of their clothing neat and tidy.
Just add them to dresser drawers and then label the drawers for whatever is going in them. You don't even have to purchase dividers, you can use spare strips of wood or plastic if you have any on hand.
Source - Houzz
Hanging Boots
Skirt hangers are great for keeping boots up off the floor and out of the way. The hangers have clips which are perfect for holding boots. Just clip a boot onto each clip and then hang those boots on your closet rod or you can hang a tension rod closer to the floor to hold the boots.
Source - Diyncrafts
Shower Curtain Hooks for Purses and Totes
Shower curtain hooks are perfect for holding spare purses and totes. Just hang the hooks on your closet rod and then attach the purses that you need to store.
This keeps them out of the way and if you don't really have room on your closet rod for hanging them, you can add a tension rod for the extra storage space.
Source - Squidoo
PVC Pipe Shoe Storage
PVC pipe is versatile and very inexpensive. You can create a stunning and very unique shoe storage compartment by simply stacking PVC pipe together.
You will need to cut it to the length needed to hold your shoes and then just stack in the closet or if you don't have closet space available, it makes a great decoration for any bedroom.
Source - Woohome
Sideways Bookshelf Storage
If your closet is large enough, consider laying bookshelves sideways and using that for storage. You can pick up old bookshelves at yard sales or flea markets for very little and when you lay them sideways, they can be used for storing shoes, purses or anything else you need.
Add baskets to really make your closet look organized.
Source - Diyncrafts
Cheap and Easy Jewelry Organizer
A paper towel holder is a cheap and very easy DIY jewelry organizer. If you have room on a dresser or stand, just sit a paper towel holder (that you can pick up for less than $5 at Wal-Mart) on it to hold bangles and other bracelets.
This keeps them from piling up on the dresser and helps you to find them easily when needed.
Source - Halfofvamh
Crate Storage
Crates aren't just for the floor. If you have room in the closet, hang a few on the wall and then add shoes or anything else to keep it organized. If you don't have room in the closet, these look great on the wall and can be painted or wallpapered to match any room so you can keep with your existing décor while you keep your items organized.
Source - Decorhacks
Clothespins for Organizing Tights
Tights are so in fashion – so much so in fact that many women have multiple pairs, which can begin to pile up and overtake drawers quickly. The solution? Just use a hot glue gun to attach wooden clothes pins to the back of the closet or the back of your closet door. Then just hang the tights up with the clothes pins. You won't need to have them in your dresser any longer and you can easily get to them when needed.
Source - Lanared