Organizing is great. I mean, without it you have those episodes of never being able to find what you need or not knowing where to put things when you buy them.
While there are tons of products that you can buy that are designed to help you to get your home organized, we like the DIY of doing things so we have a few ideas for organization tips that you can do yourself, from things around your home.
For instance, have you ever thought of using an old tension curtain rod for a cabinet divider? How about keeping your pot and pan lids neatly organized with a magazine rack? There are ideas for attaching undershelves in cabinets so that you can make good use of all of your cabinet space.
Jump to:
Hanging Makeup Organizer
DIY Sliding Storage System On the Garage
Use Coffee Canisters to Store Yarn
Tutorial
Use IKEA Grundtal to Organize your Crafts
Store Crafting Supplies on a on Pegboard
Use Tension Rod to Hang Spray Bottles Under Your Sink.
Use a Magnetic Rack to Store Kitchen Utensils
Tension Curtain Rods Divider for Cupboards and Other Flat Accessories
Use a Magazine Rack to Store Saran Wrap, Aluminum Foil, etc.
Idea
Magazine Rack as Pot Lid Holder
Hang Hangable Kitchen Utensils
Store Magnetic Spice Racks in Your Fridge
Use Walls To Hang Kitchen Utensils - Play with Ideas and Create Decorative Walls
Organizing with a Pegboard
Vertical Utensil Drawer
Organizing the Refridgerator
Pull-out Baskets for Fridge Organization
Use Stackable Bins and Drawers
Use Undershelves To Take Advantage of Vertical Space
Use Pant Hangers to Organize Your Boots
Tutorial
Wall/Closet Attached Crown Molding to Organize Shoes
Idea
Labeled Hangers for Similar Clothing Items
Turn all the Hangers in Your Closet Backwards
Divider Shelves for Organized Sweaters and Shirts
Store Belts on a Sliding Rack
Get the Sliding Rack from Amazon here
Use a Hanger to Store Eyewear
Store your Sunglasses on a Wall attached Ribbon
Hang Handbags Using Shower Curtain Hooks
Tutorial
Keep Your Jewelry in a Closet Using Command Hooks
Nice Shoe Storage Trick
Keep Your Boots Straight by Filling Them With Pool Noodle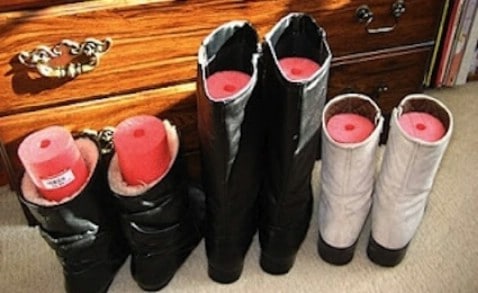 Store Matching Sheets in Pillowcases.
Idea
Tweezers Attached With a Magnet
Idea
Attach Hygiene Tools to a Magnetic Rack
Store Appliances Easily Using a PVC Pipe
Mason Jars as Bathroom Wall Storage
Glass Bottles as Bracelet and Ponytail Holders
Use a Magnetic Palette for an Organized Makeup Holder
Get the Palette here
Use a Shelf Over Bathroom Door for Rarely Used Things
Use Baskets and Rails to Store Bathroom Accessories
DIY Magnetic Makeup Board
DIY Pressing Surface That'll Replace Your Ironing Board
Repurpose a Shoe Organizer to Store Cleaning Supplies
Washer and Dryer Shelf with Organized Laundry
Hang a Ladder for Air Drying Clothes
DIY Ball Garage Storage
Use a Pegboard with Hooks to Organize Sport Gears
DIY Mason Jar Garage Organizer
Pick an Ottoman with Built in Storage Function
Store DVDs in Boxes
Store your Records Decorative
Use a Cable Organizer
Attach Shoe Holders to Cabinets For Extra Storage Space
Idea
Make Sure to Repurpose Everything (paint cans, tins, mason jars, and plastic containers) for Future Storage Usage
Example Makeup Organization Placement
Idea
Cute DIY Hanging Makeup Organization
Tutorial
Divide Your Drawers
Awesome idea!