Fall is here! And that means that it's time to start gathering all of those tasty pumpkin recipes…the ones that aren't just pumpkin pie. I do love pumpkin pie but other than that, I just love the flavor of pumpkin.
So I started wondering about what I could make with pumpkin besides my traditional Thanksgiving Day pumpkin pie. I found 25 amazingly delicious recipes that use pumpkin but none of these are poured into a pie shell.
From pancakes and cinnamon rolls to smoothies, gnocchi, mac and cheese and so many other delicious dishes, you are going to be able to add pumpkin to every meal. Not all of these are sweet dishes, either.
Some of them are great sides and the pumpkin just gives the dish a wonderfully unique flavor that you just don't get from other ingredients. There's even a pumpkin soup in here! Imagine having all of the pumpkin that you want this fall.
Pumpkin Recipes For Fall That Aren't Pie
You'll want to be sure to bookmark these recipes so that you can find them easily. And, have you seen my list of 25 decadent hot chocolate recipes? You'll want to bookmark that one, too.
So back to the pumpkin recipes. You are going to love these. They are all so easy to make and they give you a wonderful way to use up that pumpkin that comes from your carvings.
Or, you could use canned pumpkin puree in some of these, too just in case you don't have access to fresh pumpkins. However you decide to make them, you are sure to find a favorite pumpkin recipe in here.
I know I have and be sure that you check out these 70 creative pumpkin carving and decorating ideas – just in time for Halloween!
Pumpkin Sandwich Cookies Recipe
It's the perfect childhood favorite! A soft cookie with a rich creamy filling! We love this recipe and the delicate cookie! This little pumpkin version of a classic sandwich cookie is always a hit in the Fall and throughout the pumpkin season.
Source: DIYnCrafts
Creamy Pumpkin Risotto
This easy recipe is a classic dish that has a new spin with the rich sweet and savory flavor of pumpkin. The additions of mushrooms bring some more savory elements to the dish and make this an ideal side to any meal.
Source: Scrambled Chefs
Rich and Creamy Pumpkin Soup Recipe
Have you ever had pumpkin soup? I had not until I tried this recipe. This savory soup has just a hint of sweetness that is cut by the chicken broth, onions, and seasonings to make it a warm comforting bowl perfect for any mealtime.
Source: Craft Create Cook
Pumpkin Spice No Bake Cookies
We have all devoured a batch or two of the classic chocolate and peanut butter no bake cookies at some point in our lives. This version is just as good, with a slightly different flavor. Perfect for any Fall seasonal dessert buffet.
Source: Craft Create Cook
Pumpkin Whoopie Pie Recipe
If you've ever had a whoopie pie, you know that it is essentially a cake-like cookie filled with sweet cream. This version uses a cake mix and ready-made icing, and is fast, easy, and perfectly delicious!
Source: Craft Create Cook
Loaded Pumpkin Cookies Recipe
Chewy cookie, pumpkin flavor, bits of walnuts, and white chocolate chips all come together to create this perfect bite! These are a great easy to make cookie that feels decadent but is super simple to make.
Source: Craft Create Cook
Chocolate Chip Pumpkin Bars
Sometimes you want a little bit denser texture, and this bar is perfect. Somewhere between brownie and cake, this bar is the perfect combination of chewy texture, bits of chocolate chips, and pumpkin flavor you adore.
Source: Craft Create Cook
Easy Pumpkin Dip Recipe
If you are a fan of dessert dips like I am, then this pumpkin pie dip is going to become a new favorite! It's fast to make, easy, affordable, and great for parties or snacking during your favorite Fall themed movie.
Source: Craft Create Cook
Melt in Your Mouth Pumpkin Cookie
I love cookies, but especially those that are nice and soft or chewy. This is the former and it is truly a melt in your mouth bite. Topped with a light icing, this is a great cookie for sharing with friends and family.
Source: Craft Create Cookie
Chewy Pumpkin Chocolate Chip Cookies
A combination of your favorite chewy chocolate chip cookie with a hint of pumpkin in the background makes for the ultimate collaboration on your cookie platter. This is ideal with dark chocolate chips but just as good with classic semi-sweet chocolate chips.
Source: Craft Create Cookie
2-Ingredient Mini Pumpkin Donuts Recipe
If you haven't made these yet, you need to do them now! Only 2 ingredients and a fast and easy method of making tiny little miniature bites. They are a kids favorite treat, and perfect for adding to Fall or harvest snack mix.
Source: Craft Create Cookie
Pumpkin Pie Pumpkin Seeds
You can't make a pumpkin snack or recipe list without including pumpkin seeds! This version, however, isn't just the basic roasted seed. Instead, these have a great pumpkin pie spice coating that makes them absolutely delicious!
Source: Craft Create Cook
Chocolate Chip Pumpkin Muffins
We've already shared about how the combination of chocolate and pumpkin goes perfectly together. Now I am bringing you a simple muffin version. This means you can have them for breakfast, and have zero guilt!
Source: Craft Create Cook
Crock-Pot Pumpkin Butter
One of my favorite treats, when it is pumpkin season, is a freshly made biscuit warm from the oven and slathered in pumpkin butter. If you haven't tried this before, it's a deliciously sweet rich spread that is similar to apple butter, but pumpkin flavored. So easy and incredibly yummy.
Source: Mommy Musings
Pumpkin Spice Granola Recipe
Do you like a bit of granola on your yogurt in the mornings? Making it homemade definitely kicks it up a notch, and this pumpkin spice version is delicious alongside your favorite vanilla or even pumpkin pie yogurt!
Source: Mommy Musings
Chocolate Pumpkin Muffins
This chocolatey muffin is loaded with rich flavor and moistened by pumpkin puree. That hidden ingredient adds tons of delicious flavor, a bit of extra fiber, and makes it just a bit healthier.
Source: Mommy Musings
Gluten Free Pumpkin Donuts Recipe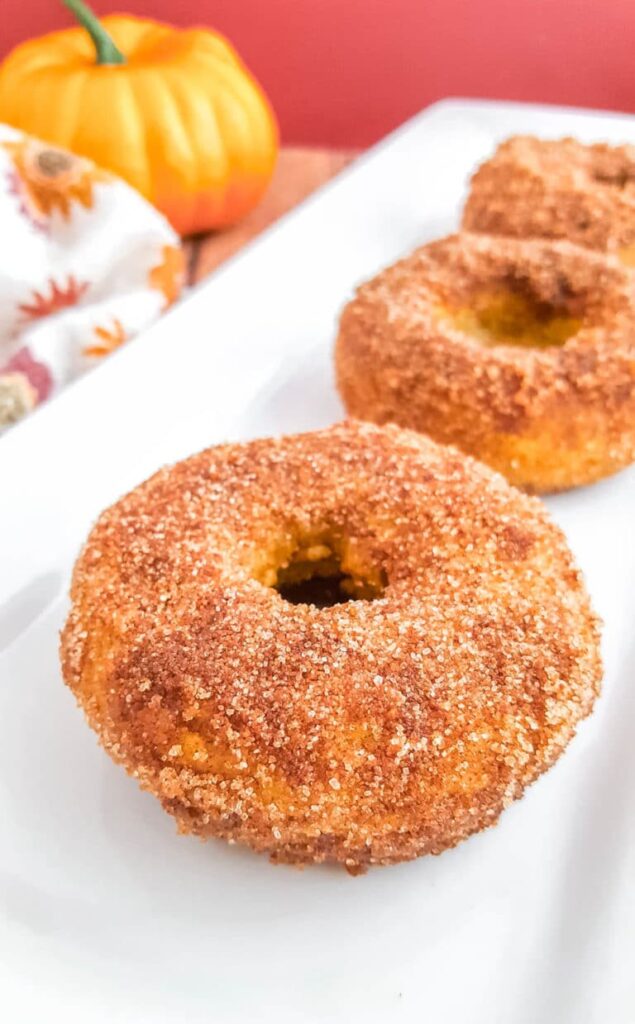 Donuts! Yes, I love donuts. There is just something so yummy about a light and airy dough with a slightly crisp exterior and topped with cinnamon sugar. This recipe is easy to make and really delicious!
Source: Mommy Musings
Pumpkin Cream Cheese Swirl Muffins Recipe
What goes better with pumpkin than chocolate? Of course, it is cream cheese! I love this cheesecake swirled muffin and feel like they are probably one of the best culinary inventions that ever has been created.
Source: Mommy Musings
Caramel Pumpkin Spice Latte Cupcakes
If you want to wow a crowd, pull out this recipe for a great combination of flavors. Rich caramel and delicious pumpkin combine in the ultimate cupcake topped with the perfect homemade buttercream frosting.
Source: Mommy Musings
Pumpkin Banana Chocolate Chip Bread Recipe
Wow! That's a lot of yummy in one bread! You'll love how moist and delicious this bread is fresh from the oven. Make multiple batches and share with friends as a great foodie gift during the holidays!
Source: Mommy Musings
Bite Sized Pumpkin Funnel Cakes
Here in the South, funnel cakes are a must. If you don't know how to make them then you probably know where to buy them.
Those little sweet treats are really popular during fair season and now you can have the concept, with a little pumpkin sprinkled in, anytime you want it with these bite sized pumpkin funnel cakes.
These little cakes fry up to crispy perfection and are the perfect anytime snack.
Recipe: dineanddish
Bowtie Pasta With Pumpkin And Parmesan
Want to get your little ones to eat pumpkin? Try this bowtie pasta recipe. It has creamy pumpkin puree, parmesan, Greek yogurt and a number of other tasty ingredients to give you a side dish that is unlike anything you have ever tried.
This would be perfect for Thanksgiving or just anytime you want to enjoy a great pasta dish with the flavor of pumpkin. And it's a really quick side dish to make.
Recipe: aggieskitchen
Cinnamon Roll Pumpkin Vanilla Cake
If you want a delicious cake that is easy to make and perfect for fall, this is it. This sheet cake combines the flavors of pumpkin and vanilla with cinnamon rolls and it really is delicious.
You will note that this one has quite a few ingredients like pudding mix, a cake mix, pumpkin puree and others, but all of those ingredients work together to make this the most deliciously moist cake ever.
Recipe: picky-palate
Quick And Easy Fall Pumpkin Dip
This easy to make pumpkin dip is perfect for all of your fall get togethers or just to have on hand as a snack anytime you want something a bit sweet. This is a great pumpkin recipe for the upcoming holidays and you could even serve the dip in a mini pumpkin.
How adorable would that be? The dip has pumpkin puree, cream cheese, brown sugar and spices and is perfect served with some apples, gingersnap cookies or graham crackers.
Recipe: shewearsmanyhats
Yummy Pumpkin And Sage Gougere
If you've never had gougere, then you are missing out. This French Canadian treat is really easy to make and so tasty! Gougere is a pastry that is made dough that is typically mixed with cheese.
This pumpkin and sage version uses canned pumpkin puree and sage instead and it's really simple to make and delicious.
These would be great little treats for snacking or you could add them to your Thanksgiving dinner table.
Recipe: cookincanuck
Apple And Pumpkin Harvest Rice
I love a good rice side dish recipe and this one has apples and pumpkin, making it just perfect for fall. This is a pretty simple recipe to make and you could add chickpeas to make it a great main dish.
This would be great for adding to any meal and it's a tasty alternative to mashed potatoes. Plus, there's pumpkin in it…and apples, so you can imagine how tasty it is.
Recipe: lunchboxbunch
Pumpkin Banana Smoothie
If you're like me, smoothies are your weakness. Honestly, I could make a smoothie every day and be happy. This one is a great fall flavored smoothie with pumpkin and banana, along with cinnamon and other great fall spices.
You could use this as a breakfast smoothie if you're looking to cut some calories or just make it anytime you want a light but delicious sweet treat.
Recipe: runningtothekitchen
Easy And Delicious Pumpkin Bread Pudding
Bread pudding is a traditional dessert at our house for the holidays. I had never even considered making it with pumpkin! This recipe is super easy and you can have it ready to serve in less than an hour.
You need pumpkin puree, some old bread and a few other ingredients to make this one and you could make some homemade ice cream or a vanilla bean sauce to top it.
Recipe: epicurious
Cheddar And Pumpkin Mac And Cheese
So, you can put lobster in mac and cheese, right? Why not put pumpkin in there, too? This pumpkin and cheddar mac and cheese looks amazing and it's really not that difficult to make.
Mac and cheese is a great comfort food for those chilly fall evenings and this one has pumpkin so it's really perfect for fall. This one would also be perfect as a quick and easy Thanksgiving side dish.
Recipe: tasteandtellblog
Yummy Pumpkin Cheesecake Bites
These little pumpkin cheesecake bites could not possibly be any easier to make and they are so delicious. If you love pumpkin…who doesn't love pumpkin?...and you want a dessert that is light and tasty and simple to get on the table, this is it.
You could even be really creative with this one – do a batch up ahead of time, freeze and then dip in chocolate or white chocolate!
Recipe: eatliverun
Pumpkin Chocolate Chip Scones
Scones are pretty easy to make and really tasty, especially when they are these pumpkin and chocolate chip scones. Scones are a traditional British biscuit like treat and they come in all sorts of different flavors.
These pumpkin ones are really good and they have chocolate chips, too. Chocolate and pumpkin pair so well together, and these are so easy that you can have them done in less than an hour.
Recipe: whatsgabycooking
Pumpkin Streusel Pancakes
Pumpkin flavored pancakes? Yes, please! These pancakes not only have the yummy taste of pumpkin, they also have a cinnamon streusel topping.
These might quite possibly be the best pancakes you have ever tasted, and they are perfect for those brisk fall mornings or for the holidays when you have family visiting and want to feed them something that really shows off your culinary skills.
Recipe: twopeasandtheirpod
Easy Homemade Pumpkin Crème Brulee
This pumpkin crème brulee could be one of the easiest desserts that you have ever made. It's like a pumpkin pie but with no crust and it would make a wonderful alterative to pumpkin pie for the holidays.
It's also a great little dessert to curl up with when you want something comforting and delicious on those cold fall evenings. You are going to love this one!
Recipe: tablefortwoblog
Heavenly Pumpkin Dump Cake
Dump cake is another staple dessert here in the South. You'll find one at every family reunion and other gathering and they are surprisingly easy to make considering they are so delicious.
This one in particular is perfect for fall because it has a luscious pumpkin flavor. This one is great topped with homemade vanilla ice cream and a bit of caramel sauce or you can enjoy it just as it is.
Recipe: cookiesandcups
Homemade Pumpkin Fudge
Pumpkin fudge! What could possibly be better for fall than homemade pumpkin fudge? This is so easy to make and it's so yummy when it's finished.
You make this with pumpkin puree, white chocolate chips, marshmallow cream, pecans, pumpkin pie spice and a few other tasty ingredients. It's a really easy fudge to make and sets up beautifully.
Even if you don't typically make your own fudge, you can handle this tone.
Recipe: browneyedbaker
Pumpkin Gingersnap Cheesecake
Cheesecake is honestly one of my favorite desserts, especially when it is flavored with pumpkin. The crust of this one is made with gingersnap cookies instead of graham crackers, which gives it such a unique flavor.
This is a classic cheesecake recipe with pumpkin added. It bakes for about an hour and a half, so it's slow to make but worth every bit of the time that you put into it.
Recipe: iowagirleats
Pumpkin And Gingersnap Ice Cream
Homemade ice cream is always great and it's even more so when you add in the great flavor of pumpkin. And, this one has some delicious gingersnap cookies broken up into it.
This is the perfect ice cream flavor for fall. Imagine using this on top of your favorite pumpkin dump cake or even pumpkin pie recipe. It's super easy to make and so delicious!
Recipe: shutterbean
Pumpkin Monkey Bread
Monkey bread is always a good dessert choice and this one has a great pumpkin flavoring. It also has a delicious maple cream cheese icing that pairs perfectly with the pumpkin flavor.
If you love monkey bread, this is likely going to become your go to recipe. It's super simple to make and has such a great combination of flavors.
You make this monkey bread completely from scratch, or you could use broken up pieces of canned biscuits if you want to save some time.
Recipe: barbarabakes
Easy Homemade Pumpkin Pie Biscotti
This pumpkin pie flavored biscotti is really easy to make and it is perfect for munching on with a warm cup of coffee or tea. Imagine a homemade pumpkin biscotti with your morning coffee on a brisk fall morning.
And, this recipe is super easy to make. Bake up a batch and keep some on hand throughout the holidays. Biscotti stores really well in an airtight container and it makes a wonderful addition to those holiday food baskets you may be putting together.
Recipe: mybakingaddiction
Tasty Pumpkin Pie Milkshake
Okay, so this one is like traditional pumpkin pie, but in milkshake form. You can get pumpkin pie milkshakes at a lot of fast food joints around the holidays but isn't a homemade one better?
This one has pie crust straws that you drink it from! These would be so much fun for family night during fall and they are so tasty.
Imagine drinking your pumpkin pie milkshake through an edible straw, and you don't have to make the pie crust yourself. You can use store bought premade pie crust for these.
Recipe: tidymom
Pumpkin Ricotta Gnocchi
Here's another wonderful dish for fall. This pumpkin ricotta gnocchi is really simple to make and it's so tasty. Traditional Italian gnocchi dumplings get a little rework with pumpkin, ricotta cheese, and parmesan.
Even your little ones are going to love these. If you love gnocchi, you are definitely going to want to bookmark this recipe. And, if you don't have pumpkin on hand, you can make these with any winter squash.
Recipe: simplyrecipes
Pumpkin Risotto With Seared Scallops
I love scallops! I really do and I love recipes that use them. This one uses seared scallops on top of a delicious pumpkin risotto. This recipe is much easier to make than you may think and it does have a wonderful pumpkin flavor.
There are quite a few ingredients in this one, because you're doing everything completely from scratch. You can use fresh or frozen scallops for this and I promise that it's going to be a hit this fall.
Recipe: spoonforkbacon
Pumpkin Soup With Sage
I love this recipe for pumpkin soup with crispy sage. Have you tried pumpkin soup? It's a lot like butternut squash soup and it's delicious. It is a thick and creamy soup that has such a wonderful flavor.
This one has sugar pie pumpkins, mascarpone cheese, onions and sage, much of which you save back to fry. The crispy fried sage adds such great flavor and texture to this otherwise traditional pumpkin soup.
Recipe: foodiecrush
Fall Pumpkin Hummus
Hummus is a great dish to serve at any party or gathering and this one is made perfect for fall with the addition of pumpkin. This pumpkin hummus has chickpeas just like the traditional versions but it also has pumpkin, tahini or cashew butter, maple syrup and a host of spices that give it a really unique flavor.
This would be great to serve with cinnamon sugared tortillas or you could just serve it with fruit or graham crackers.
Recipe: preventionrd
White Bean, Lentil And Pumpkin Soup
Here is another delicious soup recipe that includes pumpkin. This white bean, lentil and pumpkin soup is really simple to make and is perfect for warming you up on those chilly fall evenings.
This is a really quick one to make but if you need time, you could add it all to the crock pot and just let it simmer all day. This soup would be so delicious with some crusty French bread or homemade rolls.
Recipe: heatherchristo