Hot chocolate is one of my favorite things in the world. There is just nothing better than curling up on a cold, snowy winter day with a good book and a cup of steaming hot chocolate. I tend to make my own hot chocolate mix during the winter, mostly because we go through a lot of it and it's much cheaper to make it yourself. However, you can also add in different flavors when you make it yourself, which brings me to this…I have found 25 of the most heavenly hot chocolate flavors in the world that you can make yourself and these will keep you warm all the way through til spring.
Whether you use a mix or you make the entire thing from scratch, these flavors are sure to get your taste buds popping. What's better than a cup of steaming hot chocolate?
A cup of steaming french vanilla or lavender white chocolate! You can add so many things to hot chocolate besides marshmallows and make yourself a tasty treat for those cold winter nights. And, you know you want something sweet to go along with your hot chocolate so be sure to check out these Oreo cheesecake bites. They're divine!
I've tried peppermint hot chocolate but never white chocolate. I've tried french vanilla hot chocolate but I've never even considered putting Nutella in my cup. These are just some of the delicious flavors that await you and all of these recipes are easy to follow, easy to make and likely contain ingredients that you have right there in your kitchen cupboard.
If you're a fan of hot chocolate, I highly recommend you try these recipes out. There's a hot chocolate recipe for everyone, no matter what you like. And be sure to also take a look at these 35 copycat Starbucks recipes that taste just like the real thing.
1. Black Bottom Hot Chocolate
This black bottom hot chocolate has a layer of fudge in the bottom! You add the fudge layer and chill and then add your hot chocolate. As the hot liquid melts the fudge, you get the creamiest chocolatiest tasting cup of hot chocolate you have ever had and it's wonderfully delicious!
Top it off with a layer of whipped cream or marshmallow cream if you prefer.
Recipe: livelovepasta
2. Orange Spice Hot Chocolate
I love the combination of orange and chocolate. You know those candies that look like oranges but are layered in chocolate? Those are my favorites and I really love this orange spice hot cocoa recipe.
It combines those two luscious flavors along with cardamom for a hot chocolate like you've never tasted before. You fold orange zest and whipped cream into the chocolate and then top with additional whipped cream.
Recipe: foodnetwork
3. Cinnamon Hot Chocolate
This hot chocolate is not only cinnamon flavored and delicious, it's also dairy free. So, if you're allergic to dairy, this is the perfect hot chocolate for you.
It's made with cocoa powder, sugar, cinnamon, vanilla extract and non-dairy milk for a creamy concoction that is sure to keep you warm and toasty on those cold winter mornings.
Recipe: housevegan
4. Cookies And Cream Hot Chocolate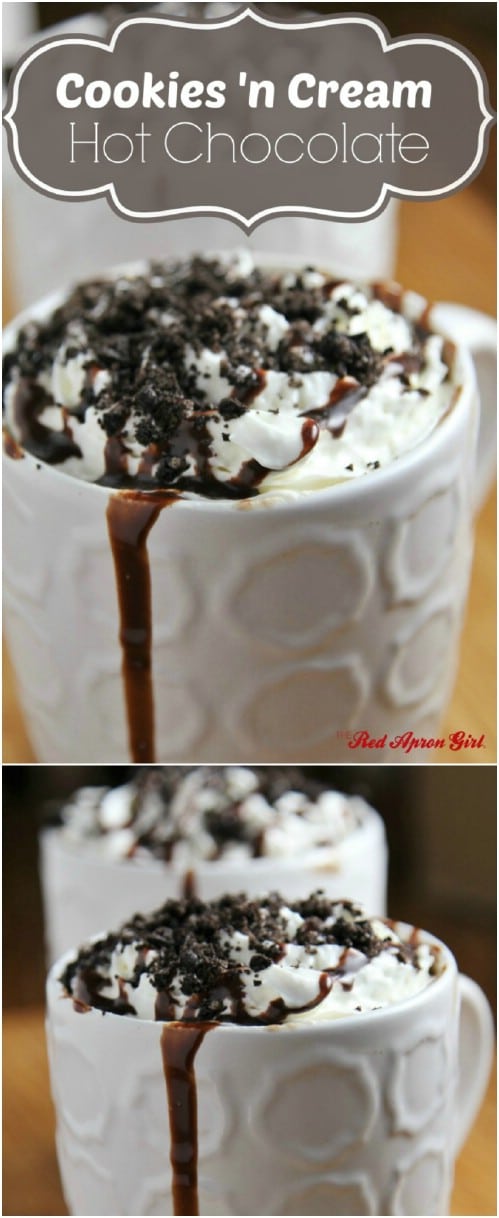 I love just about anything cookies and cream flavored, like ice cream and this hot chocolate. Not only is this one rich and delicious, it's also a beautiful drink when it's finished.
You'll need milk, hot chocolate mix (which you can totally make yourself), sweetened condensed milk and crushed Oreo cookies to make this one and it is absolutely heavenly.
Recipe: redaprongirl
5. Dairy Free Mocha Hot Chocolate
Here's another wonderfully flavored non-dairy hot chocolate that is sure to get your taste buds dancing. You make this one with dark chocolate chips, almond milk, coffee and raw honey.
It's topped off with a homemade topping that includes coconut milk and vanilla extract. It's a really simple recipe and makes the most wonderfully flavored coffee/hot chocolate.
Recipe: lexiscleankitchen
6. Decadent Hot Chocolate With Homemade Marshmallows
Not only is this the richest and most delicious hot chocolate you've ever tried, it's topped off with homemade marshmallows.
The toasted marshmallows give the chocolate a nice s'mores taste and this is definitely something that will ward off those winter blues. The hot chocolate is made with heavy cream and bittersweet chocolate as well as cocoa powder, so it's really chocolaty.
Recipe: epicurious
7. French Vanilla Hot Chocolate
I love French vanilla in just about anything and this hot chocolate recipe combines that flavor with Hershey's special dark chocolate for a creamy drink that is out of this world delicious.
You can use French vanilla coffee creamer and even add in some extra French vanilla syrup if you want a stronger taste. I recommend liquid creamer personally but you can do powdered as long as you make sure it dissolves well.
Top with marshmallows or whipped cream – or maybe chocolate or French vanilla whipped cream.
Recipe: domesticallyblissful
8. Lavender White Hot Chocolate
My daughter is not at all a fan of chocolate but she loves white chocolate, which is why I love this white chocolate and lavender recipe.
There's no rule that says your hot chocolate has to be chocolate…white chocolate works just as well and has such a unique flavor, particularly when you add lavender buds to it.
Recipe: sheholdsdearly
9. Matcha White Hot Chocolate
Here's another wonderful hot chocolate recipe that is made with white chocolate as opposed to the traditional chocolate.
This one has matcha, which is such a unique flavor. You make this with white chocolate chips, food grade matcha and almond milk.
It makes a creamy and delicious hot chocolate that is so unique, right down to the green color. How often do you get to drink green hot chocolate?
Recipe: loveandlemons
10. Mexican Hot Chocolate
This Mexican hot chocolate is topped with coconut flavored whipped cream and it is absolute heaven in a mug. The hot chocolate contains almond milk, dates, almond butter, cacoa powder, vanilla, cinnamon, nutmeg and wait for it…cayenne pepper of all things!
This is such a wonderfully flavored hot chocolate and the addition of the homemade coconut whipped cream just makes it near perfect as far as warm drinks go.
Recipe: dishingupthedirt
11. Mint White Hot Chocolate
I really do love the idea of making hot chocolate from white chocolate. This one is a gorgeous minty green color and has a wonderful minty taste, too.
You make it with half and half creamer, white chocolate, whole milk, peppermint extract and a bit of green food coloring- for the minty green color. You can totally leave off the food coloring step if you want. This one would be perfect for St. Patrick's Day!
Recipe: babble
12. Spicy Mocha Hot Chocolate
Here's another wonderful hot chocolate recipe that adds coffee! What could possibly be better than coffee mixed with hot chocolate?
This one also add cayenne pepper, cinnamon, nutmeg, brown sugar and a few other ingredients for a rich and smooth hot chocolate that will keep you warm in so many ways.
The cayenne pepper gives it just the right kick and the coffee…well coffee just makes everything better.
Recipe: diethood
13. Peanut Butter Hot Cocoa
Peanut butter and milk chocolate bars give this cocoa a rich and really satisfying taste. You simply heat milk in a pan and then add in your chocolate bars and peanut butter and stir until everything is melted and smooth.
Top with whipped cream or marshmallows and just a drizzle of chocolate sauce.
Recipe: sweet-remedy
14. Peppermint Hot Chocolate
This is a great hot chocolate for the Christmas holiday season. It's got just the right amount of peppermint and it's so easy to make.
It's made with milk, cream, vanilla, cocoa powder, sugar and semi-sweet chocolate chips, plus Andes peppermint baking chips.
Top this with marshmallows or whipped cream and add a candy cane or some crushed peppermint candies.
Recipe: azestybite
15. Pumpkin Spice Hot Chocolate
Everything in fall turns to pumpkin spice and your hot chocolate shouldn't be any different. If you're on the pumpkin spice wagon, this is definitely the hot chocolate for you.
It's made with canned pumpkin and pumpkin pie spice, along with cocoa and other ingredients.
This is a delicious take on pumpkin spice drinks and is just perfect for those cooler fall evenings.
Recipe: bakingwithblondie
16. Nutella Hot Chocolate
My kids absolutely love Nutella. There's just something about that chocolaty hazelnut flavor that they can't get enough of. You'll feel the same way when you try this delicious Nutella hot chocolate.
This is one of the simplest hot chocolate recipes to make, too. You just microwave or heat milk in a pan and then add the Nutella and stir until it's smooth and creamy. Then pour into your favorite mug and enjoy!
Recipe: geniuskitchen
17. Red Velvet Hot Chocolate With Cream Cheese Whipped Topping
Red velvet cake is one of my favorites, which is why this red velvet hot chocolate recipe caught my eye. Not only does it have all of the goodness of red velvet cake, it's topped with homemade cream cheese whipped cream!
The chocolate has milk and chocolate chips but the real winner on this one is the cream cheese whipped topping. It's filled with flavor and the perfect topping for chocolate.
Recipe: une-deuxsenses
18. Salted Caramel Hot Chocolate
I have to admit, my family has gone wild over the taste of salted caramel. There's just something about it that everyone loves. This great hot chocolate has that yummy salted caramel taste and is super easy to make…in the slow cooker!
That's right, you make this one in the crock pot and it only takes about five minutes to get it ready. Then you cook it on low for about two hours and enjoy!
Recipe: lecremedelacrumb
19. Salted Peanut Butter Hot Chocolate
This peanut butter hot chocolate is a bit different as it adds sea salt for a completely unique taste.
Once the hot chocolate is done, which you make with chocolate chips, cocoa powder, sugar and milk, and then you add just a bit of sea salt and top this one off with toasted marshmallows.
Seriously, this is like having a Reese's peanut butter cup in a mug!
Recipe: oneordinaryday
20. Strawberry Hot Chocolate
This strawberry hot chocolate is perfect for Valentine's Day, but you can enjoy it whenever you want. It's a gorgeous pink color that comes from strawberry ice cream.
The hot chocolate has chocolate chips, butter, sugar, ice cream and water and then you top it off with whipped cream or marshmallows.
Add some sprinkles to make it really festive. I'm thinking you could do this with other ice cream flavors as well. Ben and Jerry's butter pecan anyone?
Recipe: twopeasandtheirpod
21. S'mores Hot Chocolate
You just have to love s'mores, right? This hot chocolate is a great take on traditional s'mores and even has graham cracker crumbs and toasted marshmallows.
You use the graham cracker crumbs to line your mugs and then add the rich hot chocolate, topped with toasted marshmallows.
This is a great bonfire hot chocolate and perfect for taking along on those winter camping trips.
Recipe: foxeslovelemons
22. Barcelona Style Hot Cocoa
Unsweetened cocoa powder, corn starch, vanilla and sugar are all you need, aside from a bit of water, to make this Barcelona style hot chocolate.
This is a rich and decadent drink that hails from Spain.
It's not too sweet and despite the fact that there is no milk it in, it's a really smooth and creamy hot cocoa.
Recipe: mayihavethatrecipe
23. Thin Mints Hot Chocolate
Do you know why I love February? Because that's when Girl Scout cookie sales begin! I love those thin mints, which is why I really love this thin mints hot chocolate recipe.
You make a peppermint hot chocolate, with peppermint extract, cocoa powder, sugar, salt and milk and then top it off with whipped cream and a thin mints cookie.
Now, if you can't wait until cookie sales begin, the Dollar Store has a knockoff of the thin mints that's pretty good.
Recipe: yourhomebasedmom
24. Almond Joy Hot Chocolate
This almond joy hot chocolate is a vegan recipe and it is so tasty! With almond and coconut milk, as well as cocoa powder and vanilla, the chocolate itself is very satisfying.
Then, you top it off with whipped cream, crushed almonds and just a bit of shredded coconut.
This is a really simple recipe that gives you a hot chocolate that tastes for all the world like an Almond Joy bar.
Recipe: thealmondeater
25. Cherry Hot Chocolate
Don't you just love cordial cherries? Those chocolaty cherries are among my favorite candies. If you love them too, you're really going to love this cordial cherry hot chocolate recipe.
It combines the tastes that you love into a steaming mug of hot cocoa that is sure to warm you all over.
Cherry juice gives this one its flavor and you can top it with whipped cream and a few crushed maraschino cherries.
Recipe: sugarhero